It is a common human flaw to forget passwords. However, it is a great inconvenience as it locks you out of your device and renders data inaccessible. If you own an iPod and forget the password to access it, do not panic. There is a number of reasons why you could have forgotten your password. Perhaps you set your PC to remember it, and you forgot what it was. Perhaps you wrote it down somewhere and then lost it. No matter what, even if you have lost the password to your iPod, you can get access to your account.
Related: How to Restore Locked iPod
If such an event occurs with your iPod, know that there are several easy methods to reset your login password and access your music. Here is a look at few of the easy ways to reset the password on your iPod the easy way.
Multiple Ways to Reset iPod Password
1. Reset through your device's factory settings
Turning your iPod back to its factory settings can help you deal with this problem. To do so, you can do the following.
- Connect your iPod to a computer and backup all your music as it plausible that you may lose some of this data in the factory reset process. Once you have successfully completed this step, disconnect your device.
- You will need to press the Sleep and Home buttons together for a few seconds. The screen on your iPod will go black and then you would see your device rebooting.
- Once you see the Apple logo, you can release the buttons. Your device reset is done.
Now that your device has been reset to its default factory settings, complete the setup procedure and then proceed to create a new password.
Extra Bonus: What if I Lose iPod Files?
After reseting iPod password, you may find that all important files are erased from your device. So did you lose them permanently? Absolutely not! Now, you can rely on this iPad recovery tool - Coolmuster iPhone Data Recovery software to easily get back the lost files within simple clicks. With it, all different file folders can be automatically detected and displayed on the main interface. You are free to easily restore these lost files to your iPod device! Also, this software boasts of a simple user interface. Just follow the below 1-2-3 step to restore iPod files.
- Open the installed software and link iPod to the computer via the USB cord.
- The software will then detect your device and scan for all files.
- Now, enter the right file tab to preview more detailed file information. While previewing, select the wanted files by ticking them out. And hit the Recover option to recover them to iPod.
(Note: The recovered data will be saved firstly on the computer, you need to then transfer them from the computer to the device thereafter.)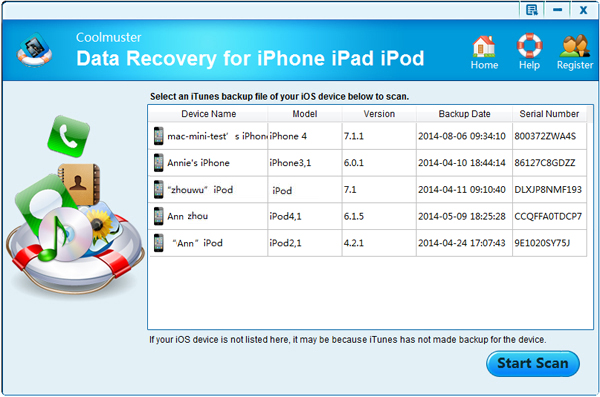 More Related Articles:
* How to Refresh iTunes Library
2. Reset through your iTunes account
If you have access to iTunes, it can be used to reset the password on your iPod. This is how:
- Connect your iPod to a computer that it was last synced with.
(Note: It should recognise your device, and you should be able to back up the music in the device. This is an essential step to ensure that no data is lost in the reset process. If that computer is not available to you, connecting to any computer should work and unavailability of a password should not hamper the backup process, as passwords do not encrypt the data in your device.)
- Once backed up, you need to reset the device to its factory settings.
- Now, sync the device with the computer again and set a new password.
3. Reset through your Windows account
If you are a Windows user, follow these steps to reset your iPod password:
- Sync your device to a computer and back up all data on it. This shall prevent loss of any information stored on the device. It is essential that this step be completed successfully.
- Once this step is done, go to My Computer on your Windows desktop and open iPod Control. Here, access the folder named Device. If this folder is hidden, go to Control Panel > Folder Option. Here in the View Tab, under Advanced Settings, select "Show hidden files, folders, and drives" and click OK.
- You will see a file named "_locked" since your device is password-protected. Rename this file to "_unlocked" and you should be able to access your device.
- Unplug it and reset the password in Settings. If your device still does not allow you to set a new password without the old passcode, use the iTunes method to make it work.
These simple tips will help you ensure that you can get access to your iTunes account and your iPod, the easy way.
Related Articles:
Best Backup Software for iOS Devices