It had been more than one year since you first bought your iPad. You just find that the tablet isn't running as smooth as it used to be. Web pages will pop up slower, apps will run with significant lag and your device's functionality will be severely impacted simply because we use our tablets all the time and this is the result. Therefore, you just hope to speed up your iPad to make it run like a new. Here in this post, we will show you some tips on how to improve the performance of a slow iPad. I will describe the tips one by one here:
* Update the firmware on your iPad to make sure all your applications are running at optimal performance.
* Remove the apps that you no longer need to free up your iPad's space.
* Close unused processes or apps that remain active on your iPad even after you close them with Home button.
* Wipe browser caches and other junk files from the iPad.
Coolmuster iOS Cleaner is a PC and Mac utility enabling you to delete all the files you don't want selectively and permanently on your iPad Pro, iPad Air, iPad mini, iPad 4, The new iPad, iPad 2, as well as iPhone and iPod in order to save storage space and speed it up. Best of all, it carefully displays all the possible useless data it uncovers and allows you to select which files you want to keep and which files you would like to permanently erased and cleaned from your tablet. It even categorizes these files beforehand so you have a better idea what an unfamiliar file on your device is there for.
I think you may need: clean iPhone calendar, erase iPhone contacts.
Coolmuster iOS Cleaner supports to erase almost all types of junk files and private data from your iPad, such as call histories, browsing history, Safari cookies, app caches, iOS notifications, and any app orphaned files for apps no longer on your mobile device. Click the following button and you can get the free trial version of the software.
3 Steps to Speed up Your Slow iPad by Cleaning iPad Storage
Step 1. Connect iPad to Computer and Run Software
After you install and launch the Coolmuster iOS Cleaner software on your computer, plug your iPad into the same computer via a USB cable. Then, you will see the software show your iPad and display you with different options for choice. Find the QUICK CLEAN function, and then browse through the list of junk file options that it presents to you.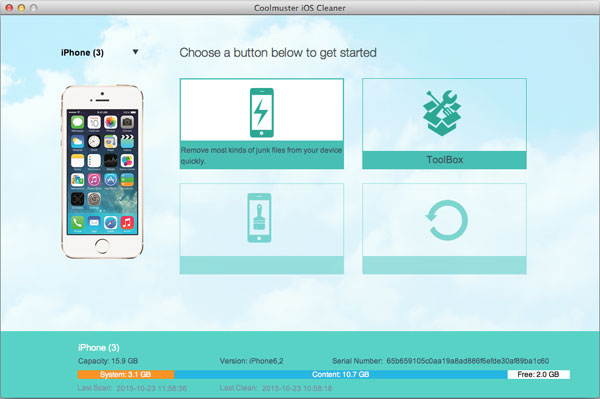 Step 2. Preview and choose the iPad files for deleting
Next, you should choose the files you want to delete from your iPad. Let's set photo caches as example. Double click on the "Photo Caches", and you can examine every piece of junk photo file unearthed by iOS Cleaner. If you decide some of these are still useful, then you can simply untick the boxes next to these file names to prevent iOS Cleaner from erasing them.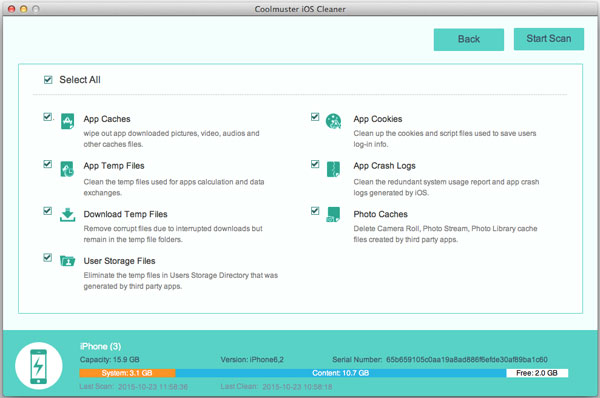 Step 3. Start to clean selected files to speed up your iPad
Of course you can click "Select All" to erase all scanned out files from your iPad at one time. At last, click the "Clean" button and the iOS Cleaner will start to remove all the selected files from your iPad.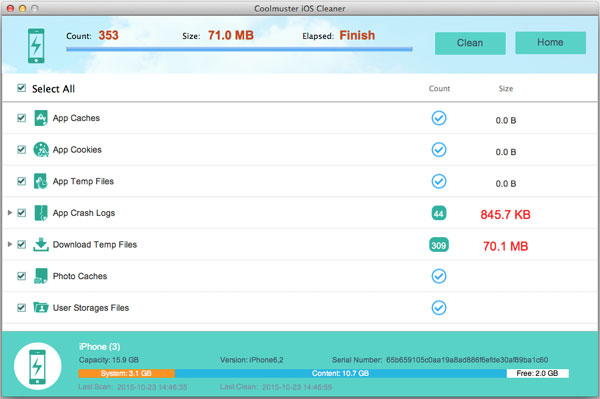 Conclusion
It's that simple. You can perform the same operations to erase more data from your iPhone and iPod as well. Let's download Coolmuster iOS Cleaner to free up storage and make your iPad fast.
Related Articles:
How to Delete Camera Roll on iPhone
Recover Lost Files from iPhone 14/13/12
A Full Guide to Recover Deleted Photos from iPhone