Smartphones have not only eliminated the use of our cameras, alarms, calculators, diaries but also taken away the need to remember important meetings and events as the reminder section in our phone takes care of it all at the press of a button. We no longer need to mark calendars for a loved one's birthday or remember to dress well for an important meeting at work.
Reminders are one of the best ways to keep track of your life. Whether it be the next meeting that you need to attend or the next discussion that you need to have with your client, reminders help you perform all that you need to do, every day. However, even if you use a device as advanced as the iPad or iPhone, it may happen that the reminders get lost due to various reasons from either of the devices resulting in a lot of problems in both your professional and personal life. Here are some cases when reminders may get lost from your Apple device:
1. Virus – If any kind of virus enters your Apple device through media files, downloads or files that you open unknowingly, then it can result in not only your contacts, media files and saved data getting lost but all your notes, reminders and messages too can vanish in a jiffy making life difficult for you.
2. Broken device – If your iPad or iPhone breaks due to mishandling, falling from a height or any other reason, then that too can result in the inside memory getting affected and this might result in all the saved data and information including reminders to get lost.
3. Press the Reset button – If you accidentally press the reset button on your iPhone or iPad, then all the saved data till now will get lost and you might not be able to retrieve it too.
No matter what the reason is but losing reminders from your favorite Apple device can sure create issues and make you miss important events that you had been looking forward to attend. It can also get you a bad name at work, especially if you miss a meeting which solely depended on you. This is where the need for a data recovery software comes in which can help restore data easily, thereby saving the day! But you can minimize your losses by recovering the lost reminders from your broken iPhone/iPad device!
You Might Also Want to Know:
Backup Important Reminders in Case of Data Loss
What if iPad Was Stuck in Recovery Mode
One Click to Recover Formatted Media Files from iPad
Guide on Broken iPhone/iPad Reminders Recovery
The Coolmuster Data Recovery for iOS Devices is one such data recovery software which helps all iOS users to restore lost data from their broken iPod, iPhone or iPad in just a few clicks. It is an absolute must for digital products users whose entire world depends on their iPhone without which they might find it difficult to go with the day. Being simple and easy to use, files can be instantly recovered by anyone, including contacts, SMS messages, photos, notes, calendar, safari bookmarks and more. Below is the free trial versions!
It's pretty easy to recover lost data from your iPhone/iPad device. You do not need to learn any programming and the data recovery takes just a short while. You can initiate the data recovery process and select the reminders to recover specifically, in three easy steps that takes just a few seconds.
Step 1 – Launch the software on your computer after connecting the broken device to the computer. Click "Start Scan" button.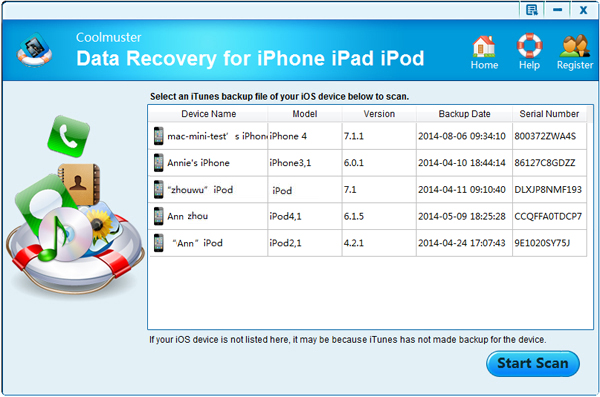 Step 2 – Scan the entire device and preview all lost files on the computer.
Step 3 – Select the files that you wish to recover and then click on "Recover".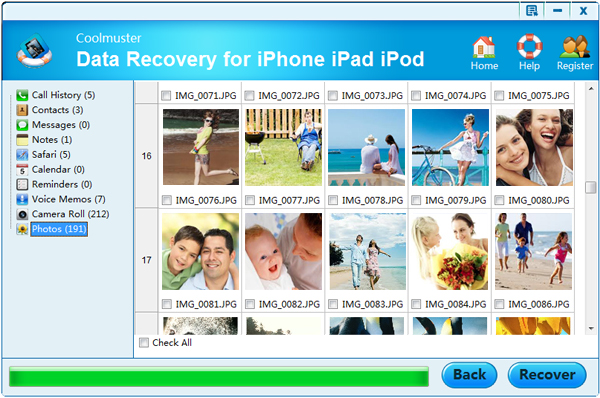 The End
Accidentally breaking your phone is already a bad thing, don't let data loss become worse. Download Coolmuster Data Recovery for iOS Devices now to get back your important data and files. Believe it will not let you down.
Related Articles:
How to Recover iPhone Data Stuck in Recovery Mode
iPhone Calendar Disappeared: How to Recover Calendar App & Events on iPhone
How to Fix the iPhone Transferring Data Stuck Issue Effortlessly? 14 Quick Tricks Here
List of 10 Best iPhone Backup Extractor Software