How to Easily Restore Apps from iCloud
Owning an iDevice is the best decision you have ever made. However at times, you may need to switch from one iDevice to another, and all of them must have some of your favorite apps. iCloud is one of the best data backup areas to store your powerful iDevice apps, offering a smooth experience when it comes to using these devices.
You can lose apps because of virus attack, iOS upgrade and system crash among other reasons. However, what do you do when you need to restore apps from iCloud, without necessarily having to pay for these apps? The circumstances include:
- After getting a new iOS device- If you love your phone or tablet functioning with all your loved apps, you will have to tap from the 5GB data storage on iCloud.
- After Upgrading iOS- Upgrading your operating system makes it easy for your device to adapt to new apps you have already backed up on iCloud.
- After Fixing Hardware Malfunctions - If you have run into problems with your device, the latest iCloud backup can help in solving the apps issue.
- After a Physical Harm - For example dropping the device in water or over the ground.
- After a System Crash.
- After a Virus Attack.
These are the reasons why you may need to restore apps from iCloud. It works best if you have stored them before a mishap.
User Guide: How to Restore Apps from iCloud
Restoring apps from an iCloud backup is not as a simple task, compared to restoring data from an iTunes backup. The reason is that iCloud backup restoration is possible only through the Setup Assistant mode. To get to the Assistant mode, you have to begin by removing all information and settings from the iDevice. Follow these steps:
Step 1: Connect to a Wi-Fi network and a power source activating the option of locking your device.
Step 2: Erase all content and settings from your iPhone- Head to Settings to erase all content and from the device. Click on "Reset".
Step 3: Verify if you have backed up your apps on iCloud- On the iCloud icon on your iPhone screen, click on it to log in. Fill in your Apple ID and your password.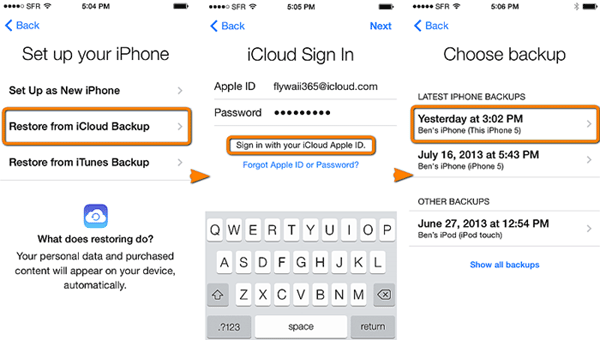 Step 4: Select the Backup with Your Apps- Your backups on your iCloud account are visible. Select your desired backup apps to get it restored to your iPhone. When restoration starts, a "Waiting" status pops up, for all your apps on your screen.
Learn More:
* How to Recover Voice Memos from iCloud Backup
* How to Easily Restore iPad Data from iCloud
Extra Tip: Recover iPad without iCloud: iOS Data Rescuer
With just a few simple clicks on the installed software, you can recover all data and apps to your iDevice. It rescues you from the trouble of recovering lost, deleted or even corrupted data through extricating the backup files. The main features include:
- Directly Recover Data from iDevices- The software is fully capable of recovering lost iOS data without iTunes backup.
- Restore Lost Files by Extracting iTunes Backup - It automatically backs up files for all iDevices automatically. The iOSRescuer will allow you to recover deleted or lost data from the iTunes backup record, in the end, without necessarily connecting your iDevice.
- Preview What You Want before Recovery - it quickly performs a deep scan on your device or iTunes backup, categorizing different folders and building a preview function to enable you to preview them before recovery.
The software offers you two options for data recovery:
Option 1: Direct Recovery from iPad
• Connect your iDevice to your computer and launch the recovery software.
• Scan your device for the lost files.
• Select the apps you want from thumbnails on the screen and recover it.
Option 2: Extracting iTunes Backup Files
• Scan the iTunes backup file for your device.
• Synced files will appear. Go ahead and select the one you wish to recover from iTunes.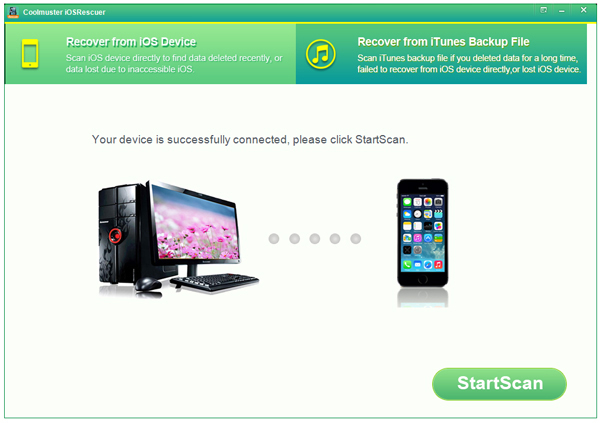 These simple steps will help you recover your loved apps. The two different recovery options make this iOS Data Rescuer your favorite data recovery software. Try it to believe!
Related Articles:
How to Hide and Delete Apps in iCloud