PDF is the go-to format for sharing documents. This file format was designed to create a compact, immaculate version of the original file that can't be tampered with. But it won't be possible when you want to make changes or edit the PDF file. In that case, you will have to convert the PDF to an editable format like a Word document. This is where PDF to Word Converter comes into play.
With tons of PDF to Word Converter tools available on the internet, finding the best one for the task can be a hassle. It is like looking for a needle in a haystack. Luckily, this guide presents the best PDF to Word Converter you can use. The ball is in your court; you just have to choose the most suitable tool to use. We've provided the top 7 best PDF to Word Converter you can use. Check them out.
Converter 1. Coolmuster PDF to Word Converter
Coolmuster PDF to Word Converter is the king of beasts among PDF to Word converter tools due to their raw power and strength. It is the best PDF to Word Doc converter. The diverse integrated functionalities are a clear sign of this tool's prowess. And that's why many users around the globe prefer to use it. This tool provides various effective conversion options, making it easier and more convenient for its users.
If you are tired of converting one PDF file at a time, take advantage of this software and use its batch conversion function to the maximum. You can convert up to 200 PDFs at the same time, making it one of the most sought-after PDF to Word Converters currently. Moreover, if you want to convert specific PDF pages into Word, you can freely do so without limitations, thanks to its partial conversion mode. Besides, all elements available in PDF files, like layout, images, text style, hyperlinks, and formatting, are retained.
Key Features:
Convert multiple files at the same time.
Retain the layout and formatting of the original file.
Preview feature for accurate results.
Select specific pages to convert.
Protect sensitive info during the conversion.
User-friendly interface.
Regular updates.
How to convert PDF to Word Doc using Coolmuster PDF to Word Converter:
01Download the correct version of Coolmuster PDF to Word Converter on your computer.
02Run it and hit the Add File button to upload your files into the tool. If you've saved the files in a folder, tap Add Folder to import them. Alternatively, there is the drag & drop feature as well. Preview the files loaded as you remove the unnecessary ones.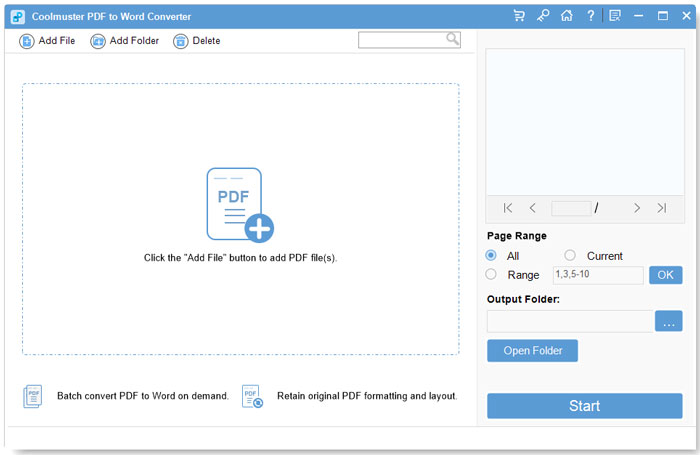 03The tool offers a wide range of customization options, allowing you to selectively choose particular pages or page ranges for the conversion process. Moreover, you have the liberty to specify the preferred output location for the converted files through the Output Folder feature.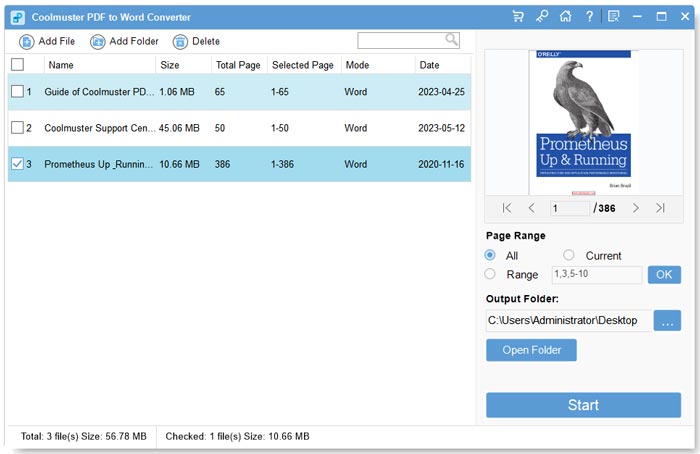 04Hit the Start tab to start converting your files. You'll see a progress bar; once it reaches 100%, the conversion will be completed. It's as simple as that. Your files will be ready in no time, and you can start editing.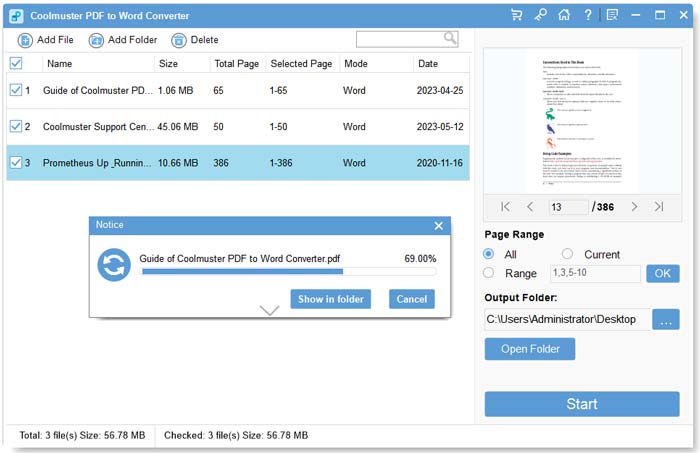 Further Reading:
How to Export PDF to Word Easily? Your Ultimate How-To Guide
How to Insert Multiple Page PDF into Word with Ease [4 Methods]
Converter 2. Adobe Acrobat Pro DC
Another of the best PDF to Word converters is Adobe Acrobat. It is a renowned, reliable, and oldest PDF tool in this digital world. Adobe Acrobat Pro DC comes with a wide variety of features. Its compatibility with Microsoft Office, as well as Google Docs, makes it a handy PDF tool.
Turning PDF files into Word will be easier with this fast and robust version of Adobe Acrobat. Moreover, the tool supports changing scanned PDFs into editable Word documents. Similarly, it lets you copy the font style of your scanned documents.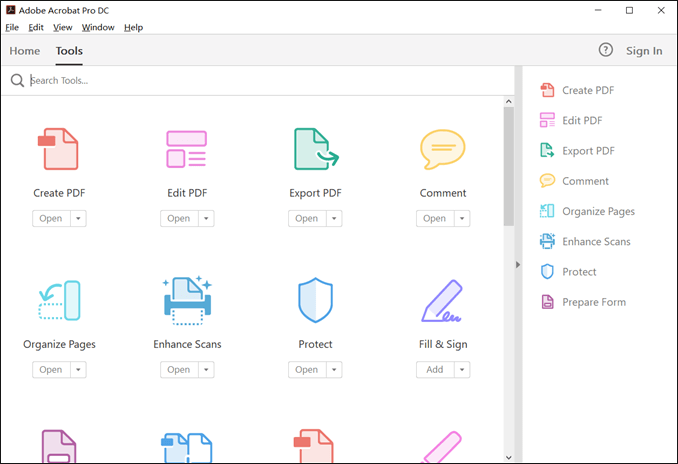 Pros:
* Let you add e-signatures to PDFs.
* Great PDF editing functionalities.
* Allow sharing of documents.
* Allow comparing two PDFs to find differences.
Cons:
* Limited features in the free version.
* The premium version is quite expensive compared to others.
Converter 3. PDFMate PDF Converter
PDFMate is one of the best PDF to Word converters to convert to Docx online for free. It's a free, simple-to-use PDF to Word converter designed to change PDFs to other formats. This tool can be a lifesaver when you want to convert your PDF quickly. Multiple conversions are supported, which helps to save time.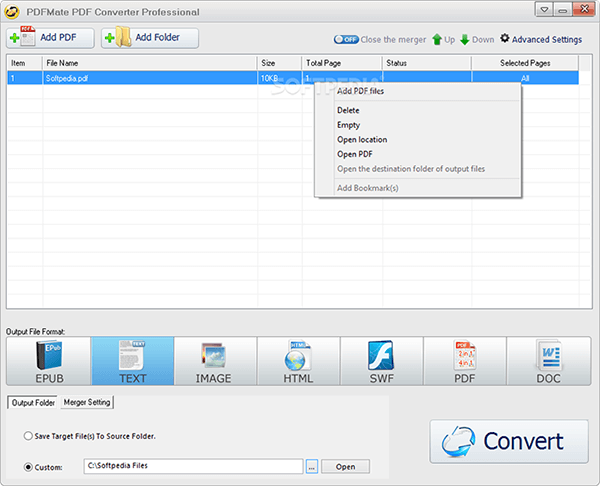 Pros:
* Allow conversion of scanned PDFs.
* Convert many files at a time.
* Allow you to add passwords to the original PDF files.
Cons:
* Advanced features can be confusing.
* You can't stop the conversion procedure after it has started.
Converter 4. SmallPDF
SmallPDF PDF to Word converter is a simple yet advanced app that can convert PDFs to Word Docs. It is one of the best online PDF to Word converters. The drag & drop function lets users drop PDF files they want to convert. Then the files are converted without quality loss. You can expect top-quality results in no time. The feature that sells the SmallPDF tool is its capability to conduct cloud conversions. This tool has many cloud servers that make it easier to convert PDFs to Word.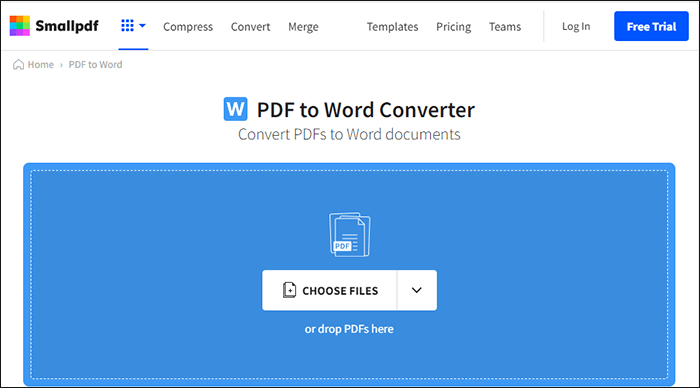 Pros:
* Safe to use.
* Easy to convert PDF files to Word.
* Allow you to unlock PDF files.
Cons:
* Limited features in the free version.
* The premium version is costly.
You May Like:
Unlocking the Power of Conversion: How to Convert PDF to Word
On-the-Go Solution: Word to PDF Converter Offline for Quick Conversions
Converter 5. Nitro PDF
This is one of the best PDF to Word converters that's available today. With its numerous features, such as editing, annotating, and creating PDFs, it is one of the go-to options for users. With this tool, you can add e-signatures to your PDF. The interface resembles MS Office products, making it easier for users to use.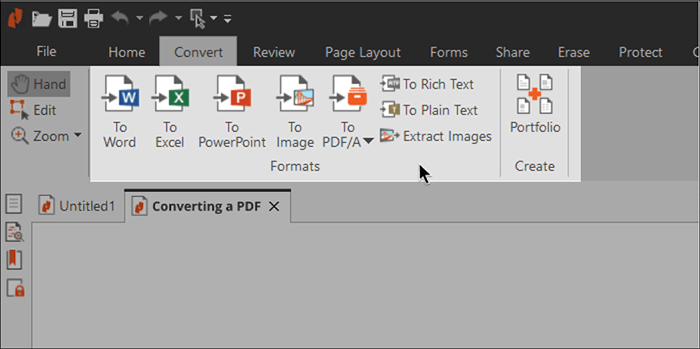 Pros:
* Allow users to convert Outlook emails directly to PDF form with a plugin.
* Let you merge several files into one document.
* Allow batch print PDF documents.
Cons:
* The app crashes and freezes.
* Some elements, such as form fields, aren't converted.
Converter 6. WPS Converter
WPS remains one of the top tools worth choosing if you want the best free PDF to Word converter. It is seamless, fast, and offers good quality for converted files. Besides, this tool retains the input file's layout, font, bullets, tables, etc., during the conversion.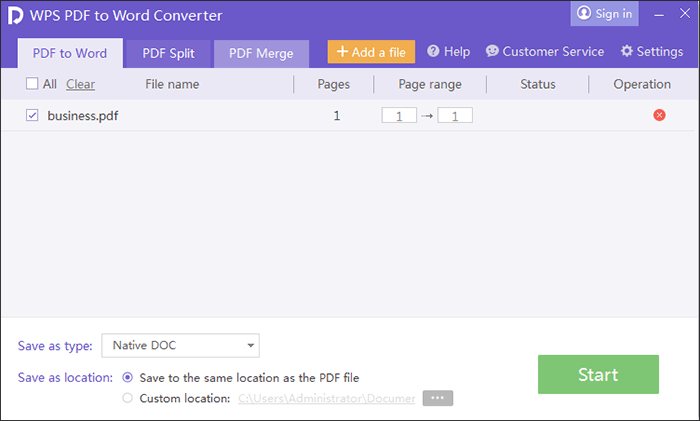 Pros:
* Retains formatting of the original file.
* Batch conversions.
* It can open other formats.
Cons:
* Don't have many features like other PDF tools.
Converter 7. Foxit PDF
If you are looking for a reliable and the best PDF to Word converter, Foxit PDF is among the leaders in the PDF market. You can convert your PDF files into many formats. Whether you want to convert a full document or a section, Foxit PDF is your choice. The tool allows the live sharing of PDFs for easier collaboration.

Pros:
* Offer powerful and robust PDF protection functions.
* Multiple sharing options like Cloud services.
* The interface resembles Office.
Cons:
* Lag problems with heavy PDF files containing images.
* The annotation and commenting feature isn't that green.
Learn More:
[9 Tools Review] The Hottest PDF to Word Converter Online/Offline
Convert PDF to Google Doc | You Should Try the 4 Methods Recommended
Conclusion
It's a blessing to have the capability to edit PDFs in a secure PDF editor, particularly if you're dealing with a bunch of PDF files. Many times, you will have to convert the PDF to Word. You require a tool that converts PDF to Word perfectly without losing the quality. We have listed the top 7 best PDF to Word converters in this article. Among them, Coolmuster PDF to Word Converter is the best choice that complements your needs and your budget. Download and install it to start your conversion process.
Related Articles:
How to Open a PDF in Google Docs [Multiple Useful Methods]
[Solved] How to Change Word Document to PDF in Efficient Ways
Effortlessly Convert Word to PDF on iPhone: A User-Friendly Guide
[Easy Guide] Convert Word to PDF via Adobe Acrobat & Alternatives
How to Convert Microsoft Word Document to PDF: Quick and Efficient
[Useful Office Tips] How to Scan Document to PDF in 5 Easy Methods