Are you wondering how to convert Word to PDF? If you've created a slick Microsoft Word document to share with others, you will want to ensure everyone can access it on any device, regardless of the OS and system. Also, you will want to retain its original formatting and not allow edits. The solution is to convert the Word document to a Portable Document Format (PDF).
PDF is widely compatible with almost all platforms. Therefore, converting your Word doc to a PDF is the only way to be sure others can open the file without problems. Turning a Word document into PDF is incredibly simple; this guide shows you exactly how to do that. Let's get into it.

Part 1. Is It Easy to Convert DOCX to PDF?
Absolutely! Converting a DOCX file to PDF is a piece of cake. There are numerous ways to achieve that. If you have Microsoft Word on the Mac/PC, you can use Save As or Export functionality to change the file. Additionally, you can upload your Word file to Google Drive and then download it as PDF. Lastly, online conversion apps and third-party tools are at your service to ensure you successfully convert Word docs to PDF.
However, ensure that your converted PDF file retains the original document's layout, content, and formatting. After converting your file, ensure the resulting PDF has all elements that were in the original file. Choose a method that suits your needs and follow the correct steps to convert your Word document to a PDF.
Continue reading to get a grasp on how to convert a Word document to PDF.
Also read:
Convert PDF to Google Doc | You Should Try the 4 Methods Recommended
[9 Tools Review] The Hottest PDF to Word Converter Online/Offline
Part 2. How to Convert a Word Document to PDF in Different Methods
If you want to know good ways to convert from Word to PDF, this section has it all. These are the easiest and most practicable solutions to turn a Word doc into a PDF. Take a look:
Way 1. How to Convert Word into PDF with Word to PDF Converter
Currently, there are many software to convert Word files into PDF, but very few of them are comparable to Coolmuster Word to PDF Converter. This Word-to-PDF converter is one of a kind; it lets you smoothly convert your Word files to high-quality PDF files in just a click.
Its batch file conversion feature is what sets it apart from the rest. Coolmuster Word to PDF Converter supports the conversion of multiple Word docs to PDF at the same time. You don't have to wait forever as you convert one file at a time. It handles batch file conversion professionally, enabling you to convert as many files as possible. This is a plus to those who value time more than anything.
Aside from that, it ensures high security of your files being converted and offers many customizable options for your output PDF files, including the document margins, page size, and output folder.
Additionally, its intuitive interface makes it easier for novice users to navigate. So, if you have never converted a Word to PDF and are looking for an easier-to-use Word to PDF Converter, Coolmuster Word to PDF Converter is your best bet.
Here are the features of Coolmuster Word to PDF Converter and how it can help:
Enable you to convert Word DOCX to PDFs smoothly.
Support conversion of multiple Word files to PDF simultaneously.
Quickly and efficiently convert Word into PDF while ensuring professional high-quality outcomes.
Maintain content integrity and layout during the conversion process.
Compatible with Windows and Mac.
How do I convert a PDF to Word? Here are steps to change a Word file into a PDF using Coolmuster Word to PDF Converter:
01Download the Coolmuster Word to PDF Converter onto your computer and launch it. After launching, you will see its primary interface. Add your Word documents to the program. Click the Add File or the Add Folder option. Alternatively, drag the Word document files and drop them into the tool.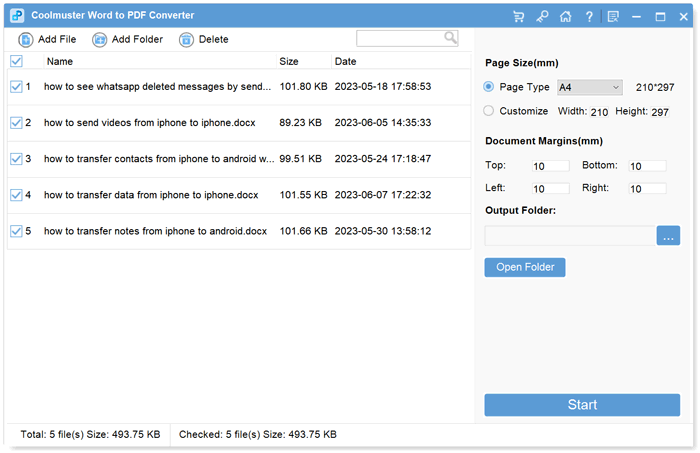 02After choosing your Word files, customize the output PDF page document, size, and margins, then select an output folder.
03Once done, hit Start to convert the files. Wait for the process to finish. When done, tap Show in folder to review your converted PDFs, and that's it!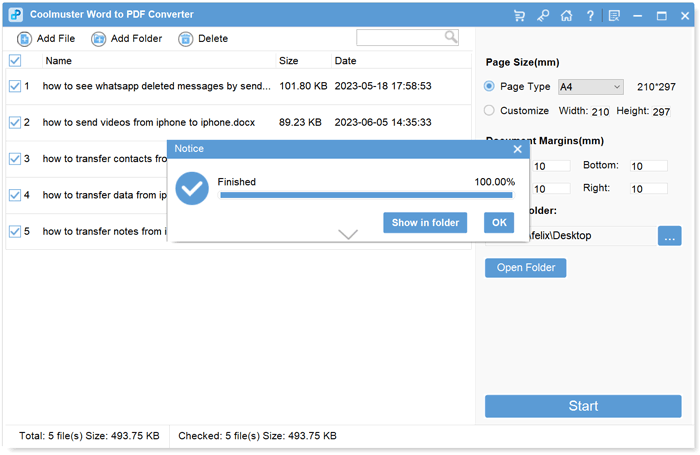 Way 2. How to Convert Word Document to PDF Using Microsoft Word
There is an in-built Word converter to PDF in Windows 10 computers that can be a lifesaver when in dire need of a tool to get a PDF from Word. The Save As feature makes all this possible since you can save your Word file as PDF. The good thing is that you don't need to install software or external services. You only need a Windows 10 computer with Microsoft Word to get started.
Even though using Microsoft Word is a free and hassle-free way to turn your Word files into PDFs, it is not the best option. For instance, if your Word docs are of high visuals or have texts consisting of complex formatting, the changing process may be restricted. Besides, there could be display issues in the converted PDF files, which can be a huge problem when you want to share them with others.
Here's how to convert Word to PDF in Windows 10:
Step 1: First, open the Word Document on the PC. Head to Files at the top left panel. Choose Save As.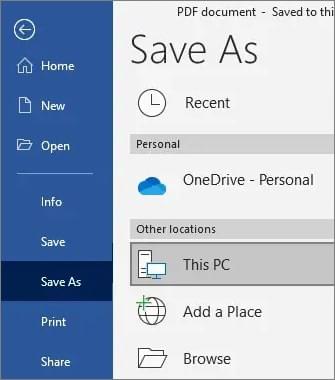 Step 2: Choose to Save as PDF. Also, choose the location to save the file. Finally, tap Save to save your Word file as PDF.
Way 3. How to Convert Word to PDF in Windows 10 Using Google Drive
One popular cloud storage that also works as a document editor is Google Drive. It is used by most office workers that work remotely. Additionally, if you use Google Docs for your day-to-day tasks, you can convert Word docs to PDF files on a Windows computer.
However, you should use a very good internet connection and must use Google Chrome. Also, ensure you sign into your account first.
After ensuring all the requirements are met, follow these steps to convert ms word to PDF:
Step 1: Visit your Google Docs Home website, then press on the Blank Document icon to create a blank document in Google Docs.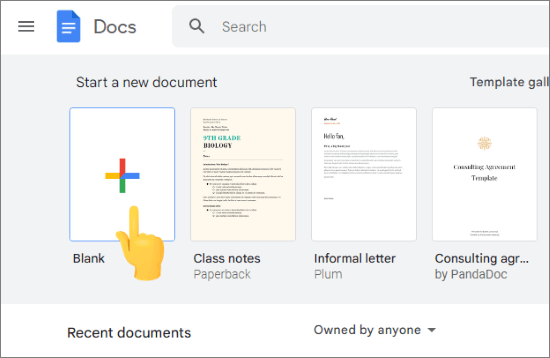 Step 2: Proceed to the File button at the top left side, then press the Open option from the drop-down list.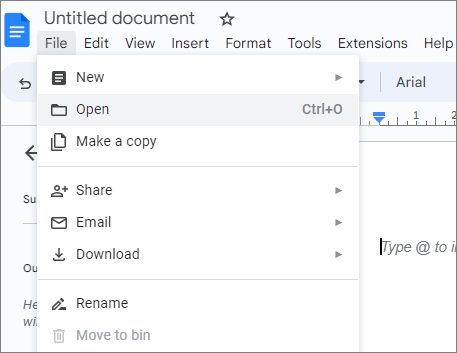 Step 3: In the Open a file window, head to the Upload section, then tap Browse to upload and open the Word file you want to change to PDF from your device.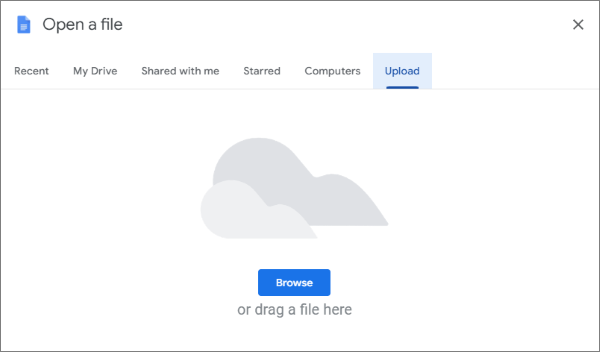 Step 4: After the file is opened in Google Docs, head to the File tab again and choose the Download option from the drop-down list. Once done, choose PDF Document(.pdf). The uploaded file will convert to PDF immediately.
Way 4. How to Convert Word doc to PDF Online Using iLovePDF
Several online converters exist that can help you convert Word to PDF. iLovePDF is a suitable Word-to-PDF converter solution that doesn't require installing software on your device. It features many PDF management functions, including a PDF converter that easily changes PDF files.
To know how to turn Word doc into PDF, use these steps:
Step 1: Open a browser on your device, then head to the iLovePDF website and choose Word to PDF. When you get to its interface, press on Select Word file. Also, you can import your file by dragging and dropping it into the interface.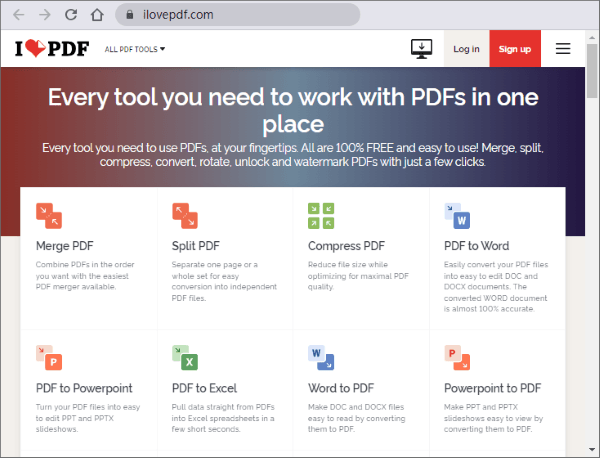 Step 2: Tap the Convert to PDF tab in the lower right section to initiate the conversion process.
Step 3: Tap the Download PDF icon or the export option when the process finishes.
More relevant articles:
Unrestricted Access: Mastering the Art of Removing Security from PDF
How to Open a PDF in Google Docs [Multiple Useful Methods]
The End
This guide has illustrated how to make a Word doc a PDF with the aid of various functions. Among the options, you can see that Coolmuster Word to PDF Converter is your ultimate option when you want to turn a Word file into PDF without any hurdles. It offers numerous advanced conversion features to help provide only high-quality results.
Related Articles:
Effective Ways to Password Protect PDF Files with Sensitive Data
How to Split a PDF into Multiple Files? 4 Methods for Both Windows & Mac Users!
[Comprehensive Tutorial] How to Save a PDF as a Word Document
Unlocking the Power of Conversion: How to Convert PDF to Word
Convert PDFs to JPG/JPEG Images for Better Accessibility and Sharing
From Bland to Beautiful: Inserting Images to Elevate Your PDFs