If you've ever found yourself struggling to send or upload a large PDF, you're not alone. It makes you crazy that when you need to email a PDF to other people, every time you click "Send", there is always an error message or an email bounceback announcing that your delivery is failing since the file size is too large. Fortunately, there's a solution that can save you time and frustration: compressing your PDFs. With just a few simple steps, you can reduce the file size of your documents and make them easier to share, store, and manage. In this article, we'll show you how to compress PDFs in just minutes, so you can stop struggling with large files and start enjoying a more streamlined workflow.
Bonus Articles:
How to Convert Password Protected PDF Files
Guide on How to Rotate PDF Files for Free
Part I: How to Compress PDF on Mac OS X with Preview
Mac users are lucky that they can compress the size of PDF file with Mac built-in Preview application in simple 3 steps, without downloading extra software.
1. Double click the PDF you want to compress and it will be opened with the Preview application automatically. If not, you need to drag and drop PDF on the Preview to launch the PDF in Preview.
2. Go to the top of your screen and choose "File" > "Save As". Select "Reduce File Size" from the Quartz Filter drop-down list and then provide a new file name, as well as the location for the compressed PDF file.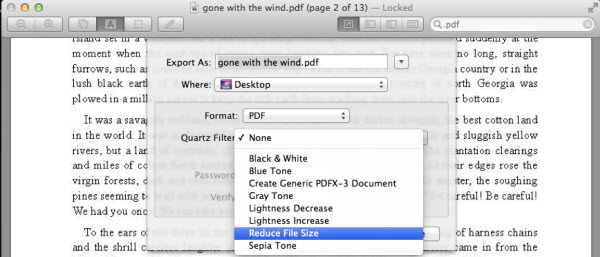 3. After that, you can click the "Save" button to save the compressed PDF.
Go to the output location to check the exported PDF and you will see the new PDF is quite smaller than the original one. Sometimes, the PDF could be reduced to 50%.
Read More:
Part II: How to Reduce PDF Size in Windows with Acrobat?
Above is all about how to compress PDF file size on Mac with Preview. To reduce PDF size quickly and easily on Windows PC, you can use Adobe Acrobat's size reduction feature.
1. Open your PDF document you want to reduce size in Adobe Acrobat, select "Choose Document" in the main menu and then click "Reduce File Size" in the drop-down menu.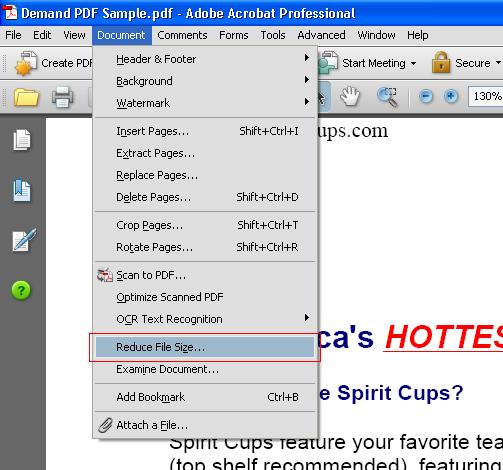 2. Choose the version of Adobe Reader from the compatibility options to confirm which Adobe Reader version will view the PDF file. - If you want to email the compressed PDF, you had better select compatibility for all versions of Adobe Reader.
- If you intend to upload the reduced PDF to a website, we suggest you choose the most recent version of Adobe Reader.
3. Give a name and an output location for the compressed PDF document and then click the button of "OK" to begin the compressing process.
Turn to the output folder to see the exported PDF. The size of the compressed PDF document can be 90 percent reduction in size. However, you should be aware that compressing PDF file size will also reduce the resolution of graphics and images included in the PDF.
In conclusion, compressing PDFs is a simple but effective solution to the frustrations of dealing with large files. Whether you're sending emails, uploading files, or just trying to save space on your hard drive, compressing your PDFs can save you time and make your workflow more efficient. With the easy-to-follow steps outlined in this article, you can start compressing your PDFs in just minutes. And for even more tips and tricks on working with PDFs, be sure to check out our other articles on related topics, such as converting password-protected PDFs, rotating PDFs for free, and more.
Related Articles:
How to Convert PDF to Pages Format on Mac/Windows