You may have encountered problems inserting or embedding a PDF document into Google Docs or any other word-processing application. Embedding a PDF can be hard, especially when you do not want to lose formatting but still want a smooth experience. But just like most tasks that need slight maneuverability around some restrictions, a few hacks can do the trick. In this post, we'll focus on how to link a PDF in Google Docs in simple and easy-to-understand steps.

Part 1. Can I Insert a PDF into a Google Doc?
Google Docs don't have an in-built feature to directly insert the PDF file into the document. But with some workarounds, you will make a way through.
One way to insert a PDF into Google Docs is to convert the file to an image. You can convert the entire document or just a specific section. This option comes in handy when your PDF document contains many images.
Also, you can insert the PDF file into a Google Doc by inserting it as a link. Any update made to PDF will reflect in the Google Document file. Click on the link to check the whole PDF in your web browser.
Moreover, you can convert the PDF into Google Docs directly. This is useful if you want to only present a few PDF content in Google Docs.
Keep reading to learn how to link PDFs into Google Docs.
Part 2. How to Turn PDF into Google Doc Directly
Coolmuster PDF Converter Pro is the most powerful, smart, and reliable software that allows you to effortlessly export PDF files to several formats such as Word, text, images, ePub, Excel, HTML, and more. Its advanced technology ensures users' needs are met. Since it is specially crafted for starters in mind, it offers a simple solution for converting PDF content into 7 major file formats.
Coolmuster PDF Converter Pro is one of the most sought-after tools due to its impeccable capabilities. With it, you can convert up to 200 PDF files at once. If you only want to convert particular pages, this tool has your back. Just enter the number of pages to convert, and sit back and watch. With its preview feature, you are sure of accurate results. It is not only easy to use but also fast.
How can Coolmuster PDF Converter Pro help:
Convert PDF files to images, Word, ePub, Excel, HTML, etc.
Convert up to 200 files at the same time.
Retain formatting and layout.
Preview feature for accurate results.
Faster conversion speeds.
Check the steps below for how to use Coolmuster PDF Converter Pro:
01Launch the program and add files
After installing the tool, launch it and tap on Add Files or Add Folder. Afterward, preview the files while removing the unnecessary files using the Delete button.
02Choose the format output
There are several options to choose from depending on your needs.
Select the PDF to Word option to convert PDF to Word. You can as well choose PDF to Image and so on. Choose the right format that suits you. After that, choose the destination folder to store the output files. You can also customize page numbers.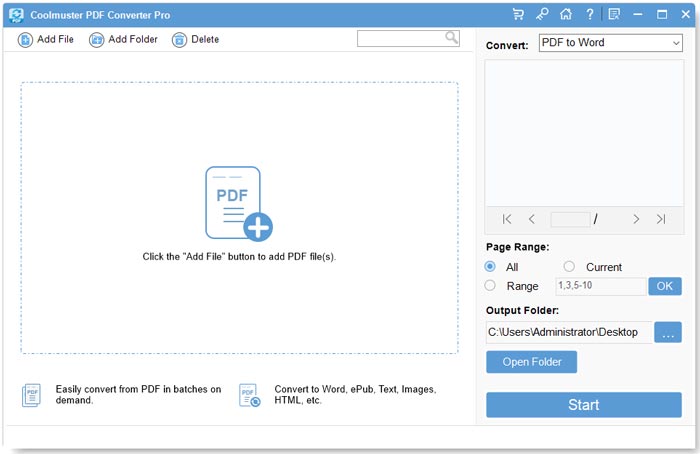 03Start the conversion
Press the Start button to convert your files. Your PDF files will be converted instantly and saved to your PC.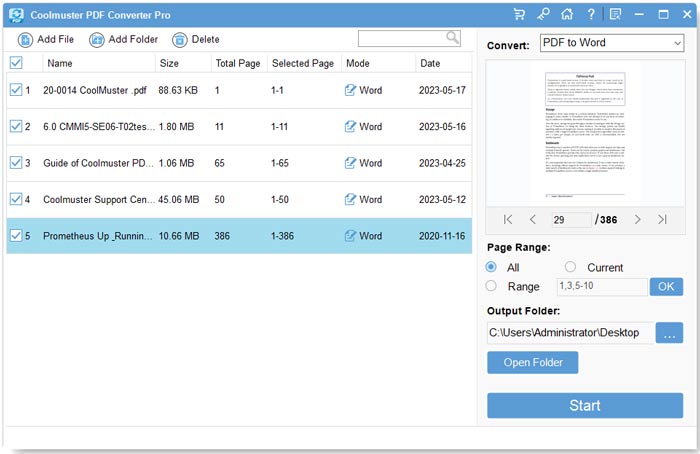 More relevant articles:
How to Open a PDF in Google Docs [Multiple Useful Methods]
Preview Alternative: Fast Convert PDF to TIFF/GIF/BMP on Mac
Part 3. How to Attach a PDF to a Google Doc
There are workarounds to link a PDF into Google Docs. PDF format is mainly popular for its utility in storing different forms of information that need sharing. Thus, depending on the nature of the content in the PDF, you may select the method that works best for you. Below are the top ways to get started.
Way 1. How to Insert PDF to Word Document as a Link
Inserting PDF into Google Docs as a link lets you access or read the file exactly as it is in a PDF reader. Since Google Docs is part of Google Drive, you can add the link saved from the Drive or another web page on the internet into its documents. You may thus edit, change or remove the links you inserted when needed. Here are steps to insert a PDF into Google Docs as a link:
Step 1. Upload the PDF file into Google Drive. When the file appears in My Drive, right-click on it and tap the Copy link option to place the PDF link on the clipboard, then hit Done.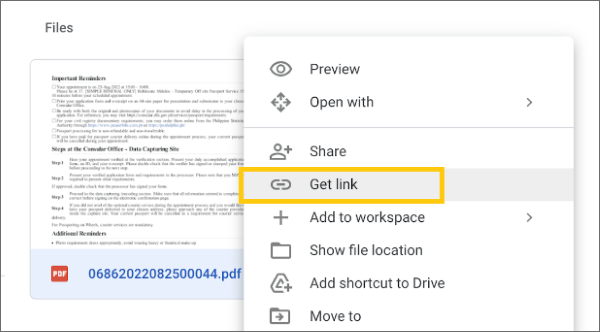 Step 2. Open the document you want to insert the PDF and place the cursor where the PDF will be inserted. Paste the link.
Step 3. When the link to your PDF shows in the document, you will see the option to replace the link with an icon that shows the PDF name. You can press on Tab key on your computer or choose the icon from the small popup window.
This option provides a fast and easier way to access your PDF document. You can see a chip by moving the cursor over the button or just tapping on it. A new browser will open when you click on the link in the chip.
Way 2. How to Insert a PDF into Google Doc as an Image
If you want to display a PDF in your Google Doc instead of including the link, adding it as an image is the best. Since PDFs can't be inserted into Google Documents directly, you will have to change them into images and then insert those images into the document.
After you've converted the PDF file as an image, you can insert it into Google documents like other images. If you wish to include a whole PDF, insert every image corresponding to a specific page.
Follow these steps to insert PDF into Google Docs as an image:
Step 1. Place the cursor in the document where the image will be inserted. Click on the Insert tab at the top left section and choose Image from the drop-down list.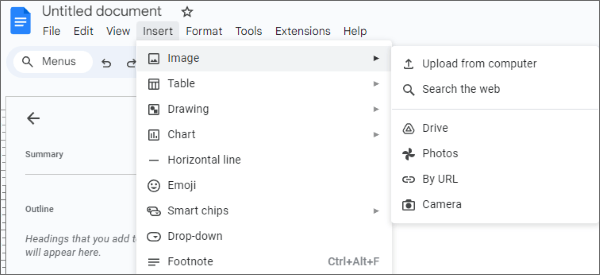 Step 2. Select Upload from computer or Drive. Choose the correct option depending on the location you saved the PDF images.
Way 3. How to Link PDF in Google Docs Using FileDrop
Inserting files into Google Docs is easy with the right programs. FileDrop is an important Google Docs, Slides, and Sheets sidebar application that can help upload images into Google Documents. You can conveniently insert any file in your Google Docs by dragging and dropping it there. It's a fairly easy technique. Just install the FileDrop Google Docs add-on and start inserting files.
Here are steps to insert PDF links to Google Docs:
Step 1. Install the FileDrop add-on.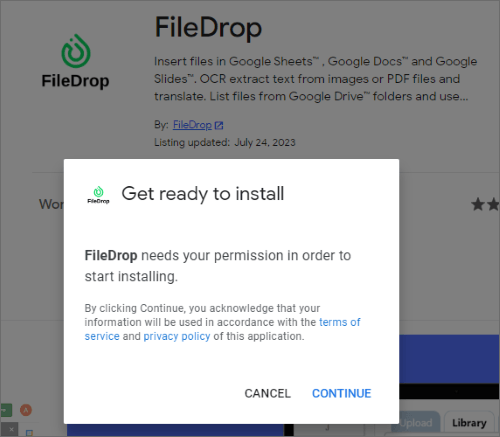 Step 2. Head to Extensions, then choose FileDrop to start it. A sidebar will appear on the right side of your screen where you can upload your files.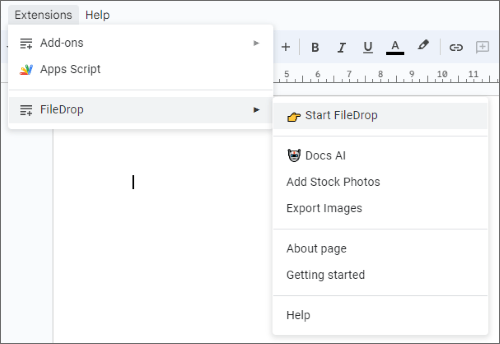 Step 3. Click Choose Files or drag & drop the PDF file you'll insert. Select the PDF file and drag it to your desired place in Google Docs. It'll instantly upload Google Drive into the created FileDrop folder after installing the add-on.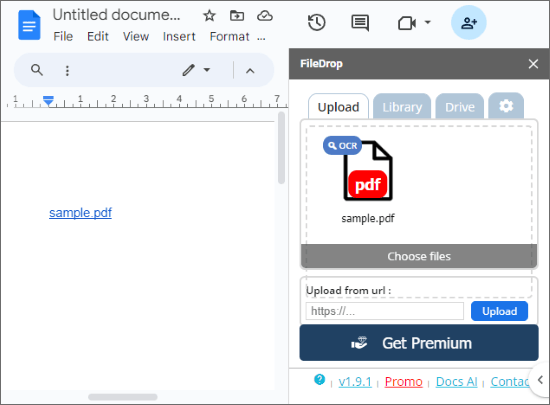 Step 4. After the file is ready, use the Drive tab to search for it and tap on it to insert the PDF into Google Docs.
Also read:
How to Split PDF Pages? Solve It Using Top Recommended Methods
How to Use the Free PDF-to-Word Converter Zamzar & The Best Alternatives
Recap
Inserting a PDF in Google Docs isn't a direct process, but it's still possible with a few tricks. We have provided the simplest ways to insert PDF documents into Google Docs.
Similarly, if you want to convert PDF to Microsoft Word, ePub, images, TXT, HTML, or Excel etc, consider using Coolmuster PDF Converter Pro. There is no format loss during the conversion, and it produces accurate results in a blink of an eye.
Related Articles:
[Easy PDF Solutions] How to Convert Scanned PDF to Word via Multiple Ways
How to Convert JPG to PDF Like a Pro [Computer & Mobile Phones]
Effortlessly Convert ePub to PDF on Your Computer: Our Top Picks
Retain PDF Layout: How to Separate Pages in PDF Effortlessly
How to Insert Multiple Page PDF into Word with Ease [4 Methods]
How to Export PDF to Word Easily? Your Ultimate How-To Guide