Are you wondering how to make a fillable PDF in Google Docs for your project? Creating such a form from Google Docs is possible but not as straightforward if you've no idea where to start. In fact, Google Docs doesn't have a custom button to do everything in a single click. You must apply various elements and steps in your Google document. This article will reveal the best steps to make fillable PDF forms with Google Docs.
Part 1. FAQs About How to Make a Fillable PDF in Google Docs
If you are reading about creating fillable PDFs for the first time, a lot must be crossing your mind. In the below section, we address that and a lot more that revolves around the basics of this topic.
1. What is a fillable PDF form?
It is formed in a PDF format with data fields available that you can edit digitally without scanning or printing the file again. You can share and distribute the forms electronically and have people fill them out and resend them similarly. Simply put, it is a PDF form you can fill out electronically.
2. Why create fillable PDF Google Docs?
So, why fillable PDF forms? Isn't it better to create a regular form and print it out so people can fill it out manually, then scan it back?
Here are the reasons why a fillable form gets preference every day.
It promotes efficiency because they can get filled out and signed from anywhere.
It allows you to improve customer experience – your customers find it convenient to fill out forms online.
Fillable PDFs promote sustainable practices as they eliminate the use of paper.
The form is easily customizable; you can edit it digitally without printing and scanning them out.
3. Any tips to help make the best Google Doc fillable PDF?
If you need to create a nice fillable PDF from scratch in Google Docs and want the best out of it, follow these extra tips:
Focus on the PDF's theme and layout for an outstanding output.
Create an organized template to simplify creating a structured form.
Insert questions into the document by including adjusted tables if creating a fillable table inquiry form.
Make use of the menu in Google Docs to customize your document.
Allow real-time collaboration with editors to create a well-read form.
Read More:
Unlocking Efficiency: How to Create Fillable PDF from Word Effortlessly
How to Insert a PDF into a Google Doc: Quick and Easy Steps
Part 2. How to Create a Fillable PDF in Google Docs
You can create a fillable form using Google Docs without depending on external software or tool. There are two main steps to follow. Firstly, create a new fillable form using Google Docs. Secondly, convert the Google Docs fillable form to a fillable PDF. Let us discuss both steps below:
Create a New Fillable PDF in Google Docs
Creating a fillable form using Google Docs is easy because of the available ready-made formats and tools. The following steps explain how to create a fillable form with the help of Google Docs from scratch:
Step 1. Go to Google Drive and sign in. On the left, click "+ New folder". Choose "Google Docs" from the drop-down. Your new document will open.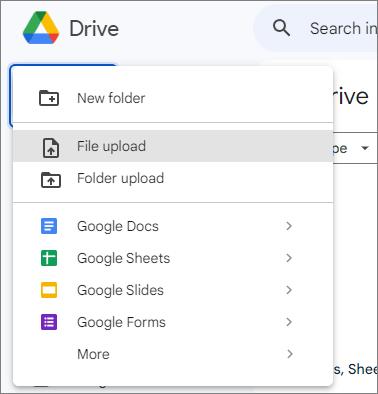 Step 2. Start with inserting a table. To do that, click the "Insert" button from the menu, then "Table". Next, select the number of cells you want based on your preferred table size.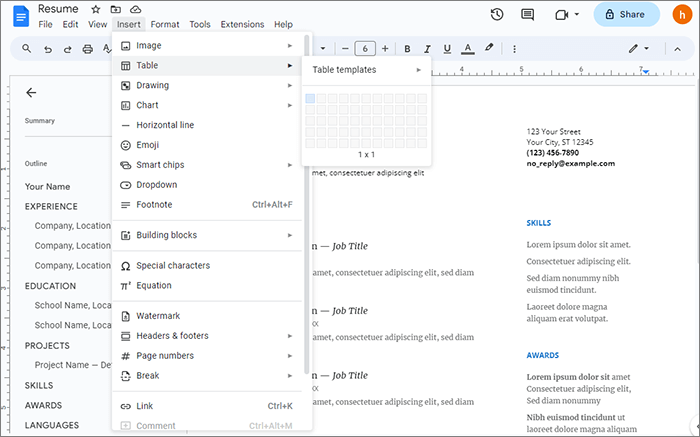 Step 3. Fill out the fields on the form with questions you need answered based on your preferred concerns. Make sure you leave blank cells for the respondent to fill out.
Step 4. Right-click on individual tables and select "Table properties". Many formatting options will pop up on the right side of the table, from the row, column, cell, color, and much more. You can customize the form with each option as you wish.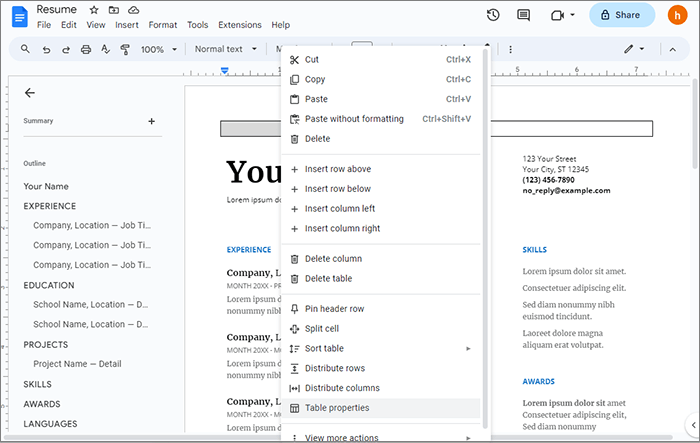 See Also:
[Easy Office Solution] How to Link a PDF in Google Docs | 4 Methods
Efficient Collaboration: How to Email a Google Doc as a PDF
Convert the Google Docs Fillable Form to a Fillable PDF
After creating your fillable form using Google Docs, you can convert it into a PDF. The steps to follow include:
Step 1. Click "File" at the top right corner of your created fillable form.
Step 2. Go to the "Download" option. Select "PDF Document (.pdf)" as your chosen format, the file will save automatically as a fillable PDF.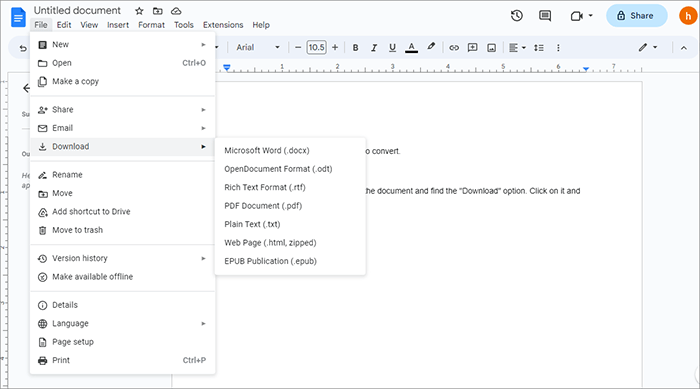 Alternatively, Click the "Print" icon on the top left after the Redo button. A window will pop up with multiple print options. Choose "Save as PDF", then hit "Save". Your saved fillable PDF is ready for physical filling.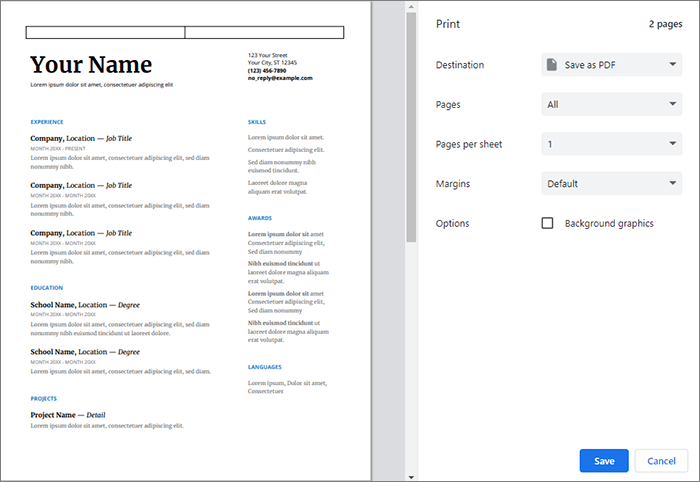 Can't Miss:
How to Edit PDF in Google Docs – Everything You Need to Know
From Text to Interaction: How to Make a Fillable PDF in Word
Part 3. How to Make a Fillable PDF by PDFelement – The Best Alternative to Google Docs
Creating an excellent fillable PDF with Google Docs is hectic. In addition to spending a lot of time creating the fillable form, you must convert it to a PDF format. While some find it convenient, it is still challenging because the conversion may alter the format slightly, depending on what you have included in the form.
An easier and more convenient alternative would be using PDFelement to make the best fillable PDF. It is a powerful tool that helps you easily create, fill, and edit PDF documents. It offers numerous features for transforming and interacting with PDF forms. With this program, you can create the form from scratch using available templates or make your Google Docs PDF form fillable using special tools.
Top features of PDFelement
Fill out fillable and non-fillable forms.
Make a PDF fillable form manually by adding fillable fields to it.
Automatically create interactive forms.
Use PDF form templates – well-designed and customizable templates for different designs.
The following steps will guide you on how to make a fillable PDF with PDFelement:
01Download and launch the software on your device. Click "Open PDF" at the bottom left to open your PDF file in the PDFelement interface.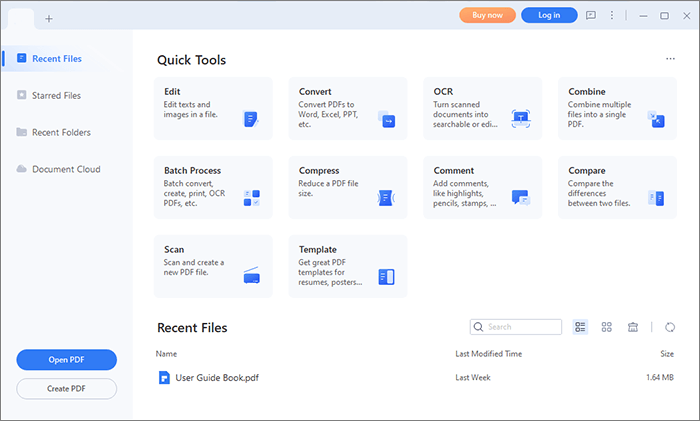 02Go to "Form" and select "Recognize Form". The software will recognize your form and create interactive form fields.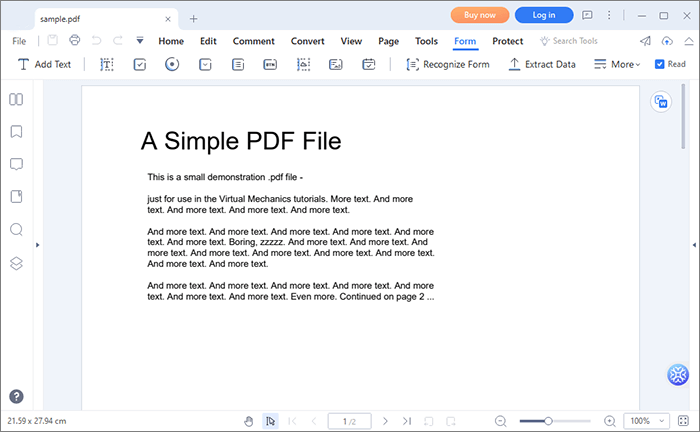 Note: If the program cannot automatically recognize the form fields in your PDF, you can create them manually from the "Tools" on the main menu. Pick a suitable field and select a target location on your document to add them.
03Once the necessary fields are recognizable, click "Convert" and select fields to edit and allow filing. Preview and click "Save". The fillable PDF is now ready for printing or sharing.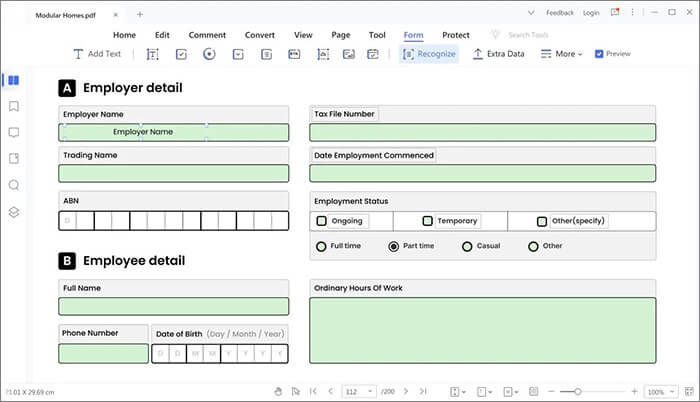 May Like:
PDF to Word OCR Software Review: Unleashing Precision and Efficiency
[Make Your Office Easy] How to Combine PDF Files on Windows 10
Conclusion
There you have it – a detailed discussion on how everyone can make an ideal fillable PDF with Google Docs using the correct steps. Google Docs allows you to create and convert the form. However, a third-party tool, like PDFelement, will help you make the form fillable so you do not have to print and scan it for people to fill it out.
Related Articles:
[Easy Guide] Convert Word to PDF via Adobe Acrobat & Alternatives
On-the-Go Solution: Word to PDF Converter Offline for Quick Conversions
How to Convert Password Protected PDF to Without Password: Approved Methods
The Best Free PDF Security Remover Tools to Recommend [7 Tools]
How to Convert Microsoft Word Document to PDF: Quick and Efficient
Effortless PDF Integration: How to Combine Multiple PDFs into One