Google Doc is a default file format that exists solely on the cloud. Despite that, you can still change your Google documents to other formats. One of the most common file formats you may require to generate is a portable document format (PDF). In this article, you will learn how to email a Google Doc as a PDF. We'll show you possible ways to share a Google document as PDF over an email. So, follow along as we take through these simple tricks.
Part 1. Why Turn Google Doc into PDF
Emailing the Google Doc as PDF provides several advantages and may be preferred in certain situations. Here are some of the benefits:
The universality - PDF format is a highly known format by many businesses since its invention many decades back. Businesses globally trust this file format with their reports, contracts, and other documents. Turning Google Docs into PDFs implies you may share the document in a trusted format.
Collaboration & Organization - Google documents use versions that update in real-time. This helps to avoid potential problems which may arise with multiple versions. After saving the Google Doc as a PDF, you may share it with others.
Accessible anywhere - By changing a document to PDF, you're sure your file will be accessed from anywhere and on any device. Your clients and colleagues can read the file on their laptop, computer, phone, or tablet.
Part 2. How to Email Google Doc as PDF by Downloading It as a PDF
Since PDF is an important and popular format, understanding how to save a document as a PDF should be your top priority. Saving Google Documents into PDFs is an easy process. With the download option available in Google Docs, you will have no issue saving the file as a PDF. You can download your document file as a PDF and then share it via email. Here are the steps to follow:
Step 1. Open the Google document you want to convert.
Step 2. Choose "File" at the top left of the document and find the "Download" option. Click on it and select the file type, which is PDF.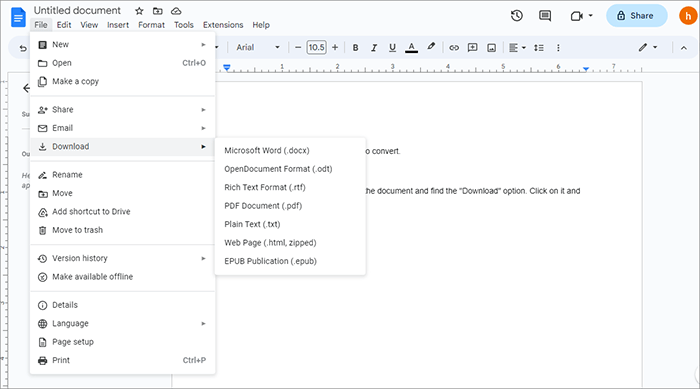 Step 3. After choosing the PDF file format, your file will be downloaded on your device as a PDF. You can now email the converted file to your preferred email address by attaching the file to your email.
Read More:
Convert PDF to Google Doc | You Should Try the 4 Methods Recommended
How to Open a PDF in Google Docs [Multiple Useful Methods]
Part 3. How to Email Google Docs as PDF by Saving the File as PDF
Aside from downloading a Google Doc as a PDF, you can also save it as a PDF directly using the Print option. It is one of the easiest tricks that many don't know. Follow these steps to learn how to save your Google Doc. Here are the steps:
Step 1. Launch Google Docs from the drive. Click on the "File" menu at the top left section and choose the "Print" option from the displayed options.
Step 2. Tap the "Destination" menu from the print dialog. It's a drop-down menu that includes several options. Just choose "Save as PDF" to save your document on the device.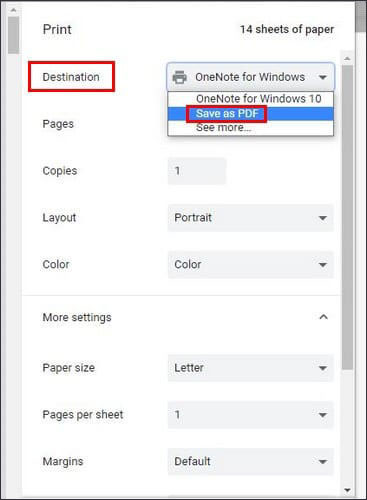 Step 3. Select the folder where to save your PDF files.
Can't Miss:
[Comprehensive Tutorial] How to Save a PDF as a Word Document
[9 Tools Review] The Hottest PDF to Word Converter Online/Offline
Part 4. How to Automatically Email a Google Doc in PDF Using the Email Option
In Google Docs, there is an option to email the document directly as PDF. This way, you don't have to go through the hassle of converting the file first and then sharing it later. Below are the steps to follow to directly email a Google Doc as a PDF:
Step 1. Launch Google Doc from your Google Drive. Open your file from the menu bar.
Step 2. Choose the "Email" option from the available lists to open an email window. You'll have to enter the email address where you want the files to be sent.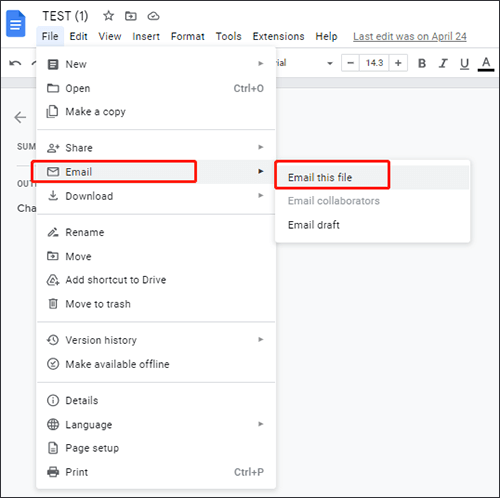 Step 3. Enter the details in the "Subject" section with the correct description. Write the message in the body; you can as well skip it.
Step 4. Choose file format by entering "PDF" to send your Google document as a PDF.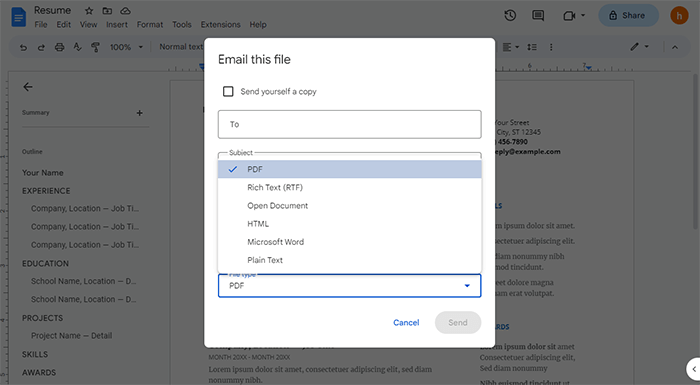 Step 5. Now press the "Send" tab. You may also choose the box at the upper left corner to send yourself a copy of the converted file.
See Also:
Unlocking the Power of Conversion: How to Convert PDF to Word
Editing PDFs for Free: Top 3 Tools You Need to Try
Part 5. How to Email a Google Doc as PDF on Android
It is also possible to email your Google Doc as PDF on Android. Here are the steps:
Step 1. Launch the Google Doc application. Tap on the three-dot menu in the upper right corner.
Step 2. Tap "Share and export", then tap on the "Save as" icon to save your document.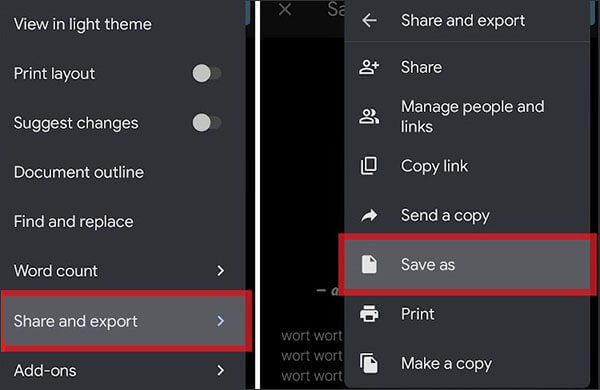 Step 3. Choose "PDF", then hit "OK". From there, "Download" button next to the three-dot menu to save your PDF. Choose the recipient and click "Send".
May Like:
Converting Magic: How to Send a Pages Document as a PDF Like a Pro
How to Recover Deleted PDF Files from WhatsApp? [4 Effective Ways]
Bonus: Easy Way to Convert Word Doc into PDF - Coolmuster Word to PDF Converter
If you are looking for a professional, reliable tool that can help you convert Word to PDF effortlessly, Coolmuster Word to PDF Converter is your best choice. It boasts advanced features that guarantee high-quality results. This powerful tool can help you turn Doc Word into high-quality PDFs easily. Besides, if you have a Google Document, you can save it on your device and then use this tool to convert it to PDF.
It is very safe to use and offers options to customize your output files, like resetting page size, output folder, and document margin.
Most PDF converters only allow converting a single file at a time. But with Coolmuster Word to PDF Converter, you can convert as many documents as possible, thanks to its batch conversion function. It handles many Doc files at the same time while producing greater results.
Key features:
Convert Doc to PDF easily.
Retain the content layout during the conversion.
Convert multiple Word documents at the same time.
Customize page margins and size to produce high-quality results.
Swift and simple process.
Below are steps to convert Word to PDF in just a click:
01Start by downloading the Coolmuster Word to PDF Converter on the computer. From there, install it. Now run the software to get to its primary interface.
02Start adding the documents you want to turn to PDF. You should use the "Add File" or "Add Folder" buttons. You can add as many files as you want to start converting them.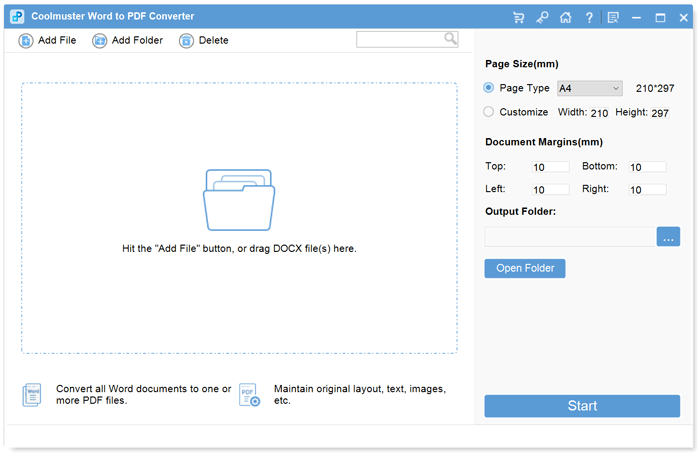 03Customize the output file by changing the page margins and size. Next, choose where to save your files.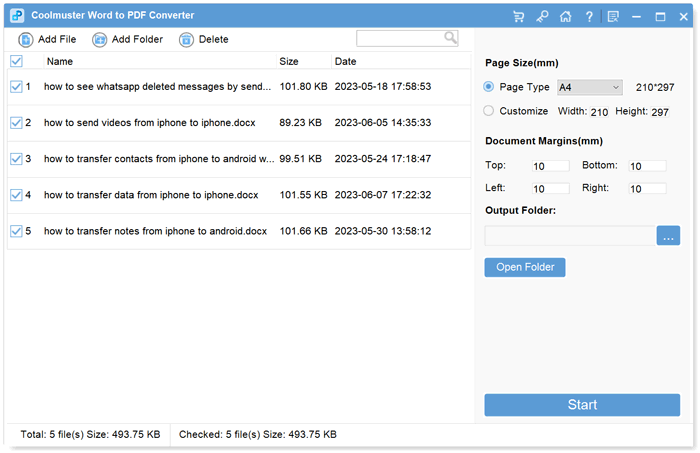 04Now tap the "Start" button to convert your documents to PDF.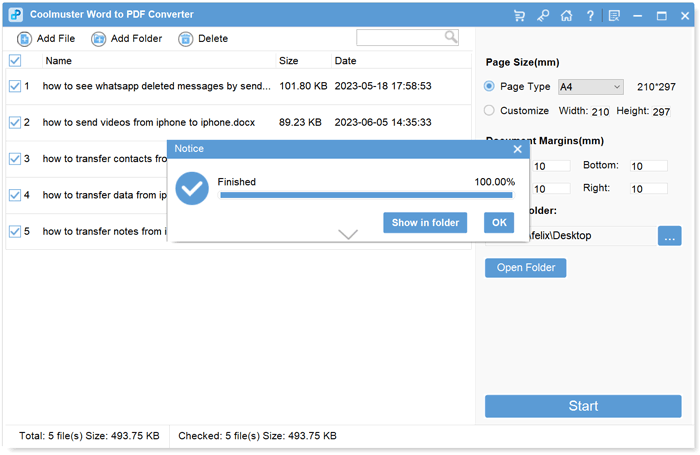 Conclusion
Wondering how to email a document as a PDF? Now you have your answer. It is a very simple process that shouldn't give you sleepless nights. Similarly, numerous methods exist to help you email a Google document into PDF. Just follow the above simple techniques, and you will have your PDF files ready to be shared.
However, for quick results, we recommend Coolmuster Word to PDF Converter, your all-in-one PDF converter that creates PDF files from any Word document in seconds.
Related Articles:
How to Transfer PDF to iPhone without iTunes in 7 Unexpected Ways?
How to Split a PDF into Multiple Files? 4 Methods for Both Windows & Mac Users!
Effective Ways to Password Protect PDF Files with Sensitive Data
[Easy Office Solutions] How to Convert DOCX to PDF - 6 Methods
Effortless Document Transformation: Converting Word to PDF with iLovePDF
How to Merge Multiple PDF Files Like a Pro: Step-by-Step Guide