Google Docs is undoubtedly one of the best web word processors for creating, editing, and storing documents in the Google Docs Editor suite. Even though it's an essential tool for Document drafting or collaboration, it is not the safest way to save online documents to your device. Besides, it lacks that professional touch, thus not an ideal format for sharing with clients, potential employers, or colleagues. Therefore, you must save it as a PDF, a perfect format for CVs, Word documents, or contracts.
Additionally, a PDF can't be edited and saves you the problems of size limits in email attachments. So, how to save a Google Doc as a PDF? You'll know everything from this post. So, keep reading.
Part 1. What to Know Before You Start Exporting Google Doc to PDF
Before we take you through the detailed steps to save the Google Docs into PDF, you should know a few points.
There are different options for saving Google Docs to PDF. First, you can use the Download option in the File icon in Google Docs. The PDF files will be downloaded to the computer, where you can save or share them with other people.
Next, there is the Print feature in Google Docs. Here you use a virtual printer for printing your Google Document as PDF. Also, there is an email option to email your Google Docs as PDFs, which allows you to convert the files instantly and send them as PDFs.
Part 2. How to Save Google Doc as PDF on a Computer
Google Docs is a great, useful word processor, just like Microsoft Word. If you decide to keep your finished work as a Google Doc, it may not be a very safe way to keep your private information as it can easily be edited. Besides, if it is work-related, you should save it in a format like a PDF. But how to make a Google Doc into a PDF? Saving Google Doc as PDF on a computer or desktop is quite easy. You can do that in various ways, as mentioned below:
2.1 How to Convert a Google Doc to PDF Using Coolmuster Word to PDF Converter
Coolmuster Word to PDF Converter is a no-nonsense Google Doc to PDF converter software that converts all Doc files to PDFs in no time. Conversion of Word documents to PDF is simplified with this tool. Thanks to its user-friendly interface, even if you don't have technical knowledge, you will be able to use it without problems. It takes a few clicks to save your Doc file in a professional-looking PDF.
Key features:
Support conversion of multiple Word Docs to PDF quickly.
Easier to save Word Docs as PDFs.
Keep original layout and content integrity during the conversion.
Smooth and swift conversion process while ensuring good quality results.
Customization options are available.
Here are steps on how to export Google Doc as PDF with Coolmuster Word to PDF Converter:
01Once downloading Coolmuster Word to PDF Converter on the computer, install it. Run it to get to the primary interface. Press the Add File button or Add Folder.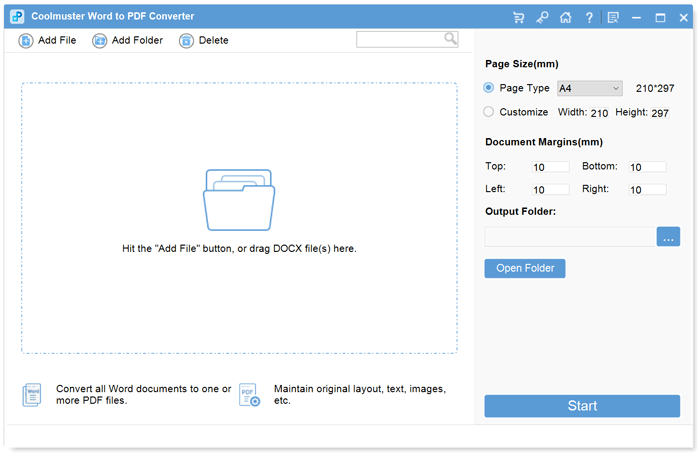 02Customize the page size and margin as you choose an output location.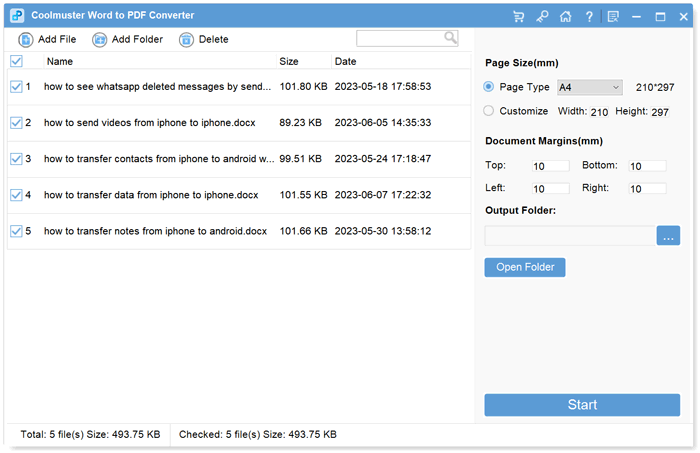 03Tap the Start tab to start the conversion process.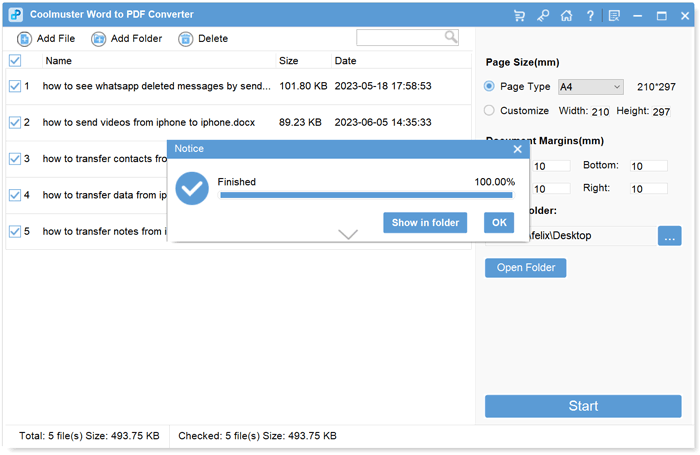 Further Reading:
Convert PDF to Google Doc | You Should Try the 4 Methods Recommended
How to Open a PDF in Google Docs [Multiple Useful Methods]
2.2 How to Make a Google Doc Into a PDF by Emailing it as a PDF
One way to save a Google Doc as a PDF is by sending it as an email. You will choose the recipient's email address and specify the output file. Below are the steps on how to save a Google Doc as a PDF:
Step 1. Head to the Google Docs site on the computer, then create/open a Document file.
Step 2. Tap on the File tab, then hover over the options to find Email, then press Email this file.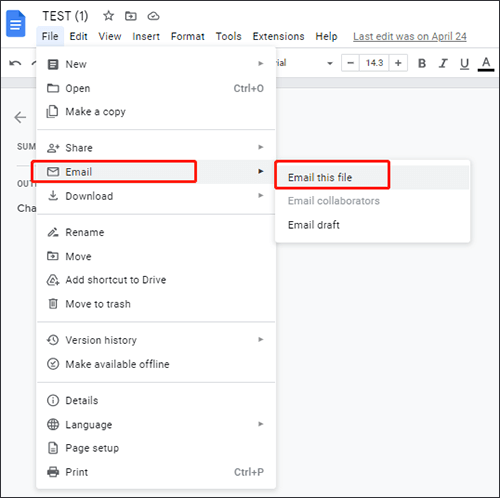 Step 3. Enter all necessary fields, then hit Send. Ensure the File Type (PDF) is selected in the lower dialog box.
2.3 How to Change Google Doc to PDF by Printing it as a PDF
You can also use the Print option to save any Google Doc file as a PDF. But instead of hitting the print button to print it out, just tweak the Destination field and choose the Save as PDF option. Here are the steps on how to turn Google Doc into PDF with a Print feature:
Step 1. Find the Google Doc file to be converted to a PDF. You can use your keyboard keys to Print the files or use the options in the Google Doc file under the File tab. Press the Ctrl+P keys on your computer or choose the Print option from the File tab.
Step 2. Change the Destination field to Save as PDF.
Step 3. Tap the Save button at the bottom to save the file to the computer. You can change the file name and location.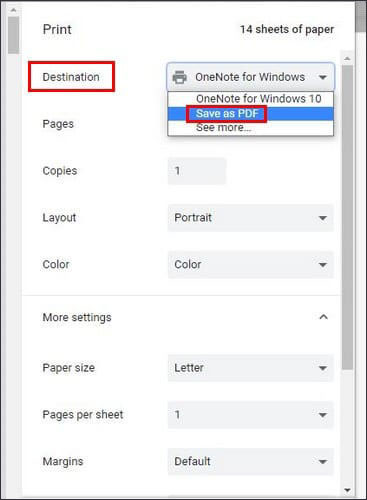 You May Like:
Unlocking the Power of Conversion: How to Convert PDF to Word
[Comprehensive Tutorial] How to Save a PDF as a Word Document
Part 3. How to Save a Google Doc as a PDF on Mobile Devices
Making a Google Doc file on a Mobile device is also simple. Whether you have Android or iOS, you can still save your Google Docs to PDF effortlessly. However, the steps aren't similar on Android and iPhone/iPad. On iPhone, you must sign into the Google Docs application first.
3.1 How to Convert Google Doc to PDF on iPhone/iPad
There are two ways to make a Google Doc file a PDF on iPhone or iPad. They include:
1. Use the Save Feature
Here are steps on how to turn a Google Document into a PDF on iOS:
Step 1. Open the Google Docs app on your iPhone. Choose your Doc file to be converted into PDF and open it.
Step 2. Edit the file if necessary, then tap on the More button, shown in three straight dots.
Step 3. Tap Share & Export from the drop-down menu. Tap Send a Copy and choose the file format as PDF, then hit OK.
Step 4. Wait for the conversion to complete, save the files, or share them into your phone's internal memory.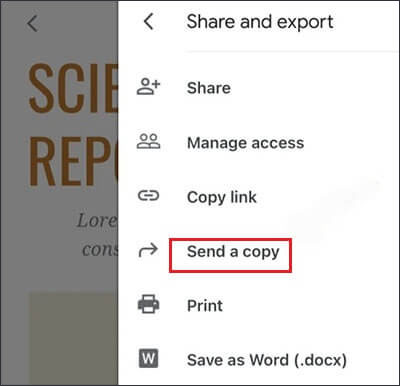 2. Use Print Feature
iOS devices can let you access the Print feature in Google Docs, which can help convert the files to various formats. Here are the steps to follow:
Step 1. Open the Google Docs application. Click the Plus icon to open a new Document to begin writing. You can also click on it to open and view the Doc file.
Step 2. Edit the Document and hit on the three dots in the upper right section. Click the Share & export option.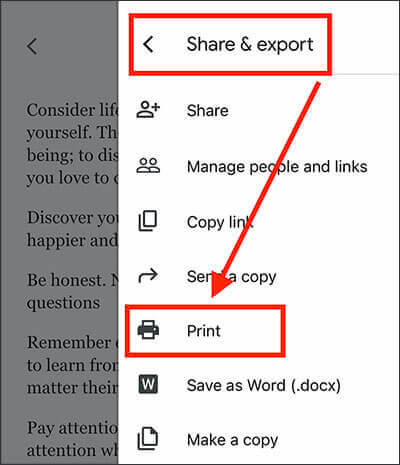 Step 3. On the next menu, tap Print. Check to ensure the Print Options are set right. The conversion procedure will initiate.
Step 4. Tap Save to Files or Share in the lower left section.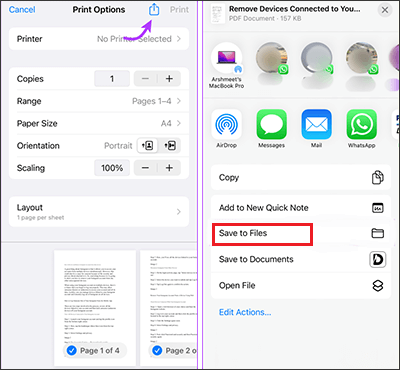 Learn More:
[9 Tools Review] The Hottest PDF to Word Converter Online/Offline
How to Recover Deleted PDF Files from WhatsApp? [4 Effective Ways]
3.2 How to Make Google Doc into PDF on Android
Android users are also not limited when converting Google Docs to PDFs. Since Google Docs is in the application version for Androids, saving the Doc files to PDF is simple. The steps are, however, quite different from iOS. Here's how to turn a Google Doc into a PDF on Android:
Step 1. Open the Google Docs application on Android and choose the Document file to turn to PDF. Make the necessary edits using the Pen-like icon.

Step 2. On the upper left side of the screen, you'll see three dots in a horizontal position. Press it, and a menu will appear.
Step 3. Select Share and export and tap Save As after that. Formats will show in the next window. Tap PDF Document, then press OK.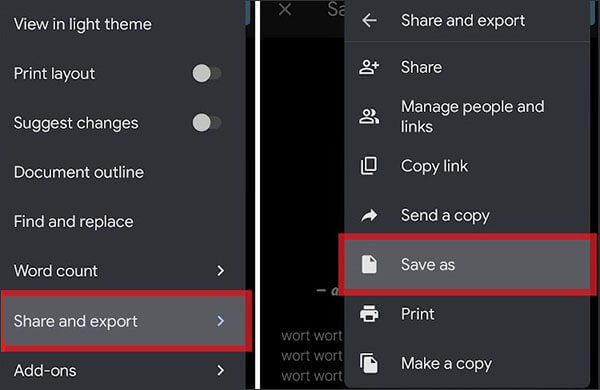 The application will bring a preview for a PDF file. Tap on the arrow pointing downward to save or download the PDF file. This will keep the file in your device's library in the Downloads folder.
Conclusion
That is how to convert Google Docs to PDF. We can see that converting Google Docs to PDF isn't that hard. Saving Google documents as a PDF offers a universal, reliable, and secure way to share or distribute your documents while retaining their original content and appearance. The methods mentioned in this guide will allow you to convert any Google Doc file to PDF. We recommend using Coolmuster Word to PDF Converter to convert Word files to PDF. It is so easy and effective.
Related Articles:
How to Split a PDF into Multiple Files? 4 Methods for Both Windows & Mac Users!
Convert PDFs to JPG/JPEG Images for Better Accessibility and Sharing
No More Watermark Distractions: Learn How to Remove Them from PDFs
No More Limits: How to Copy Text from Protected PDF on Mac and Windows
From Web to E-Book: Mastering the Art of HTML to ePub Conversion
Effective Ways to Password Protect PDF Files with Sensitive Data