PDF documents are a versatile and widely used file format for sharing and presenting information. However, they often come with a drawback - large file sizes that can be cumbersome to send via email or store on your device. This is where PDF size reducer tools come to the rescue. iLovePDF is one such tool that has gained popularity for its efficiency and user-friendliness in reducing PDF file sizes. iLovePDF is a well-known online tool for this purpose, but it's important to explore alternative options to find the best fit for your specific needs. In this article, we'll explore the features and benefits of iLovePDF's PDF size reducer and its alternatives.
Part 1. An Overview of iLovePDF
Moving forward from the overview of iLovePDF, let's delve deeper into understanding what makes iLovePDF a popular choice for PDF compression and manipulation.
1.1 What Is iLovePDF?
iLovePDF is a comprehensive online platform that offers a wide range of PDF tools designed to make working with PDFs a breeze. Whether you need to merge, split, compress, convert, or edit PDF files, iLovePDF has you covered. Among its suite of tools, the PDF size reducer is particularly noteworthy for its ability to significantly reduce the size of large PDF files while maintaining document quality.
1.2 Benefits of Using iLovePDF Compressor
Enhanced File Sharing: Large PDF files can be challenging to send as email attachments or upload to websites. iLovePDF's compression tool enables you to reduce the size of your PDFs without sacrificing quality, making them easier to share and distribute.
Storage Optimization: With the ever-increasing need for digital storage, optimizing your PDFs can save valuable disk space on your computer or cloud storage accounts.
Time-Efficient: Manually reducing the size of a PDF document can be a time-consuming process. iLovePDF automates this task, allowing you to compress PDFs quickly and efficiently.
Quality Preservation: The platform's customizable compression options ensure that the quality of your PDF documents is preserved to the greatest extent possible. You have the option to select the compression level that best suits your needs.
1.3 How to Compress PDF to 300kb with iLovePDF
iLovePDF offers both online and offline modes. Next, follow these steps to learn how to compress files using iLovePDF.
Option 1. Compress PDF Using Online iLovePDF
To compress a PDF file using iLovePDF online, follow these steps:
Step 1. Open your web browser and go to the iLovePDF website. From the iLovePDF homepage, choose "Compress PDF".
Step 2. Click the "Select PDF files" button to upload the PDF file you want to compress. You can also drag and drop the file into the designated area.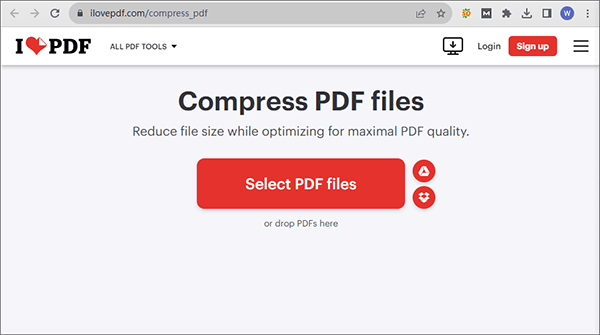 Step 3. Once your PDF is uploaded, you can select your desired compression level from iLovePDF's options, which include "Extreme", "Recommended", and "Less Compression".
Step 4. Tap the "Compress PDF" button. iLovePDF will begin compressing your PDF according to the settings you specified.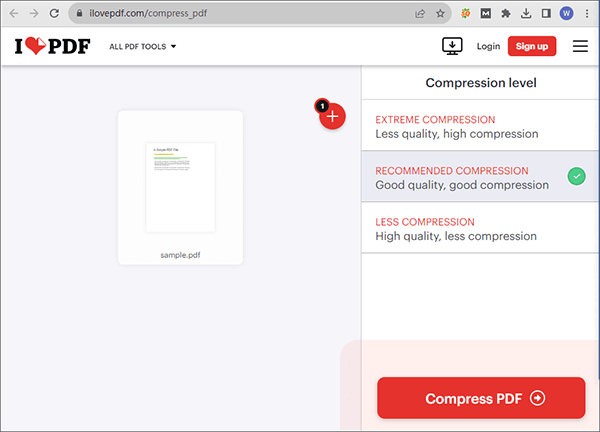 Step 5. Once the compression process is complete, a download link for the compressed PDF will appear. Click "Download" to store the compressed PDF on your computer or device.
Option 2. Compress PDF Using Offline iLovePDF
You also follow the steps below to use iLovePDF offline.
Step 1. Download, install, and launch the iLovePDF desk version. Click on "File" in the upper-left corner, select "Open", and open the PDF you want to compress.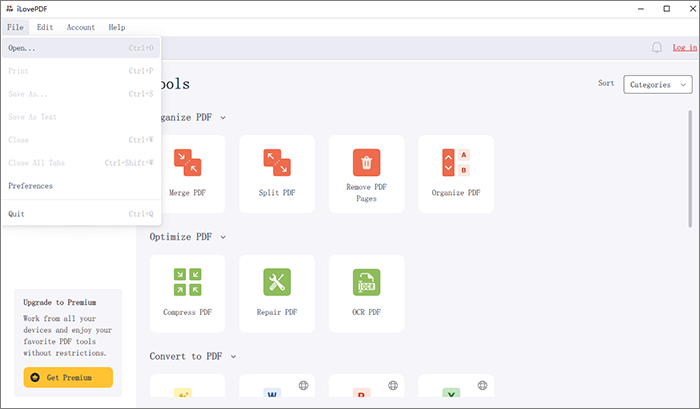 Step 2. Once the file has finished loading, select "Compress PDF" from the Tools on the right-hand side.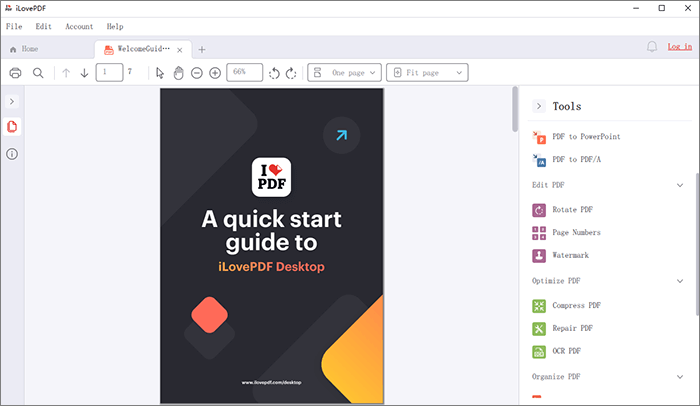 Step 3. Choose the type of compression you want: "Extreme compression", "Recommended compression", or "Less compression". Then, click "Compress PDF".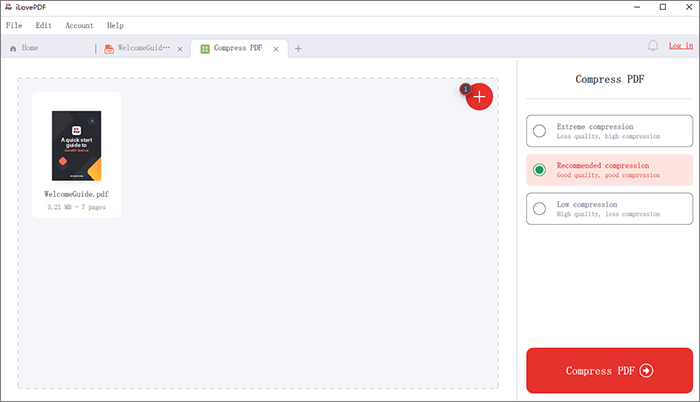 Step 4. Once the compression is complete, click "Save".
Read More:
Effortless Document Transformation: Converting Word to PDF with iLovePDF
Streamline PDF Management: A Comprehensive Review of iLove PDF Merge
Part 2. Alternatives of iLovePDF Compression
While iLovePDF is a popular choice, there are various alternative PDF size reducers available, each with its unique features and advantages. In this section, we will introduce the usage methods of several popular alternatives.
Available 1. PDF Compressor - The Best
PDF Compressor is a Windows utility that can compress both text-based and scanned PDF files. This tool allows users to adjust the compression level to achieve better compression results while maintaining content quality. Additionally, the program supports batch processing, enabling users to compress multiple PDF documents at once.
PDF Compressor can preserve the compressed PDF documents in the original PDF folder without overwriting the original files. Alternatively, if preferred, it can direct the compressed files to a designated folder path. Furthermore, the program is equipped to automatically eliminate restrictions from protected PDF files.
Key features:
Compress PDF and reduce PDF file size fast.
Support for both scanned PDFs and text PDFs.
Maintain PDF quality and format.
Not requiring Adobe Acrobat.

Free Download for PC
Here are the steps:
01Download, install, and run PDF Compressor on your computer. Click on the "Add" button to add a file, or drag and drop your PDF files onto the file list.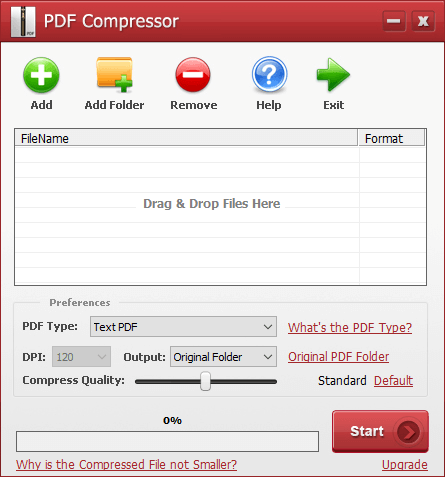 02Select the PDF file type (Scanned PDF or Text PDF), choose the output path, and click the "Start" button to initiate the PDF compression. Track the progress using the bottom progress bar, and PDF Compressor opens the output folder when finished.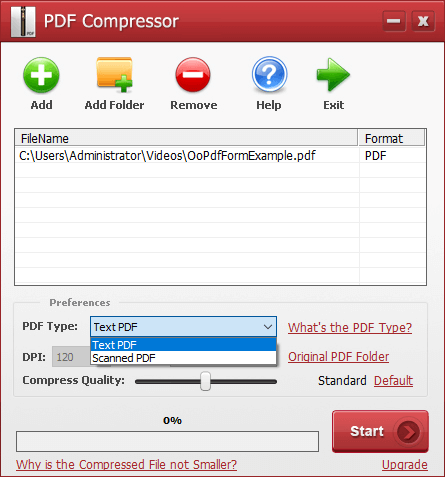 See Also:
iLove PDF to Word Ultimate Guide - Empowering Productivity
How to Insert PDF into Word Easily [A Comprehensive Tutorial]
Available 2. Adobe Acrobat
Adobe Acrobat is a comprehensive PDF solution that offers advanced features for reducing PDF sizes. It's a powerful choice for professionals who frequently work with PDF documents. The next steps are to reduce file size by Adobe Acrobat online:
Step 1. Open your browser, visit Adobe's site, and upload your PDF by clicking "Select a file" or dragging and dropping it.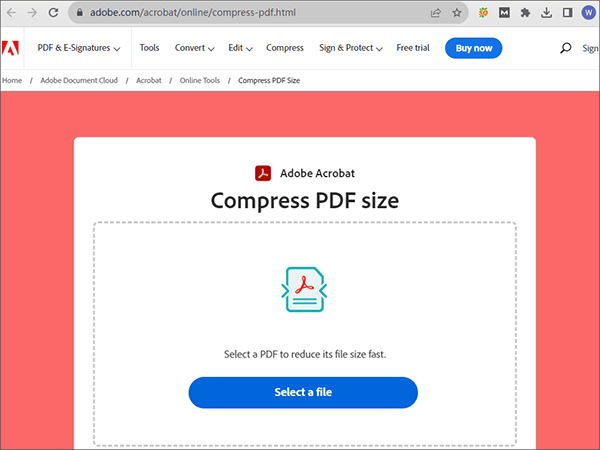 Step 2. Once you've selected your compression setting (High, Medium, or Low), click "Compress" to start. Adobe's tool will then optimize your file size.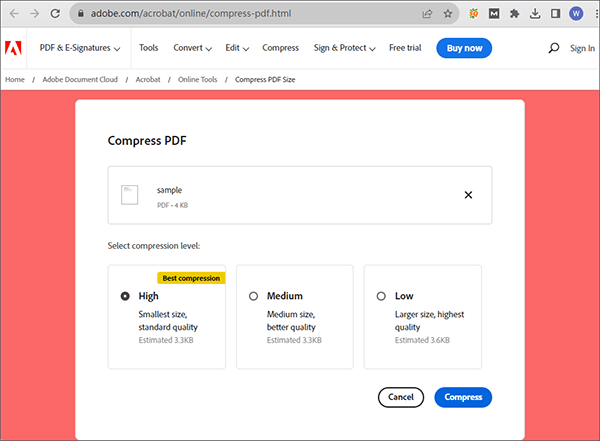 Step 3. After the compression is finished, save your PDF.
Can't Miss:
PDF to Word Magic: Convert PDF to Word with Adobe Acrobat & Alternatives
From Pixels to Pictures: The Art of Adobe PDF to JPG Conversion
Available 3. PDF2Go
PDF2Go provides a user-friendly interface, making it easy to reduce PDF sizes and perform other PDF manipulations. The service also works on various platforms and devices. Below, you'll find the steps to compress PDF without iLovePDF:
Step 1. Go to the PDF2Go online compression site. Upload your PDF by clicking "Choose File" or dragging and dropping it into the designated area.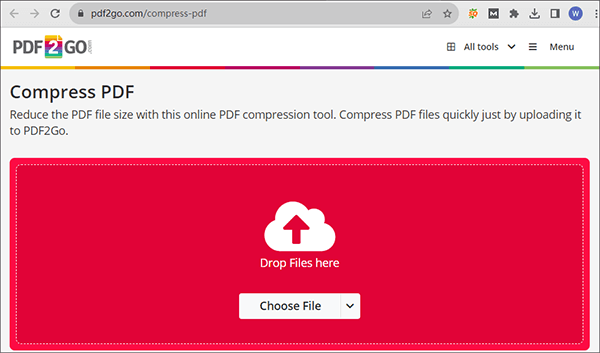 Step 2. PDF2Go offers settings like "Basic Compression" and "Strong Compression". Select one and click "Start" to reduce the file size.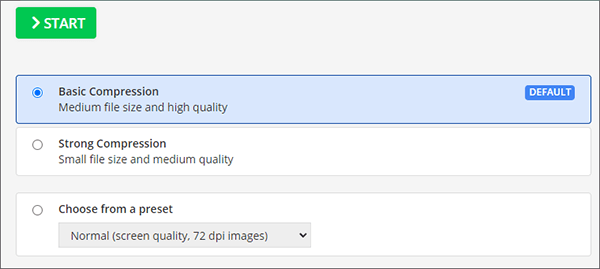 Step 3. After compression, you'll receive a download link for the smaller PDF. Click the link to save the compressed PDF to your device.
Available 4. PDF24
PDF24 is a versatile PDF software that includes a feature for optimizing PDF files, reducing their size while maintaining quality. Now, let's go through the steps for compressing PDF using PDF24.
Step 1. Head to the official PDF24 website and select "Compress PDF" from the toolbar.
Step 2. Click "Choose files" to upload the files for compression, or drag and drop them into the file box to begin the process.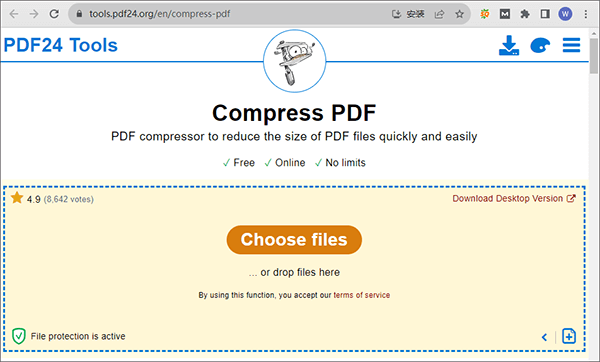 Step 3. Once the document is uploaded, customize the PDF's size, quality, and color to your liking, then click "Compress".
Step 4. Finally, download the compressed file.
May Like:
Effortlessly Split PDF Online in Seconds: Boost Productivity Now
PDF Combiner Free: Your Key to Easy and Efficient File Merging
Available 5. Smallpdf
Smallpdf is another widely recognized online platform for reducing PDF file sizes. It offers an array of PDF tools, including compression, conversion, and editing. It's known for its speed and ease of use. Here are the sequential steps to reduce PDF file size:
Step 1. Launch your web browser and navigate to the Smallpdf website. Click the "CHOOSE FILES" button to upload the PDF you wish to compress, or you can drag and drop the file directly onto the site.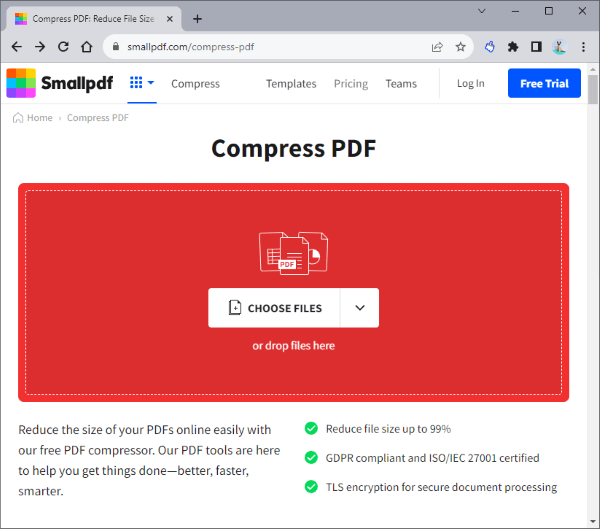 Step 2. Smallpdf will start compressing your PDF, and when it's done, you'll receive a download link. Click "Download" to save the smaller PDF.
Conclusion
In conclusion, when it comes to the quest for an efficient PDF size reducer, iLovePDF stands as a strong contender with its user-friendly online platform and versatile tools. While iLovePDF is a popular choice, it's essential to explore alternative options to meet diverse needs effectively. In this article, to compress PDF files, PDF Compressor emerges as a noteworthy solution, offering the flexibility of offline compression and the ability to fine-tune settings for optimal results. With the evolving digital landscape, the choice of the right PDF size reducer is pivotal, and with options like PDF Compressor, users have the tools they need to streamline their document-sharing process and reduce file sizes with ease.
Related Articles:
Unlock PDF Documents Offline and Online Using Top Strategies
How to Split PDF Pages? Solve It Using Top Recommended Methods
Simplify Your Workflow: How to Merge PDF Files in Minutes
How to Merge Multiple PDF Files Like a Pro: Step-by-Step Guide
Unrestricted Access: Mastering the Art of Removing Security from PDF
How to Remove Pages from PDF: Insider Tips for Quick Results