How do I edit a PDF document? PDF files are notoriously difficult to edit, but luckily, you can find numerous PDF editors with a fast internet search. However, many software programs can be costly, and free or low-cost PDF editors typically only offer the barest minimum of functionality and no assurance of precise file conversion.
However, with the finest PDF editor, you can edit PDF documents and make changes to your PDF file, such as hiding text, adding new text, highlighting text, and integrating images, symbols, and shapes. Read this article to find out how to edit PDF documents easily.
Part 1. How to Edit a PDF Document by PDFelement (Recommended)
PDFelement is flexible and simple, allowing you to modify PDF files quickly. You can change any text in the PDF, add new content, delete old text, align text, adjust the font size, etc. The PDF file can have images removed or added to it in the same instant as the text.
PDFelement's optical character recognition (OCR) capability sets it apart and makes it possible to make changes to text within scanned or image-based PDFs. PDF can be converted to many other file types, such as Microsoft Word, PowerPoint, Excel, images, EPUB, etc. You can use the program on Windows and Mac. Here are some fantastic features of PDFelement:
Edit PDF documents in a single click with the simple-to-use interface.
Create password-protected PDFs with digital signatures.
Use tools like Comments, File Sharing, and Signatures to promote collaboration.
Process many file conversions at once to optimize both time and energy.
Follow these simple steps to edit a document in PDF using PDFelement:
01Download, install, and enable PDFelement. Click "Open PDF" to add the PDF you want to edit.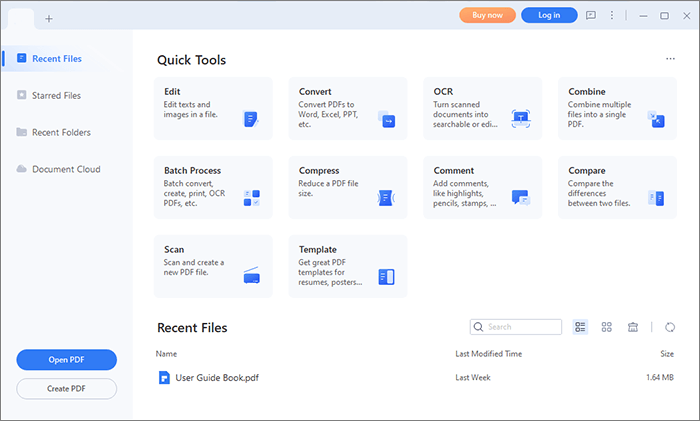 02Click the "Edit" button. You can add text, images, links and even edit watermarks, backgrounds, and more here.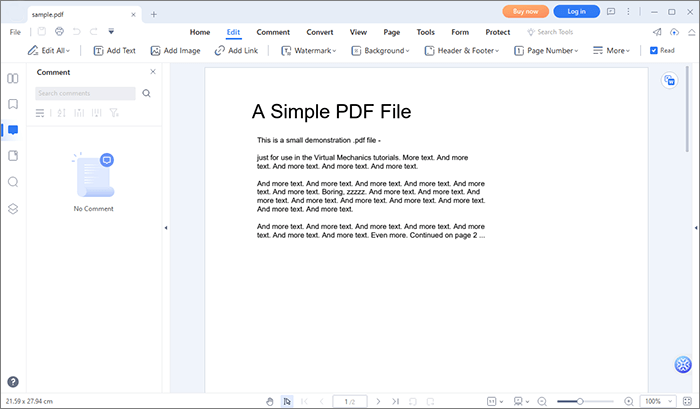 03After making your desired edits, click "Preview", and if everything looks good, you can save the file.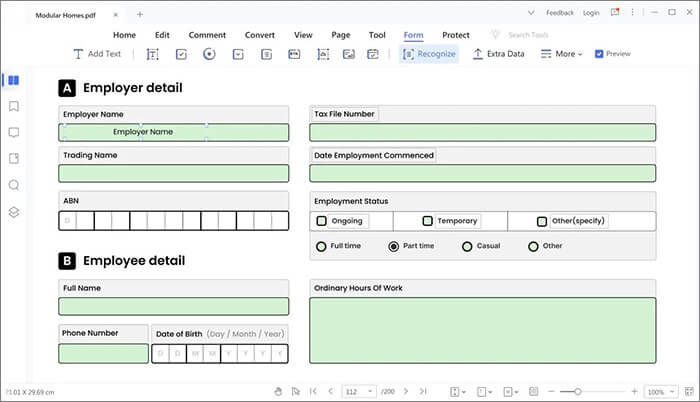 Read More:
Editing PDFs for Free: Top 3 Tools You Need to Try
Top PDF to Word Converter Free Offline: Converting PDF to Word Made Easy
Part 2. How to Edit a Scanned PDF Document Using Offline Methods
Besides editing PDF documents, our recommended software and offline tools ensure you alter your documents to fit your preferences. To use the offline PDF editors, you only need to download them once so long as they are compatible with your devices. Here is how to edit a scanned PDF document using offline programs:
Method 1. How to Edit PDF Documents Through Microsoft Word
Before Microsoft added new features to Word, editing a PDF document was tedious, but now it's much simpler. The most recent Microsoft Word release simplifies the PDF edit document process. Any version of Word from 2013 onwards will do. Check out this manual for step-by-step instructions on editing PDF documents if you need to learn how.
Step 1. Launch Microsoft Word and head to the File menu.

Step 2. Identify the PDF file you want to edit and click "Open" from the document window.
Step 3. A notification will appear informing you that Word will process your PDF and transform it into an editable document with text and images. Click "OK".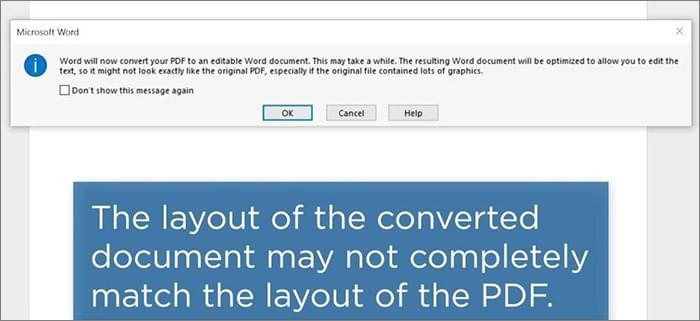 Step 4. You can edit document PDFs by erasing or adding content and customizing the margins, page size, and page orientation.
Step 5. After finalizing your PDF document, save and export it as a PDF.
See Also:
From Text to Interaction: How to Make a Fillable PDF in Word
[Solved] How to Change Word Document to PDF in Efficient Ways
Method 2. How to Edit a PDF Document with Adobe Acrobat
The most common program used to modify PDFs is Adobe Acrobat. Like the rest of Adobe's products, you may get the PDF document editor online by paying for either the Standard or Pro version. Its PDF editing features include text and image editing, form filling, version comparison, scanning to searchable PDF, and ISO validation.
So, how do you edit a PDF document using Adobe Acrobat Pro?
Step 1. Launch Adobe Acrobat DC, choose PDF to work with, and click "Open File".
Step 2. Click the "Edit PDF" button on the right side of the window.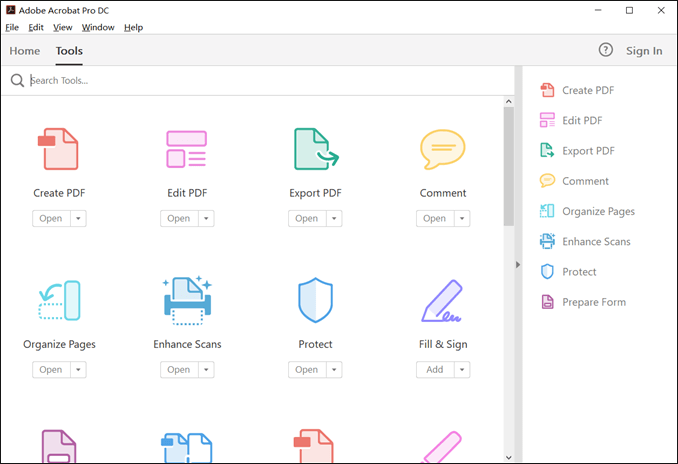 Step 3. Select the desired text or image you wish to modify. Acrobat will cover all the formatting tools you need to work with your text.
Step 4. Save your edited PDF document.
Part 3. How to Edit Documents in PDF Using Online Methods
Since online PDF editors are readily available and user-friendly, online PDF editors eliminate the need to download and install specialized software to edit your PDF files. Here are powerful tools to edit PDF documents in the cloud:
Method 1. How to Edit a PDF Document Through Sejda
The Sejda PDF document editor can be used on a web browser to change PDF text, add new fields, and perform OCR, all within the editor's interface. You can also add a password to your PDF, merge your PDF files and pages, split your PDF into numerous new ones, add signatures, delete pages, etc.
Use the below procedure to edit PDF documents using Sejda:
Step 1. Navigate to Sejda PDF's website and select "PDF Editor" in the EDIT & SIGN section.
Step 2. Click "Upload PDF file" to add a PDF document.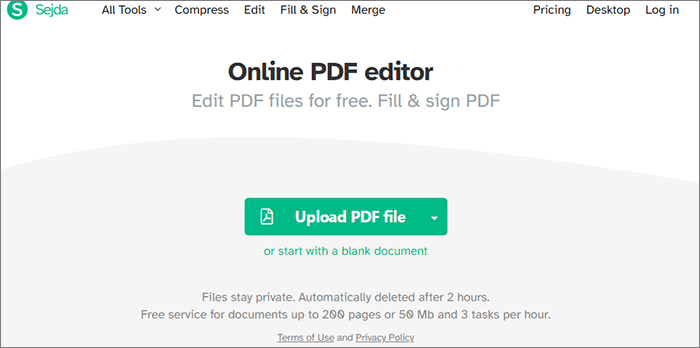 Step 3. Your document is editable now. You can modify your PDF document's font, color, and text size. Then click "Apply change" to make the changes.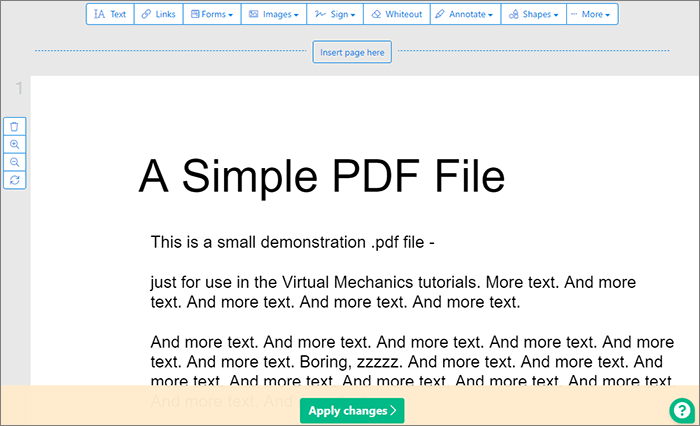 Method 2. How to Edit a Document in PDF by TinyWow
The TinyWow online editing program is a comprehensive tool for the revision of PDF documents. All formatting and cropping are handled safely in your browser, so you never have to worry about damaging the original file. You can easily customize any PDF to your liking with a few clicks as follows:
Step 1. Access TinyWow's PDF Editor via your browser.
Step 2. You can now edit your PDF with the "Upload from PC or Mobile", "Create New", or "Drag files here" options.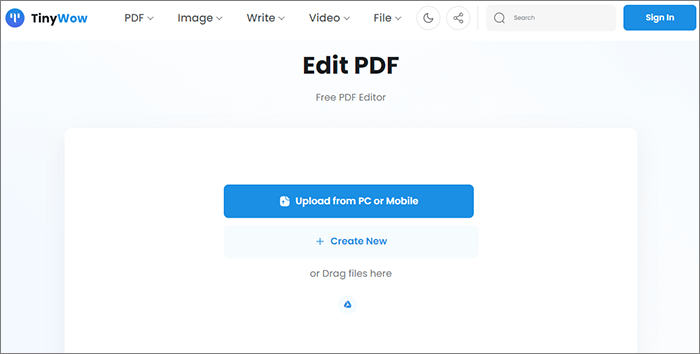 Step 3. You can now add text, highlight PDF, insert date and time, and sign PDF, among other functions. Once done, click the "Download" button.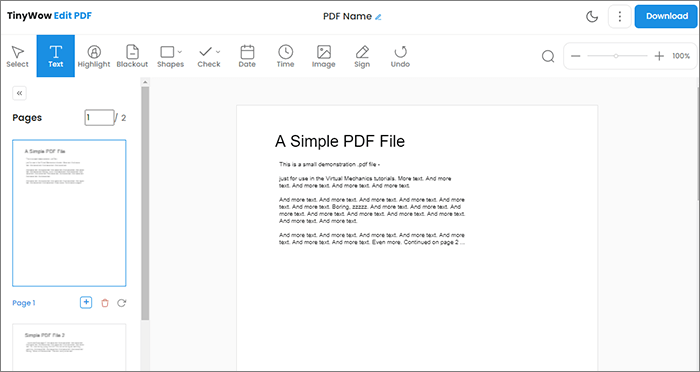 Can't Miss:
How to Remove Watermark from PDF Effectively? [5 Amazing Ways]
How to Lock a PDF: Protecting Documents with Security Measures
Method 3. How to Edit PDF Documents via Google Doc
Utilizing Google Docs to edit your PDFs is a simple and time-saving alternative to third-party PDF editing tools. With Google Docs, you can quickly transform PDFs into fully editable documents, with the ability to change fonts, colors, and other elements.
To get you started with Google Docs' PDF editor, here are simple steps:
Step 1. Sign in to Google Drive. Click "New folder" > "File upload".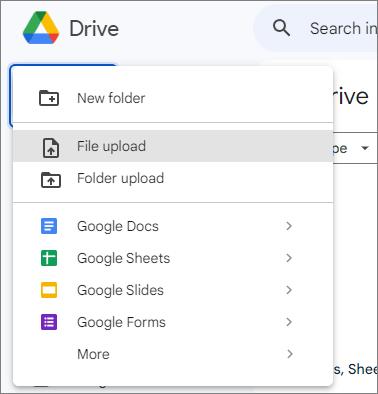 Step 2. Select the PDF file you wish to modify from the list and click "Open". When the transfer finishes, go to "Recent" in the left pane to view the PDF you just added.
Step 3. Choose "Open with" > "Google Docs" from the context menu after right-clicking the PDF's filename.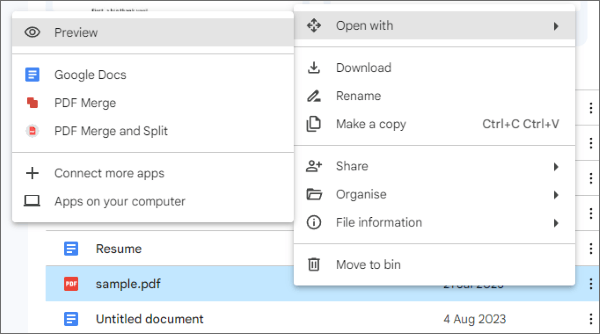 Step 4. It will generate a new Docs file that you can modify. Open the file, make the necessary edits, and click "File" > "Download" > "PDF Document (.pdf)" to save the file as a PDF.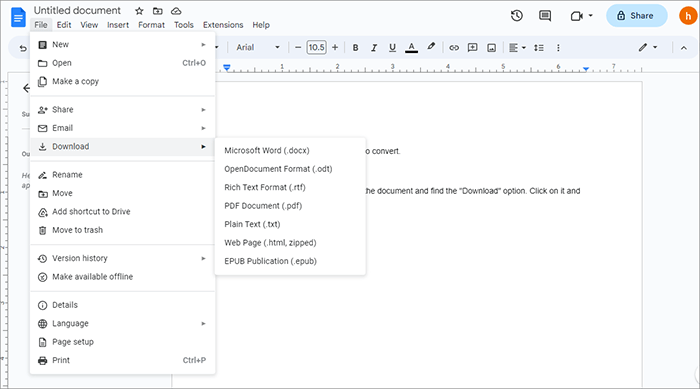 Method 4. How to Edit a PDF Document with iLovePDF
iLovePDF allows you to edit PDFs using an intuitive user interface. PDFs can be quickly modified using the software's readily available editing capabilities to replace or add text and images, add new content, and crop pages. Here's how to use iLovePDF to edit documents in PDF:
Step 1. Launch the iLovePDF editor. Click "Select PDF file" or drop PDF here.

Step 2. Once you upload, you can access the toolbar. From there, you can draw, add text, add images, and add shapes through the icons displayed.
Step 3. To save your work as a PDF, select "Edit PDF".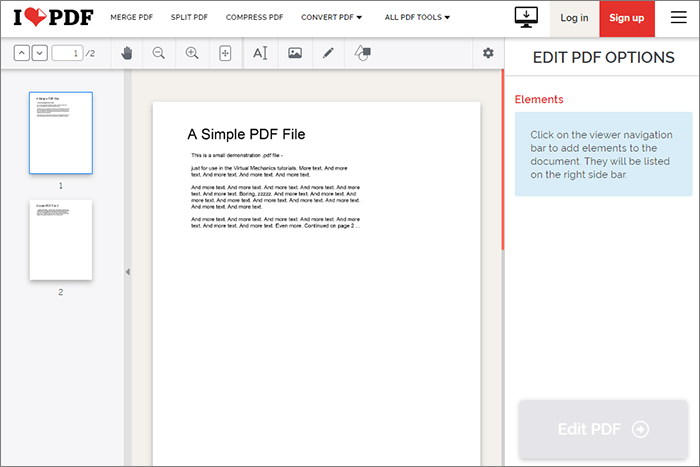 May Like:
PDF Puzzle Unraveled: Mastering PDF to Microsoft Word Conversion
[Useful Office Tips] How to Scan Document to PDF in 5 Easy Methods
Method 5. How to Edit a Document PDF Using PDF2go
PDF2Go is a web-based service that facilitates speedy and straightforward PDF document editing. PDF2Go's intuitive interface and editing tools allow you to change PDF files without installing specialized software.
Use the below simple procedure to edit PDF documents free using PDF2go:
Step 1. Add the PDF to the website by clicking the "Choose File" option.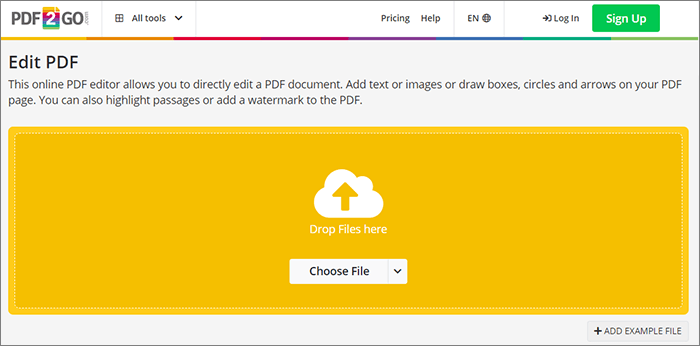 Step 2. Select an editing tool; with it, you can add text, highlight text, zoom in and out, and reset the entire page, among other functions.
Step 3. Select "Options" from the left-hand menu to modify the theme's color scheme, typeface, stroke thickness, and more.
Step 4. To get your revised PDF, click the "SAVE" button twice.
Conclusion
In conclusion, mastering the art of editing PDF documents is a valuable skill in today's digital world. With the right tools and techniques, you can transform static PDFs into dynamic, interactive, and customized files. Whether it's adding text, images, links, or fine-tuning the layout, the possibilities are endless. Remember to choose the right PDF editing software that suits your needs, and always prioritize data security. These methods mentioned in this article are a good start to PDF editing and should be enough to cover most of your PDF editing work. We recommend the PDFelement, which ensures you edit PDF documents with a click. Download it today and enjoy altering your PDF as much as you want.
Related Articles:
The Best Free PDF Security Remover Tools to Recommend [7 Tools]
How to Edit PDF in Google Docs – Everything You Need to Know
Unlocking the Power of Conversion: How to Convert PDF to Word
Breaking the Lock: How to Handle a Forgot PDF Password Scenario
PDF to Word OCR Software Review: Unleashing Precision and Efficiency
PDF to Word Magic: Convert PDF to Word with Adobe Acrobat & Alternatives