PDFs (Portable Document Format) have become an integral part of our digital lives, serving as a reliable medium for sharing and preserving documents. The highlighter function is a great way to draw attention to important passages in PDFs, whether you're using them to study for an exam or to collaborate with colleagues. There are, however, situations where you may be excessive with the highlighting.
In this guide, we will walk you through the process of removing highlights in a PDF using various methods and tools. Figure out how to remove highlights in PDF and other markings so that what's left is a clean, easily read-page.
Part 1. How to Remove Highlights in PDF Using PDFelement (Recommended)
Can I remove highlighting from a PDF? The answer is "Yes". If you struggle to remove highlights from PDF, installing a highlight remover is the most crucial step in completing this task successfully. PDFelement is a popular software solution for working with PDF documents. With PDFelement, you can remove the yellow highlights simultaneously. As soon as it's set up, you can start using it.
PDFelement also allows you to modify text, images, and lines, highlight, underline, add comments, and make notes on PDF documents. It's an all-encompassing center for fixing any issue with PDFs. PDFelement offers a user-friendly interface and advanced features that cater to individuals and businesses.
Some key features of PDFelement are:
Remove almost the highlights and colored text from a PDF in a few clicks.
Review the PDF's annotated content and manage and respond to your own or others' comments.
Benefit from a simple interface while making changes to PDFs.
Support batch processing to optimize both time and energy.
Here's how to remove highlighted text in PDF using PDFelement:
Option 1. Remove Highlighting in PDF by Right-Clicking
01Click the "+" button on PDFelement's home screen to upload the PDF file you want to edit.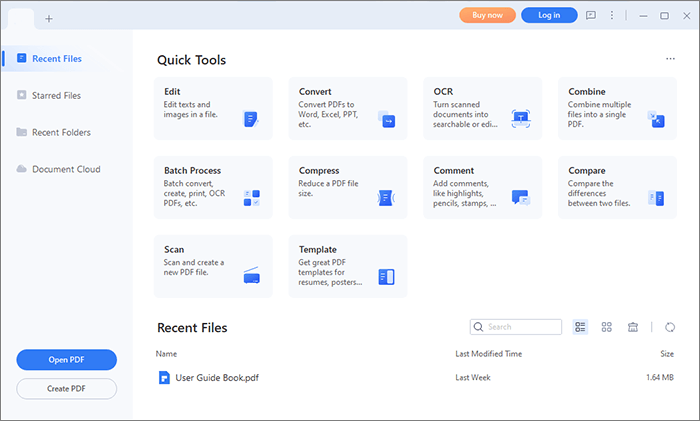 02When your file is open, click the "Comment" button and choose the text you marked. To delete highlighted text, click the highlighter, then press the "Delete" key.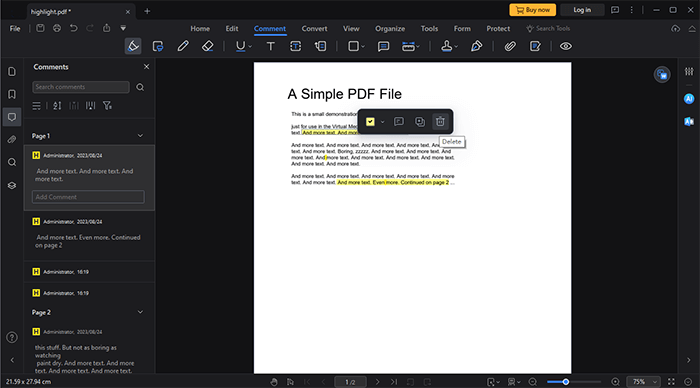 Option 2. Remove Highlighting from PDF in One Page
If your PDF has several highlights, PDFelement makes it easy to eliminate them from a single page.
01Activate the Search tool, right-click the highlight, and tap "Select All" to pick all the highlighted text on the page simultaneously.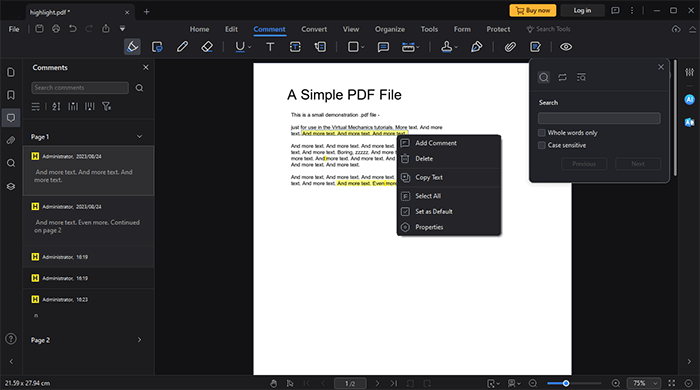 02Once done highlighting, use the "Delete" key to remove the highlights.
Option 3. Remove All Highlighting from PDF
PDFelement is a useful tool for removing all highlights from PDF files quickly and easily. The comment panel lets you simultaneously choose and erase highlights from many pages.
01Once you've opened your PDF in PDFelement, you can find all your highlights in the comment box by clicking the "Comment" icon.
02You can choose all the highlighted text by holding the "Ctrl" while selecting the comment panel. Right-click and choose "Delete" to unhighlight everything.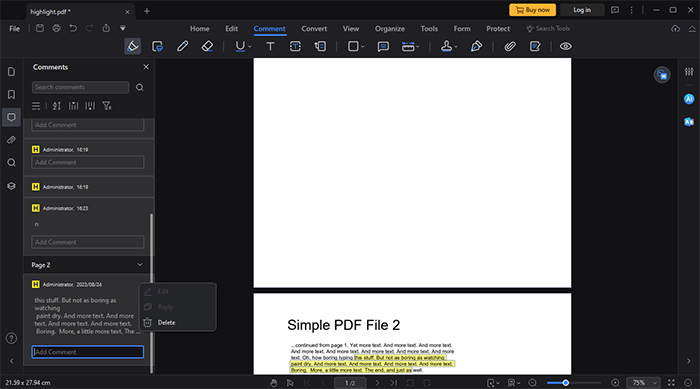 Read More:
How to Remove Pages from PDF: Insider Tips for Quick Results
[Office Solutions] How to Send Password Protected PDF in 6 Different Ways
Part 2. How to Remove Highlights from PDF Offline
There are situations in which you'll want to remove highlighted content on PDF before sending it to coworkers or sharing it on some social media sites. Here are some offline solutions you can apply to remove highlight in PDF:
Method 1. How to Remove Highlighting in PDF with Adobe Acrobat
Adobe Acrobat is widely recognized as the prevailing standard within the industry for editing PDF documents. With its help, erasing highlights from a PDF is a simple and painless process. In addition to these advantages, you can read, create, edit, manage, and print PDF files, among many other things.
Use this simple procedure to remove highlights in PDF using Adobe Acrobat:
Step 1. Download and start Adobe Acrobat and load the PDF file you intend to edit.
Step 2. When the file is imported, go to where the highlighting should be removed. If you tap on the selected text, a contextual menu will appear, allowing you to modify the text you've highlighted.
Step 3. Select "Delete" to remove highlights from your PDF successfully. Upon completion, save the document.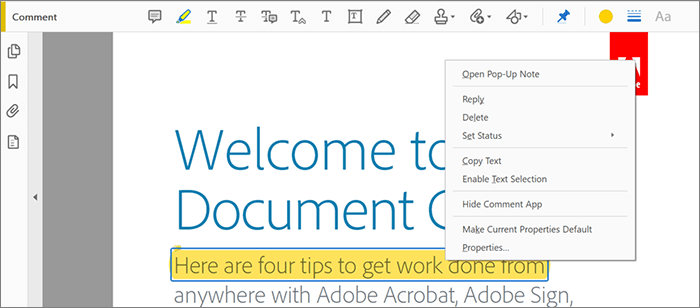 May Like:
How to Convert Password Protected PDF to Without Password: Approved Methods
Unlocking the Secrets: How to Search for a Word in a PDF
Method 2. How to Remove Highlighted Text in PDF Using WPS Office
WPS Office is a well-liked office suite software with versatile word processing, spreadsheet, and presentation options. The ability to view, edit, and annotate PDF files is one of the many functionalities the WPS Office gives. PDF annotations frequently use highlighting to call attention to important passages of text. However, if you no longer need the highlights, follow the below simple steps to remove them.
Step 1. Launch WPS Office and load the PDF file.
Step 2. Select the "Comment" tab from the main menu. To modify or remove the highlighted text, select the "Highlight" option.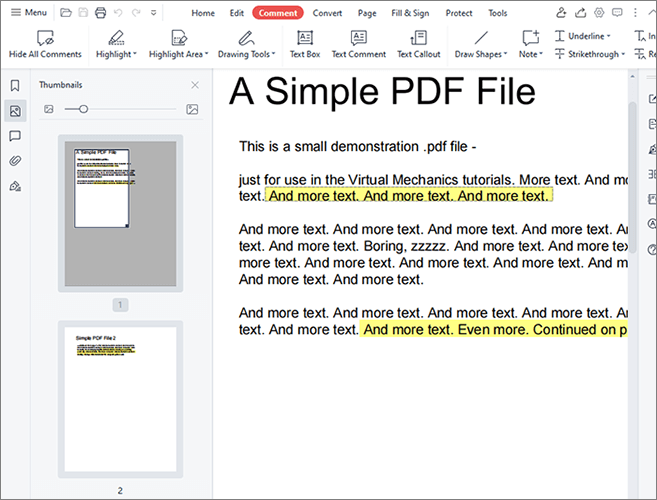 Step 3. Select highlighted text. A delete icon will pop up. Clicking on it will deselect the highlighted text.
Method 3. How to Remove Highlighting in PDF on Mac Through Preview
For those using Macs, the handy Preview program simplifies the process of modifying PDFs. It allows users to remove highlights from PDFs, change text, add photos, make new pages, and merge existing PDFs. Additionally, you can use text extraction software to alter a PDF into a format that can be modified in programs like Microsoft Word.
Here are the simple steps on how to remove a highlight from a PDF on Mac using Preview:
Step 1. Launch Preview on your Mac and access the PDF file you want to work with.
Step 2. Select the desired text in the PDF, then use "Control" + "Click" to bring up a contextual menu. To erase the highlights, select it and then click the "Remove Highlight" option.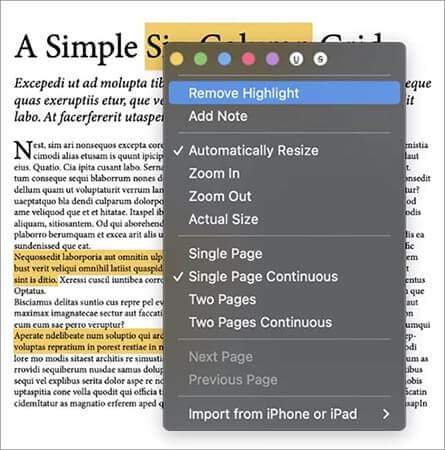 Step 3. To save your revised PDF, select "File" and save after you're finished.
See Also:
Unlocking Efficiency: How to Create Fillable PDF from Word Effortlessly
How to Add Password to PDF Files in 8 Different Ways [Solved]
Part 3. How to Remove Highlighting from PDF Online
Online tools offer a practical way to get rid of highlights in PDFs, which is useful whether you're working on a group project, sharing information, or want to see the original text. These resources provide an intuitive interface that works without requiring further program installation. Here, we'll show you how to use free, web-based editing software to quickly and easily fix your highlighted PDFs.
Method 1. How to Remove All Highlighting from PDF Using Soda PDF
Soda PDF is an alternate option for erasing highlighted text from PDFs and can also help you organize your PDF files. With the edit function, you may easily eliminate the highlighted text. In addition to its other advantages, such as safety and teamwork, it also has a brand-new feature meant to increase efficiency.
The following are the instructions for efficiently removing highlighted text using Soda PDF:
Step 1. Open the Soda PDF website and select "PDF Editor".
Step 2. Click "CHOOSE FILE" to upload the PDF.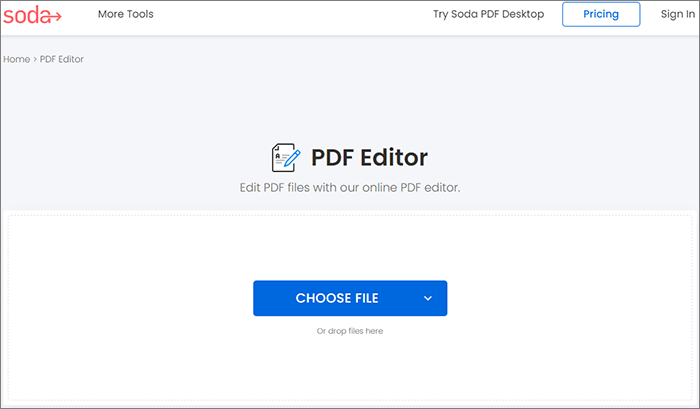 Step 3. Double-click the highlighted place, and the delete icon will appear. Click the icon to remove the highlight.
Step 4. You can now save the PDF without highlights.
Can't Miss:
[Comprehensive Guide] 7 Ways to Unlock PDF for Editing for Free
[Efficient Tips] How to Merge PDFs Online with Smallpdf Merger & Alternatives
Method 2. How to Remove Highlighting from PDF with Smallpdf
Smallpdf is an internet-based tool that facilitates the highlighting of text within PDF documents at no cost and requires no sign-up. This is a great option for occasional users because it requires no installation and can be used in the browser. Let's check out the free online guide to PDF remove highlight now:
Step 1. Go to Smallpdf's website and select "Edit PDF" from the Tools. Then click "CHOOSE FILES" to open the file with the highlighted text.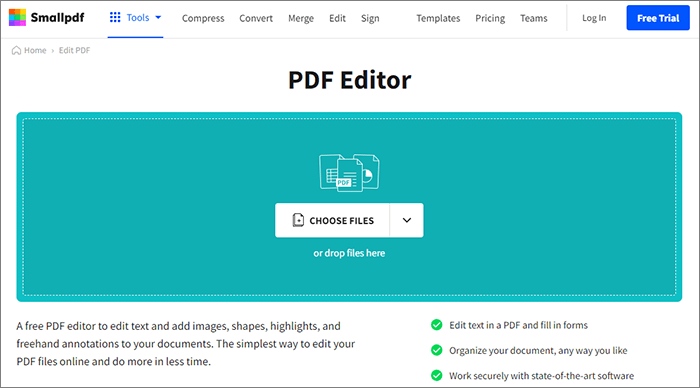 Step 2. On the next page, highlight the text you don't want. A trash can icon will appear. Choose the "trash" button to remove the highlighted text.
Step 3. Select the "DOWNLOAD" button on the upper right. Choose where you'd like to save the document.
Conclusion
How do I remove highlight from PDF? You can remove highlights from PDFs using the above-discussed software. PDFelement is the application to go for if you need to understand how to remove highlights in PDF. Its many useful capabilities make it the top option for eliminating highlighted text in PDF documents. It was created to help you in your day-to-day operations and facilitate better document sharing. Download PDFelement right now for hassle-free reading of clean PDFs.
Related Articles:
[Make Your Office Easy] 6 Best Free PDF to Word Converters
Mastering PDF Unlocks: How to Unlock PDF Online with Ease
How to Remove Password from PDF on iPhone with the Most Popular Apps
[Solved] How to Remove Permissions from PDF Files Easy & Efficiently
How to Open a PDF in Word & Through Offline/Online Tools
How to Make a Fillable PDF in Google Docs – Know an Excellent Way Out