Pages is a notable word processor for Apple devices that creates Pages files on macOS and iOS devices. It's a salient tool from Apple, and you will rarely find Pages format outside the Apple ecosystem. Essentially, there is nothing wrong with it. But, it is not easy to access Pages files since these files can only be accessed with Pages tools and perhaps a few others.
Therefore, you may be required to change a Pages document into a universal file format like PDF. But how to do that? Worry no more; we've got your back. Here, we'll teach you how to send a Pages document as a PDF. So, keep scrolling to get your answers from these doable methods.
Part 1. Can I Convert Pages Document to PDF?
Yes. It is possible and easier to convert a Pages document to PDF. Even though Pages is a great word processor software for Apple devices, its files are not easily accessible on other devices or platforms. In that case, you'll have to turn it into PDFs.
There are various options to convert Pages files to PDFs. The export feature can help export the document to PDF through the Pages app. Or convert the files online or offline with reliable software.
Part 2. How to Convert a Pages Document to a PDF
Whether it is for work or school projects, turning a Pages document into PDF is incredibly easy, and there are plenty of ways to do that. Here are the methods you can use:
Method 1. How to Save a Pages Document as a PDF on Mac Using the Pages App
Pages is a powerful and robust word processor for Mac computers that acts as a file manager. It helps in managing text-related files conveniently. Since the Pages file is from Apple Pages, a Pages application is available to help open and edit such documents.
What's more, you can turn the Pages documents into PDFs within the app. It is a simple-to-use program without any restrictions and can be downloaded for free. Here are steps on how to make a Pages document a PDF within the Pages app:
Step 1. Command-click on the document you wish to convert. The Pages application will open it automatically. If you do not have the application installed, head to App Store, search for "Pages" in the search bar, and press "Get It" to install it.
Step 2. Head to the "File" tab at the top and select the "Export to" option from the drop-down list and proceed to choose "PDF".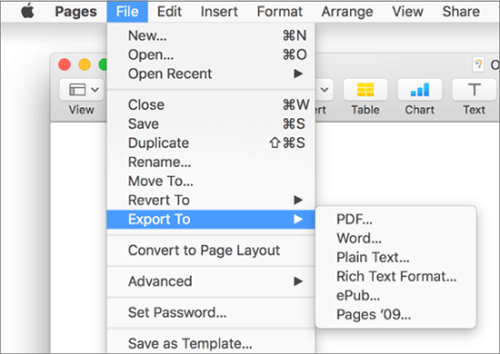 Step 3. Next, set your image quality from the opened dialog named: "Export Your Document" and select "Next".
Step 4. Choose the file name for your output files. Find the destination folder, and hit "Export".
The good thing about using the Pages application to convert your files to PDF is that you can set a password for the security of the files. But on the other hand, you cannot open the PDF files using the Pages app.
Read More:
From PDF to Pages: Streamline Your Document Editing Process
Convert PDF to Google Doc | You Should Try the 4 Methods Recommended
Method 2. How to Turn a Pages Document Into a PDF on Mac via the Preview App
If you don't want to download the Pages application on your Mac, you can still use the Preview app, which comes pre-installed on Mac computers. This app can open and convert the Pages files to PDF. It takes a few clicks to disclose a file on this system. No prior installations are required since it's a default tool that works efficiently in a Mac environment. Here are steps to convert Pages to PDF:
Step 1. Open the file by double-clicking on it, and it'll open in Preview. You can right-tap on the Pages file and select "Open With" then choose "Preview".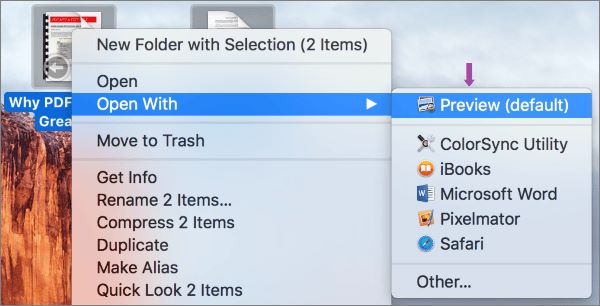 Step 2. Select "File" and "Export as PDF" at the upper menu bar. Set the location to save the file and hit "Save" from the window that pops up.
Step 3. From the warning prompt that asks you to change the extension file name, select "Use .PDF" to save your file as PDF.
May Like:
[Easy Office Solutions] How to Convert DOCX to PDF - 6 Methods
[Efficient Office Solutions] How to Convert Word to PDF in 4 Different Methods
Method 3. How to Change Pages to PDF on Windows Through Soda PDF
You cannot open a Pages document on Windows using its default program. Therefore, you must install a third-party tool to help access the files. One great app is Soda PDF. It's one of the best offline tools to convert Pages files into PDFs. The app has an easier-to-use interface to guide you while converting multiple files/images to & from PDF format. If you've got multiple files to be converted, it has a batch conversion feature that saves effort and time. Since it's one of the finest PDF converter programs, it lets you turn a Pages document into a PDF according to your needs. After the conversion, you can modify the PDF files with editing tools.
Follow these steps to learn how to turn a Pages doc into a PDF on a Windows computer:
Step 1. First, open the Soda PDF after you've installed it on the PC. Locate the Pages document you want to convert.
Step 2. After the software has opened the file, proceed to "Files" > "Save As". From there, tap "Save As Type", then choose "PDF".
Step 3. An opening Browse window will allow you to select the desired location. If necessary, you can also modify the file name. Press the "Save" option to save the converted PDF file onto your computer.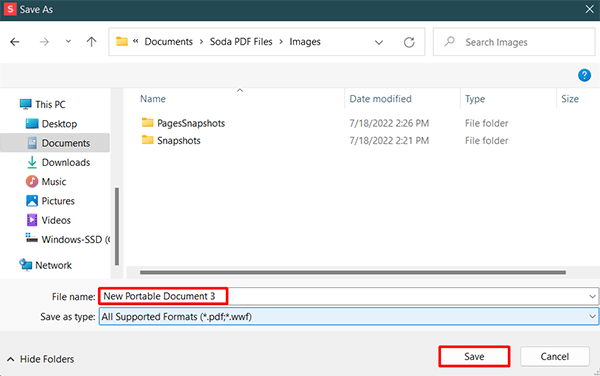 Method 4. How to Change a Pages Document to PDF on iPhone with the Pages App
If you have an iOS device and want to change Pages files to PDF, you can still do so from the mobile device. No third-party software or online tools. Instead, you can utilize the iOS version of the Pages application to change the documents. It has better options to change the background colors and insert signatures in your document before changing it. Here are the steps:
Step 1. If you don't have the Pages app installed on your phone, head to App Store to install it.
Step 2. Click on it to open. Press the three-dot menu, and choose the "Export" option from the available options.
Step 3. Choose "PDF" as your desired output format from Export's drop-down menu.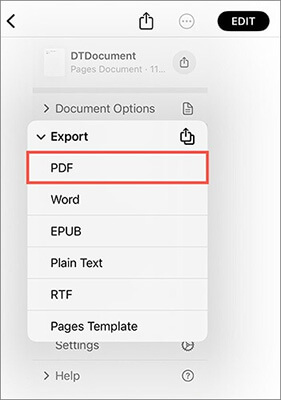 Step 4. Click the "Save to Files" option on the Share Sheet that pops up.
Can't Miss:
[Solved] How to Change Word Document to PDF in Efficient Ways
Unrestricted Access: Mastering the Art of Removing Security from PDF
Method 5. How to Convert Pages Document to PDF Online by CloudConvert
This web-based file converter supports up to 200 formats, including PDFs and Pages. It is a good online tool you can rely on to convert Pages to PDFs. It is free to use and entirely online. To use it, follow the steps below:
Step 1. Navigate to CloudConvert's site on a web browser. Choose the "Tools" and "Document Converter".
Step 2. Click on the "Pages Converter" and select "PAGES to PDF".
Step 3. Press the "Select File" tab, then upload the file to be converted. Click "Convert". Wait for the conversion process to complete, then tap "Download".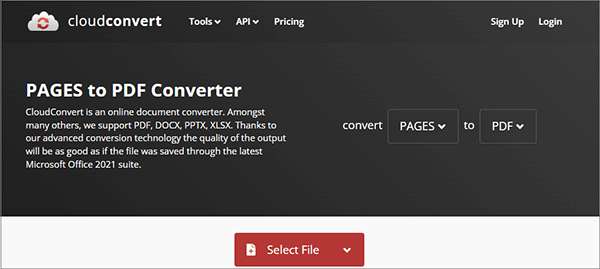 See Also:
How to Open a PDF in Google Docs [Multiple Useful Methods]
[9 Tools Review] The Hottest PDF to Word Converter Online/Offline
Part 3. How to Convert Other Files to PDF in Simple Clicks
Coolmuster PDF Creator Pro is your trustworthy and reputable software that creates PDF files quickly without a hassle. With this tool, you can convert .docx, .txt, .jpg, .jpeg, .png, .tif, .bmp, .mobi, .prc, ePub, CHM, and HTML into PDF files in a few clicks.
It lets you preview the original content, images, fonts, layout & formatting, etc., in output files without quality loss.
Key features of Coolmuster PDF Creator Pro:
Convert MS Word, HTML, Text, MOBI, CHM ePub, and Image into PDF.
Support batch conversion of files.
Customization options like document margins, page size, etc.
Retain the content and layout of the original file.
Here are steps to convert your files to PDF with Coolmuster PDF Creator Pro:
01After installing to software, launch it and choose the conversion type. Click "Add File" to upload the files from the computer onto the tool's interface.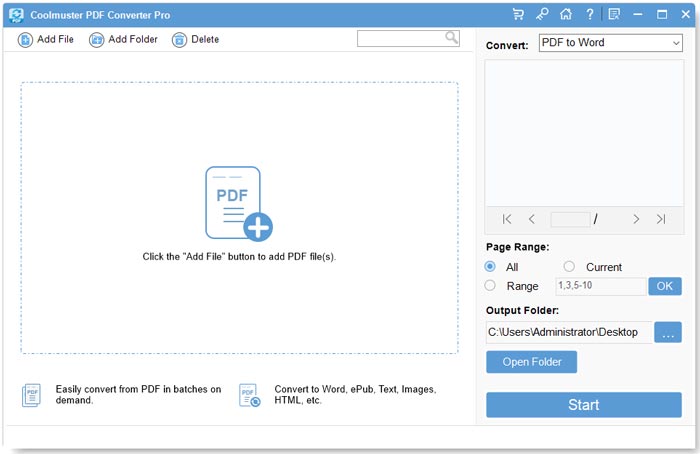 02Choose from multiple conversion options like "PDF to HTML", "PDF to ePub", "PDF to Image", "PDF to Word", "PDF to TXT". Set the output folder by clicking the three-dot button under "Output Folder".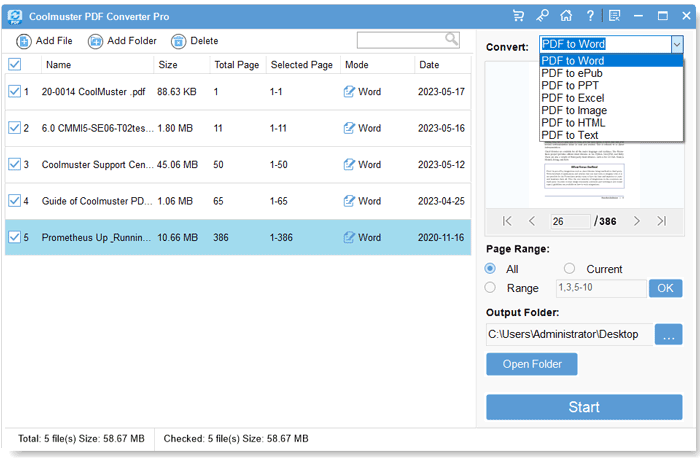 03Hit the "Start" tab to start creating PDFs. When done, tap "Show in folder" to get your converted PDFs.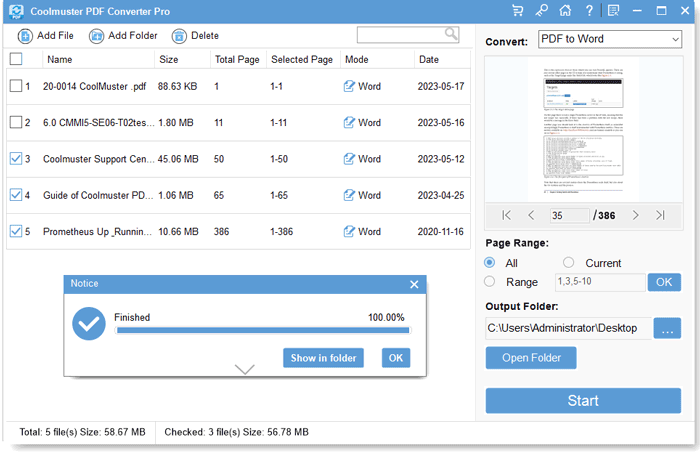 Final Words
Opening or editing a Pages file with third-party apps like Adobe Acrobat can be challenging. Macs users can easily export their files to PDF or even docs formats with the iWork Pages tool; what should Linux or Windows users do? The solution is changing the Pages file to PDF. And that's why we've curated this guide to show you some practical methods to save Pages documents to PDF. While there are lots of third-party converters you can use, the privacy and security of your files should be your top priority.
Coolmuster PDF Creator Pro is your dependable PDF maker that creates PDF files swiftly. With it, you can convert various file types to PDFs.
Related Articles:
Effective Ways to Password Protect PDF Files with Sensitive Data
How to Recover Deleted PDF Files on Android Phone and Tablet? (SOLVED)
How to Transfer PDF to iPhone without iTunes in 7 Unexpected Ways?
4 Ways to Export WhatsApp Chat to PDF (Android & iOS)
No More Watermark Distractions: Learn How to Remove Them from PDFs