Are you wondering how to convert DOCX to PDF? Word documents and PDFs are the common file formats used at work and even in school. However, PDF files win more favor due to their robust security features and their inability to be edited, which helps protect source documents. Therefore, conversion between DOCX and PDF formats has become more prevalent.
Besides, PDF files are easily accessible and are much safer than DOCX files due to their uneditable nature. As such, many would want to convert DOCX to PDF, but they do not know how. If you are in the same boat, you've come to the right place. In this guide, we'll take you through methods on how to convert DOCX to PDF. Read through the post to learn these workable ways.

Part 1. Why Should You Convert DOCX to PDF?
Needless to say, you may want to convert your .doc file to a PDF for various reasons. Below are some of the reasons:
Portability - Just like its name, Portable Document Formats, one main priority of PDF is to create a document format that many people can access from any system and platform. PDF helps keep the consistent formatting from one user to another, regardless of the platform they use to open the file.
Versatility - PDF files can keep various types of information such as images, text, animated GIFs, and rich media such as audio/video. As such, it is a go-to option for companies that want to deliver more than just words on a page.
Security - Undoubtedly, Microsoft Word is useful when creating slick and professional docs faster and easier. But, Word documents do not have the security features that PDFs offer. Therefore, you should convert your DOCX to a PDF file before sharing it with other people.
Part 2. How to Convert a DOCX to PDF via Word to PDF Converter
Coolmuster Word to PDF Converter is a comprehensive DOCX to PDF converter tool with all the features required to convert or edit your PDF file effortlessly. It is one of the best PDF file editors that works on Windows and Mac computers. It helps you to seamlessly change your Word document to PDF in just seconds.
You don't have to be a pro to use this tool; it is mainly designed for starters. Only three steps and you get your high-quality converted files. If you want a quick tool to use, this is your choice. It allows batch conversion; you can convert as many Word documents as possible at the same time.
Also, it provides many customizable options to ensure you reset your output files how you see fit. You can customize the page size, output folder, and document margins.
Still not sure whether to use it? Check the main features of Coolmuster Word to PDF Converter below.
Key Features
Convert DOCX to PDF with ease.
Maintain file layout and integrity during the conversion process.
Support batch file conversion.
Customize page margins or sizes for your PDF files.
Create high-quality PDF files.
Safe to use.
Here are steps on how to change DOCX to PDF:
01Install the software on the computer and launch it to get to the main interface. From there, import your Word documents by adding them or dropping them onto the program's interface. Tap Add File to add a file, or add a folder by clicking on Add Folder.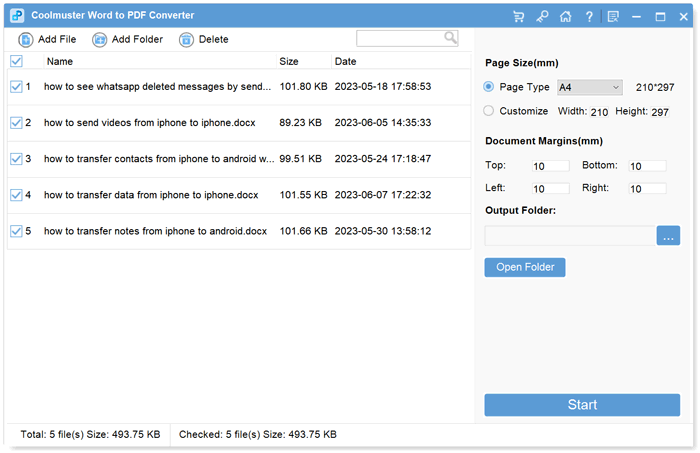 02After choosing your Word files, customize PDF document margins and page size and select the output folder.
03After making the settings, tap Start to start the conversion. The tool will change your files in just a short time. Once done, tap Show in folder and check your output files. It's as simple as that!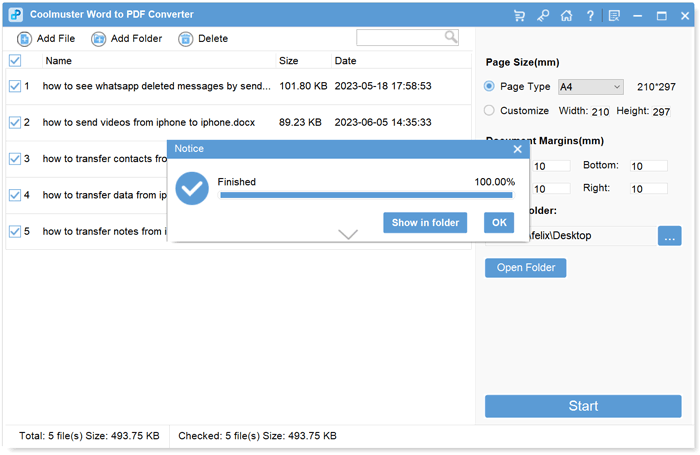 Read more:
Unrestricted Access: Mastering the Art of Removing Security from PDF
How to Open a PDF in Google Docs [Multiple Useful Methods]
Part 3. How to Convert DOCX into PDF via Microsoft Word
Another convenient way to convert .docx to .pdf is using MS Word since it edits Word documents. If you have MS Word installed on your computer, you can easily create a PDF file from Word documents. You can use the Save As, Export, or Print feature.
Method 1. How to Save .docx to PDF
If you have installed Office Suite on the computer, you can use the Save As feature on your PC to turn document files into PDFs. It is very simple. Here are steps to turn .docx to PDF:
Step 1: Click on the DOCX file to open it in your MS Word. After that, tap on File and choose Save As from the left side.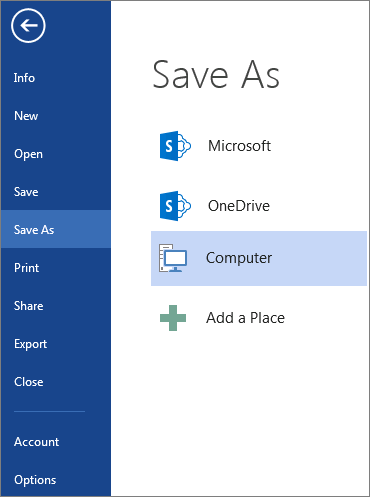 Step 2: Select the folder you would like to save your file. From the Save As type drop-down list, select PDF. Then tap Save to save the DOCX file as a PDF.
Method 2. How to Export .docx to PDF
An easier way to change a .docx to a PDF is to import and export it as a PDF on the computer. You don't need to have professional skills before using this approach. You just need to import and then export the file within Microsoft Word. Here are the steps to follow:
Step 1: Locate the Word file you want to convert and open it in a Word document. After that, tap on the File tab.
Step 2: Choose the Export option and make sure you highlight Create PDF/XPS Document and press Create PDF/XPS.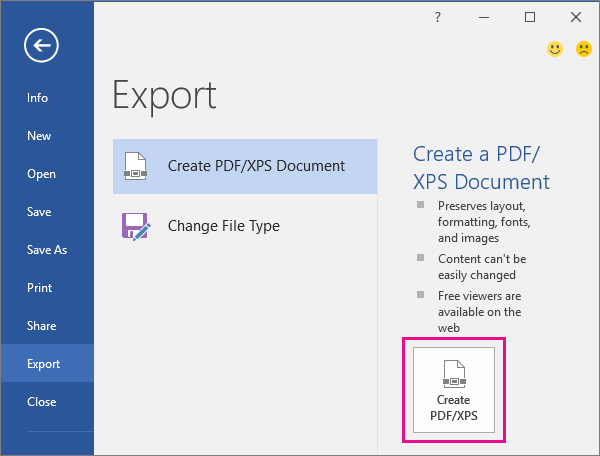 Step 3: When you see the Publish as PDF/XPS dialog, press the Options… button. Now set the preferences for the file to be converted, then tap OK.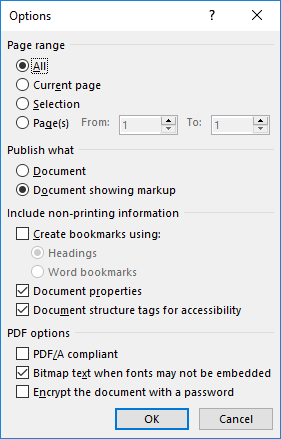 Step 4: Next, choose optimization options: the Standard option or the Minimum size option. Once done, tap Publish.
Step 5: Now change the file name of the converted file. After saving it, you can now view it in PDF format.
Method 3. How to Convert .docx to PDF with Print Feature
Most people are unaware that the Print function available on MS Word can change a doc file to PDF. The procedure is pretty simple; just follow these steps:
Step 1: Head to the Word document you want to convert and open. Select the Print option from the toolbar.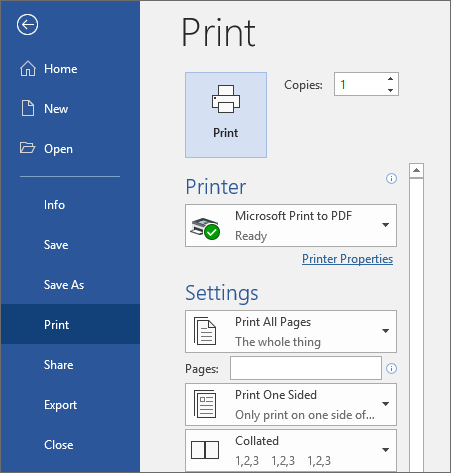 Step 2: Select Microsoft Print to PDF under the Printers option. From there, name the file and specify the folder where you need to save it. Now you should check your files in PDF format.
Part 4. How to Convert DOCX to PDF via Online Tools
There are plenty of online tools that can enable you to convert one file to another. If you want to change your Word document to PDF, you can easily do so for free with these online tools. Below is how to do DOCX to PDF conversion with various online tools.
Tool 1. Zamzar
Zamzar is an online .docx to PDF converter that works for PDFs and other file formats. It's a completely free and easier-to-use tool. Everything you need for the conversion is entirely online. All it takes is to upload files and start converting them.
But, the process can take longer, and you'll have to wait for an email containing your converted file.
To proceed with the process, follow these steps:
Step 1: Open any browser on the computer and visit the Zamzar website.
Step 2: Choose the files to be converted from your device and upload them to the tool. Choose PDF as the file format and press Convert Now to initiate the conversion process.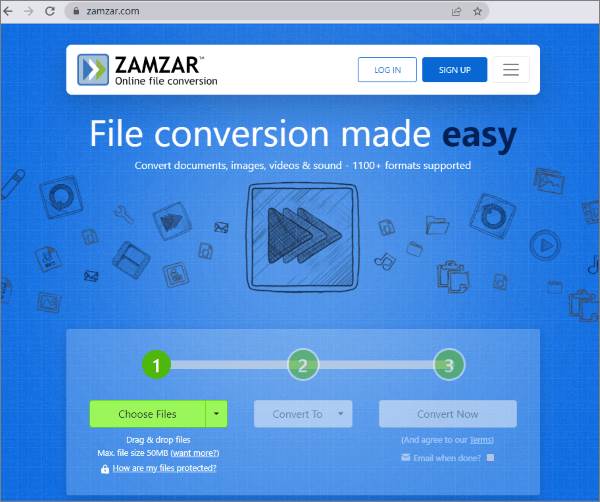 Tool 2. Online2PDF
Online2PDF is also an online tool to convert large Word files to PDFs. It enables you to change a single file size of 50MB maximum. Also, it supports converting a maximum of 20 files with a size limit of 100MB. But, the process can be slower while converting multiple files at once.
Here are the steps to follow:
Step 1: Choose the Word files you wish to convert by tapping the Select files button.
Step 2: You can customize your output files freely. After that, click on Convert to change your files.
Also see:
Convert PDF to Google Doc | You Should Try the 4 Methods Recommended
[9 Tools Review] The Hottest PDF to Word Converter Online/Offline
Recap
That is all on converting .docx to PDF. Changing DOCX to PDF is a tiny piece of the puzzle in document management. One benefit of PDF is that it can't be edited, making it safer than its counterpart Word document.
A specialized tool like Coolmuster Word to PDF Converter will help convert Word documents to professional-looking PDFs on a computer without lagging. Its advanced features, and state-of-the-art technology will help you get the best out of your files.
Related Articles:
Effective Ways to Password Protect PDF Files with Sensitive Data
How to Split a PDF into Multiple Files? 4 Methods for Both Windows & Mac Users!
[Comprehensive Tutorial] How to Save a PDF as a Word Documen
Unlocking the Power of Conversion: How to Convert PDF to Word
Convert PDFs to JPG/JPEG Images for Better Accessibility and Sharing
From Bland to Beautiful: Inserting Images to Elevate Your PDFs