Have you bumped into SmallPDF unlock software and wondered whether it's worth it? Considering the many PDF password removal tools available and with different specifications, it's not always easy to choose abruptly. That explains why most prefer the popular Coolmuster PDF Password Remover instead of taking chances because of its recognized functionality and value.
In this review, we will detail everything you need to know about this Unlock PDF tool by SmallPDF, to help you learn and decide.

Part 1. Get to Know More About the SmallPDF Unlock
Before using any PDF unlock app, the first thing to do is to know more about it. Learn about the SmallPDF password remover features, pricing, functionality, and more below.
1.1 What Is SmallPDF Unlock?
It is an online software designed to remove encryption from a PDF file. Use it to unlock different PDFs with an open password. The app works on different devices, and you can use it online or offline.
Note that the SmallPDF unlock is part of the many other PDF apps named SmallPDF. Simply put, SmallPDF is a document management tool company offering diverse PDF apps, which include the SmallPDF PDF unlock.
1.2 Is It Completely Free to Use SmallPDF Password Unlock?
It's free to use SmallPDF unlock. There is a free version and a free trial. But that doesn't make it completely free. A monthly and annual subscription option exists for those willing to pay for additional premium features.
Do you work as a team, and your work goes beyond unlocking the PDF files? It can be compressing, signing, editing, or more. You will need a paid version of SmallPDF to boost your workflow.
Here's the breakdown of the plans and pricing:
Free monthly plan
Pro plan at $12 monthly
Team plan at $10 monthly
Business plan - custom-made with custom pricing
1.3 What Are the Key Features of SmallPDF Unlock?
Knowing the features matters because you get to know what makes this PDF password unlock tool exceptional. Here are five features you'll be excited to enjoy:
Unlock PDFs on Mac, Linux, and Windows.
Enjoy convenient PDF unlocking.
Safe passwords and file handling.
Remove passwords in seconds.
Unlock all PDFs with owner passwords.
Use a simple password removal process.
1.4 What Are the Pros and Cons of SmallPDF Unlock?
The SmallPDF Unlock is a great app with actionable solutions you can depend on. There are some things about this app you'll like. However, others must be worked on for improvement - it's not 100% perfect. Let's summarize that in the pros and cons below.
Pros
Easy to maneuver - no need for extensive training.
Embraces a fast cloud-based process.
Convenient to upload and unlock a PDF.
Allow for offline unlocking support.
A free trial period.
Handle multiple PDF files.
Do not affect the quality of your PDF file.
Support multiple languages.
Cons
The unlocker is web-based. That means you can only unlock your PDF with an active internet connection. Note that the free SmallPDF version doesn't offer you a desktop app.
The free version has limitations. If you rely on the free version, you don't enjoy multiple features beyond unlocking. That applies to the PDF unlocker and all other tools under SmallPDF.
More useful guides:
How to Convert PDF to Word in Windows 10/11? A User-Friendly Guide
PDF Puzzle Unraveled: Mastering PDF to Microsoft Word Conversion
Part 2. How to Unlock PDF with SmallPDF PDF Unlock
You now know a few things to expect from this unlock PDF tool. But how does the SmallPDF unlock work? There are two main methods involved - online and offline. We will look at how to unprotect PDF with SmallPDF using each method.
2.1 How to Unprotect PDF with Unlock SmallPDF Online
Step 1. Upload your protected PDF. Do this by clicking on CHOOSE FILE, and a window will open to allow you to add the secured PDF. Another way to add an encrypted PDF is by using the drag-and-drop motion technique on the app's interface.
Even when you have secured PDFs saved in Google Drive or Dropbox, Unlock PDF with SmallPDF allows you to access them for unlocking.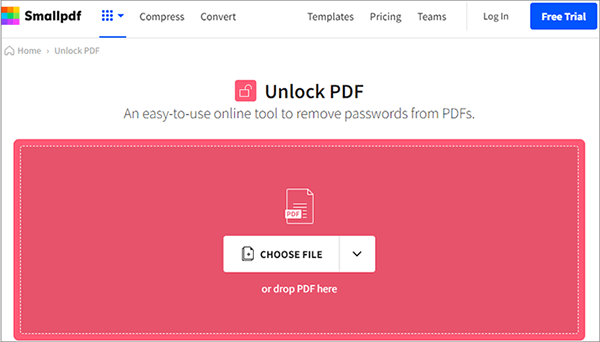 Step 2. Next, confirm that the protected file is yours. Do this through a simple box check, then click on Unlock PDF.
Step 3. Enter the correct password, then click UNLOCK. The process of password removal starts immediately.
Step 4. Click on Download. At this point, you can save a protected PDF without a password in your location of choice.
2.2 How to Unprotect PDF with SmallPDF Unlock PDF Offline [Windows & Mac]
Do you prefer uploading the encrypted PDF offline without depending on an internet connection? It is fast and easy, and the SmallPDF Desktop App makes it possible. You get this app through a paid subscription or a free trial easily accessible from the website.
Do the following to unlock a PDF offline on your Windows or Mac with SmallPDF unlocker:
Step 1: Start with downloading and installing the desktop app, then open it to commence to process.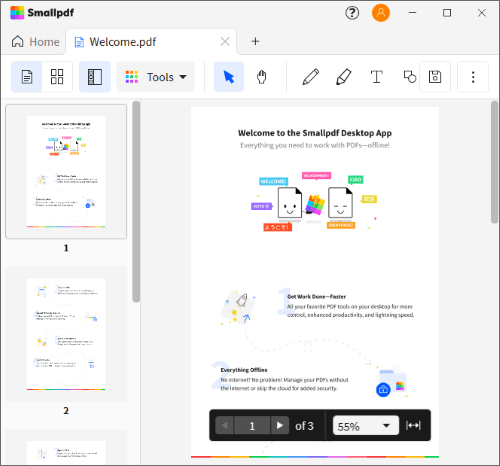 Step 2: Choose the unlock PDF tool from the Tools down arrow. Next, hit Unlock; it is accessible from the left side of the app's interface.
Step 3: Drag and drop your PDF; hit Unlock to unprotect your PDF.
Part 3: How to Unlock PDF with SmallPDF Alternative Methods
Read on and learn the popular methods that you can weigh on to remove password security when it's no longer necessary in your PDF file.
Alternative 1. Coolmuster PDF Password Remover [Best Offline Alternative]
Do you want an alternative that offers more than the SmallPDF unlock tool and many other alternatives? Look no further! Go for Coolmuster PDF Password Remover, and you'll love the seamless experience.
From design to functionality, you'll realize that this credible app prioritizes efficiency, speed, and ease of use to serve you better. Password removal will no longer be frustrating again. With unmatched and most up-to-date PDF unlocking features, unlocking a file becomes pretty convenient.
With just a few clicks, you will see the full potential of this app. The app is available for all Windows 7, 8, 10, and 11 computers.
Features of the Coolmuster PDF Password Remover:
Enjoy the quick PDF unlock procedure.
Support safe PDF unlocking.
Support batch PDF unlocking.
Allow for an efficient user interface.
Unlock multiple protected PDF files with ease.
If that isn't enough to have you start using this tool, here's more on why use the Coolmuster PDF Password Remover over its competitors:
With the app installed, you don't need the internet to unlock the files.
It unlocks each PDF document without altering quality - from layout, texts, and graphics to formats.
It is a free app with free features that competitors charge for.
The speed of file unlocking is quite fast - we are talking of seconds.
It values you and your PDF data security and privacy.
Ready to get started? Follow these three steps to unlock your PDF with Coolmuster PDF Password Remover.
01Download, install, and open the app. Click Add Files to add your PDFs. A drag-and-drop approach will also help you upload the documents.
02Select the PDFs to unlock by checking the small dialog boxes. Next, choose the location to store your unlocked PDFs from the Output Folder menu button.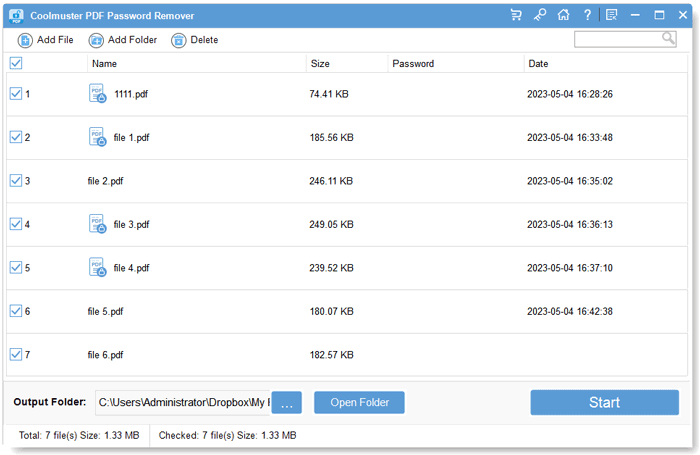 03Click Start. The unlocking process will start right away. A window pop-up will appear when the process ends; click on Show in folder. You'll now access your unlocked PDF documents from your preferred storage location.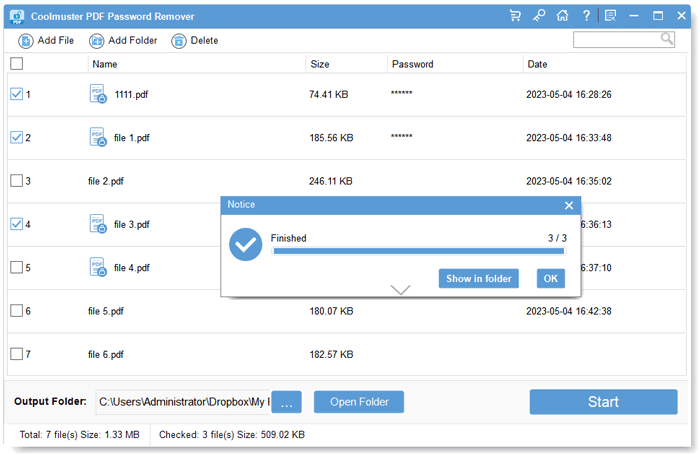 Alternative 2. Adobe Acrobat
Adobe Acrobat unlock software isn't a new thing in the marketplace. It is a competitor of SmallPDF unlock and has many features to make the unlocking process secure and seamless.
Use these steps to unlock your PDF with Adobe using your browser or desktop app on Mac or Windows:
Step 1. Open your PDF file in Adobe.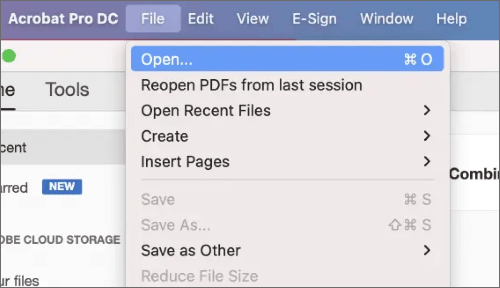 Step 2. Click Unlock tool, go to Protect, then Encrypt.
Step 3. Click on Remove Security. Click OK for open passwords. If the password is needed, type it, confirm, and click OK.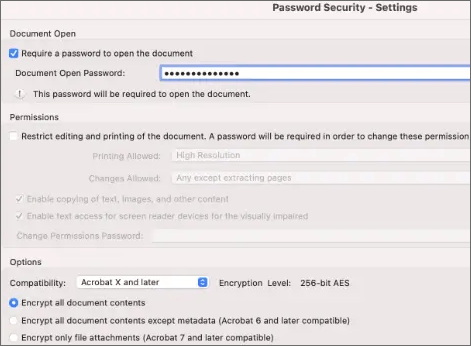 Alternative 3. iLovePDF Unlock
The iLovePDF unlock tool is another alternative you can depend on online if you love efficient apps with easy-to-use and navigate interfaces. It allows you to upload various restricted PDF files and unlock each straightforwardly.
Here are the steps to guide you in unlocking your PDF with iLovePDF online:
Step 1. Access the iLovePDF website from your preferred computer browser and choose the Unlock PDF tool.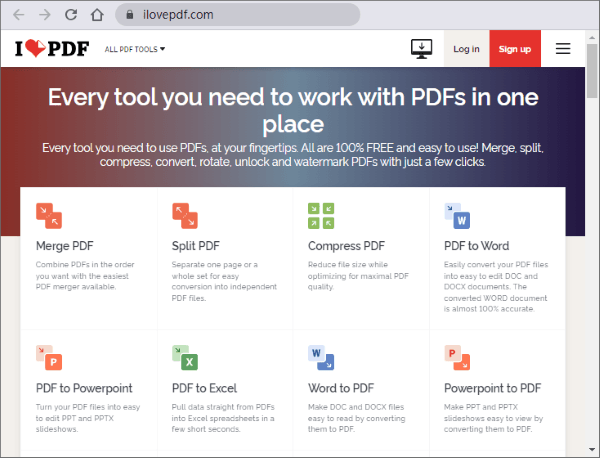 Step 2. Next, go to Select PDF files. Choose the PDF you want unrestricted. Alternatively, drag and drop the file on the app's interface. The app also allows you to upload PDFs to unlock from Google Drive and Dropbox.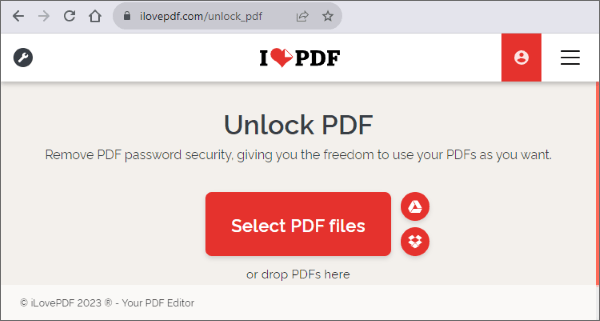 Step 3. Click Unlock PDF to remove password protection. The file downloads automatically. You can choose to save it in your preferred location afterward.
Read more:
[Office Solutions] How to Send Password Protected PDF in 6 Different Ways
How Do I Cut a Few Pages Easily and Quickly? [Offline & Online]
The Bottomline
The SmallPDF unlock app's simplicity and versatility makes it a good choice for those that own computers with different operating systems and want to unlock a PDF. If the details of this tool discussed in this article sound like something you should try, don't hesitate to give it a shot.
But still, you must have realized from this SmallPDF unlock review that there is a more powerful and accommodative tool. We are referring to the Coolmuster PDF Password Remover. It's the most recommended alternative for PDF unlocking. Go for it!
Related Articles:
Simplify Document Management: Adobe Merge PDF in Action [Updated]
How to Combine PDF Free Effortlessly: Easy Steps and Solutions
Effortlessly Convert Word to PDF on iPhone: A User-Friendly Guide
Effortless PDF Integration: How to Combine Multiple PDFs into One
PDF Combiner Free: Your Key to Easy and Efficient File Merging
Streamline PDF Management: A Comprehensive Review of iLove PDF Merge