Are you looking for a reliable PDF password cracker to remove PDF password protection on Mac? Adobe PDF provides users with various considerate and intelligent securing features to effectively protect your private documents from being viewing and altering by other unauthorized people. Before we teaching you how to remove PDF password in Mac OS X, it's good to know something about PDF password.
Learn Something about PDF Owner Password and User Password
Owner password: The PDF files protected by owner password can not be printed, copied and edited by other people. You can access the PDF file but you are unable to modify, copy, add/delete pages or print out the PDF content.
User password: User password also called open password. This kind of password is used to control access and does limit to open file. It is an effective way to stop other people from opening and viewing your PDF files. You need to enter correct password to open the user password protected PDF.
Little Tricks: Use Preivew to Disable PDF Password Option
If you have some PDF files on your Mac that are protected by user password, you can remove the user password option without having to use any third-party software as long as you know the open password of this file.
1. Open the password protected PDF in Preview.
2. You will be prompted for entering the password. Just provide the correct password to open the PDF file.
3. Once the PDF opens, you can choose the option of "Save a copy". This dialog has options to disable password/encryption. Just save a new copy of the PDF without password option.
Simple Guide: How to Crack PDF Password Protection on Mac?
Preview only allows you to remove PDF open password restriction. To unlock PDF owner and user password protections on Mac, our recommendation is Coolmuster PDF Password Remover for Mac. It enables you to crack the PDF password that protects the PDF from copying, editing and printing. It can also allows you crack the PDF open password as long as you know the right password. Only in 3 steps, you'll make it!
The PDF Password Remover also comes with Windows version. Try the professional PDF password cracker for Mac OS X and Windows right now:
Step 1. Upload PDF Files
Open PDF Password Remover for Mac, drag and drop the target PDF documents into the app, or you can click Add Files button to upload PDF files.
Note: If you see a small lock icon appears on the PDF list, it means the PDF is protected by a user/open password from opening. You need to enter the right password to unlock the PDF. If there is no lock, you can skip to step 2. If a cross icon appears on the PDF list, it means the PDF is not supported by this program.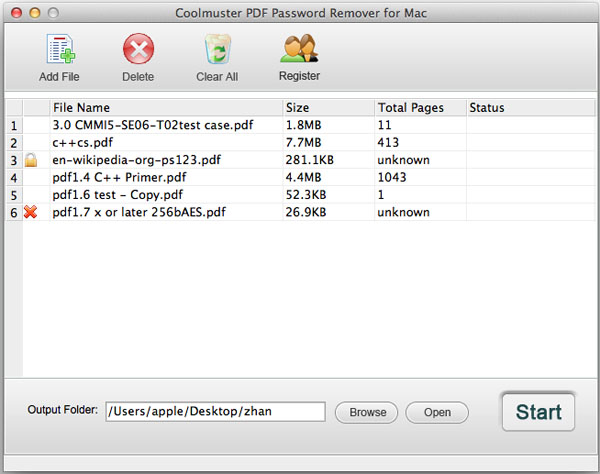 Step 2. Remove Password from PDF on Mac
Click the Browse button to select an output location where you want to save the decrypted PDFs. Then, you can hit on the Start button to crack PDF password protection on Mac.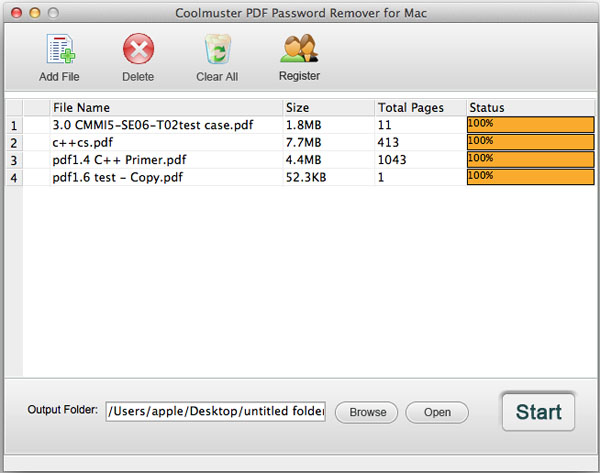 After a few while, you'll find the PDF are free of restriction in your specified output folder. Now, you are able to open, copy, edit and print the PDF freely without entering password on your Mac.