PDF files' universality is handy in retaining their appearance regardless of the device, software, or operating system used to view them. But every coin has two sides. A file in PDF format isn't so convenient; it is hard to edit. Do you want to know how to edit PDF in Microsoft Word?
Conversely, MS Word is a go-to app for creating and editing documents. Its ease of use and feature-rich system make it a great program for those who want to edit their text. Therefore, the need to convert PDF to Microsoft Word to make the file easier to manipulate arises. Let's take you through viable ways how to convert PDF to Microsoft Word.
Way 1. How to Convert PDF to Microsoft Word by Coolmuster PDF to Word Converter
Coolmuster PDF to Word Converter is the most competent and professional software that makes the file conversion process uncomplicated. Since it's mainly designed to turn PDFs into Word documents, it can help you create editable Word Docx in no time and without effort. After converting your files, you can make the necessary changes.
Moreover, the tool is very easy to use, thus good for starters. Its advanced features make the conversion process a breeze. You can convert multiple PDFs at once or a specific page range. The PDF viewer enables you to preview the files before converting.
Key features of Coolmuster PDF to Word Converter:
Support batch and partial conversions.
Produce high-quality results quickly.
Maintain content layout and formatting.
Convert up to 200 PDFs at the same time.
Preview files before conversion.
Check the steps to turn a PDF into Microsoft Word easily with this tool:
01Launch the tool after installing it. Import your PDF files by clicking the "Add File" or "Add Folder" button, or dragging and dropping the files onto the program. Preview the files, and if you want, you can remove the unwanted files using the "Delete" option.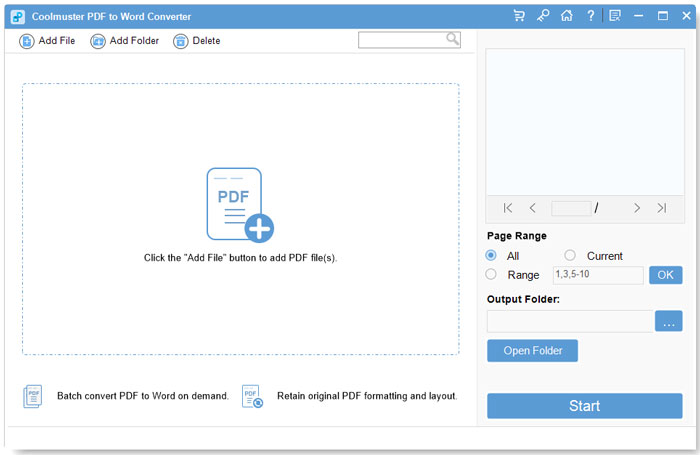 02Adjust the output file, and choose the correct conversion mode depending on the number of files to convert.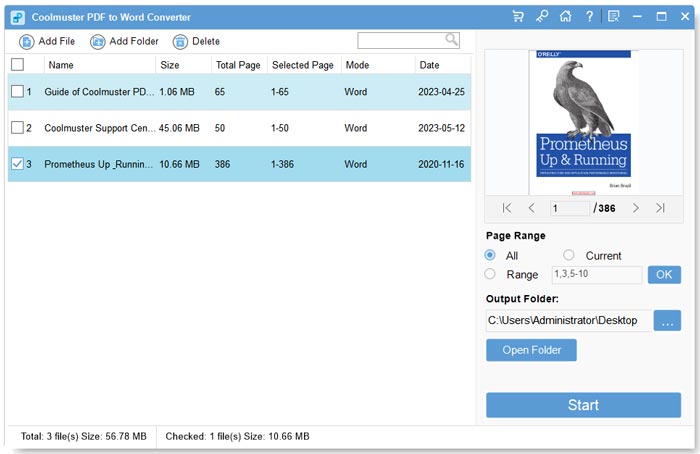 03When everything is set, click "Start" and wait for PDFs to convert to Word Docx.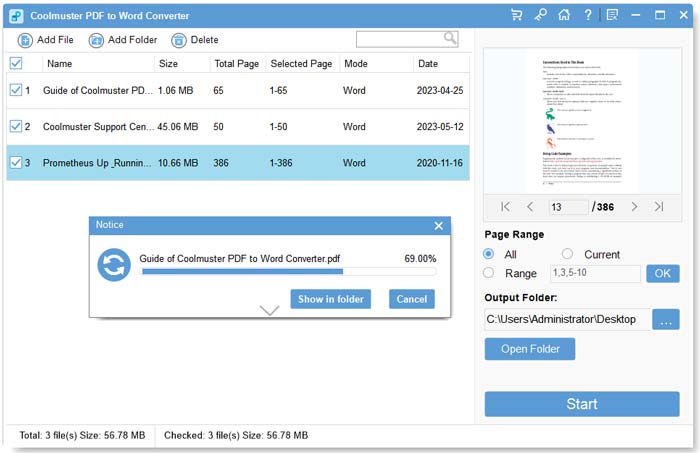 Read More:
[Comprehensive Tutorial] How to Save a PDF as a Word Document
How to Convert Microsoft Word Document to PDF: Quick and Efficient
Way 2. How to Convert PDF into Microsoft Word via MS Word App
All the newest Microsoft Word versions 2013 and above have an in-built feature that allows users to open PDFs directly and turn them into editable Word documents. However, if you follow this approach, there's a high chance of encountering formatting and style problems. Therefore, Word application isn't always a reliable method to convert files.
But it will certainly work for simple files or if you just want to get simple stuff into the editable format. With that, here are steps to convert PDF to Words Microsoft:
Step 1. Tap on the "File" tab on the Word ribbon. From the side panel that opens up, tap the "Open" button.

Step 2. Next, find the PDF file to convert by clicking on "Browse". When you find the file, click the "Open" button.
Step 3. You'll see a prompt window indicating that the new document created may lose formatting. Tap the "OK" button to confirm and proceed. The document will be converted in a few moments. Wait for the process to finish.
Note: The conversion may not be perfect, particularly if the original PDF file had many graphics, or the formatting was complex.
Way 3. How to Convert PDF to Word Document Through Google Docs
Google Docs is another reliable and safe way of converting PDF to Word documents. It is a simple, two-way process where you convert the PDF to Google Docs document first, then change it to a Word document. You will likely lose some formatting during the process. Therefore, if your device has a Word application, you better convert the file within the app.
However, Google Docs can still prove useful if you do not have MS Word and need to create a Doc file to send somewhere urgently. Check the steps to change PDF to a Microsoft Word document in Google Docs:
Step 1. Start by opening Google Drive, then hit the "New folder" tab on the left. Tap on "File upload" from the list that opens up.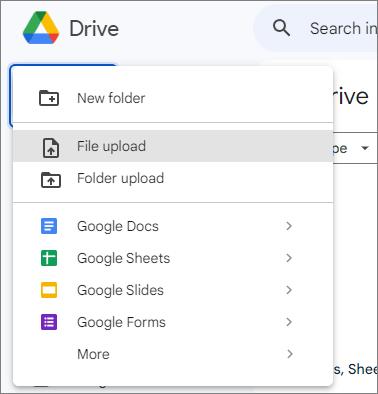 Step 2. Find the PDF you want to turn into a Word document file from your computer and hit "Open" to upload it to Google Drive.
Step 3. The file will appear in your Drive. Right-click on it in Drive and choose "Open with" > "Google Docs".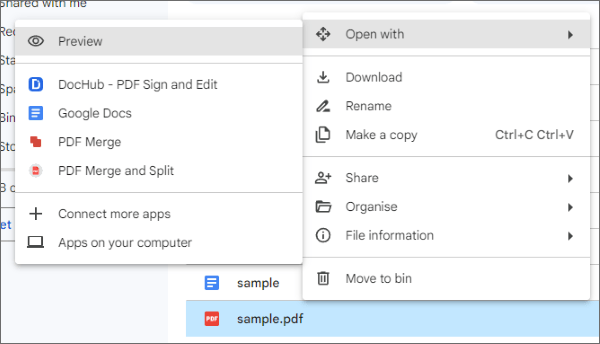 Step 4. The PDF document will now open in Google Docs. Tap the "File" menu.
Step 5. Tap "Download" from the options, then choose "Microsoft Word (.docx)". When you do that, the Google Document file will turn into a .docx file and be downloaded to the computer's local storage as a Word document.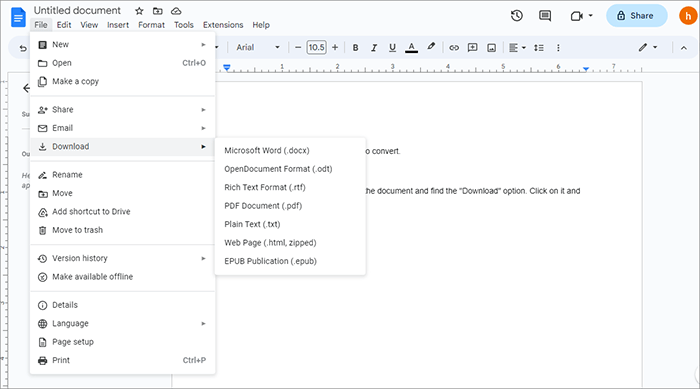 May Like:
How to Open a PDF in Google Docs [Multiple Useful Methods]
Bridge the Gap: How to Transform PDFs to Word on Mac with Ease
Way 4. How to Convert PDF to Microsoft Word with Adobe Acrobat
Adobe Acrobat Reader is also a dependable Microsoft PDF-to-Word converter tool that allows users to change PDF to Word easily. This is one of the greatest ways to turn your PDF into a Word document because the formatting is mostly retained. But, it is not free to use. Below are steps to use:
Step 1. Open your PDF document in Adobe. On your right, tap the "Export PDF" command.
Step 2. Choose "Microsoft Word" > "Word Document" since you're converting PDF to a Word document in .docx format. After that, click on the "Export" button.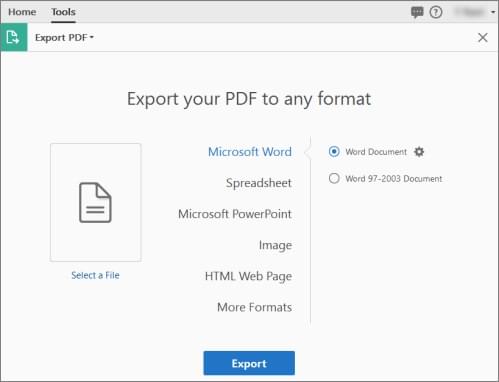 Step 3. Choose the location to save the Word document created. Type the document file name and press "Save". Now your PDF will be saved as a Word document. Open it in Word and start editing.
Can't Miss:
Simplify Document Management: Adobe Merge PDF in Action [Updated]
[Easy Guide] Convert Word to PDF via Adobe Acrobat & Alternatives
Way 5. How to Convert PDF to Microsoft Word Using Online Tools
There exist several online apps that can aid in converting PDFs to Microsoft Word documents for free. These tools always do the conversion task entirely online. You only need a good internet connection to convert your files.
Tool 1. SmallPDF
Like its name, this is a simple but advanced tool to change PDFs to Word documents. You can easily add your PDF files using the drag-and-drop function; then, they are processed quickly. Besides, it supports cloud conversions. To convert your PDF into Microsoft Word using SmallPDF, follow the steps below:
Step 1. Navigate to the SmallPDF converter website. Click on "Tools" and choose "PDF to Word". Click on the "CHOOSE FILES" button to select the PDF files to convert.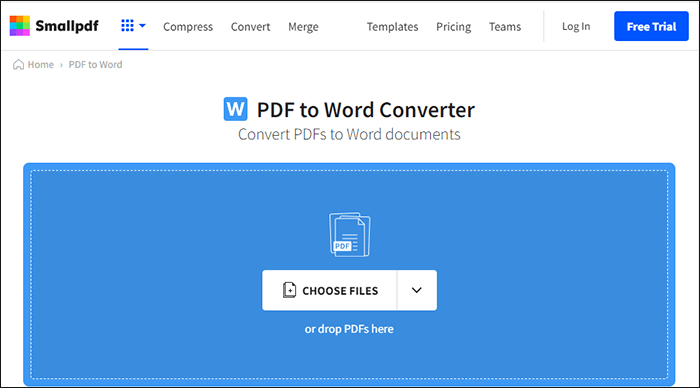 Step 2. After uploading the file, choose the format to convert to Word. Next, tap on "Convert".
Step 3. Finally, download the file to your computer by clicking on the "Download" button.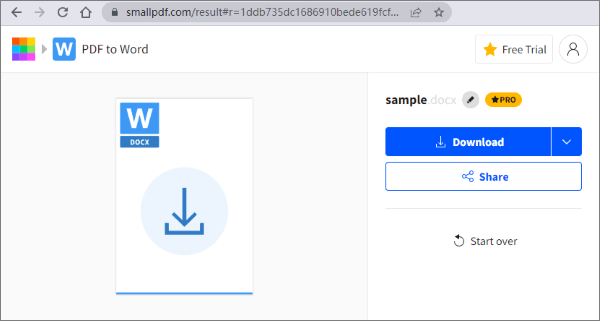 See Also:
Streamline Your Document Workflow: How to Convert PDF to Word on Mac
[Efficient Office Solutions] How to Convert Word to PDF in 4 Different Methods
Tool 2. iLovePDF
iLovePDF is a fantastic tool for those looking to convert their PDF files to other formats. Its advanced aesthetics make it a great PDF converter. With iLovePDF, you can easily convert a PDF into an editable Word document. Aside from Word format, you can also convert the PDF into various usable file formats like Excel. Below are the steps:
Step 1. Go to the iLovePDF site, click the "CONVERT PDF" tab, and choose "PDF to WORD". From there, click on "Select PDF file".
Step 2. Your PDF file will upload onto the tool. Select "Convert to WORD", and it automatically downloads to your device.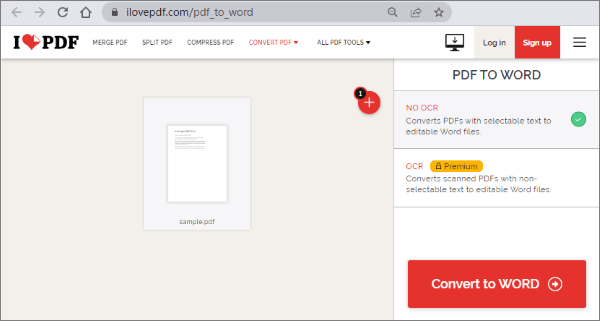 Conclusion
That's it. You now know how to turn a PDF into a Microsoft Word document. The conversion process should now be pain-free with the methods we've outlined. No matter the option you choose, the procedure is reasonably simple.
Note that the process of converting the files may not be perfect all the time, especially with PDFs that have complex formatting. Nonetheless, changing the PDF to Word will save you the hassle of recreating your document from scratch, which enables customization and editing. Coolmuster PDF to Word Converter is your all-in-one solution to convert multiple PDF files into Microsoft Word documents without limitations.
Related Articles:
[Solved] How to Change Word Document to PDF in Efficient Ways
Effortless Document Transformation: Converting Word to PDF with iLovePDF
How to Insert Multiple Page PDF into Word with Ease [4 Methods]
How to Export PDF to Word Easily? Your Ultimate How-To Guide
Effortlessly Convert Word to PDF on iPhone: A User-Friendly Guide
How to Combine PDF Free Effortlessly: Easy Steps and Solutions