Summary: In this passage, you will know what is Clean Master, why you need an alternative to clean master for iPhone and what is the best alternative you should choose.
Clean Master is one of the best software in the market that will help you manage your phone storage. Freeing up your iPhone's storage is one of the most deserving things you could do to your device. The reason being, you are going to get rid of junk files and recover lost storage space. Additionally, you are going to also empty the cache in the end.
See Also: How to Clean Junk Files on iPhone 14/13/12/11/X
The app gives you stability and performance improvement by scanning for duplicate photo in your photo library, allowing you to delete them. Moreover, Clean Master opens the iCloud photo library to scan it in order to optimize your phone's cloud storage. It also helps in displaying the exact disk storage usage and partitions, allowing you to free whatever memory you want.
As for your network, all devices connected to the wireless LAN are scanned and displayed. It helps the iPhone owner to search for unknown devices in their network. Duplicated contacts are also scanned and automatically deleted. After that, it shows you how much memory has been released, allowing your iPhone to run a little bit better and increase its battery life.
Related: More Cleaning Apps for iPhone
Why need an alternative to Clean Master?
First, when removing junk files, not all cleaning apps can do the job perfectly. Some may not be able to clear junk such as crash log files, downloaded temp files and app cookies among others.
In addition, installing any cleaning app on your iPhone, by itself, is a way of occupying more space on its storage. By occupying the said storage, since the cleaning apps are huge, they build cache on your phone in the end.
Final yet fundamentally, getting a cleaning app that is installed on your Mac save you time in doing the cache cleaning. The PC cleaning apps are amazing, allowing iPhone and iPad owners to clean the device in just one click. One of the best apps for cleaning iPhone is the FREE Coolmuster iOS Cleaner software.
How to Use Best Alternative to Clean Master for iPhone
This is a Mac-based iOS cleaning utility that easily finds and wipe almost very junk file and private data from your iDevices; iPhone, iPad and iPod. Much of the cleaning process is done efficiently, with utmost protection of your valuable files. Your phone recuperates from getting more space; ensuring that its battery life is prolonged as well as get additional storage for other documents.
Learn More about This Software:
• Effortlessly erase junk files to allow iDevices to run smoothly, thanks to an optimized iOS performance.
• Reclamation of storage space and comprehensive personal data protection. It protects your privacy and personal documents, preventing leakage of the said information even when you intend to resell the device.
• Quick finding out and cleaning up of any iDevices on Mac: You do not need any third party software to run the Coolmuster cleaner. You enjoy an accurate scanning and get a considerate display of all junk and private data on your iOS device.
• Intuitive User Interface: The user interface is easy to use, with related simple instructions to help you manage the cleaning of any iDevices easily.
Read More Articles:
* How to Erase Crash Files from iPhone
* How to Delete Movies/Videos on iPod
After installing the application in your Mac, connect your iDevice using a USB cable and launch it. The cleaner displays four different modes for your choice. Choose the "Quick Clean" option.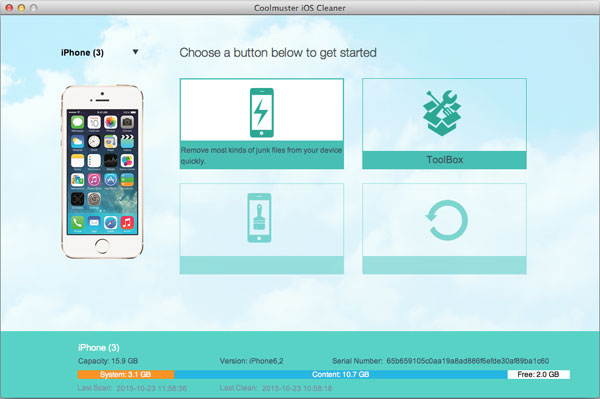 You will enter a new window, displaying all the files types such as app crash logs, app cookies, user storage files, downloaded temp files. Select the files you intend to clean and click on "Start Scan" button.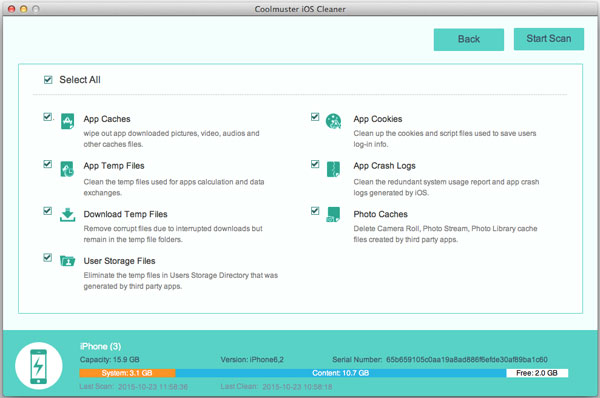 The freeware scans your iPhone, showing all scanned out data in details; count, size and time elapsed. Select the iPhone junk file you intend to clean, ticking off the checkbox in front of them by clicking on the "Clean" button. A prompt dialog box pops up; choose "OK" to kick start the cleaning process, immediately.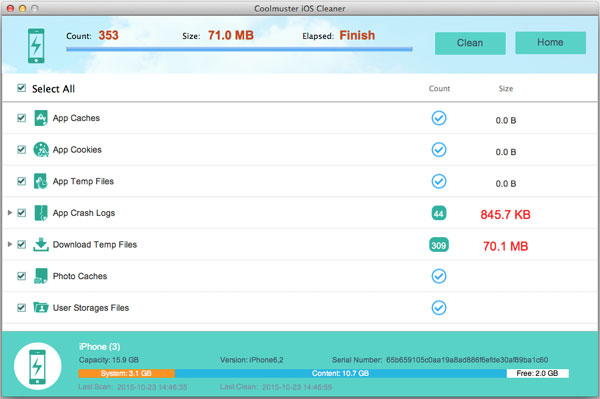 Conclusion
You can now get this FREE Coolmuster iOS Cleaner software by hitting the below icons. So what are you waiting for? Just download the right one and give it a try by yourself! It surely won't let you down!
Related Articles:
How to Fix Not Enough Space for New Downloads
How to Permanently Erase Documents from iPad
How to Send Videos from Samsung to iPhone without Losing Quality