Top iPhone Cleaning Apps You Must Have
Looking to ensure that your iPhone works as good as ever even if it is more than a year old? iPhone cleaning apps can do wonders, helping you clean up unwanted files and cache from your iPhone easily.
Why do you need a cleaning app for your iPhone?
Your iPhone can perform as many tasks as your computer, if not more. E-mailing, media sharing, browsing, there is hardly anything your iPhone can't do. As a result of this, you can end up with useless data like cookies, remnant of applications and other junk. In addition to this, you may have to deal with duplicate contacts and photos. Problems like insufficient space and slow processing speed can then arise.
To avoid this, we have come up with a list of the best iPhone cleaning apps out there:
1. CoolMuster iOS Cleaner (Windows/Mac)
This is one of the most popular cleaning utilities that can efficiently clear all your junk. It deals with a variety of unnecessary files like cookies, temporary files, caches and crash logs. It also erases private data like browsing history and orphaned files. It can be used to clean all iOS devices including your iPhone. Its interface is incredibly easy as you can wipe all your useless data with just one click. With this powerful software, all the junk files will be removed within a little while. And your iPhone device can be optimized to the best!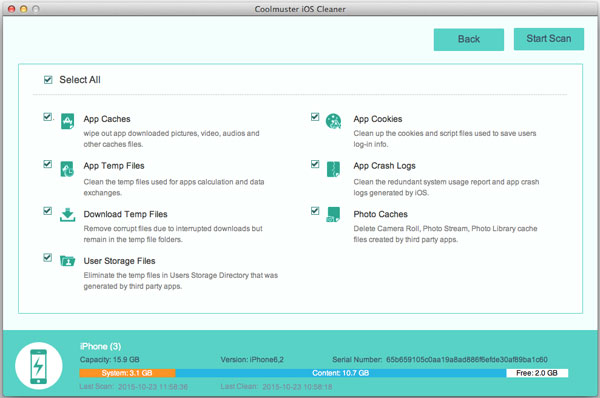 Also Read:
How to Live on 16GB Internal Memory of iPhone?
Easy Way to Make 3G Phone as Fast as 4G
How to Fix Not Enough Space for Downloads?
2. Cleaner for iPhone by BPMobile
This iPhone cleaner clears up space by deleting unnecessary files on your iPhone like duplicate photos and contacts as well as merging contacts. It is compatible with most iOS devices including your iPhone. You can also delete all the unnecessary screenshots that have been accumulated on your iPhone.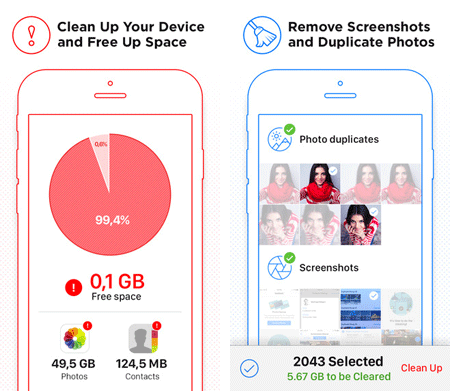 3. CleanMyPhone by Pim Rackham
This is a paid app that can efficiently clean and optimize your mobile. It performs most of basic functions like deleting or merging multiple contacts. In addition to this, you can even backup your contacts and check your system static. This is a paid app but is totally worth the money.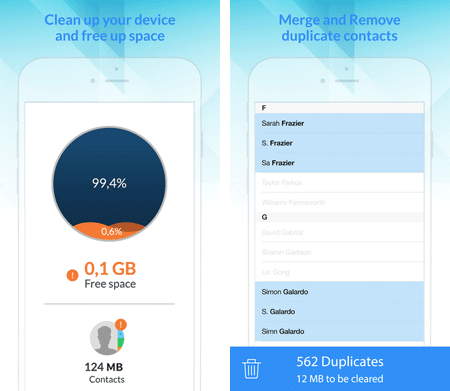 This app is slightly different than the others as it finds photos you've saved to your Mac and then deletes them from your iPhone. For this reason, you need to have the software downloaded on both devices. It does not delete duplicate photos from a single device.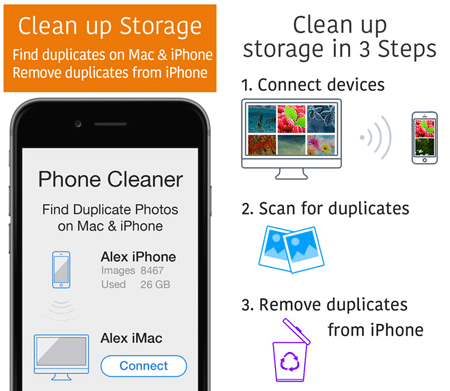 5. CleanUp Pro by Alexander Troitsky
This app has an interactive interface which allows you to preview the files before doing anything with them. You can remove duplicate contacts or merge them. In addition, it also provides you an option to backup your data.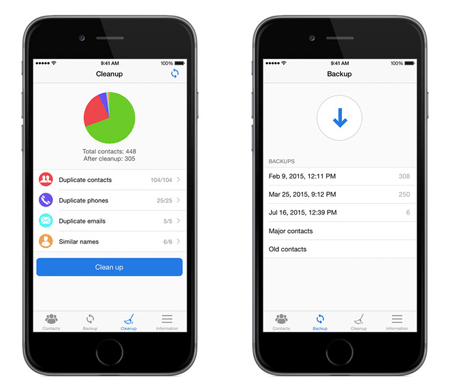 6. Cleaner Master
This paid app is among the more popular options. You can merge duplicate contacts or even delete them. Its interface allows you to quickly find your required contacts before merging or deleting them. You can even check your system statistics with this app.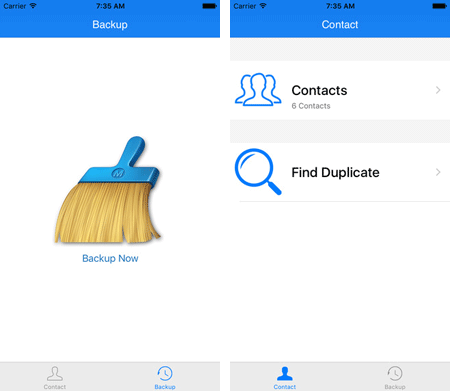 While you would find a number of iPhone cleaning apps that you may like, Coolmuster does take the charm away from others. The fact that it can not only clean your iPhone but also do a whole host of other things like backing it up and troubleshooting common iPhone problems easily makes it a favorite among many.
Related Articles:
Tips to Erase Crash Files from iPhone