Each person loves using new iPhones because they are faster. But, after using them for some time, they start to operate slowly. This does not mean you have to resort to deleting your favorite data in an attempt to make it work faster.
Cleaner apps were mainly made to assist you in boosting the performance of your device. There are many apps out there to help boost your phone's performance. From apps that optimize your phone's storage to apps that can delete junk files, here are 10 of the best iPhone cleaner apps.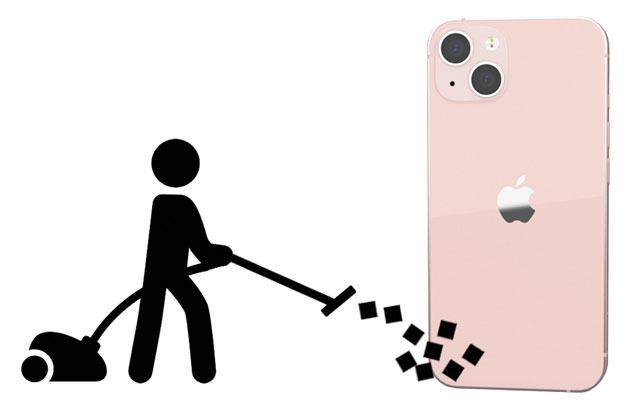 1. iRemover
2. Smart Cleaner
3. Cleaner Pro
4. Phone Cleaner
5. Clean Master – Super Cleaner
6. Gemini Photos
7. Boost Cleaner
8. Junk Cleaner
9. Cleaner for iPhone by Cleaner LLC
10. Adware Zap Browser Cleaner
1. iRemover
If you want to delete a few photos or free up some space on your iPhone, iRemover is a great place to start. It can clear cache, delete apps and photos, as well as clear ou app's data. It provides you the option of choosing what you want to delete. There's also a visual option for previewing the data before it gets deleted.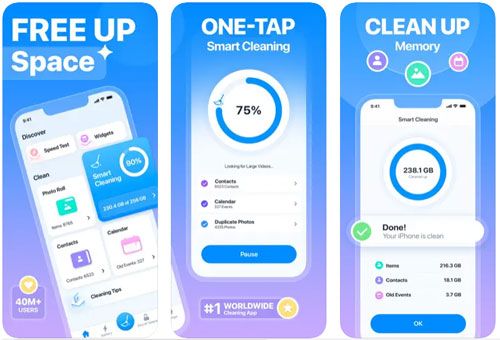 Pros:
* Find and clean fuzzy or similar photos from iPhone.
* Fast back up, merge, and delete duplicate contacts.
* Remove calendar events without hassle.
* Save the battery life.
Cons:
* Not all the features are free to use.
Further reading:
Is Your iPhone Storage Full? Free It Up without Delay [Solved]
How to Remove Duplicate Songs from an Android Phone Effortlessly?
2. Remo Duplicate Photos Remover
If your iPhone has become slower because of storing too many pictures, this app can help you out. With the simple interface, you can manage your photos to free up memory on your iPhone without a hitch. But it cannot manage other file types on iOS.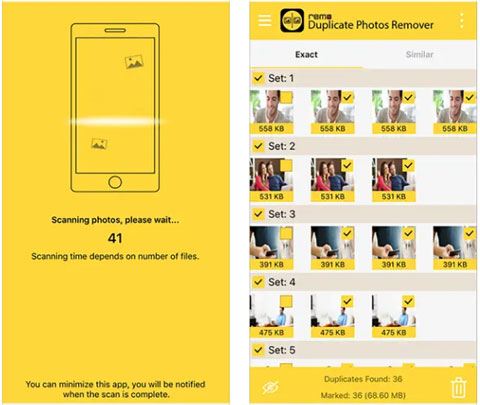 Pros:
* Easy to delete duplicate pictures on an iPhone.
* Automatically leave the photos with the best quality on your device.
* No ad.
Cons:
* Only support photo management.
See more: Want a powerful contact manager for your iPhone? There are top 14 management apps for your reference.
3. Cleaner Pro
If you have a lot of unnecessary files clogging up the space on your phone, Cleaner Pro is an ideal iPhone cleaner app. It offers multiple cleaning options, including a trash can where you can delete files that you no longer need. It also has a scan option and a speed booster to help your phone run faster. You can also use the app to access all of your installed apps, allowing you to see what's running in the background and clean it as well.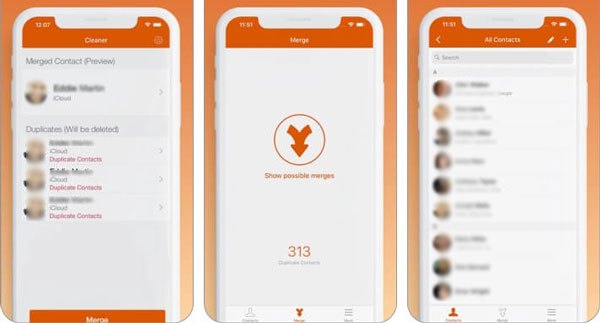 Pros:
* Have no in-app purchase.
* Can handle large databases of contacts on iPhone.
* Accurate in selecting duplicate contacts.
Cons:
* Customer support isn't good.
* Urge you to clean duplicate records all the time even though you want to keep them.
You might like: Is it viable to wipe a SIM card on Android? Of course, it is, and this guide will tell you the way.
4. Phone Cleaner
If you have a lot of apps on your iPhone and want to easily access them, Phone Cleaner for iPhone might be the ideal app. The app will scan your phone and show you every single app running in the background, giving you the option to quickly shut them down. It also cleans YouTube videos, photos, SMS messages, and more. You can easily uninstall apps using this powerful phone cleaner.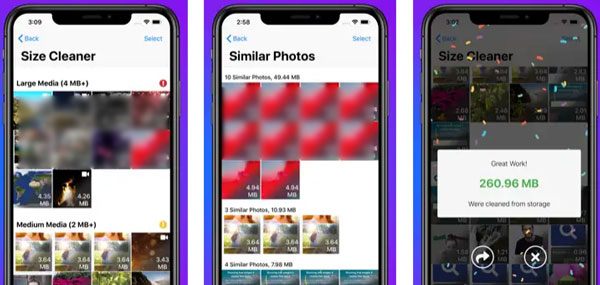 Pros:
* Provides unlimited pass for every month.
* Sort the files on iPhones and iPads by size.
* Efficiently find duplicate pictures in the Gallery app.
Cons:
* Cannot work well unless you update it to the latest version.
* Comes with annoying ads.
Learn more:
How to Free Up Space on Samsung Tablet or Phone in 7 Ways
How to Delete All Contacts on iPhone at Once? [Simple Ways]
5. Clean Master – Super Cleaner
This is one of the best cleaner apps available for iPhone. It has a very comprehensive database of all file types on your phone and can find duplicate contacts, as well as dozens of other junk files. It has a simple interface and easy-to-use tools that make it easy to clean up your phone. You can also scan your phone to see which apps are running in the background.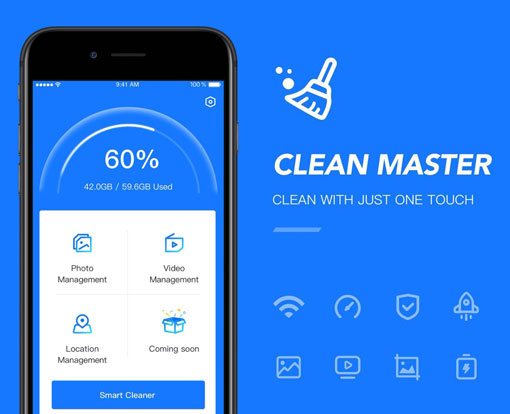 Pros:
* Manage your photos and videos by cleaning up similar files.
* Allow you to eliminate photos and videos on your iPhone by location.
Cons:
* Only manage photos and videos on iOS.
* Only provide manual cleaning options.
* Quite hard to navigate large databases.
6. Gemini Photos
If you hang out with a lot of friends and family, you will likely have tons of photos and videos on your phone that you would like to remove. And a deal app to help with that is the Gemini Photos iPhone cleaner. This app can delete all of your duplicate images, as well as photos that are in the wrong folder.
It also allows you to make photo montages from older photos and change their order. You can also use it to clean up your albums and even delete all non-responsive images from memory cards or other locations on your phone. This is an ideal cleaner app for those who want to set their iPhones free of unwanted files.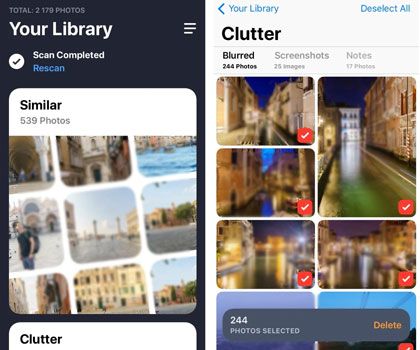 Pros:
* Find similar and not-so-good pictures.
* Sort the entire library by cleaning out the clutter.
Cons:
* Not a free cleaning app.
* Only offer a three-day unlimited trial.
7. Boost Cleaner
Boost Cleaner is an ideal cleaner app if you want to boost your phone performance. It will optimize your phone's memory and accelerate it, which can help increase its speed. When you open the app, it will show all of the files on your phone and let you select the ones that you want to delete.
It also has a scan feature so you can see which files are taking up space on your phone and remove the junk. If any apps are running in the background, this app will also give you an option to stop them from continuing to run.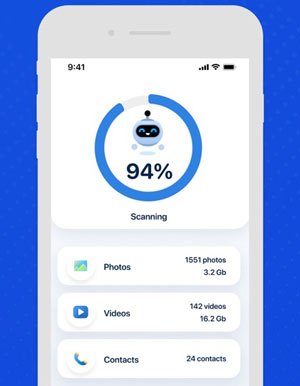 Pros:
* Help you remove and merge contacts on an iPhone.
* Group your contacts by name, phone, and email.
* Support photo, contact, and video cleaning.
* Many subscription pricing and plans
Cons:
* Trial period is only available for 24 hours
* Automatic renewal of subscriptions and payment
8. Junk Cleaner
The Junk Cleaner is the ideal app for those who want to keep their iPhones clean. This app allows you to manually delete files or you can choose to scan your phone and automatically delete any junk that you may have on it.
The best part is that if any important files get deleted by mistake, the app can tell you how to restore them. It's not just an automatic cleaner app, and it gives you the option to go through your phone and make sure that nothing important gets removed accidentally.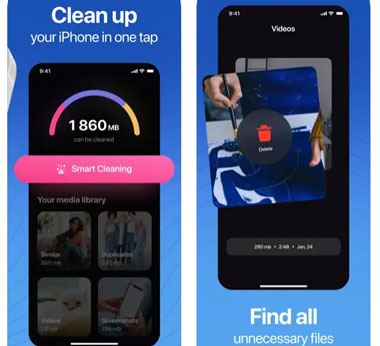 Pros:
* Clean your Camera Roll by automatically finding duplicated photos
* Easily detect the blurred pictures.
* Put all the deleted photos in the built-in recently deleted folder, so you can restore them if needed.
Cons:
* There are many ads and prompt you to upgrade to the pro version.
* You have to subscribe to get complete tools.
9. Cleaner for iPhone by Cleaner LLC
This is one of the most popular iPhone cleaner apps that can delete duplicate contacts and other junk files on your phone. Once you have it installed, it's an automatic cleaner app that will clean up your phone as soon as it starts running. If you have a large number of duplicate contacts or duplicate photos, it can clean up quickly.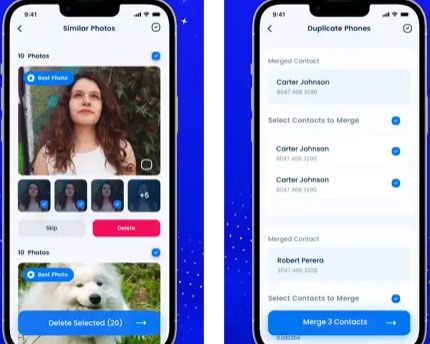 Pros:
* Enable you to delete similar images and large videos from an iPhone.
* Scan out all contacts fast, and merge the same contacts.
* Support weekly and yearly subscriptions.
Cons:
* Sometimes, it deletes files without permission.
10. Adware Zap Browser Cleaner
Adware Zap Browser Cleaner is an ideal browser cleaner for those who are concerned about their privacy. It will help remove any unwanted ads from browsers on your phone. You can also prevent all of the processes from running in the background, which could slow down your phone. This app does a wonderful job of cleaning out all of the junk on your phone.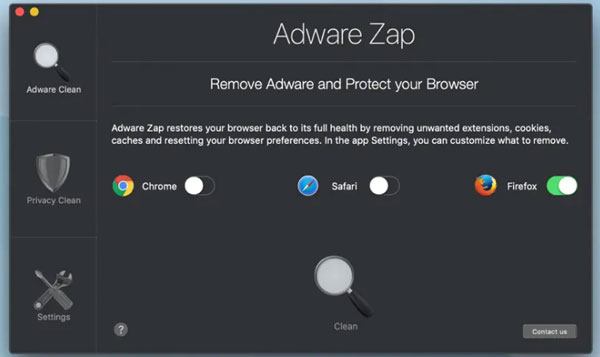 Pros:
* Easily identify security threats.
* Effectively remove extensions, caches, and cookies.
* Help you reset the browser preferences.
Cons:
* Need rebooting once cleanup is done.
* Available on Mac Store only.
Conclusion
In a nutshell, these are the 10 best iPhone cleaner apps you can use to boost the performance of your iPhone. So, if you want to keep your iPhone working well at all times, ensure you have these apps at your disposal. The best thing about these apps is that they are free or provide free trials for downloads.
Related Articles:
Five Methods to Back Up an iPhone without/with a Computer (Step-by-Step)
A Complete List of the 9 Best Apps to Import Photos from iPhone to PC
How to Permanently Delete Photos from iPhone? (4 Ways)
How to Wipe Android Phone Completely before Selling?
How to Delete Everything on iPhone? (Fixed)