If you own an iPod touch then you are most likely to be faced with a "Storage Memory Full" problem at some point of time. This problem occurs in iPods because your content is continuously backed up. If you connect the iPod to iTunes, in the storage bar you will see a lot of space being taken up not only by photos and videos, but also by the "Other" category. This "Other" category usually contains corrupt backup data, stored caches, downloads that have failed and other system related data. In order to be able to sync newer albums and music you've downloaded you would need this storage space and hence, it is very important that you clear up space on your iPod.
Clearing this space is quite easy with Coolmuster iOS Cleaner, this is a Windows and Mac based tool that can be used to clean the storage memory on your iPod touch and other iOS devices. It helps in clearing unwanted storage space wasters like app caches, app cookies, app temp files, photo caches, browsing history, Safari cookies, Safari cache, download temp files, app crash logs, etc. It can scan your iOS device and easily find out potential useless data like corrupted data from failed downloads and sync updates. It is also compatible with other iOS devices, such as iPad and iPhone, so you just need this one software to manage space in all your iDevices.
Using the Coolmuster iOS Cleaner is pretty easy. All you need are a Windows or Mac computer, your iPod and USB cable, and the Coolmuster iOS Cleaner. Then, you need to do the following things. Here in this article, we will set Mac version as an example. If you are a Windows owner, you can follow the similar way to clean space on iPod from Windows PC.
Steps to Free up Space on iPod by Deleting iPod Junk Files
Step 1: Launch application and connect your iPod
Download and install the iOS cleaner application on your Mac computer and connect your iPod touch to your Mac with the help of a USB cable. Once you have connected, you need to select the Quick Clean mode that appears on the screen.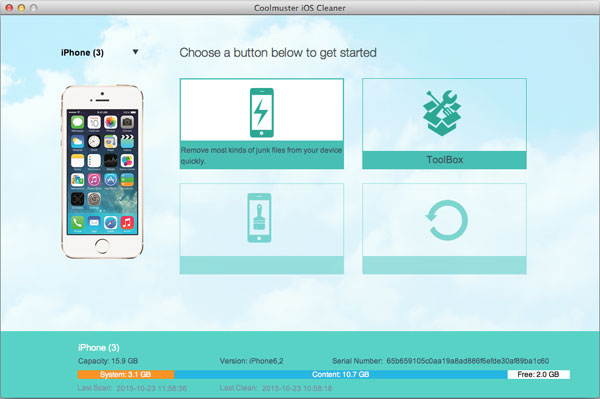 Step 2: Scan your iPod touch for unwanted files
You will later see a list of the different types of files that can be scanned for on your iPod touch and can be removed. These include Caches, Temp files, Cookies, User Storage files, System Crash Logs and many more. Select the ones you want to scan for and click on "Start Scan" button.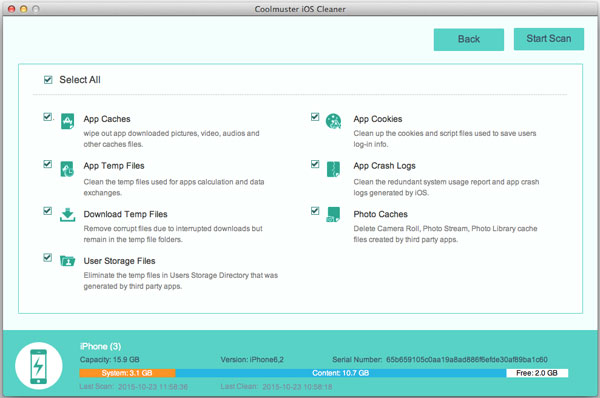 Step 3: Start to clear space on iPod
As the scanning progresses you will be able to see each of the types of data and the storage space occupied by them. You can choose whatever you want to delete and then click on the Clean button, after which you will get a prompt asking you if you want to delete the select content. Click on yes and then the clean up process will start.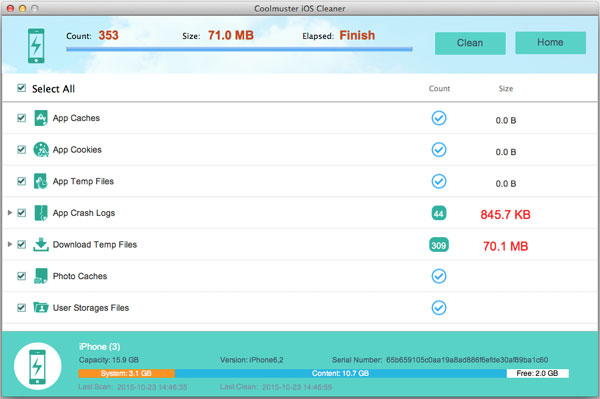 These three simple steps will help you keep your iPod memory clean and clutter free. It is pretty important to clean data from your phone or tablet so as to prevent to leave traces of your data in your device while selling it.
Conclusion
Managing and clearing space on your iPod touch is crucial to ensure optimal performance and accommodate new content. Coolmuster iOS Cleaner provides a user-friendly solution for removing unnecessary files and freeing up storage on your iPod touch and other iOS devices.
Related Articles:
How to Delete Podcasts from iPhone
How to Clear Photo Caches on iPhone
8 Top-notch Android File Transfer Apps for Mac