How to Transfer Music from iPhone 6/5S/4S to iPod?
Ever since the invention of the iPhone, people have begun to replace their old iPods with their smartphone. This is great for the music lover on the go. But before smartphone, people amassed huge amounts of music, thousands and thousands on song who total comprised memory often required a desktop hard-drive or one of the larger mp3 players. But your average smartphone only has so much memory and you often need the majority of that space for vital apps and contact information, not your favorite country album. And the majority of the time you are always buying new music from iTunes and overloading your memory space. You want to download all of your newly bought music onto a larger format device, yet you still want the portability for all of your music. If you still have an iPod touch/Shuffle/Nano/Classic, then you are in luck.
Why it is wise to choose professional Phone Transfer to perform the music transfer?
There are ways to transfer your music from phone onto your older iPod. This usually involves download one app onto your smartphone and your desktop. And some of these apps and operating systems don't work with the older technology of an iPod classic. Using iTunes for this process is also possible, but the threat of data loss is significant since your working with different eras of technology. There are some transfer programs available online, yet they often come with a difficult to operate interface and few instructions on how to navigate it. But there is an app that allows you to download all of your new songs from your phone onto your iPod classic with none of these problems.
It's called iPhone to iPod Music Transfer. It is the easiest transfer application currently available and works with all Windows and Mac systems. The technology is extensively coded to recognize all current iPhone models and all iPod models past and present, including iPhone 6, iPhone 6 Plus, iPhone 5S, iPhone 5C, iPhone 4S, iPhone 4, as well as iPod touch, iPod touch 4/5, iPod Shuffle, iPod Nano 3/4/5/6, and iPod Classic. Not only music files, but also almost all other data types can be transferred between two devices, such as videos, photos, contacts, text messages, call history, calendar and so on, no matter you are using Android, iOS or Symbian devices.
The below free trial version is for you to have a try on this program. Just click to download it.
Quick Start on Transferring Music Files from iPhone to iPod touch/Shuffle/Nano/Classic
Step 1. Launch the iPhone to iPod music transfer tool
First you download iPhone to iPod Music Transfer app onto your computer desktop. Next, choose "Phone to Phone Transfer" on the program window in order to go to the phone to phone transferring window directly.
Step 2: Connect both your iOS devices to computer
Next, you simply hook up both your iPhone and your iPod directly to your desktop via USB cables. The program will detect the two iDevices automatically and show them as "Source" and "Destination". That means you will transfer files from Source phone to Destination phone. If misplaced, you can click "Flip" button to change the places of them.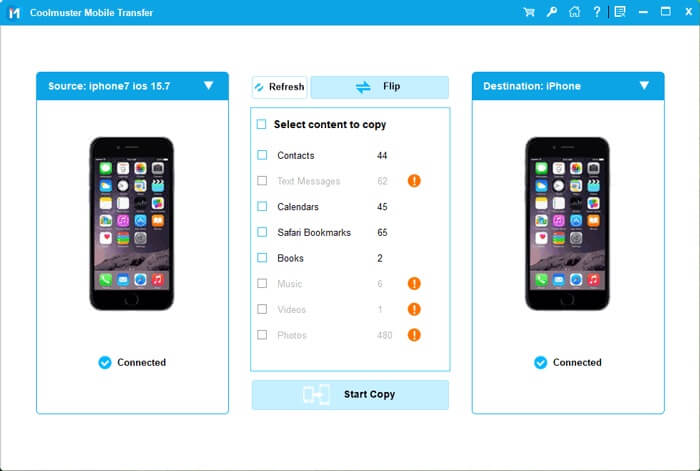 Step 3. Transfer your music to iPod from iPhone
On this screen, the content you are able to transfer will be listed in the middle box in between the windows for your iPhone and iPod such contacts, text messages, photos, music, etc. All you have to do is just check the "Music" you intend to transfer and and click "Start Transfer". This will initiate the transfer process.
During this operation, be sure not to disconnect either device or the transfer will not work and you may suffer some degree of data loss. When when the transfer process is completed, all that is left to do is to click "OK". Your desired content will be on the device it was destined for.
Related Articles:
Transfer Contacts between Sony and Samsung Galaxy