Since WeChat has been increasingly used among iPhone or Android users, this has both advantages and disadvantages to people because sometimes you might have some close friends but sometimes you may also meet some disgusting people. In this case, all you need to do is to defriended or blacklist them from your WeChat contacts, making them disappear on your WeChat. Here this article will show you how to completely delete WeChat contacts on iPhone X/8/8 Plus/7/6 Plus/6s Plus/6s/6/5s, hoping it can help you.
Part 1. How to Completely Remove WeChat Contacts from iPhone X/8/7/6
Part 2. How to Protect WeChat Data from Privacy Leak on iPhone
Part 1. How to Completely Remove WeChat Contacts from iPhone X/8/7/6
Before removing a friend from WeChat on iPhone, please be noted that if you want to completely delete them, you are required to add the WeChat contacts to blacklist at first and then delete them from your WeChat contact list. Because after adding WeChat contacts to black list, you will not receive any messages and friend request from blocked contacts, and both of you will not see any update of WeChat Moments from each other, which means you have completely deleted her/him from your WeChat.
While if only deleting WeChat contacts without blocking them, even though you will not receive messages from them via chat window, you will receive friend request with additional messages. Anyway, let's see how to complete delete WeChat contacts on iPhone.
Step 1. Block A WeChat Contact on iPhone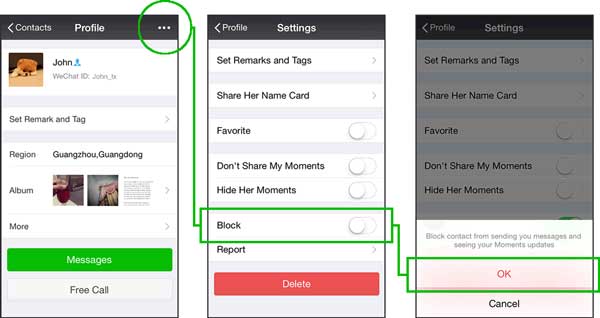 - To block a WeChat contact on iPhone, please open WeChat app and tap "Contacts" tab on the bottom to select a contact that you don't want to receive messages from her/him and share your Moments updates with her/him.
- On the selected contact Profile page, please tap "..." button on the right top of corner and turn on "Block" feature on Settings Page. (Note: you can also turn off "Block" feature here to unblock this WeChat contact.)
- After reading the warning, tap "OK" option to confirm your action and start to block or unblock her/him.
Step 2. Delete A WeChat Contacts on iPhone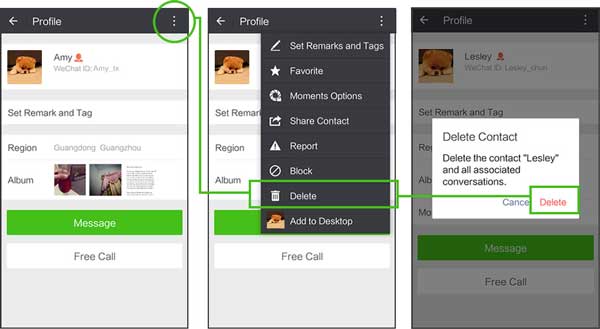 - After launching WeChat app on your iPhone, please tap "Contacts" tab on the bottom. Then you can find the WeChat contact that you want to delete, and tap his/her name to enter a new page.
- On this new page, you can the detailed information of the selected WeChat contact. Simply tap the "..." icon on the right top of corner to check more options to manage contacts on WeChat.
- Then you will see the "Delete" button on the bottom. Simply tap it to delete the selected WeChat contact on your iPhone.
- On the pop-up window, tap "Delete" option again to confirm your action. Then the selected WeChat contact and all associated conversations will be deleted right away.
You May Like: How to Save WeChat Audio Messages from iPhone?
Extract Bonus: How to Block/Unblock WeChat Friends on iPhone in Bulk
If you have more than one contacts that you want to block from your WeChat, you can bulk block WeChat friends on iPhone, too. Of course you can unblock WeChat friends with the following method. Here's how:
- Launch WeChat app on your iPhone and tap "Me" tab on the bottom to go to Settings page.
- Tap "Privacy" and go to "Blocked List" page where you can add one or multiple WeChat contacts to blocklist to block them.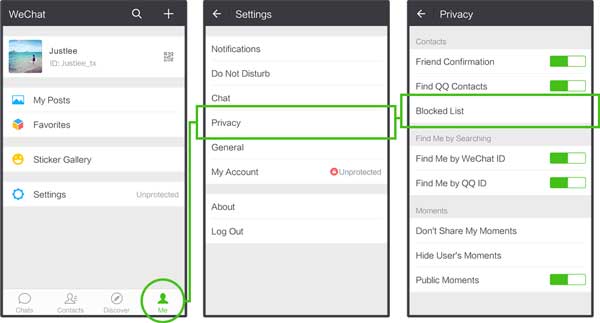 - After adding contacts to block list, you can also unblock them from Blocked List page, too. Simply tap a contact name from Blocked List, tap "..." icon and tap "Unblock" feature from Setting page to unblock WeChat contacts on iPhone.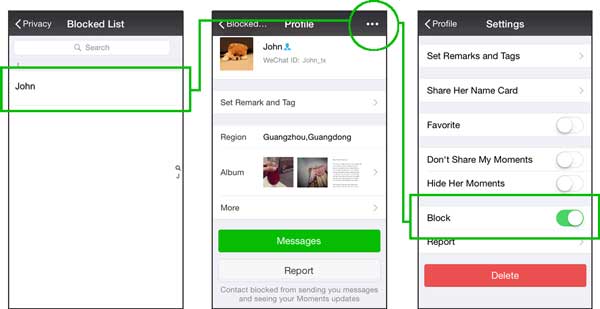 See Also: Guide to Remove WeChat Pictures from iPhone X/8/8 Plus/7/6/5
Part 2. How to Protect WeChat Data from Privacy Leak on iPhone
Since simply tapping the "Clear Chat History" button on WeChat is not enough to protect your personal data from being recovered with a third-party tool, it is recommended to regularly and completely clear WeChat data and documents on your iPhone via a professional WeChat Data Cleaner for iOS - Coolmuster iOS Cleaner to protect your personal information on WeChat.
This WeChat Data Cleaner is good at cleaning app data and junk files on iPhone/iPad/iPod, including WeChat app cookies, WeChat app temp files, app crash logs, download temp files, photo caches, user storage files and etc. After cleaning these WeChat data, you can be at ease about your personal information.
Now, please free download the WeChat Data Cleaner in Mac or Windows version as below.
[User Guide] Steps to Delete WeChat Documents and Data on iPhone:
Step 1. Install and launch the WeChat Data Cleaner on your computer, link your iPhone with computer with a USB cable. Then the program will automatically detect your device, simply select the first mode to move on.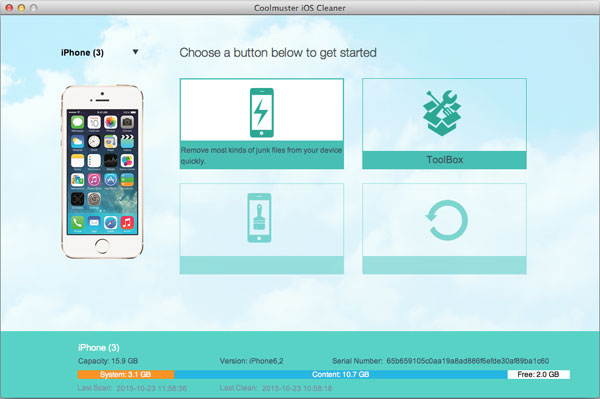 Step 2
. To clear WeChat documents and data, simply check the box before "Select All" option to choose all junk file types and hit "Start Scan" button to scan for details.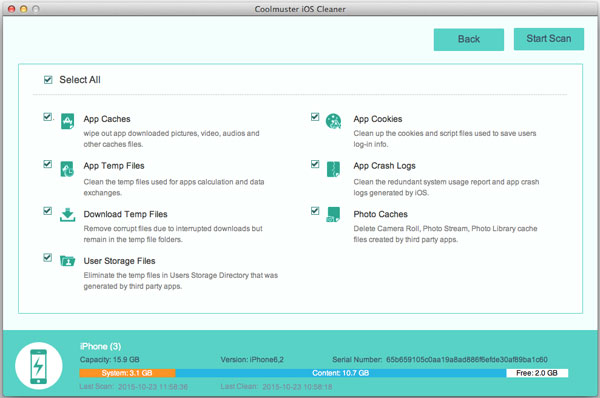 Step 3. After quick scanning, you can see how much space the junk files take on your iPhone. Simply check "Select All" option and hit "Clean" button to remove them from your iPhone.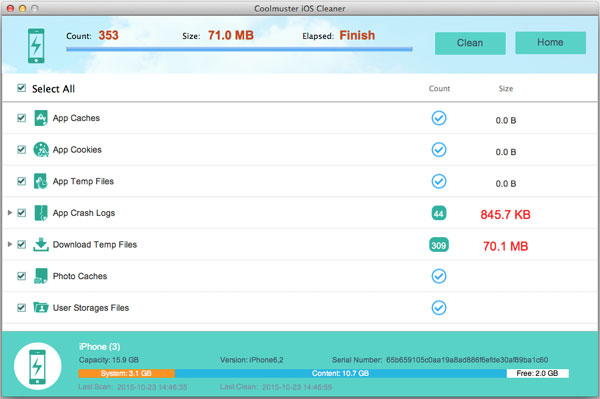 Related Articles:
How to Recover WeChat Photos/Videos/Audios from iPhone?
How to Track/Change/Share Location on WeChat from iPhone X/8/7/6
WeChat Privacy Settings: How to Setup WeChat to Protect Privacy