Think of all those GIFs, photos, group chats, music libraries, and games taking up your iPhone's storage space. It has probably become a hub for storing your data, so its space can easily get filled up. Although the default storage of the iPhone was increased to one hundred and twenty-eight gigabytes for iPhone 14 and iPhone 13, that may not be sufficient for everyone. That's why you should learn how to free up space on an iPhone.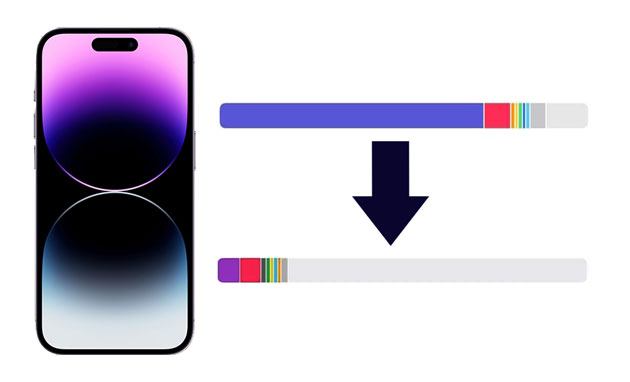 Part 1: What Is Taking Up My iPhone Storage Space?
Before you think of maximizing your storage space, you must know what is occupying your iPhone. To know where to start, you must look at what is consuming your storage space:
Open the Settings app, click General and then select iPhone Storage. You will see a list of all the kinds of media and files consuming space on the iPhone. Apple may also recommend some ways to empty space, for example, reviewing the videos saved on iPhone, as discussed below.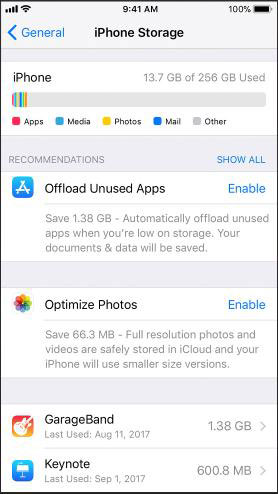 Part 2: How to Free Up Space on iPhone via 7 Ways
After checking the available space and what is consuming most of it, you can now go ahead to learn what to do when an iPhone storage is full.
Way 1. Optimizing Photo Storage
Pictures are the files that take up the largest amount of your storage space. However, you don't need to worry because you can set your iPhone from the Settings menu to keep smaller forms of photo files in the local storage if you run out of space rather than the original forms. The full-resolution files are instead saved in iCloud, where you can retrieve them when needed.
Below are the steps to turn on this feature to save memory on your iPhone:
Step 1: Open your Settings app.
Step 2: On the Settings menu, go to the Photos option. Then make sure there is a checkmark beside Optimize iPhone Storage. Done.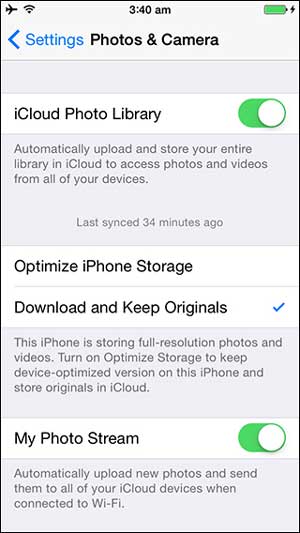 See more: 5 Ways on How to Transfer Photos from Computer to iPhone
Way 2. Erase Those Apps You Don't Use
Another way to free up space on your device is to remove apps you don't use anymore. Take a look at the apps you have not used for quite some time now before you take the necessary action.
Step 1: Open the Settings app on your iPhone, and select General > iPhone Storage.
Step 2: You will see the names of all your apps together with the amount of space occupied by each app and when you used each last.
Step 3: Scroll through this list and delete all the apps you have not used for quite some time now.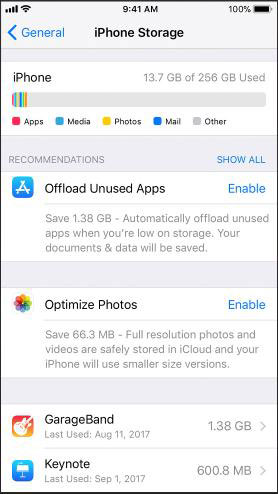 Way 3. Offload Those Apps You Don't Frequently Use
You can opt to offload some apps instead of completely deleting them. Offloading apps allows you to retain the data and documents associated with those apps to make it easy to reinstall them anytime. This is an effective way to get more iPhone storage for free.
Below is the procedure for offloading an app manually you no longer use:
On the Settings menu, Select General > iPhone Storage, tap the app you want to offload, and then tap Offload App.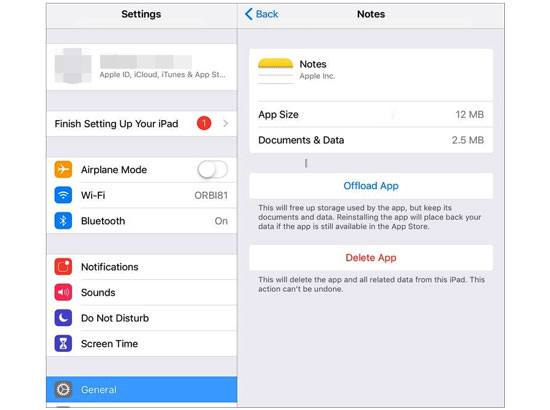 Also, you can follow the steps below to set your device to offload apps automatically:
Step 1: Open the Settings app on your iPhone. Select App Store.
Step 2: Ensure the toggle switch for Offload Unused Apps is on.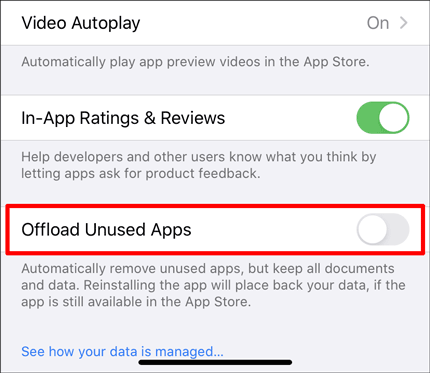 Further reading: What if your text messages disappear from your iPhone? Don't worry. You can find them back with these practical methods.
Way 4. Remove Old Messages Automatically
It is not just apps, videos, and photos that could take up space on your iPhone. Deleting old SMS messages can free up some space as well. Below is the procedure you can use to set your device to automatically remove your old messages:
Step 1: Open Settings and select Messages.
Step 2: Hit the Keep Messages tab under the Message History option.
Step 3: From here, choose if you would like your device to retain messages for thirty days, 12 months, or forever.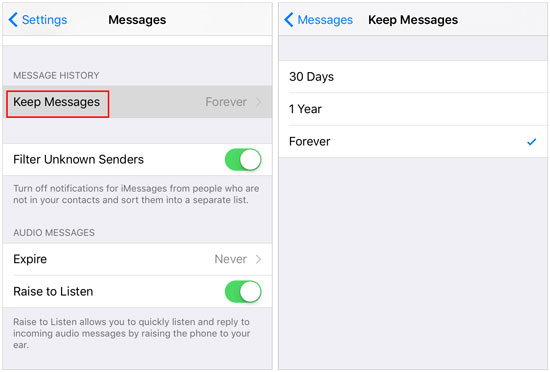 Learn more: Want to control your iPhone on a PC? Then you can utilize these 5 measures to make it.
Way 5. Erase Videos and Songs from Apps
You probably have music and videos saved offline in some applications on your iPhone, and fortunately, it is easy to locate these files and remove them. Below is the procedure for deleting those videos and music:
Step 1: Open the Settings app on your iPhone, and go to iPhone Storage.
Step 2: Search for any app that you have downloaded offline files from. You will see storage info about this app, including options for offloading or deleting it.
Step 3: Please tap the Documents & Data to remove the useless files from your iPhone. Then you will get more space.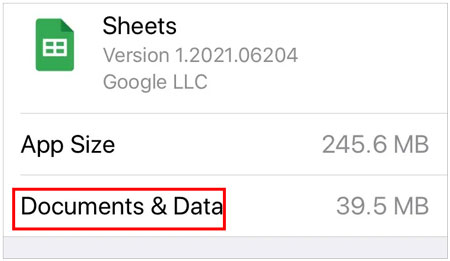 Perhaps you need: 9 Ways to Fix the Bookmarks on iPhone Disappeared Issue (iOS 15 Supported)
Way 6. Clear Out Your Web Browser Cache
If you are running out of space, you can try clearing your web browser's cache memory, although deleting media and apps makes a bigger difference. Doing so will significantly boost your iPhone's speed when browsing the web; therefore, it is worth trying whenever you run out of storage and experience slow browser performance.
However, once you clear the cache, you will be required to sign into your favorite websites afresh because you will be signed out. Below is the procedure for clearing your web browser's cache:
Step 1: Open Settings, select Safari, and then select Clear History and Website Data.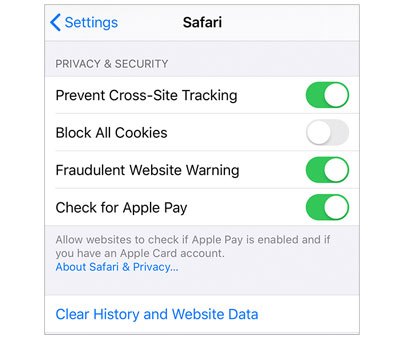 Step 2: If your browser is Google Chrome, click the three dots on the lower part of your screen, and select History > Clear Browsing Data.
Step 3: Select the information you want to remove, such as Browsing history, Cookies, Site Data, etc.
Step 4: If you wish to only delete your browsing information for a given period, select the Time Range before tapping the Clear Browsing Data option.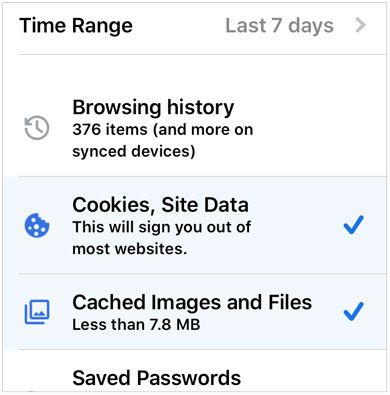 Way 7. Backup Your Data from iPhone to Computer to Get More Space (No Data Loss)
Have you stored hundreds of apps, photos, videos, messages, contacts, or other files on your phone? Do you want to back up these important files to free up some space on your device? If yes, then Coolmuster iOS Assistant is certainly your top choice.
With this iOS Assistant, your apps, books, photos, videos, music, bookmarks, calendars, notes, text messages, and contacts can be backed up freely from your iPhone to a PC at once. Thus you can get more iPhone storage without deleting your data, which is the best way to clear storage on your iPhone.
In addition, it enables you to delete, edit or add iPhone content such as contacts, books, bookmarks, photos, calendars, notes (addition of new notes enabled on iOS 11 and later), etc.
Highlights of this iOS data manager:
* Transfer your iOS data to a computer with ease.
* Allow you to select the files you want before starting the backup.
* Manage your iPhone contacts with multiple practical features.
* Fast import files from your computer to an iPhone or iPad.
* Work with most Apple devices, like iPhone 14 Pro Max/14 Pro/14/13 Pro/13/12/11/X, iPad Pro, iPad mini, iPad Air, etc.
Download Coolmuster iOS Assistant.
Below are the steps to empty some space on your iPhone by transferring data to a computer using Coolmuster iOS Assistant:
01Install the software on your PC and launch it. Connect the iPhone to the computer through your USB cable.
02Tap the Trust option to allow USB debugging when prompted. Click Continue as prompted. Once a connection is created successfully, your iPhone's info will be seen on the computer.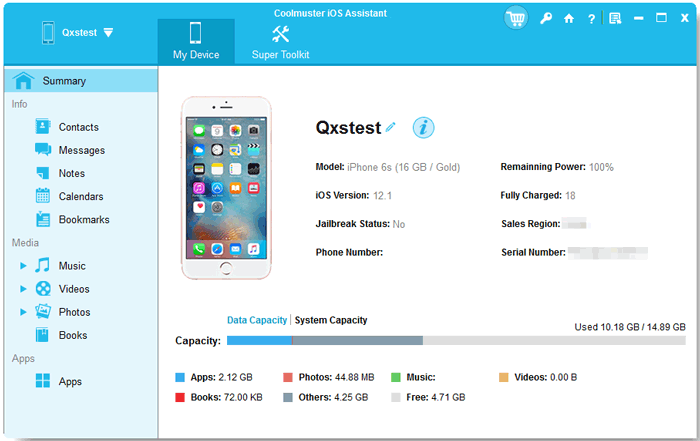 03Preview your files' info, and choose the file type you wish to transfer to the PC. Next, check the files you want, and hit the Export tab to transfer the files to your PC. Then you can remove them from your iPhone to save memory.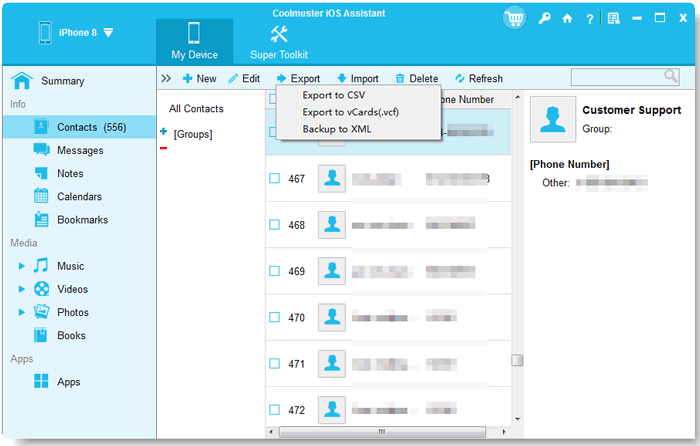 Conclusion
If you want to clear some storage space on your device, you can use the best approach to meet your needs. You can create a backup for your data on your PC as you free up some space on the iPhone, thanks to the user-friendly Coolmuster iOS Assistant software. With it, your backup files are saved in readable formats on the computer.
Related Articles:
10 Ways to Fix the iPhone Migration Not Working Error without Trouble
iPhone Blue Screen of Death? Here are 7 Easy Ways to Fix
How to Transfer Files from Android to iPhone [Full Solutions]
How to Permanently Delete Photos from iPhone? (4 Ways)
Easily Back Up Text Messages iPhone to Gmail in 5 Ways
How to Transfer from HTC to iPhone Effortlessly (7 Effective Ways)