Simple Guide to Delete Movies/Videos on iPod
The portable iPod device allows you to easily take photos and shoot videos, save downloaded movies, so you can freely entertain yourself when in need. However, the compact device has limited storage. In some cases, you have to give up some old movies or videos to save enough space for new downloads. To delete movies on iPod, you can make it within the iPod device or with the help of a computer.
Bonus: How to Manage iPod Library in Order
1. Delete Movies/Videos on iPod within the Device
- Tap "Videos" on the screen of your iPod touch to view your movies.
- Slide your finger from right to left on the movie you want to delete and tap "Delete."
Also, you can go to Settings > General > Usage > Manage Storage > Videos. Find the video/movie you want to delete and swipe it to left, and then tap the red "Delete" button.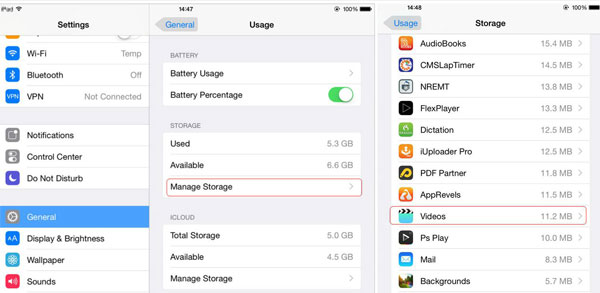 Related:
* How to Delete Songs from iPod
2. Delete Movies/Videos on iPod with iTunes
- Carefully decide on which video you want to delete before you delete it! And then open iTunes on the computer and then link your iPod device to the computer.
- If you want to delete the video on both your iPod, your iTunes Library and/or your Mac. Just right click on Delete option and continue the process.
- If you simply want to delete it off your iPod device, just click on iPod device on the iTunes and then select the wanted movies and hit the Delete option.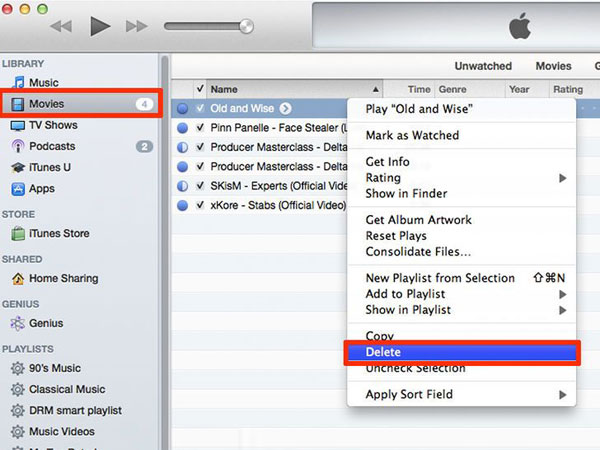 3. Bulk Delete iPod Movies/Videos Once and for All
For some private videos, you should permanently delete these videos from your iPod so as to make sure that your personal information won't be leaked. And it's not enough to simply remove videos/movies from iPod using the two ways mentioned in the above, since such deleted files can be easily recovered as long as you get a professional recovery tool. But with this iOS Eraser or iOS Eraser for Mac software, those deleted files will have no chance of getting recovered. This software can support all types of files like contacts, messages, photos, videos, movies and many more, as well as all generations of iPhone, iPad and iPod devices.
Using this software to permanently delete movies on iPod in a batch is just a matter of simple steps:
1. Link your iPod to the computer and open the installed software on the computer. Then this software will detect your device and scan for all files.
2. Choose the right erasing mode and eraing level to continue the process. Then all the file folders will be arranged on the main interface. Just enter the Movies tab to preview more detailed file information.
3. While previewng, select the wanted movies by ticking them out. And then hit the Erase option to permanently delete movieson iPod within simple clicks.
Related Articles:
How to Uninstall Apps on iPhone/iPad