An iPhone screen that keeps going black is a common issue. The phone rings, but you can't receive it. It will not function, and you have no way of getting a hold of anyone. A lot of people have experienced this problem, and there are many reasons why this happens. One reason might be that your battery is too low or drained entirely, or there is an issue with the phone itself, where a new piece must be put on or replaced to turn it back on again.
There can also be an issue with the software, where the computer needs to update its software to properly function again. From all these, you may find it hard to know the exact reason and how you can fix it. We will help you know why this issue happens and how it can be fixed.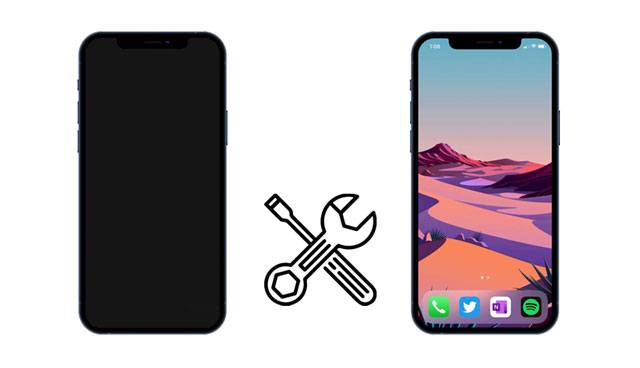 Part 1: Why Does My iPhone Screen Go Black?
Part 2: How to Fix iPhone Screen Keeps Going Black?
Part 3: How to Prevent Your iPhone from Black Screens?
Part 1: Why Does My iPhone Screen Go Black?
Your iPhone may go black because of hardware or software problems. The iPhone is made up of hardware and software. All the functions of your iPhone are controlled by the software while the hardware is the physical part of it. Hardware can be from regular wear and tear, or you cannot shut down your phone properly, but there are still some cases where a problem with hardware could cause your screen to go black.
A lot of people have experienced this happening when they drop their phone, thus breaking one piece or another like the screen or even parts inside the phone that control some functions integral for operating the screen properly.
Further reading:
Fix iPhone Clicking on Its Own in 11 Practical Ways
9 Ways to Fix the Bookmarks on iPhone Disappeared Issue
Part 2: How to Fix iPhone Screen Keeps Going Black?
There are various ways you can fix a black screen on an iPhone. Here are ways to fix the problem in the following.
2.1 Restart your iPhone
Restarting your phone is the easiest way to fix the screen that keeps going black. You can simply restart your device by doing the following:
For iPhone 8 or later: Press then release the Volume Up button. After that, also press and release the Volume Down button. Lastly, long-press the Power button till the Apple logo shows.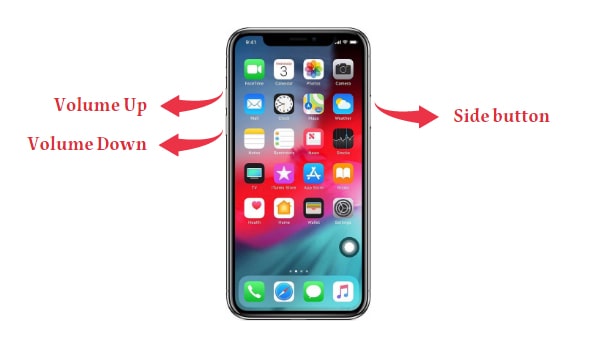 iPhone 7: Long press the Power + Volume Down buttons simultaneously until you see the Apple logo.
iPhone 6s or earlier: Long press the Power + Home buttons simultaneously until you see the Apple logo.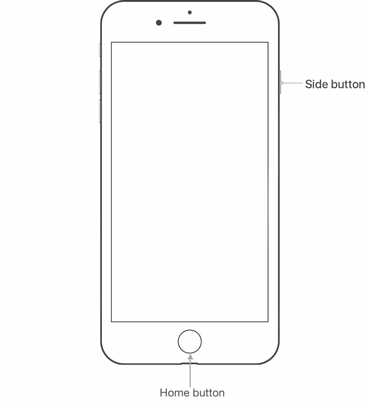 See more: Why does an iPad keep restarting on its own? Maybe you can fix it in this way.
2.2 Clear storage space
To check the amount of storage remaining on your iPhone, navigate to Settings > General > iPhone Storage. If you have a lot of photos, videos, and other files saved on your phone, it can take up space that could have been used for more important files.
This could cause a problem that may make your iPhone to have a black screen. To avoid this, try to free up some space by deleting some of the files you don't need anymore.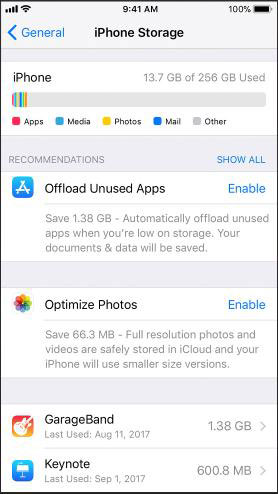 2.3 Update iOS software
To check the current iOS software version of your phone, go to Settings > General > Software Update. If you have the latest update of the software, you will have a red icon on your phone that indicates it is up to date.
If you don't have a red indicator, or if your phone is already up to date, updating should make your phone work again. Click Download and Install if there is an update.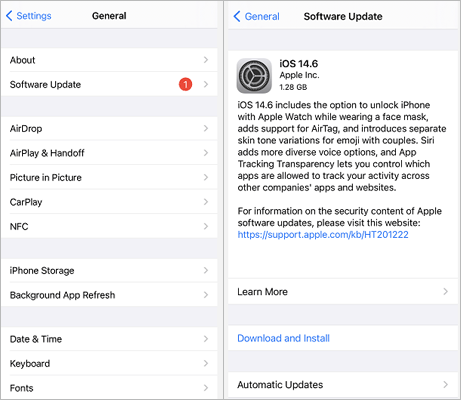 Learn more: Here are 8 solutions for recovering the iPhone grey screen. Let's check it out.
2.4 Restore your iPhone to factory settings
If all of the above methods don't work or your phone is just really old and can't be updated anymore, you can restore your device to factory settings. This method is akin to performing a computer restore and will erase everything on your phone, including contacts, music, photos, and everything else. To do this:
1. Plug your iPhone into your computer with the latest iTunes version installed, and launch iTunes.
2. Then force restart your phone to go to recovery mode.
3. A dialog box will pop up that enables you to restore or update your iPhone. Tap the Restore icon to restore your iPhone.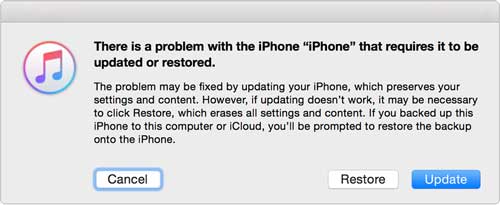 Check it if you want: You can also fix the iPad black screen in minutes. Let's read the guide.
2.5 Check battery percentage
The iPhone has many functions that depend on the battery, and often when a problem happens in iPhones with a low battery percentage, this can lead to problems like this where it may go black. In this case, please charge your iPhone. If the battery is damaged, you can take the phone to a nearby Apple Store to switch to a new battery.
2.6 Fix iPhone keeps going black via iPhone Repair
If the above methods to fix the iPhone screen keeps going black do not work, the best alternative is to opt for iOS System Recovery software. Unlike other software, this tool can solve the issue quickly. Its comprehensive interface can help you restore your iPhone to factory settings and fix all iOS problems in one go.
Also, it can detect and fix the iPhone that keeps going black. This tool can easily be used to fix iPhone screen problems for anyone who wants to go through the process of fixing their iPhone in three easy steps. It can easily scan your phone and fix various iOS issues in just one click, like black screen, charge issue, loop restarting, etc.
Download this iOS system repair software.
Here is how to use this iOS system recovery to fix iPhone that keeps going black:
Step 1: Launch the program on the computer and connect your iPhone to your computer via USB.
Step 2: Choose iOS System Recovery, and tap the Start icon to get your device into DFU mode.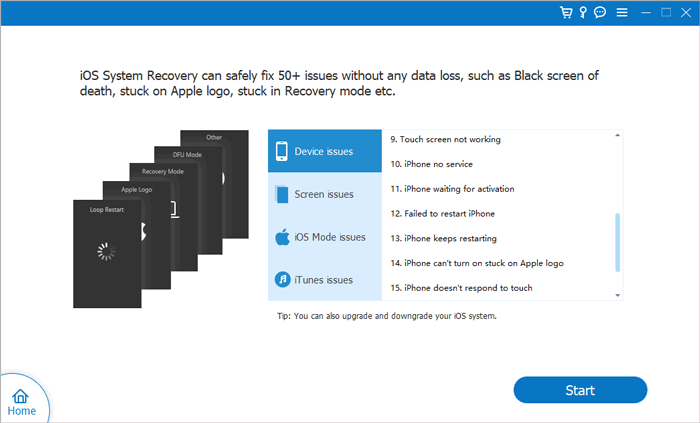 Step 3: Confirm all your iPhone's information then download the firmware package. Then tap on the Repair icon to download the program's firmware package and begin fixing the problem.
Guess you need:
Retrieve Deleted Text Messages on iPad? (Support the Latest iPad)
A Complete Guide on How to Recover Deleted WeChat Messages on iPhone
Part 3: How to Prevent Your iPhone from Black Screens?
Now that you know how to fix the black screen on your iPhone, you may want to prevent the phone from having black screens again. Here is how to prevent this:
3.1 Keep your iPhone running and updated
You can avoid having issues like this by keeping your device up to date and running smoothly by avoiding any software or hardware problems that could happen. Keep an eye out for an update and install them as soon as they are released. Also, make sure to restart your phone once in a while so that the system is always running smoothly and without any issues.
3.2 Uninstall all glitchy apps
If there is an app on your iPhone that doesn't work properly, you can try uninstalling it and then reinstalling this app. To do this, go to Settings > General > iPhone Storage, and then tap on the app you want to uninstall. Next, select Delete App. Then go into the App Store and download a new version of this app if needed.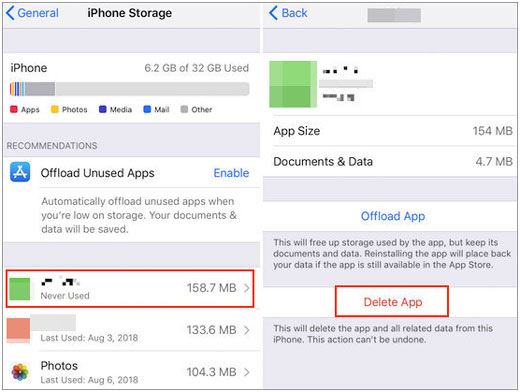 3.3 Keep the iPhone at a normal temperature
Your iPhone may have difficulties operating properly if it is kept at an extreme temperature. You need to ensure that it is not exposed to heat or cold air since it could lead to potential issues. It is recommended that you check the temperature of your phone before using it.
Conclusion
Many people who have experienced a screen that keeps going black would now know how to fix the problem and how to prevent it from happening again. The best way to avoid problems with your phone is by storing them properly, keeping them away from water and other materials that might damage the phone's hardware. Also, update your software according to schedule, so you know that your phone will always be updated and won't have any problems with functions like turning on or off the screen.
It is recommended to use a mobile data recovery software like iOS System Recovery whenever your phone screen is black. As mentioned above, this software can fix multiple system issues on iOS devices without complex steps. Thus, you can fast repair your iPhone with this program.
Related Articles:
A Complete List of the 9 Best Apps to Import Photos from iPhone to PC
3 Ways to Transfer Music from iPhone to Computer without iTunes
Simple Ways on How to Transfer Videos from PC to iPhone Camera Roll
How to Unlock iPad Passcode without Restore [4 Ways]
[Transfer to iPhone 13/14] How to Transfer Data from Android to iPhone 13/14?