Maybe after careful consideration, you've finally decided to buy an iPhone 6s of 16 GB. Now, you possibly can't wait to download your favorite music songs to your device, or some blockbusters to fully enjoy the high resolution of Apple products. Perhaps, you can finally download interesting game apps to experience the smooth operation of iPhone device. Fully indulged during such process, right? But, with time passing by, a serious problem comes: No more space is available! This alert may pop up when you plan to get a certain book app, or even download a beautiful picture of your favorite star from the internet. It seems that 16 GB internal memory is far from being enough, right? Have no choice but to delete some files to free up more space on your iPhone device?
You don't need to! Actually, not all files saved on your iPhone are useful, i.e. the 16GB internal memory of your iPhone has not been fully used, since quite a few junk files such as photo caches, app crash logs, app caches and etc. are also lurking in your device. To live on the limited 16 GB internal memory of iPhone, it is of great significance to clean up your iPhone device frequently, so as to spare more space as well as speed up the performance. To do that, you can't miss this FREE Coolmuster iOS Cleaner software. Freeware as it is, this cleaner is sure to be your best choice to clean up unwanted junk files from your iPhone device in one click. This software is able to detect all the junk files sticking to your iPhone and display them on one interface. After that, you are free to choose to delete all the junk files from your iPhone. Moreover, this software is compatible with all generations of iOS devices, including iPhone, iPad and iPod! Still complain about the limited 16 GB internal memory? Don't be like that! Just get this free software to make the fullest use of the 16 GB internal memory of your iPhone device!
Here to Free Download:
Tips to Live on 16 GB Internal Memory of iPhone
First of all, open the installed software on the computer and then get your iPhone device connected to the computer via the USB cord. After that, you will see the below interface. Choose the mode of Quick Clean option to continue the process.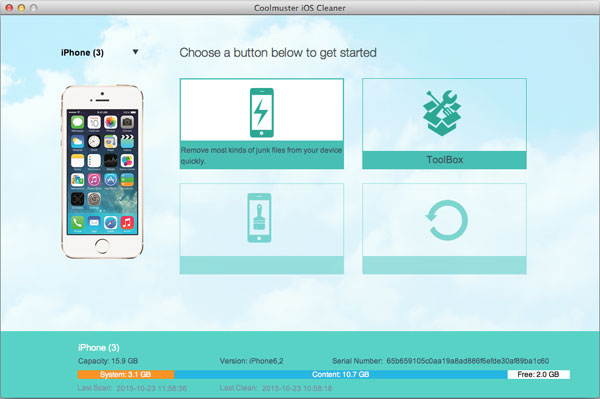 Now, you can see that all junk file folders are arranged on the main interface and you can choose the option of Select All and then Start Scan to preview the files.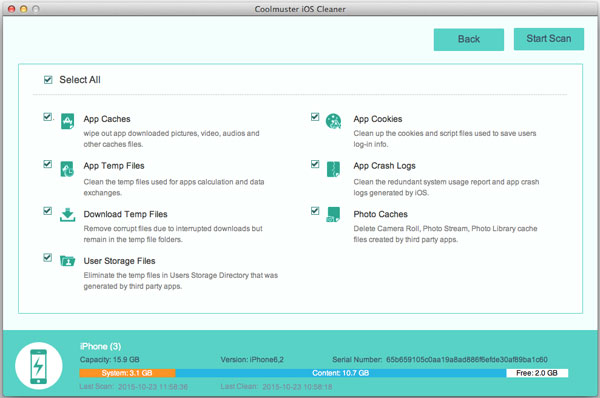 In this step, choose all the junk files and click on Clean option to clear all the junk files from iPhone device. Then on the pop-up window, remember to click on OK to confirm your action.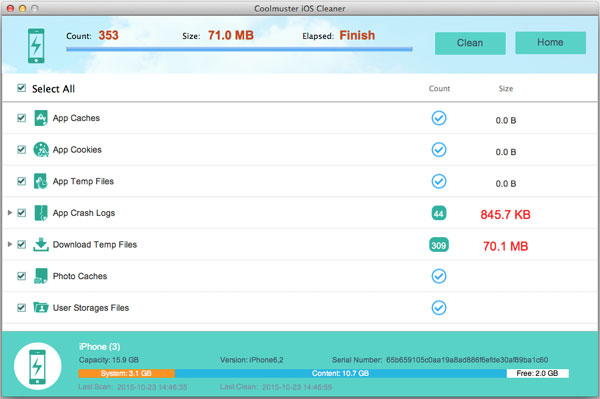 Conclusion
Within a few minutes, all the useless files will be removed from your iPhone device and your iPhone device is running faster! Just clean up your iPhone frequently! You will find living on 16 GB internal memory of iPhone is nothing big deal! Download Coolmuster iOS Cleaner to start the erasure.
Related Articles:
How to Update iPhone without iTunes in 3 New Approaches
Full Guide on How to Fix iTunes Error 4005 or iPhone Error 4005
9 Best iPhone Repair Software to Fix All iPhone System Problems with Ease