User Guide: Easily Update iPhone without iTunes
Trying to know how to update iPhone using iTunes? Don't worry, you aren't the only one. There are many Apple users who face the same dilemma. We have got you covered. Just follow the instructions below. You can update your iPhone after installing the current version of iTunes on your PC. Then you need to connect your iPhone, select your device and choose the Summary option. Now select Check for Update and download if it is available.
Related: Top 9 FAQs about iPhone Jailbreak & Update
Why do you need to Update iPhone without iTunes?
Sometimes, being an Apple user can be a tough experience. You might just want to make it more simple. Thankfully, it doesn't take much. Here is a look at why you may need to update iPhone without iTunes. You may want to eliminate the use of iTunes for many reasons:
• iTunes automatic updates may be malfunctioning for you.
• You may be getting data lost or deleted by using iTunes.
• You have forgotten your iTunes credentials.
• You do not have a PC at your disposal.
Ultimate Solution: How to Update iPhone without iTunes
All you need to do is to follow some simple steps. We have brought for you all that you need to do below. Just follow them as we say about you would be fine.
1. Use your Device
When your iPhone gets a notification of an available update:
- Connect to the wireless internet and put your phone on charge.
- Access Settings, then go to General and choose Software Update.
- Now tap on Download and select Install. Enter passcode if needed.
2. Download and Install IPSW Files
Now, you would have to download some files. You can directly download IPSW files (the firmware update) on your computer or Mac. But then you will need to use a third party program or iTunes to install the IPSW files on the iPhone. If you use iTunes after downloading the IPSW files, there will be fewer hassles.
1. Download and install the correct IPSW file for your iPhone.
2. Update your iTunes and connect iPhone to the computer.
3. Open iTunes and choose your iPhone.
4. If you are using Mac, press the Option button and press Update. For Windows, press down the Shift button and click on Update.
5. Choose the IPSW file you downloaded.
6. Your iPhone will update in the usual process.
Also Looking for:
* Simple Way on How to Restore iPhone as New
* Factory Reset iPhone 7 without Losing Data
Extended Knowledge: What to do if iPhones files are Lost after Update?
Again, do not worry. It is a common scenario that iPhone users lose all or some of their data after the iPhone is updated. To help you in such situations, the best solution is to use a tool called Coolmuster iOSResucer. It is able to retrieve lost and deleted data from the iOS device itself, and also from iTunes backup.
• Works for all iPhones, iPads and iPods.
• You can directly recover files from the device.
• 9 types of data can be recovered including contacts, call history, messages, photos, videos and more.
• Get quick previews to determine you are retrieving the correct data.
• Save recovered files as backup on PC.
• 100% safe and guaranteed - you really will not have any problem here.
Steps to use this software:
1. Install the program on your PC and launch it. Connect the iPhone using the USB cable.
2. You can choose Recover from iOS Device and start the scan to get access to lost files. Else you can select Recover from iTunes Backup file.
3. Your data will be listed in categories. Just choose one category, preview the files and restore them back to your iPhone by clicking the Recover option.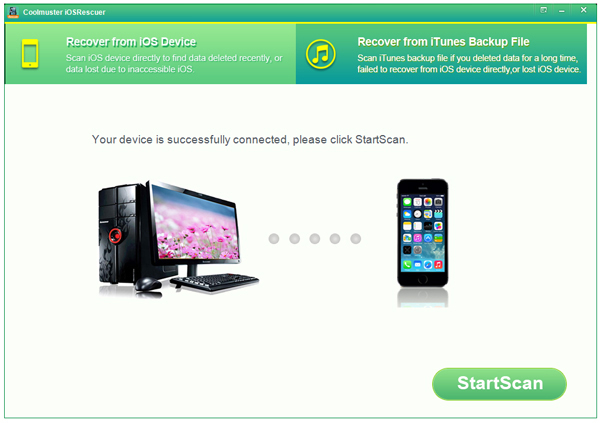 Related Articles:
How to Easily Reset iPod Password