How to Transfer Music from Android Phone/Tablet to iPod?
Summary: Want to enjoy Android phone music on iPod? This article shares you with the easiest way to transfer music from Android phone or tablet to iPod, and vice versa. Just enjoy yourself here!
Android is one of the most popular platform for smart phones that you can make necessary communications and enjoy colorful entertainments on it. While iPod is one of the best music players, on which you can enjoy listening music while jogging, taking subways, namely, wherever and whenever you want. Well, you know that both Android mobile phone and iPod allows you to enjoy music, you may have stored a batch of beloved songs and other audio files in your Android phone or tablet, and now you want to transfer them to your iPod.
Transferring music files between Android device and iPod would be uneasy because Android and iOS are totally different operating systems. But don't worry. The following tutorials will help you out.
Part 1: Transfer Music from Android to iPod (and Vice Versa) Using Phone Transfer
Part 2: Transfer Music from iPod to Android (and Vice Versa) Using iTunes
Part 1: Transfer Music from Android to iPod (and Vice Versa) Using Phone Transfer
Unlike Android device, we cannot copy music files to iPod directly without iTunes. And iTunes is not recommended here because we need to transfer Android phone music to computer first, add the music to iTunes and then sync the music to iPod. The whole process is troublesome and time-consuming. Therefore, we strongly recommend you turn to a third-party tool like Android to iPod Transfer for help. It can help you to move Android phone/tablet music and song to iPod touch, iPod touch 4/5, iPod Shuffle, iPod Nano 3/4/5/6, and iPod Classic with one click.
Android to iPod Transfer is quite easy to use and be fully capable of transferring music, photos, videos, contacts, SMS, call history, apps and more between not only iPod and Android, but also iPad, iPhone, Nokia and other more Android devices. The part below shows you the process of transferring music files from Android device to iPod by using this Coolmuster Phone Transfer. Let's go and check it out! Don't forget to download the free trial version of the software on your PC or Mac computer.
Step 1: Install and launch this Android to iPod transfer tool
The first thing you should do is installing and running this Android to iPod Transfer on your computer. Then, the primary interface will show up on your computer desktop. Now, you can directly choose the "Phone to Phone Transfer" to continue.
Note: Install iTunes on your computer to make sure the program can work normally.
Step 2: Connect iPod and Android devices to the computer
Next, pick up two USB cables to connect both of your Android device and iPod to the same computer. This transfer tool will detect them instantly and after that, you will see the Android phone/tablet is shown on the left and the iPod on the right. But you can click "Flip" button if you need to change the places of the two devices.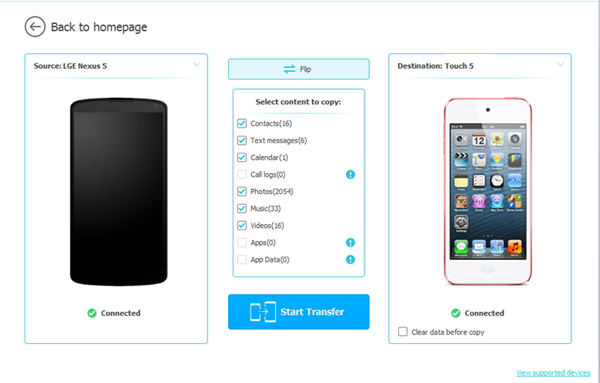 Step 3: Start to move Android music/songs to iPod
As you can see from the program window, music, contacts, calendar, text messages, videos and photos are checked and can be moved. If you just intend to transfer music, you need to uncheck other file types except "Music", and click the "Start Transfer" button to begin the transfer process.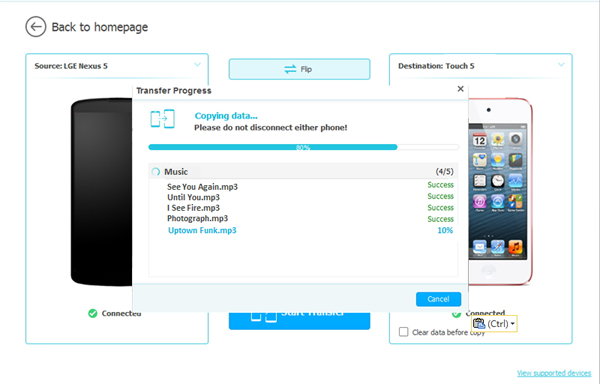 During the process, don't disconnect the two devices, otherwise, the transfer task would be failed midway. If you want to use Phone Transfer to transfer music from iPod to Android device, you just need to click "Flip" button to switch the positions of the two devices and then click "Start Transfer".
Tips: As I mentioned above, Phone Transfer supports almost all popular phone platforms. If you are using Nokia and Android phones, you can learn how to copy contacts between Nokia and Android. If you are using BlackBerry and Android phones, you can refer to how to copy text messages between BlackBerry and Android.
Part 2: Transfer Music from iPod to Android Using iTunes
Well, as I mentioned above, using iTunes to data from Android to iPod touch, or from iPod to Android is not that easy. But if you really don't like installing third-party software and insist to use iTunes. This can goes as:
* Transfer Music from iPod to Android Using iTunes:
1. Plug iPod touch in computer where iTunes is running with Apple provided USB cable.
2. Sync music from iPod to iTunes library.
3. Connect your Android device to the computer with the matched USB cable.
4. Locate the older "iTunes Library" and copy songs from the folder to Android phone.
* Transfer Music from Android to iPod Using iTunes:
1. Connect your Android device to your computer and find the music you want to transfer on your Android device. They are usually saved in the "Music" folder. If you are using a Mac, you need to install Android File Transfer.
2. Open the music folder on the connected Android device, select the song you want to move and drag it to a folder on your computer.
3. Disconnect your Android device and connect your iPod to the same computer.
4. Open iTunes on your computer, go to the Media Library, and click "Music".
5. Navigate to the folder on your computer where you placed the song and drag them to the Music view in iTunes.
6. Select your iPod device in the left sidebar of iTunes and click "Music". Select the song you want to add and click "Sync".
7. Now you can find the music you just synced in the iPod music app.
Tips: In addition to iTunes, you can also share your iPod music to your Android phone via Bluetooth. You only need to install and launch the Bluetooth file transfer program on your Android device and it will automatically turn on Bluetooth on your device and sync data between Android and other Bluetooth-enabled devices. The specific steps are as follows:
1: Find the Bluetooth file transfer program on your Android phone. Click on "Next" and select "Upload".
2: Then set the permissions to other Bluetooth supported devices to let it receive the file you choose to transfer.
Related Articles:
Copy Contacts between Samsung and iPhone
Transfer Contacts between Android and iPhone