Files transfer from phones to personal computers has become a routine occurrence. People transfer their files for various reasons. Perhaps it's for backup, you want to free up some space in your Android phone, or you want to listen to them from your computer.
Due to Android's transparent and open nature, you'll find many ways of transferring files from the Android phone to the computer. But, you should know the right way to go about it since data loss can be encountered during the process. Of course, you wouldn't want that. Read this guide to know how to transfer files from Android to PC.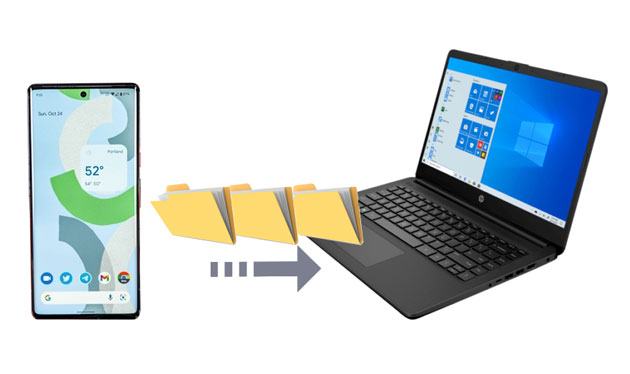 Method 1: How to Move Files From an Android Device to PC Via Bluetooth
You can use your Android Bluetooth connection to transfer files from your phone to your computer. All you need is the two devices to be within a convenient range. You can transfer files between these devices quite quickly using this method.
The only real limitation is that the file has to be small enough for it not to take too long to transfer over. The way that you set up the Bluetooth connection may vary depending upon which device and operating system you are using, but basically, here are the steps:
Step 1: Open Bluetooth through the Settings Menu
To open Bluetooth, go over your computer's Start menu, click on settings, and click on the Settings > Devices to enable Bluetooth.
Step 2: Pair Your Devices
To pair the devices, a passcode is shown to your smartphone. Ensure that the passcodes for the devices are the same. Press the Ok option on your android phone and connect option on your Personal Computer.
Step 3: Select Files
Choose the file that contains your desired files from this menu. After selecting the files, press the Send button.
Step 4: Receive Files on Your PC
Please accept the files on your PC. While this file-transferring process is underway, you will be notified on your computer screen that a file has finished transferring.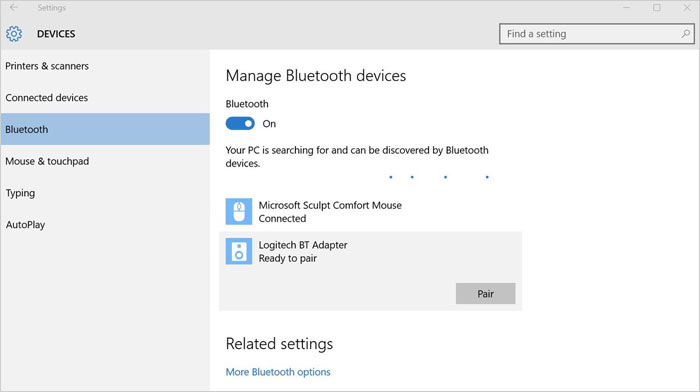 See also:
How can you fast transfer your videos from Android to PC? Here are 4 ways to help you.
Want to play Android games on your computer? Open this article, and you will get 5 easy methods to make it come true.
Method 2. How to Share Files to PC Via Cloud Service
Cloud synchronization is a powerful method of transferring files. You should consider using this service if you realize that you need to transfer large files and do not want to bother with Bluetooth or Wi-Fi. You can use cloud services such as Dropbox, Google Drive, OneDrive, etc. You can access data from your smartphone, iPad, or personal computer with cloud services. Let us take a look at the steps involved in this process:
Step 1: Open Your Cloud Storage Service Application
You need to open the cloud application, like Google Drive, and then sign in to the application.
Step 2: Select Your Files
Choose the files you would like to transfer and press the Upload icon. You can add multiple files or pictures here if you want them transferred.
Step 3: Share the Files by the Cloud App
Wait for a few minutes for the file-transferring process to end. Then you can sign in with the same account on the cloud website to access your uploaded Android files on your computer.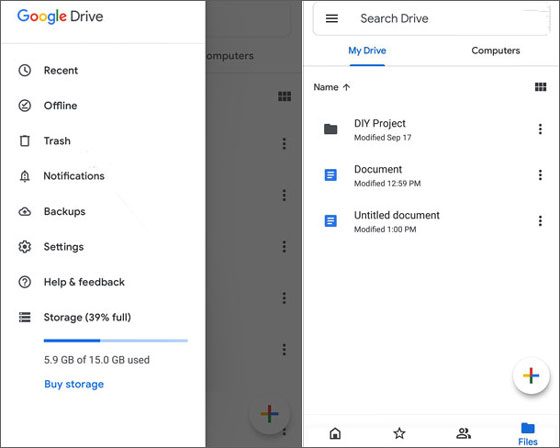 You might need: With these methods, you can copy your photos from Android to PC in minutes.
Method 3. How to Send Files From Android to Personal Computer via Email
You can also use an Email to be used by Android users to transfer files between their devices. Since this method is not suitable for big files, it is not used much nowadays. However, it still has relevance since it can be extremely useful when transferring smaller files.
You do not have to worry about compatibility issues since emailing is compatible with android devices and computers. The only limitation that this method has is the size of the file. Below are the steps involved in transferring a file from an Android phone to your personal computer:
Step 1: Open Gmail on Your Android Phone
Tap on the Gmail icon and sign in to your account if necessary while on your mobile phone.
Step 2: Type the Recipient Email and Attach the Files
Type the contact's email address. You should also attach the files to the message that you are sending. The file transferring process will take some time, so ensure that you wait it out before you close your Gmail account.
Step 3: Open Up Your Personal Computer and Locate the Emails
You can now locate the email on your personal computer to see its details or open up your email application on the desktop and see them there too.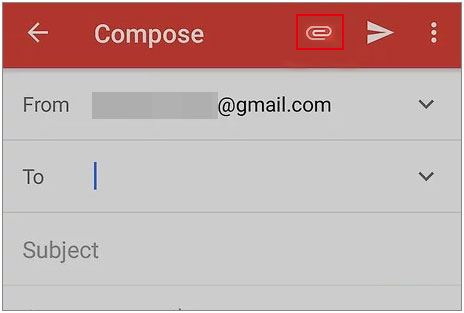 Read more: Want the best mirroring app for Android to PC? Don't miss this article.
Method 4. How to Transfer Data From Android to PC Via WhatsApp or Facebook Messenger Chats
You can use WhatsApp or Facebook messenger to transfer files from your android phone to your computer. This is an effective way of sharing small files from your phone to your PC. But you cannot even transfer large files through this method.
Even though it is not a very practical method of transferring files between phones and computers, people find it useful because they like using WhatsApp and Facebook Messenger to message their friends and family members. Below are the steps you need to follow to transfer messages or files from your Android phone to your Personal Computer via WhatsApp:
Step 1: Open the WhatsApp App
Open Whatsapp, and create a chat with the person who you want to share files with. Then choose yourself to create a chat.
Step 3: Log In on the PC
Please open WhatsApp web on your computer, and log in with the same account.
Step 3: Send Files to Yourself on WhatsApp
Tap the Attachment icon to select the files on your Android device, and send them to yourself. Then you can download the files on your computer.
Meybe you like:
How to Transfer Files from Android to PC over Wi-Fi? [6 Ways]
[Solved] How to Transfer Call Logs from Android to PC?
Method 5. Transfer Data from Android to PC Using Microsoft Phone Link
Microsoft Phone Link is a very simple yet useful tool for transferring files from your Android phone to a PC. It is a free app that can easily access your phone's storage directly. This app is perfect if you are looking to save a file or transfer a large number of files.
Step 1: Install the app on the phone and open the app on the computer, as the new Windows versions have the app pre-installed.
Step 2: Grant permissions and pair the two devices.
Step 3: Transfer photos by dragging and dropping the data from an Android device to a PC.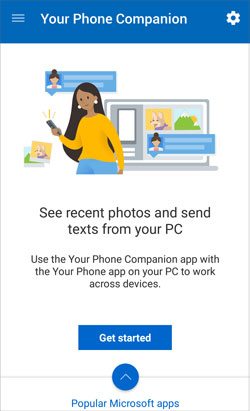 Further reading: 8 Proven Ways on Android SMS Backup and Restore
Method 6. Use a USB Cable to Transfer Files from Android to PC
For those old-fashioned folks who like to stick with what they already know, connecting compatible phones to a PC via USB is a viable option. This can only be done when the phone has an appropriate data cable (a USB cable, depending on your phone brand). This method takes more time and effort as there must be a physical connection between two devices. The advantage is that it is guaranteed to work, but this method may not be the best option for transferring large files.
Step 1: Use a working cable to connect the Android phone to the computer, and enable USB debugging and choose the File Transfer option.
Step 2: Go to your PC's File Explorer and look for your phone from the folder highlighted.
Step 3: Open your device folder, and drag data to your PC.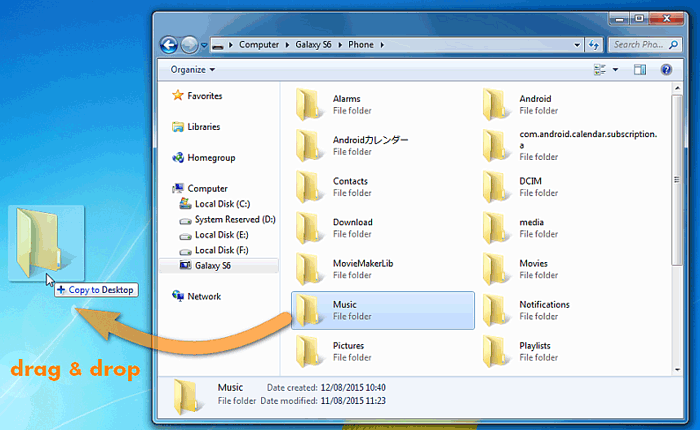 Tips: If your computer is Mac, please install Android File Transfer first.
Method 7. How to Move Files From Android to PC Using Coolmuster Android Assistant
Coolmuster Android Assistant is a simple and easy-to-use tool that allows users to transfer data from Android devices to their computers. It is designed to be compatible with the latest Android versions. You can transfer all Android files to your computer at once.
This program can also organize and manage various files. With it, you can also easily back up and restore data between your Android devices and PC in a few seconds, such as contacts, text messages, photos, videos, music, apps, and more.
Key features of this phone to computer transfer tool:
* Support 1-click data transfer from Android to PC and vice versa.
* Selective data transfer is also available.
* Support various kinds of data like contacts, call history, pictures, music, videos, and more.
* There are Windows and Mac versions to download.
* No ad or data loss.
Download this Android and PC file transfer software.
How to transfer files from an Android phone to a computer via this software:
01Launch the program on the PC and enter the Android Assistant module to access the program.
02Connect your Android device to your computer via a USB cable and enable USB debugging. Then the software will recognize your mobile device.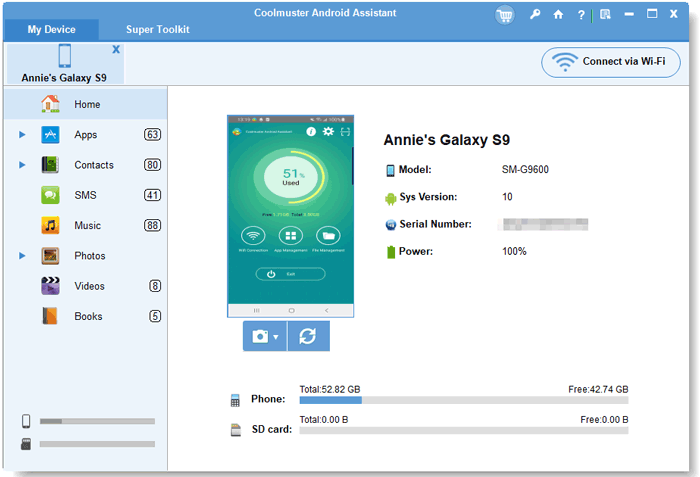 03Select a file type, and check the files you want. Then click the Export icon to transfer the files from your Android device to the computer.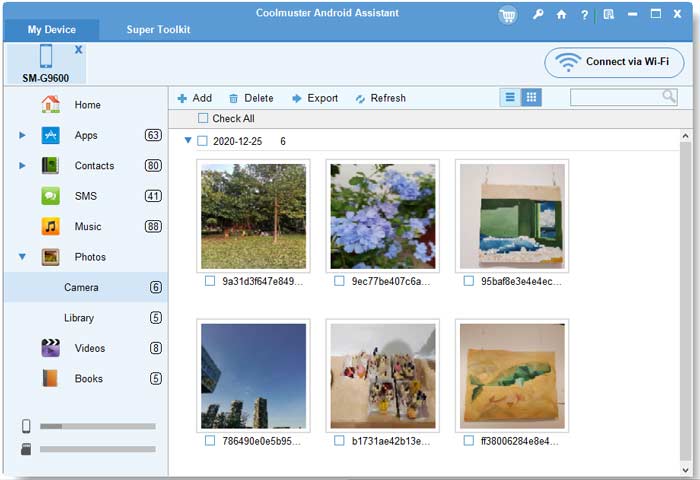 Conclusion
That's the end! Transferring files from an Android to a PC won't be a problem anymore. Get the convenient Coolmuster Android Assistant software that allows you to transfer and manage your Android files directly on the computer. With it, you can seamlessly copy different files types between your Android phone and computer.
Related Articles:
Top 10 Android PC Suite Review for Windows and Mac
7 Best Android Contacts Manager Apps to Keep Your Contacts Organized
How to Install APK on Android from PC [Top 3 Ways]
How to Sync Android Phone to PC? [Best 6 Ways for You!]
How to Access a Locked Android Phone via USB? [Solved]