Switching from Android to iPhone can be a daunting task. However, it can also be a rewarding experience. In this passage, we will explore the reasons why you might want to switch from Android to iPhone and how you can make the transition as smooth as possible. We will also provide you with some tips and methods that will help you get through the problems you may encounter while transitioning. So, if you're considering about making the switch, keep reading!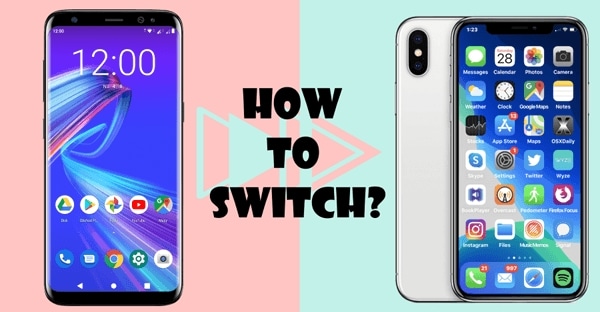 Part 1. Is It Worth Switching from Android to iPhone? Yes!
So, you're about to switching from your old Android to iPhone, and you might be wondering: "I've heard about disadvantages of iPhone over Android, should I switch from Android to iPhone?"
Well, the answer is a short "Yes!". There are some awesome features of iPhone and that switching will not waste the money and the time you've spent. Read on to see the reasons why it's worthy to switch to iPhone.
1. Enjoy Apple's Seamless Customer Service
Apple has a consistent customer service experience across all its products, with support available through the Apple Store, phone, email, and live chat. Additionally, their online support resources are user-friendly and comprehensive.
2. Enjoy Regular Software Updates on iOS
Apple's regular software updates provide a more consistent, secure, and reliable user experience than Android.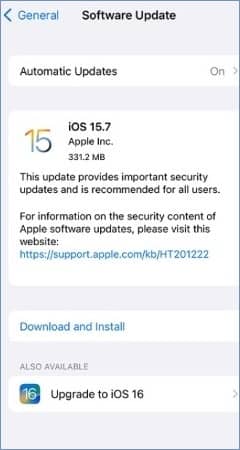 iOS updates are designed to work on all supported devices, ensuring a consistent user experience across the ecosystem. Apple releases updates for all its devices simultaneously, regardless of carrier or region. This means that all users receive the latest security patches and software features at the same time.
See if you need:
How to Handle iPhone Software Update Failure?
How to Undo an Update on iPhone Easily? [iOS 16 Supported]
Complete Guide on iOS 16 Update for iPhone
3. Enjoy Better User Experience on iPhone Cameras
Both iPhone and Android devices offer high-quality built-in camera apps with similar features such as flash, zoom, and HDR. However, iOS's camera app is generally considered to be more intuitive and easier to use, and have better image processing, resulting in sharper and more vibrant photos. (See the features you need to know about iPhone camera)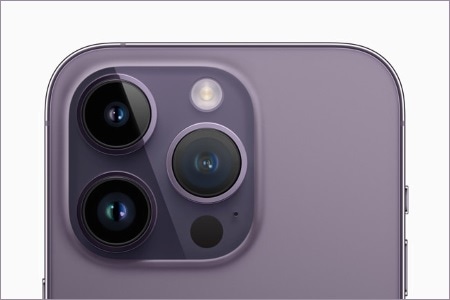 Besides, iOS devices have historically been favored by content creators due to their smoother video stabilization and better audio quality.
4. Enjoy Better User Experience on iOS Apps
There is a lot to be said for this point. First, the iOS platform has a more consistent design language across apps, making it easier for users to navigate and interact with apps. Second, Apple's App Store is known for its strict guidelines, which means that users are less likely to encounter buggy or malware-infected apps. Third, Some apps are exclusive to the iOS platform and are not available on Android, such as iMovie and GarageBand. And last, Apple has a reputation for prioritizing user privacy and security.
Part 2. How to Switch from Android to iPhone?
Method 1: Transitioning with Move to iOS (Proved)
This Move to iOS app, created by Apple, enables you to move your data from an Android device to a new iPhone and ensures secure transfer of your contacts, messages, etc. from your Android phone to your iPhone.
Here's how:
1. Download Move to iOS from the Google Play Store on your Android device. Make sure you have enough space on both devices for the transfer.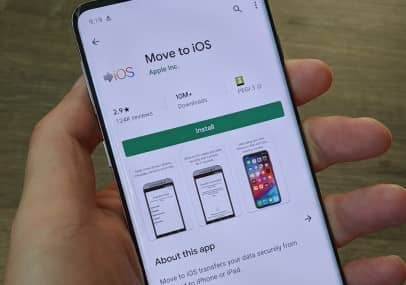 2. On your iPhone, start setting up your device until you reach the Apps & Data screen. Tap Move Data from Android.
3. On your Android, open Move to iOS and tap Continue. Agree to the terms and conditions and tap Next.
4. On your iPhone, tap Continue and wait for a code to appear. Enter the code on your Android device and wait for the Transfer Data screen to appear.
5. On your Android, select the content you want to transfer. Tap Next and wait for the transfer to complete.
6. On your iPhone, tap Done when the transfer is finished.
Relevant reading:
Why Is Move to iOS Taking Forever? Fix It and Make the Data Transfer Faster
10 Best Move to iOS Alternatives
Fixed: Move to iOS Transfer Interrupted - 5 Useful Solutions
Method 2: Transitioning with Coolmuster Mobile Transfer (Easiest)
Coolmuster Mobile Transfer is a professional tool that can help you transfer data from Android to iPhone in a few simple steps.
Here's how:
01Download and install this tool on your computer. Then connect your Android device and iPhone to your computer using USB cables.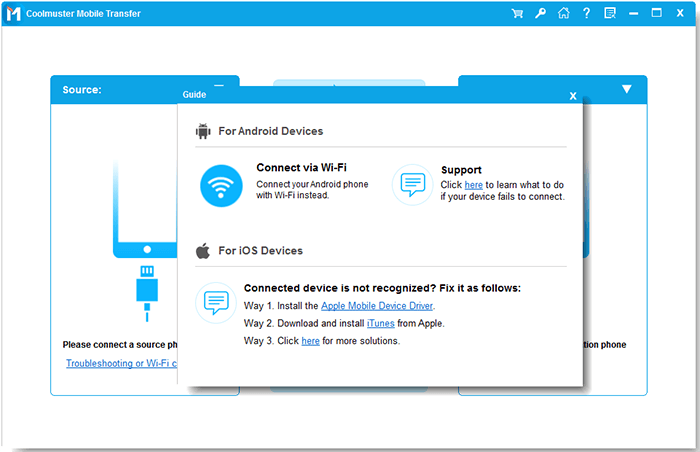 02Launch Coolmuster Mobile Transfer and select "Phone to Phone Transfer" from the main interface. (Make sure that your Android device is selected as the source device and your iPhone is selected as the target device.)
03Choose the types of data you want to transfer from your Android device to your iPhone.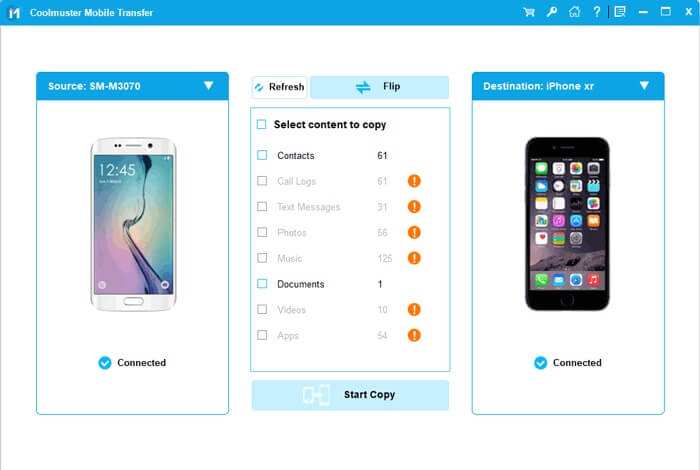 04Click "Start Copy" to begin the data transfer process. The time it takes to complete the transfer depends on the amount of data you are transferring. Once the transfer is complete, you will see a message on the screen saying "Transfer completed successfully".
Need help with this tool? See Coolmuster Mobile Transfer Guide
Method 3: Sync Media Files with iTunes (Simple)
If you want to transfer some media files (such as songs and videos) from your Android device to your iPhone, here's one method to achieve it:
1. Connect your Android device to your computer using a USB cable.
2. Transfer the media files you want to transfer to your computer.
3. Disconnect your Android device and connect your iPhone to your computer using a USB cable.
4. Open iTunes on your computer and select your iPhone.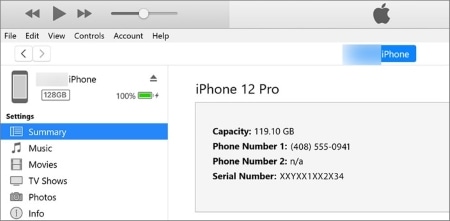 5. Go to the "Music", "Movies", or "TV Shows" tab, depending on the type of media you want to transfer.
6. Drag and drop the media files you want to transition from your computer to your iPhone.
7. Wait for the transfer to complete.
Extra Tips: How to Handle the Problems on Transitioning
Here are some common problems you may encounter when going from Android to iPhone and how to solve them:
How long will this Android switching to iPhone process take?
The length of time it takes to switch from an Android to an iPhone can vary depending on several factors, including the amount of data you need to transfer, the speed of your internet connection, and your familiarity with the iOS operating system.
Are Google services compatible with iOS?
Yes, Google services are compatible with iDevices.
Google provides a range of apps for iOS devices, including popular services such as Google Search, Gmail, Google Maps, etc.
These apps are available for download on the App Store, which is the official app store for iOS devices. You can easily download and install Google apps on your iOS device and start using them right away.
Where can I download iOS apps?
You can download iOS apps from the Apple App Store, which is pre-installed on all iDevices such as iPhone, iPad, and iPod Touch. (Note that some apps may not be downloaded in some countries or regions due to licensing or other restrictions)
In A Nutshell
In this article, we have explored why switch from Android to iPhone and have also shown you the methods of switching from Android to iOS.
Transitioning from Android to iPhone can be a daunting decision, but it can also be rewarding. You can enjoy a fast and smooth performance, a stunning display, a versatile camera system, and a secure and reliable ecosystem with reliable tools as Move to iOS or Coolmuster Mobile Transfer.
Of course, changing from Android to iPhone is not for everyone. You may miss some of the flexibility and customization that Android offers. You may also have to adjust to a different user interface and navigation system. And you may have to pay more for an iPhone than for an Android phone with similar specifications. But if you are ready to make the switch from Android to iPhone, we hope this article has helped you prepare for it and enjoy it.
Related Articles:
Top 9 Ways to Fix "Messages Didn't Transfer to the New iPhone"
How to Transfer Data from Broken iPhone to New iPhone? (4 Ways Out)
How to Transfer iPhone Data to Xiaomi: iPhone to Xiaomi Transfer in 5 Ways
How to Transfer Data from Old Tablet to New Tablet? (Updated)
[Solved] How to Transfer Data from One Apple ID to Another Seamlessly?
Why Is Move to iOS Taking Forever? Fix It and Make the Data Transfer Faster