Data transfer from your Android to your iPhone, such as messages, contact information, and photos, may be exceedingly tough - to the extent that some individuals don't try and start over when shifting to an iPhone. While it may seem complicated, you can easily migrate your data from Android to your iPhone with appropriate information and useful software.
Many people store their files on a smartphone. As such, when switching to new phones, especially iPhones, you may wish to transfer all of your data with you. But, the problem comes when you find it hard to transfer data from Android to iPhone. What to do if you find yourself in such a situation? No worries anymore, as we've got you covered. The top apps to transfer data from Android to iPhone are listed below, and you can get them easily.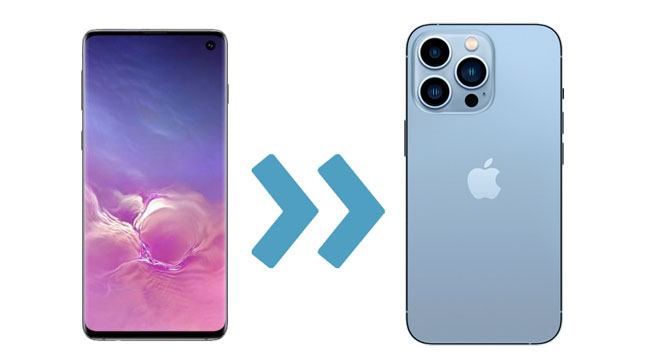 App 1. Move to iOS
App 2. Coolmuster Mobile Transfer
App 3. SHAREit
App 4. Xender
App 5. Send Anywhere
App 6. Copy My Data
App 7. Contact Transfer
App 8. Droid Transfer
App 9. Android File Transfer
App 10. FEEM V4
App 1. Move to iOS
The Move to iOS app seamlessly migrates your material on Android into iOS in a highly secure way, avoiding the need to transfer data to Windows computer PC. You are obliged to transfer material using your private internet connection, ensuring data security.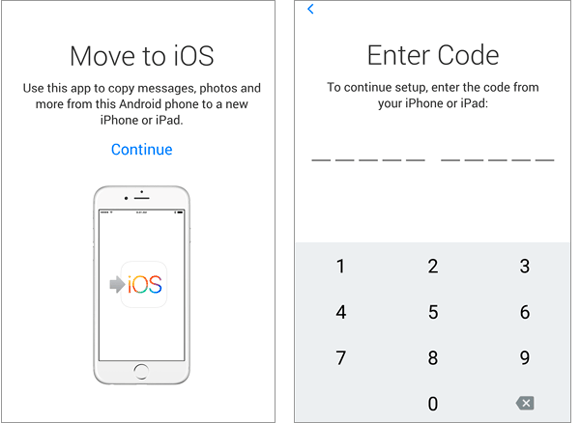 Pros
* The most significant advantage of this program is it is entirely free.
* The transferring procedure may be completed without the need for a computer.
* Excellent customer service is as well as comprehension.
Cons
* The organization has yet to provide software that allows users to restore content to their Android handset.
* It is just compatible with the device when you first use it.
Further reading: What if the Move to iOS app is not working? If you want to fix it, please don't miss this post.
App 2. Coolmuster Mobile Transfer
Coolmuster Mobile Transfer is a good option if you want to transmit files from Android to iPhone following a setup in a single click. By linking the two gadgets to an identical computer, you may transfer files from your Android to iPhone in a matter of seconds, such as contacts, electronic books (PDFs as well as ePubs), and more. You may also monitor the entire transfer procedure and keep track of its progress.
Pros
* It's simple to use.
* Seamlessly transfer data from Android to iOS, iOS to Android, Android to Android, and iOS to iOS.
* Extremely secure without data loss.
Cons
* Does not function with Android phones below 4.0 and iPhone below iOS 5.0.
Download the best Android to iPhone transfer app for free below.
How can you move info from your Android to your iPhone in a single click once you have set up your iPhone?
1. Install Coolmuster Mobile Transfer on Your PC or Mac
Once the software is installed on your PC, open it and select Mobile Transfer from the main menu.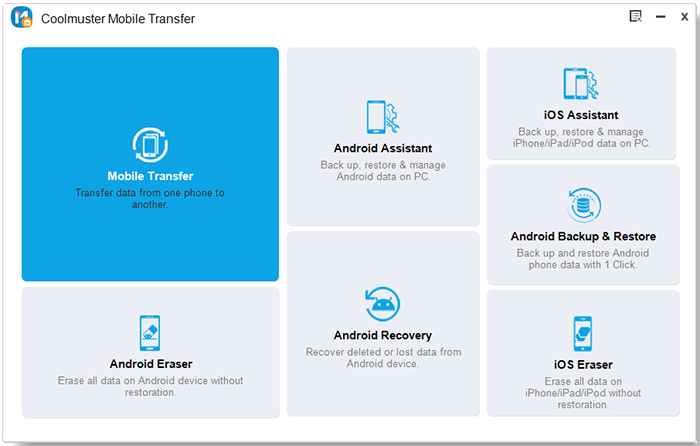 2. Connect Your iPhone and Android Devices to the PC
Connect your Android and iPhone to your computer using the appropriate USB cords. During the procedure, you'll need to activate the USB debugging feature on your Android smartphone, and hit Trust to your iPhone to believe this computer. The application will next begin to recognize your gadgets.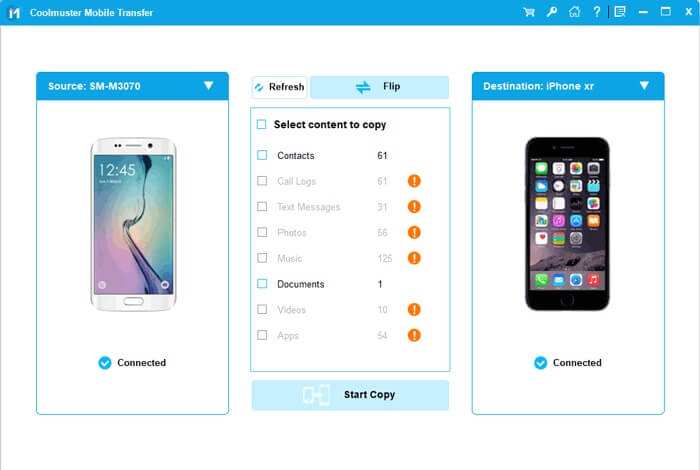 Please note that the Android gadget must be set to Source mode. If you don't see them, click Flip to swap them.
3. Transfer Data from Your Android Device to the iPhone
To synchronize Android files with iPhone, select the items you wish to copy in the database and click the Start Copy icon below.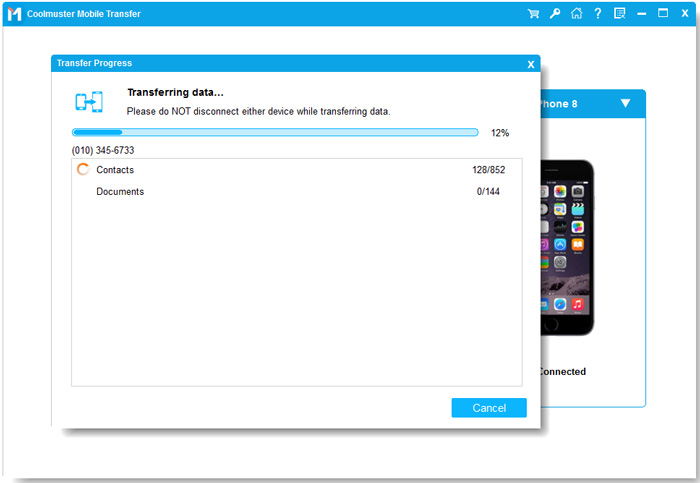 See also:
You can also move data from one iPhone to another without effort, as long as you learn these useful tips.
Want to get an app like iTools to fake your GPS on your cellphone? If so, you can opt for a powerful spoofer from this list.
App 3. SHAREit
SHAREit can exchange your device's information with a PC, MAC, or alternative device that runs on a different operating system. It has a lightning-fast transmission speed and outstanding capabilities, which has led to over 12 million active users installing it on their gadgets.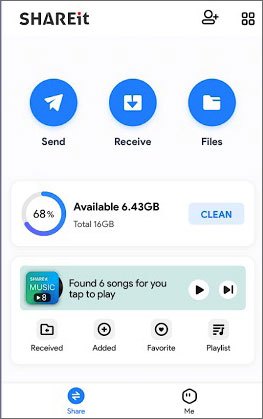 Pros
* Much quicker than standard Bluetooth in sharing any file, irrespective of format or capacity, among any two enabled devices.
* Connecting devices does not necessitate the use of a cable or internet access.
* If your phone's data storage is limited, it might slow down.
* Because it sends various sorts of files and programs, it may transmit stuff that contains bugs and viruses.
Cons
* There are many advertisements.
Bonus: Want an alternative to SHAREit for your device? Here are 12 powerful options for your reference.
App 4. Xender
Xender is a piece of entirely free software that is simple to use and comprehend. By connecting your devices to a similar direct Wi-Fi connection, you may wirelessly transfer all of your material from your device to the other in only a few minutes.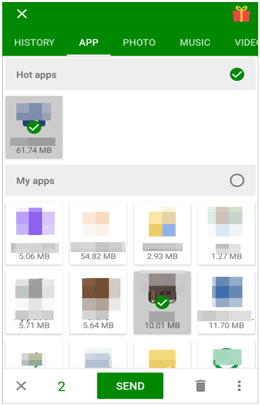 Pros
* Doesn't require an internet connection or a USB to operate.
* It allows cross-platform connectivity and simultaneously exchange data with four different devices.
* It's multiple times quicker than Bluetooth.
Cons
* There are too many advertisements when you use the app.
* While in the transfer procedure, the app may restart.
Read also: Intending to back up the data on your iPhone without Wi-Fi? You can try these 3 excellent methods.
App 5. Send Anywhere
One safe approach to transfer files peer-peer is using Send Anywhere, which uses p2p connectivity to prevent cloud storage and leaves no evidence of what you transmitted on the internet.
There is no requirement to log in or register; all required is a single 6-digit number to interconnect the devices. You may share quite several files as you like, regardless of their size.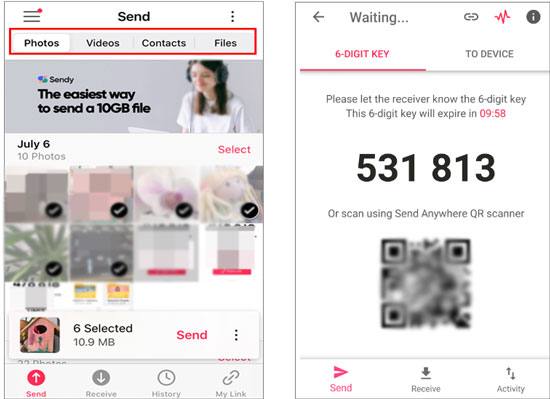 Pros
* It has a strict privacy rule, so that it will read your data only.
* Support multiple platforms.
* It is user-friendly.
* Transport enormous amounts of data between Android and iOS devices.
* Ability to share one file with several individuals.
* No need for mobile data or Wi-Fi.
Cons
* Several files cannot be transferred at a given time.
* Contains advertisements.
* After 60 seconds is when the recipient can download the file.
Learn more: This guide focuses on data transmission from an iPad to an Android device. If needed, you can click it to take a look.
App 6. Copy My Data
Media Mushroom has created a secure application at no cost. It is Copy My Data. With a few simple procedures and good Wi-Fi connectivity, you can rapidly move your Android content to your iPhone.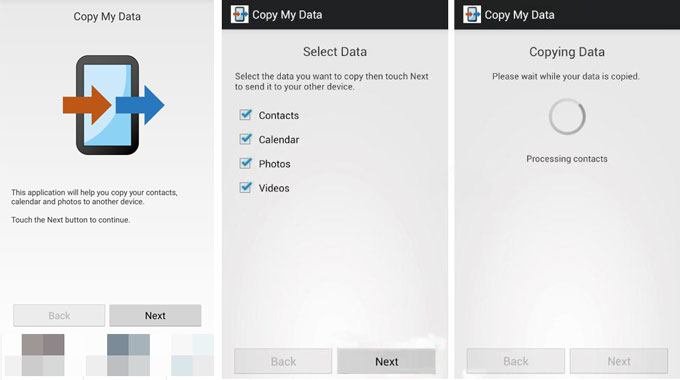 Pros
* No computer is required to exchange information.
* Real-time sending data.
* No in-app purchases.
* User-friendly instructions are given about the usage of the application.
Cons
* Contains ads.
* It can only transmit one or more file types, and there is no way to select or send specific files.
App 7. Contact Transfer
This tool is designed for Windows PCs, but it can also be linked with iPhones and Android devices, allowing you to move contacts information across them fast.
Unlike Move to iOS, you may utilize Contact Transfer after you've established your iPhone, and there's no risk of data loss.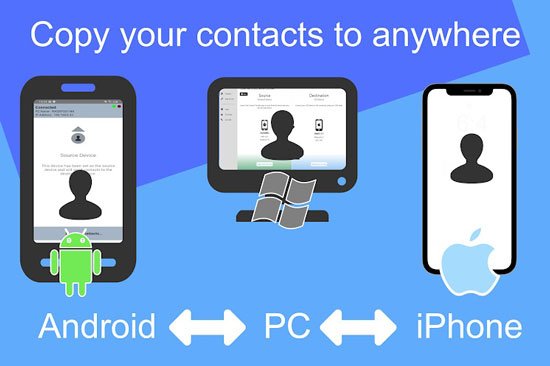 Pros
* It is simple to transmit data from Android to iPhone.
* Software with a simple interface is available for Windows PCs.
* There is a free demo provided.
* The app that may be used in a variety of ways and has a lot of extra features
* After you've set up your iPhone, you may use it.
Cons
* Some ads will pop up when you use it.
Maybe you like: You can use these 5 ways to copy data from Samsung to Vivo without a hitch.
App 8. Droid Transfer
Next, you can look at a tool with a lot of power. Droid Transfer is a tool that allows you to transfer data from your Android handset to your PC with various unique features. You may use this program to migrate any data (texts, Contacts information, Images, and Calendars events). Files, Audio, and Call Logs that aren't offered in your Move to iOS application can also be transferred.
Droid Transfer can transfer information from your Smartphone to your computer instead of your iPhone directly. After that, you'll need to take additional steps to move the information from your computer to your iPhone.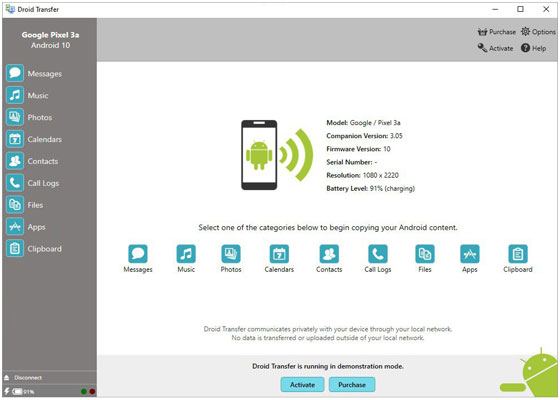 Pros
* Free demonstration available.
* Support Wi-Fi as well as USB connectivity.
* Highly adaptable characteristics.
* It is Windows-based software.
Cons
* You can't copy material directly to your iPhone; instead, you have to copy it to your PC.
App 9. Android File Transfer
Android File Transfer is a Mac-only program that permits you to link your Android with your Mac (which isn't possible by nature) and browse and share files on the Android to your Mac.
Despite Android File Transfer's inability to share files automatically from Android to iPhone, possessing your desired data on your Mac is indeed a terrific method to keep a secure backup of vital information. Hence, it's just a step from getting effortlessly moved to your iPhone using iCloud.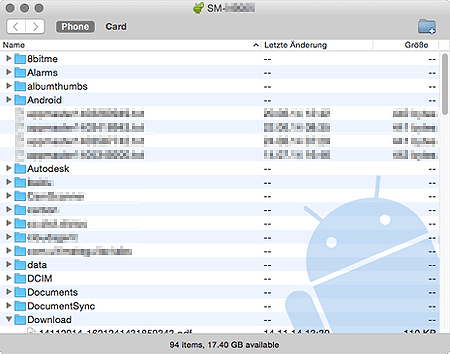 Pros
* Enables Transferring data between Android and Mac.
* Transfers by dragging and dropping.
* It is free.
Cons
* Can transfer data only with Mac.
App 10. FEEM V4
FEEM v4 is among the easiest programs for transferring files. It's the most-used application and does not necessitate the internet. However, both your Android & iPhone must be linked to a single Wi-Fi connection. Open your FEEM app after you've connected, and you'll notice the strange device identifiers displayed there. Regrettably, the names might be perplexing. Even though you may edit it, the functionality is only available in the premium version.
This is because it allows you to communicate with other devices. Within 48 hours, your communications are automatically deleted.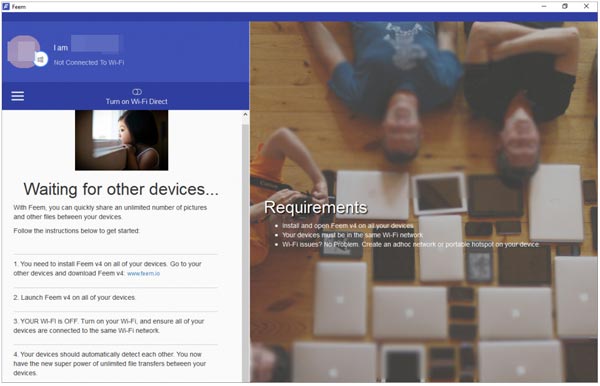 Pros
* Have Resumable file sharing and a simple user interface.
* It is Built in the chat feature.
Cons
* There is a lot of popups to upgrade.
* Phone names might be confusing.
Conclusion
Data transfer from your device to the other is what you do daily. However, you might find it difficult to transfer files from your Android device to an iPhone since the two devices run on completely different applications.
Now, utilizing the programs indicated above, you may simply transfer data from your Android to your iPhone. All of the highest-quality applications available are explored in-depth above.
You may now strategically select the finest app for transferring data from your Android to iPhone based on your preferences. Thus, Coolmuster Mobile Transfer is highly recommended for you. It can move your data fast and securely, and the new data will not cover the existing data on your iPhone.
Related Articles:
How to Transfer Data from iPhone to OnePlus 11/10/9/8/7 Effortlessly?
How to Transfer Word Doc to iPhone in 4 Ways [Easy & Quick]
[Fixed] How to Solve Move to iOS Not Working Issue
Can't Import Photos from iPhone to Mac? Here are the Real Fixes!
How to Transfer iPhone Data to Xiaomi: iPhone to Xiaomi Transfer in 5 Easy Ways
[7 Ways] How to Import Photos from iPhone to HP Laptop Deftly?