It's no secret that switching from one phone to another one can be stressful, especially when you are moving to an entirely different platform. This is the case when moving to the iOS system for the first after using Android for a long time. The transition can come with many challenges.
Since Android and iPhone are two distinct platforms, you may doubt if it's possible to switch SIM cards from Android to iPhone. But is that so? Not really. If you've recently bought a new iPhone and don't want to part ways with your old SIM card, you will be surfing the internet looking for how to get the Android SIM on your iPhone. Fortunately, you've landed at the right place; we will provide all the answers you need and make the SIM card switching process hassle-free. You can conveniently transfer data from your old Android over to an iPhone so that you keep all of your details intact.
Part 1. Can I Move My SIM Card from Android to iPhone?
Well, the answer to this depends on the model of your iPhone. If you bought a non-US iPhone 14 model or an older iPhone with a SIM card slot, you could transfer your SIM card to it. However, note that the iPhone 14 devices sold in the US do not have space for SIM cards. So, moving SIM to such devices won't be possible.
But, the first and most important thing is to ensure that the size of the SIM on Android matches that of the iPhone. Also, it is essential to check if your iPhone is SIM-locked before you use a different SIM card. If you purchased your iPhone from a specific carrier, it means it is locked, so your Android SIM won't work on it.
If you're switching to an iPhone 14 model, you won't be able to use a physical SIM since Apple no longer supports physical SIMs. However, if you already have an eSIM on your old Android device, you can easily switch it to iPhone.
Part 2. Can You Switch Physical SIM Card from Android to iPhone [Steps]?
Wondering if you can switch an Android SIM card over to an iPhone? It's achievable. If you've decided to buy an iPhone that supports physical SIMs, you can easily use the Android SIM card on an iPhone. Here, the size of the SIM matters a lot. It should match your iPhone's SIM requirements. Here are the steps:
Step 1. First, transfer contacts available on the phone to the SIM card. To do that, open the Contacts application, and tap the Three-dot button. You'll see the menu pop-up. Next, choose Import/export contacts and select Export.
Step 2. Once you hit the Export button, choose your SIM as the destination and select the contacts you wish to transfer. Remove the SIM from the Android phone, then insert it into iPhone.
Step 3. Finally, the process will finish when the SIM is loaded. You can start using the contacts on the new iPhone.
Make sure the size of the SIM card matches the size needed by the iPhone model. If it's slightly oversized, don't cut it because it can lead to data loss, and the SIM might get damaged. Instead, you should use a professional cutter to cut it. Also, you can get a new SIM card of the right size from your cell phone carrier.
Learn More:
How to Wipe a SIM Card with Android Safely in 2023? (Full Guide)
3 Practical Ways to Retrieve Contacts from SIM Card
Part 3. How to Transfer SIM Card Contacts from Android to iPhone
Can you transfer SIM card contacts from Android to iPhone? Here are the methods. Read on and learn how to do it.
Method 1. How to Transfer SIM Card Contacts from Android to iPhone in 1 Click
Coolmuster Mobile Transfer is a one-stop solution that can transfer contacts from an Android to an iPhone in just a click. It transfers files even when the devices operate on different platforms. The simplicity and faster transfer of this app are what make it popular. This app is one of the best solutions for transferring contacts between Android and iOS. It also moves Documents in either PDF or ePub formats. It's considered by many as the ideal solution for transferring data between Android devices, iOS devices, Android & iOS, and iOS & iOS.
Key highlights of Coolmuster Mobile Transfer:
1 click transfer of contacts from your Android device to your new iPhone.
Doesn't require the Internet when transferring files.
Fast and simple to use.
Compatible with most Androids and iPhones.
Check the steps:
01Download and install Coolmuster Mobile Transfer on your computer. Launch the software and you will see the main interface.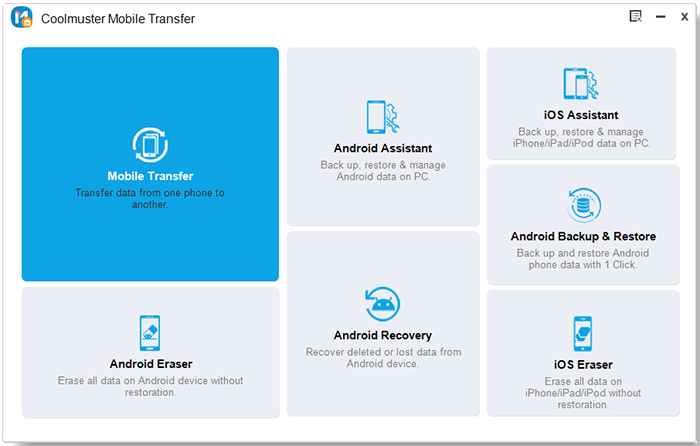 02Connect both Android devices to your computer via USB cables. Once the devices are recognized by the software, they will be displayed on the screen.
03Select Contacts from the list of data types that you want to transfer from the source device.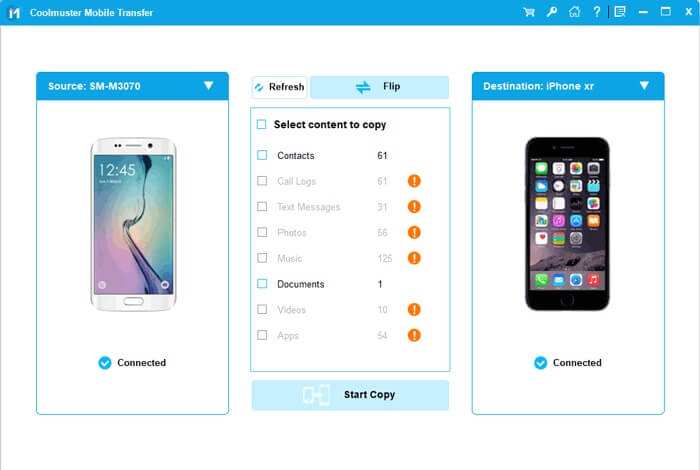 04Click Start Copy to begin transferring the apps to the target device. The transfer process may take several minutes depending on the size of the apps.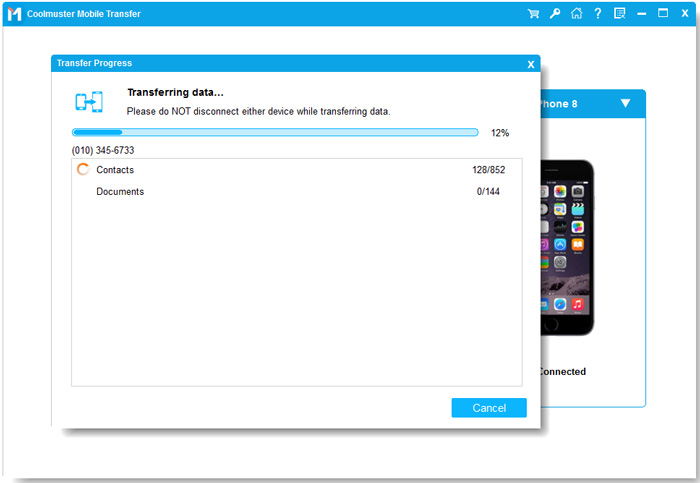 Further Reading:
[Solved] How to Copy Contacts from Android Phone to SIM in 2023? (Simple & Effective)
SIM Card Data Recovery: How to Retrieve Data from SIM Card
Method 2. How to Transfer Android SIM Card Contacts to iPhone with Google Account
You can also use a Google account to move contacts to the iPhone. All Android phones use a Google account as the default Email. When synchronization is enabled, then contacts saved to the phone will be synced to the Google account linked. This method is ideal when your contacts can't fit on the SIM card. Here's how:
Step 1. Open the Contacts app, locate the menu, then select Settings. From there, choose Import.
Step 2. Choose Import and select the SIM you wish to import from. Next, choose the specific contacts you want to transfer and select the account to which to move them. Your contacts will instantly be synced to your Google account.
Step 3. On your iPhone, open Settings. Next, select the option for Mails, Calendars, Contacts. Then, choose Add Account and select Google from the list of account types.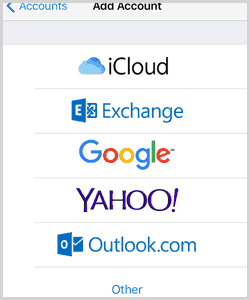 Step 4. Log into the Google account you used on Android and click on Contacts. Don't forget to turn on this feature.
Part 4. How to Switch eSIM Card from Android to iPhone
An eSIM is a digital SIM card for activating the cellular plan from your carrier without a physical SIM. You may install a minimum of 8 eSIMS on an iPhone and use two numbers at the same time. The newest iPhone 14 devices in the US do not support physical SIMs. But we offer tricks to help switch an eSIM from Android to the latest iPhones.
You May Like: How to Bypass iPhone SIM Not Supported Issue? (Top 11 Methods)
Method 1. How to Transfer eSIM Card from Android to iPhone Using QR Code
When setting up your iPhone, you can configure the eSIM as long as your carrier allows eSIM transfer. Most carriers allow eSIM activation via a QR code, normally sent to the email or at a store where you purchase the iPhone. Here are steps to switch eSIM from your Android to an iPhone:
Step 1. Start setting up the iPhone device and enter the required detail until the screen shows Set up cellular.
Step 2. Choose Use QR code, then follow the on-screen instructions to start scanning the QR code from your carrier. After the eSIM activation, tap Continue once the notification for cellular completion appears.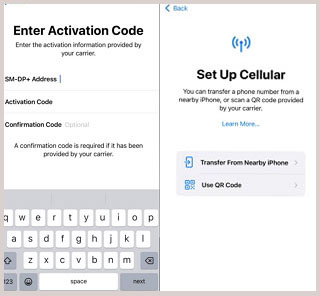 Method 2. How to Transfer eSIM Card from Android to iPhone Using eSIM Carrier Activation
Several carriers and service providers around the globe can assign an eSIM to iPhone, thus making it simple to set up. This happens if you buy an iPhone from Apple in the US that's carrier locked. If your iPhone has an eSIM assigned to it when you purchased it, it will be easier to activate it. Carriers like AT&T, Verizon, Tracfone, and Boost Mobile just to name a few, support eSIM carrier activation. Here's how to activate eSIM on iPhone 14 during its setup:
Step 1. Activate the eSIM and provide your WiFi details after removing the Welcome Screen.
Step 2. Wait for the activation process to finish. The Choose cellular plan screen will appear; click the plan for your eSIM and hit Enter.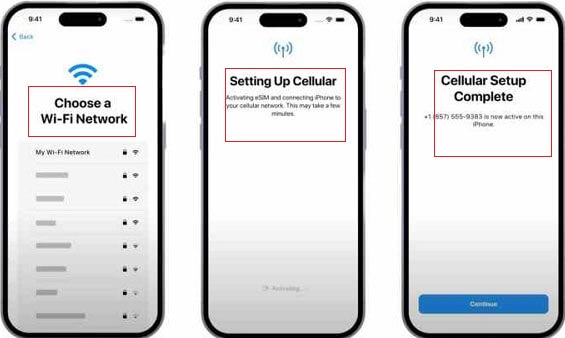 Step 3. Call your carrier, then wait until you see the notification stating: Carrier plan is ready for installation. Click on it, then head to the Settings page and press on the same notification, and choose Continue to finish the process.
Conclusion
Can you transfer SIM card from Android to iPhone? This comprehensive guide has elaborated on the different ways to switch an Android SIM card to iPhone. The good thing about moving a SIM card to a new device is that you will not change your phone number and can keep the existing contacts on the SIM card. Coolmuster Mobile Transfer allows you to copy contacts from your Android to an iPhone quickly. It is very safe to use, simple and reliable. Its advanced features make it incomparable. You may as well give it a shot.
Related Articles:
2 Ways to Recover Deleted Text Messages from Android SIM Card
How to Transfer Photos from Android to iPhone 14/13? [4 Methods]
How to Transfer SIM Card Data to Computer Effortlessly in 2023? (4 Quick Ways)
Top 3 SIM Cloning Tools to Clone Your SIM Card