"Can you switch SIM cards between iPhones?"
"Can I swap SIM cards between phones?"
...
At times, you may want to upgrade from one smartphone to another. Is switching SIM cards between iPhones possible? Yes, you can switch your SIM card from one iPhone to the other, provided the SIM card is active and compatible with the new device. This article will explain the process of switching SIM cards between iPhones and any potential issues you may encounter when attempting this task.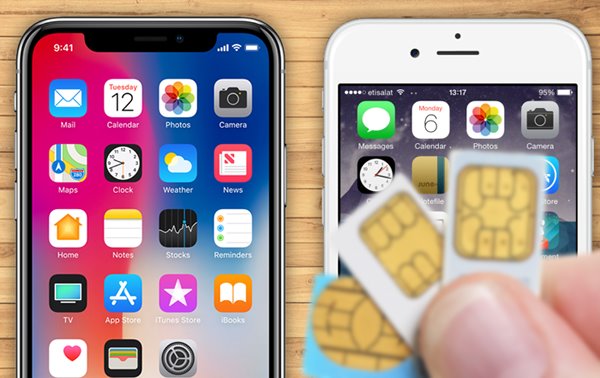 Part 1. The Difference Between SIM Cards and eSIMs
Before exploring how to switch iPhones with their SIM cards, we must understand what a SIM card is and the difference between a SIM card and eSIM. A Subscriber Identity Module (as known as "SIM card") is a tiny chip that gives cellular-enabled devices like phones access to mobile networks. Users get connected to mobile networks by using this removable plastic piece.
Your SIM card has a Unique number that identifies you on the network, allowing you to send messages, use data services and make calls. It also stores text messages, contact information, personal security keys, phone number, network authorization data and location.
eSIM is the acronym for Embedded SIM. It's different from traditional SIM cards because it's a digital component embedded in the device and not a physical card you can take out of your phone. Many devices released within the past five years have the option for an eSIM. You can activate an eSIM by scanning a QR code or downloading an eSIM profile from the carrier. Using the same account allows you to use the eSIM on multiple devices without needing a physical SIM card.
Read more:
How to Copy Contacts from iPhone to SIM (4 Feasible Ways)
Contacts & SMS Recovery for SIM Card in iPhone
Part 2. Things You Should Know Before Moving SIM Card to New iPhone
You should always consider some factors before carrying out an iPhone SIM card swap to ensure that the process takes place without any issues. Consider the below factors before swapping SIM cards on iPhone:
1. Check on Compatibility
Before purchasing a new iPhone, double-check if it is compatible with your carrier's network and will accept the same SIM card size as your current device. An incompatible SIM card could leave you without service after a great purchase.
2. Switch Off Your iPhone When Switching
Letting your iPhone stay powered while swapping SIM cards can lead to dangerous data disasters, so be sure to turn it off before making the switch!
3. Back Up Your Data
Backup all your important data on both iPhones before switching SIM cards between iPhones. This will ensure that you retain all vital personal information.
4. Check if Your iPhone is Unlocked
Make sure that your new iPhone is unlocked. With an unlocked iPhone, the world of possibilities for network carriers on your phone opens up, giving you more flexibility and freedom when choosing who powers your connection!
See also:
How to Transfer Notes from iPhone to Samsung?
How to Transfer Music from iPad to iPod [Simple & Reliable]
Part 3. How to Switch iPhones with SIM Card
Do you need to switch SIM cards when changing iPhones? Yes, you can switch your SIM card from one iPhone to the other as long as the SIM card is active and compatible with the new device.
Follow these easy steps for a successful switch:
1. Turn off both iPhones before swapping. To do this, you need to launch your iPhone's "Settings" application, tap on the "General" tab, navigate downwards and tap on the "Shut Down" button.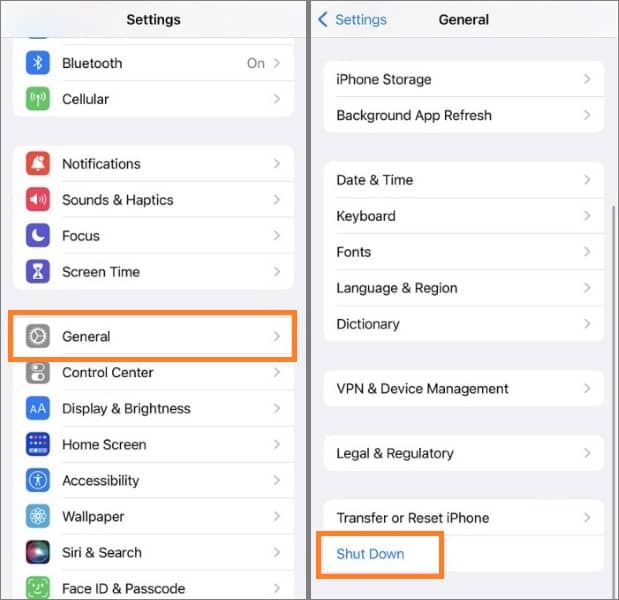 2. Open the SIM tray using the right pin after turning off your iPhone. The SIM tray pin location is different for all iPhone models. If you have a newer iPhone, you can find the SIM tray on the bottom left side of the device. After opening the tray, take out the old SIM card, insert the new SIM card in its corresponding position, and insert the SIM tray back into the device.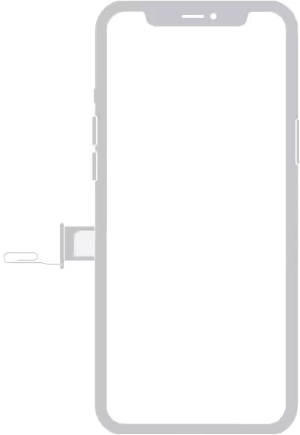 3. Turn on your iPhone by pressing on its "Power" button. Input your SIM card PIN if it has a PIN, and you will get cellular operations operating under the new card.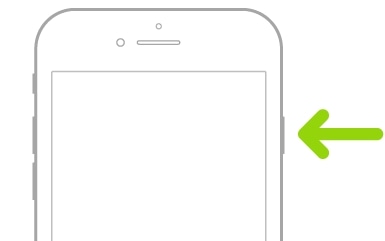 Part 4. How to Switch iPhones' Data with an Easy Tool
Looking for a safe, secure way to transfer data between iPhones? Coolmuster Mobile Transfer is a perfect choice! This powerful tool offers an easy-to-use solution that allows data to transfer from one device to another in just a few clicks. With reliable performance and unbeatable security measures, this professional application ensures peace of mind regarding data transfers.
Easily share data between different platforms with this phone transfer software! With its versatile compatibility and protection against overwriting existing files, transferring photos, documents, music or contacts from iOS to Android, or vice versa, is now hassle-free. Don't forget to use efficient mobile transfer software to move your important data to your new device before switching. This will help you to have all the necessary data on your new phone.
Its high data transfer success rate and user-friendly interface make it the perfect choice for anyone looking to safely move data between iPhones without any difficulty. Plus, this tool also offers a wide range of other features that are designed to improve your overall mobile experience.
Below are some of the features provided by Coolmuster Mobile Transfer:
Support multiple data transfer types such as contacts, text messages, photos, videos, music, etc.
One-click back up and restore capabilities for all your mobile devices.
Enable quick & easy transfer of data between Android & iOS devices.
Allow users to preview, select and transfer only the desired files.
100% secure data transmission with zero data loss.
Available on both Windows and Mac operating systems.
Below are some simple steps to follow to transfer data between iPhones:
01Begin the procedure by downloading, installing and launching the Coolmuster Mobile Transfer application on your computer. Click on the "Mobile Transfer" module to begin the transfer process.
02Connect the two iPhones to the computer using a lighting cable. Tap the "Trust" button on the two iPhones to authorize the connection between your iPhones and the computer. The application will then detect and recognize the two iPhones and show a "Connected" notification on the iDevice section.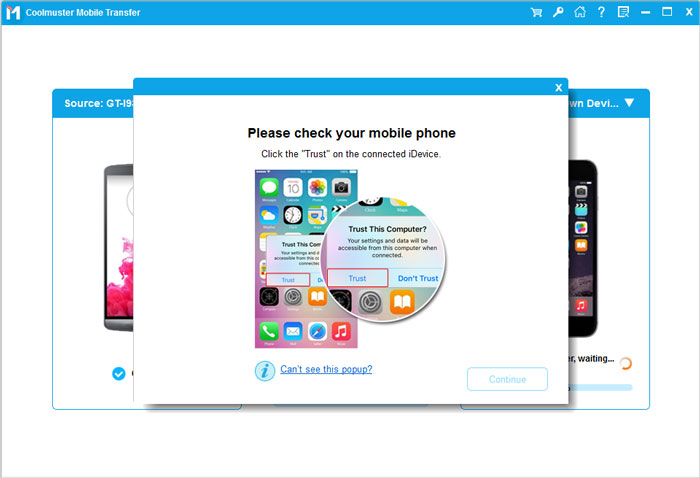 03Transfer your preferred data between your iPhones. Ensure that your iPhones are connected in their right positions. The iPhone you want to send data to should be attached as the "Destination" device, while the other should be the "Source" device.
If they are not connected correctly, click the "flip" button. If they are correctly connected, select the data types you wish to transfer from the list of items on your screen, then click "Start Copy" to initiate the process.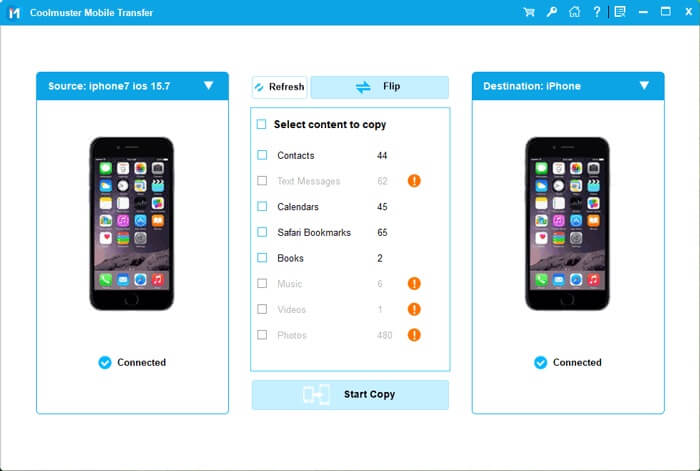 04Wait for the transfer process to complete. After the transfer process is complete, the program will notify you that the transfer has been completed and provide you with a report of the data transfer results.
These might also help:
How to Transfer Stuff from One iPod to Another in 7 Elementary Ways? (Updated)
How to Transfer Songs from iPhone to iPhone Using AirDrop [Step-by-Step]
FAQ About iPhones' SIM Card Swap
What happens if you switch SIM cards in iPhones?
You will only lose the contact data saved on your SIM card. Otherwise, all the other data not saved on the SIM card will not be lost.
Want to know how to retrieve contacts? See >>
Can I put my SIM card in another iPhone?
Yes, if only the SIM card is compatible with the iPhone and the iPhone is unlocked. Ensure the other iPhone is compatible with your carrier's network and will accept the same SIM card size as your current device.
Conclusion
Now you know how to switch iPhones with SIM cards. However, you can also use a third-party tool to easily transfer all your iPhone's data to another. One of the most reliable mobile transfer applications is Coolmuster Mobile Transfer. With Coolmuster Mobile Transfer, you can rest assured that your transfer process will be smooth, reliable, and, most importantly, secure. Get your hands on this powerful data transfer tool and make your iPhone device transitions a hassle-free experience.
Related Articles:
LG to iPhone Transfer: Transfer Data from LG to iPhone in 2 Amazing Ways
8 Methods to Transfer Data from Samsung to Huawei
How to Sync Android Phone with Tablet (iPad & Android Tablets)?
[Fast Transfer] How to Transfer WhatsApp from iPhone to Android
How to Transfer Photos from Android to iPad in 4 Simple Ways? (Updated)
How to Transfer Data from iCloud to Samsung Phone Seamlessly?