How to Sync Android Phone with Tablet (iPad & Android Tablets)?
Why People Want to Sync Android Phone with Tablet?
Some people don't prefer iPhones. To some, the customizable and more flexible nature of an Android phone is much more attractive than the hardware and prestige Apple products offer. Of course, its affordability may have something to do with it as well. With so many apps that are optimized on smartphones first, it is relatively easy to sync your Android phone with your tablet. Maybe you want to:
- Use Google Earth but don't like having to squint when looking at street names.
- Perhaps you'd like to play your favorite game on a 10-inch screen.
- Maybe you found a video or movie on your smartphone and would like to actually watch it like a normal person.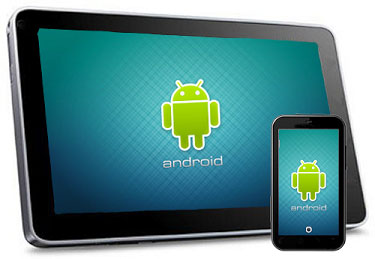 So there is a problem involved: How to transfer data from Android phone to other devices, such as Android tablet or Apple iPad?
Part 1: Best Android to Tablet Transfer Tool
Part 2: How to Sync Android Phone with Tablet
Part 1: Best Android to Tablet Tool to Help You Sync Android Phone with Tablet
This is why you need to use Phone to Tablet Transfer. This software allows you to transfer contacts, text messages, call logs, calendar, photos, music, video and all apps between any iOS, Android, Symbian, as well as BlackBerry phones or tablets.
- It also lets you back-up your data so you can restore it later and keep it secure.
- Lets you retrieve back-up data from an older phone if you replace it with a new one.
- Allows you to transfer your iTunes data to any device (Android or iPhone).
- Allows you to retrieve back-up data from iCloud and download it to your phone or tablet.
It also is compatible with almost any cell phone service provider. To sync up an Android phone with your tablet, no matter Android tablet or Apple iPad, first download the Phone to Tablet Transfer to your computer from the downloading buttons below. The free trial version is for you to have a try on this program. Just click to download it. Then, read the following guide to learn how to sync Android phone with tablet.
Maybe You're Interested in:
Sync Android Calendar with iPad
Sync Apps from iPhone to iPad
Part 2: How to Sync Your Android Phone with Tablet (Android Tablet/iPad)
Step 1. Run the Android to tablet transfer program
Launch the program after you have connected both your Android phone and the tablet you want to sync it with (you will need two different USB cable to perform this operation) to your computer. Launch the software on your computer and click the option of "Phone to Phone Transfer" to go to the next step.
Step 2: Select the data you want to transfer
The program window will pop up and you'll see a screen displays icons for both of your devices and lists all the different kinds of data you can transfer from one device to the other. This represents all the content you can sync from your source phone to any kind of tablet you own. Tick all the boxes representing the specific data you want to transfer from this Android source phone to your tablet.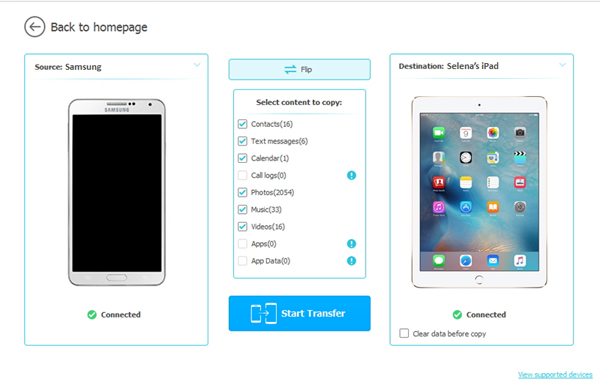 Step 3. Sync Android phone data with tablet now
When you have ticked all the boxes you intend to sync up with your tablet, click the Start Transfer button in the middle of them. You will see another screen showing you your data transfer progress.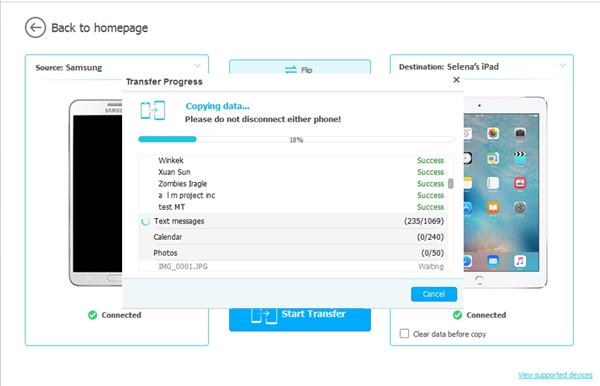 Make sure you don't disconnect your phone during this transfer process. Once this screen disappears, then your Android phone and your tablet will be completely sync up. It's that easy!
Related Articles:
Transfer Contacts between Sony and Samsung Galaxy