WhatsApp is a significant texting platform that is used worldwide. However, the biggest downside you will get when using WhatsApp is being unable to transfer your chats from Android to an iOS device and vice versa. But, fortunately, there are many tools that can make that even more possible.
This post will introduce you to the best software to transfer your WhatsApp data quickly and effortlessly. So, let us have a look at these superb WhatsApp transfer software.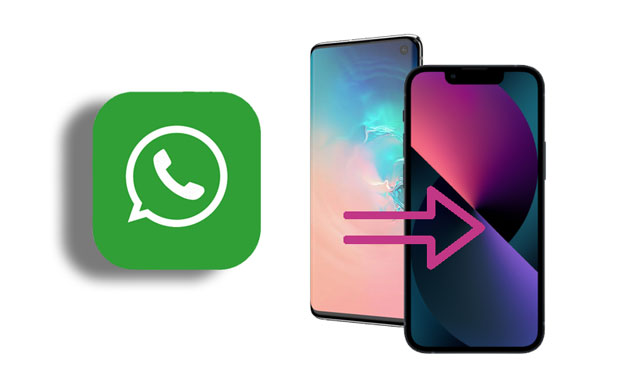 Part 1: Is WhatsApp Transfer Tool Safe? Is It Free?
Part 2: What's the Best WhatsApp Transfer Software
Part 3: Free WhatsApp Transfer Software on Softstore
Part 1: Is WhatsApp Transfer Tool Safe? Is It Free?
Transferring WhatsApp data is completely safe provided that you use a good tool from a trustworthy provider. How will you know that a provider is trustworthy? You will ascertain this by going to their site or checking out their Google reviews. This will help you know what other people are saying about them.
What makes the software good is its ability to keep data secure and safe. You will find most of the software free so, it's upon you to find the best one. To be on the safe side, it's always advisable to look at what kind of data is stored if you download the application. But, usually, no information is leaked.
A WhatsApp transfer software is an indispensable tool that helps those individuals who wish to switch devices constantly or want to acquire a new phone as their contract ends.
As such, it's an impeccable tool that is a must to have for any person who wishes to transfer Whatsapp data from one phone to another. These tools must be at your disposal to prevent you from worrying about losing your precious data again.
Further reading: If you find WhatsApp is stuck in backup, you can fast fix it with these tips.
Part 2: What's the Best WhatsApp Transfer Software
Since there are many Whatsapp transfer software, finding the right one can be quite tricky. That's why we have come up with the best software you can use to transfer all of your WhatsApp data painlessly. So, without further ado, let's see what these wonderful tools are!
1. WhatsApp Transfer
The very first tool that shouldn't miss on your list is the WhatsApp Transfer software. It's among the best Android and iPhone Whatsapp transfer tools you will ever have. With it, the transfer process will be very easy. So, there is no need to worry if you have switched to a new device.
This WhatsApp Transfer tool solves all of your mysteries in just one click. There is no need to transfer one data at a time. You can copy all the chat history simultaneously. In addition, you may also move any item you wish, such as videos, photos, and many more attachments.
It's an effective tool for business and a faster transfer tool between Android and iOS. Say goodbye to losing your business data every time since you already have fantastic software at your disposal!
This WhatsApp data transfer software does wonders since you will back up your WhatsApp data in just 1 click. Isn't that a wonderful thing? Of course, it is. This will give you an easier time while transferring your data. In addition, it can back up any history data from Viber, WeChat, Kik, and LINE. It backs up the files like stickers, images, video calls, texts and chat history. Besides, you can also view the files after backing them up.
Download and install this WhatsApp transfer tool for free.
Below are the steps to follow when you want to transfer WhatsApp data using this software:
Step 1: Launch the WhatsApp Transfer Software on the Computer
Firstly, begin by launching the software on the computer, tap on WhatsApp Transfer and the WhatsApp tab. If you wish to transfer WhatsApp Business, tap the WA Business icon.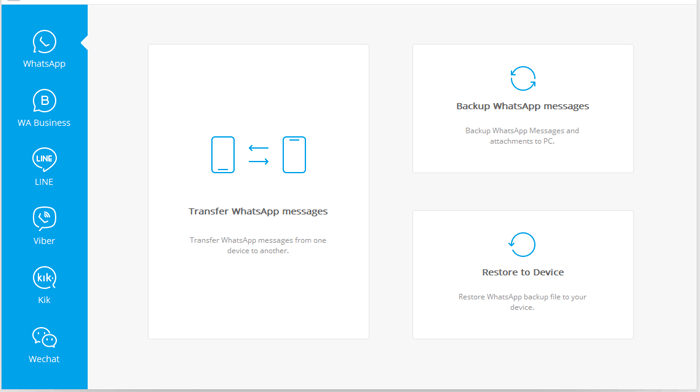 Step 2: Connect Your Android and iPhone Devices to the Computer
Connect Android and iPhone devices to your computer using the USB cables. After that, click the Transfer WhatsApp messages feature, and check if their positions are correct. That is, whether your Android device is on the Source section and your iPhone is on the Destination section. You may flip them if needed.
Step 3: Begin the WhatsApp Transfer from Android to iPhone
Tap the Transfer button and choose Continue on the prompt. Wait for some time for the transfer to finish.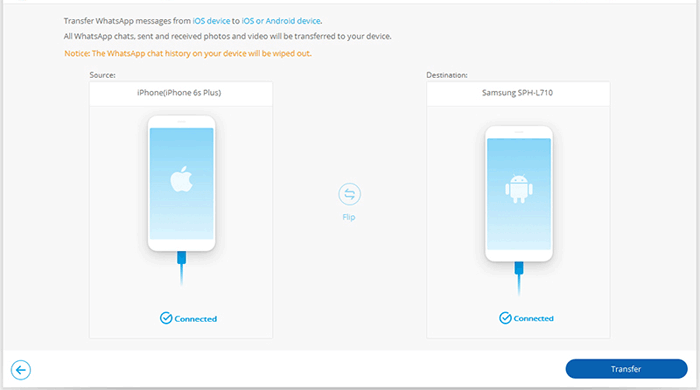 Pros:
Simple to use interface.
Easy and quick to transfer data between phones.
It doesn't need an internet connection.
Transfers WhatsApp data from Android to iOS devices and vice versa.
Cons:
Requires a computer.
It is not free to transfer WhatsApp messages.
Bonus: Want to back up iPhone data without a computer? This post will tell you what to do.
2. BackupTrans
This software can back up and restore WhatsApp data on your computer. It also moves WhatsApp data between Android and iPhone devices. Before transferring, you can preview to check if you are transferring the right data. BackupTrans allows you to transfer one data at a time from one device to another.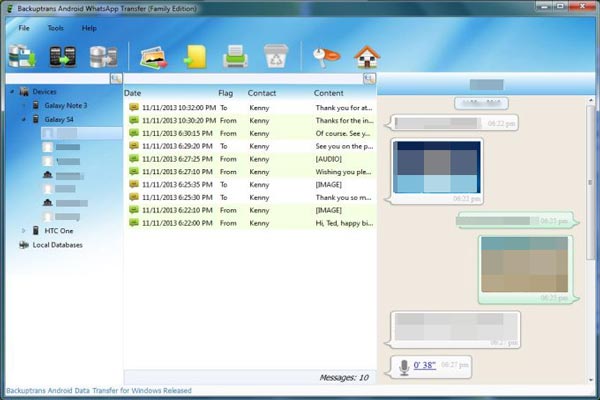 Pros:
Provides users with various versions to transfer data between phones.
Enables you to restore messages from your iTunes.
Cons:
3. WazzapMigrator
WazzapMigrator is among the best WhatsApp data transfer tools. It has distinct Mac and Windows applications and may also transfer data from iOS to Android. The Wazzap Migrator software is an effective tool that makes your transfer process easier and quicker.
Besides, it has a very modern interface, and a novice person can easily use it. You may get this tool at a low price of about $19.95 and serve three devices simultaneously. But, the only downside of using this software is that it can sometimes have compatibility problems with the different versions of WhatsApp and those devices that don't have an iOS companion app.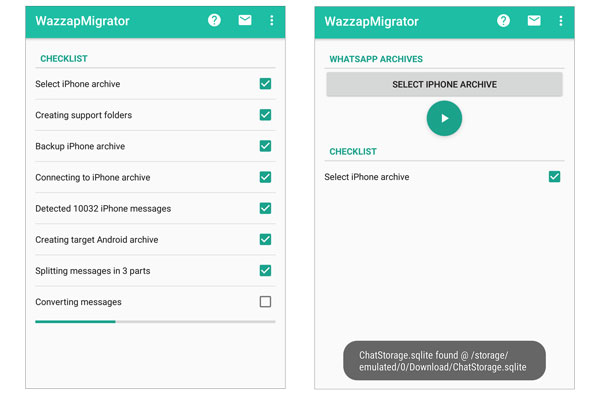 Pros:
Operates on both Mac and Windows.
Easy to transfer your WhatsApp data from iPhone to Android.
Supports many files such as audio, images, documents, and many more.
Assists one to extract the Whatsapp archives from an iPhone backup.
Cons:
It's not compatible with some of the WhatsApp devices.
It doesn't have an iOS companion application.
See also: Is it possible to transfer iTunes backup data to an Android device? Of course, you can restore the iPhone backup to your Android phone without any trouble.
4. Syncios
If you are looking for a tool that transfers data faster, then Syncios rounds up your search. It transfers WhatsApp data from Android to iOS in just one click. You may choose the Whatsapp files you wish before restoring Whatsapp data from your local backup. Also, it can aid you in exporting Whatsapp chats to various file formats.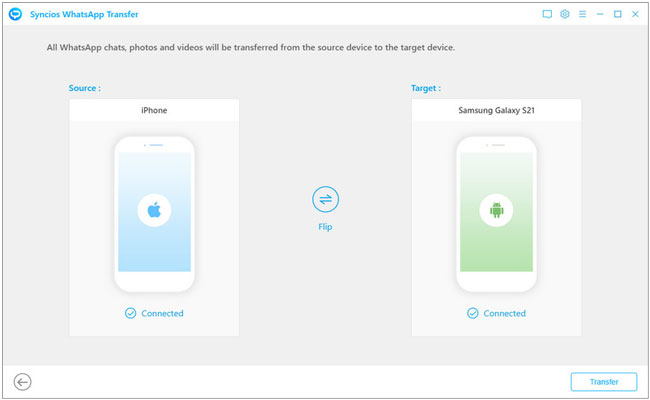 Pros:
Helps you save WhatsApp files like HTML, CSV, and EXCEL.
Supports the latest Android and iOS OSes.
Mac and Windows are available.
The interface is simple.
Cons:
Expensive if you want an unlimited number of devices.
You can't preview the files to transfer.
5. AppTrans
This app data management software can transfer Whatsapp data across Android and iPhone devices. Besides, you can also back up and restore all of your apps and their respective data. If you require a professional tool that can help transfer your WhatsApp data, then this tool is for you.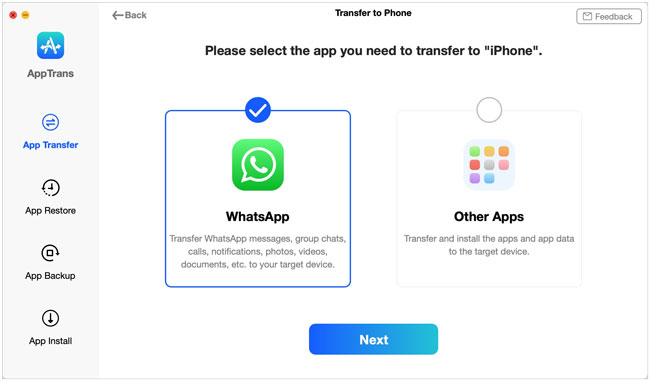 Pros:
Easy to use.
Supports many Android and iOS mobile devices.
Cons
You might need: This guide has shared the useful ways to export SMS from iOS devices to PDF. Let's take a look.
6. WutsApper
This is also one of the amazing transfer tools you can use for transferring WhatsApp data from Android to iPhone only. The good thing about this software is that it doesn't require a computer. You can achieve your transfer procedure without necessarily requiring a computer. This is a fantastic app that can work independently.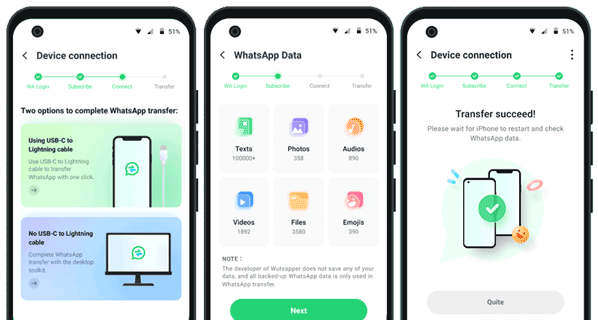 Pros:
It doesn't require a computer, and the transfer process can be done with a mobile app.
Cons:
Not the cheapest WhatsApp transfer app.
7. MoboPlay for PC
This is a free Whatsapp transfer software you may use to connect your device to the system for transferring data. It serves as a phone manager to transfer Whatsapp files between phones and supports various mobile management applications. But, you may need a computer to run this software effectively. If not properly secured, your data might leak.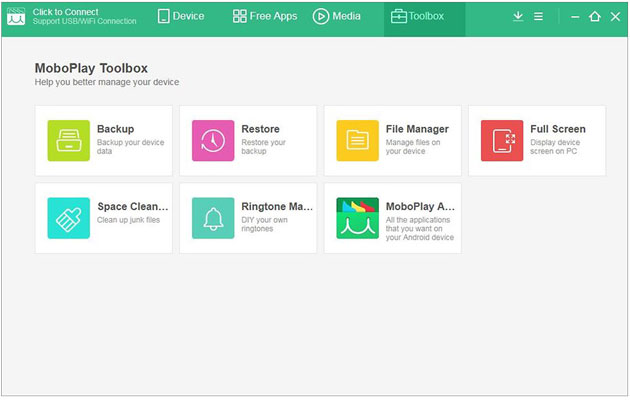 Pros:
It serves as a data manager.
Compatible with various phones.
Assists you to back up and restore data among mobile gadgets and computers.
Cons:
Data can leak if your computer isn't secure.
Read more: It is easy to back up and restore WeChat messages on mobile phones or tablets. Let's check it out.
Part 3: Free WhatsApp Transfer Software on Softstore
Move to iOS
Move to iOS is a free WhatsApp transfer tool, and it enables data transfer between different gadgets. But, the only problem is that it transfers WhatsApp data from Android and iOS only. Besides, you require a Wi-Fi connection to work with this tool.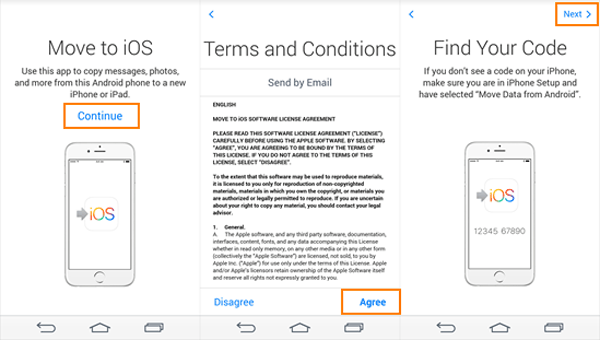 Pros:
It is free.
Transfers other data from your old phone to an iPhone easily, like contact rolls, contacts, and many more.
No ads.
Cons:
Only transfers data from Android to iOS devices.
Requires Wi-Fi connection.
It doesn't allow you to move WhatsApp data only.
The transfer process is time-consuming and lengthy.
Conclusion
That is all there is to this review. It is entirely possible to transfer Whatsapp data from Android to iPhone with the help of WhatsApp transfer software. However, ensure you choose the best tool for this work as one wrong choice can cost you more than you could ever imagine. Thus, WhatsApp Transfer is one of the most ideal choices. It can copy all your WhatsApp chat history safely and quickly.
Related Articles:
How to Recover Deleted Files from iPhone without Backup? [Hassle-free]
Troubleshooting for 'My Text Messages Disappeared on My Android Phone' (Reliable & Easy)
4 Ways to Export WhatsApp Chat to PDF (Android & iOS)
How to Transfer WhatsApp from Samsung to Huawei P40/P40 Pro/Mate 40 with Ease
3 Amazing Ways to Back Up WhatsApp from iPhone to PC
How to Access WhatsApp Backup on iPhone/PC/Google Drive/iCloud without a Hitch?