"How to make screen mirroring full screen iPhone?"
"How to make screen mirroring full screen Samsung?"
Nowadays, screen mirroring is becoming one of the best tricks to see all the contents on your phone on a PC or a TV. It is helping many not to worry about the connections while making the whole experience effective. Moreover, this concept of screen casting can save you time since it facilitates collaboration. However, you may not be able to view a full screen after mirroring your device. This can be disheartening and you may wish to know how to make screen mirroring full screen. In this article, you will know how you can make a screen mirroring full screen on various devices.

Part 1. Why Is My TV/PC Not Showing Full Screen?
If you are trying screen mirroring, you will obviously ask yourself this question. When screen mirroring a phone to a TV, a TV screen doesn't show a full screen. Well, it is simple. It is because of the aspect size and ratio of the device you are mirroring and the TV.
A typical phone is portrait with a larger height and smaller width. On the contrary, a television has a quite different shape. Televisions are wider, which isn't the case with a phone. This will be a challenge when screen mirroring full screen because the devices are different in size. These devices have different aspect ratios: how high a screen is compared to the width.
When the aspect ratio isn't equal, the projected image will appear strange. There will be two scenarios here:
You may see only part of screen; the TV's shape will cut the rest.
There will be a full screen yes, but with black boxes all round filling the space.
Such problems are frustrating. Luckily, you can easily fix them. Read on to know how.
More relevant articles:
Why Is Screen Mirroring Not Working? Repair It with Easy Methods
Easily Screen Mirroring Xiaomi to PC - Full Guide [Updated]
Part 2. How to Make Screen Mirroring Full Screen [iPhone/Android]
Whether you're an iPhone or Android user, we understand the frustration of encountering problems during the mirroring process. Let us help you overcome these obstacles and ensure an immersive, full-screen experience that enhances your viewing pleasure.
Method 1. Make Screen Mirroring with Phone Mirror App
To have a better experience when watching movies, you should make screen mirroring full screen. One of the best software that does just that is Phone Mirror. It has great features that allow customization of the screen viewing option. The tool lets you mirror an Android/iPhone device to PC with a horizontal screen. Moreover, resolution settings will allow you to cast a high-quality full-screen. There are different connection methods provided by this tool. You can connect the devices with WiFi.
For iOS users, you should ensure you connect both the PC and phone to the network and then open Screen Mirroring for connection; while Android users can mirror their devices using a WiFi connection by just scanning a QR code. You can also enter the PIN code to mirror the device. Apart from that, you can use a USB to cast the phone to PC. Once done, you will be able to play music, mobile games, send messages, and more from a computer.
Phone Mirror offers a safe and stable environment when screen casting. That way, you will be able to mirror your phone's screen smoothly without security issues. Moreover, it supports most iOS and Android devices.
Here's what Phone Mirror does:
Screen mirror devices to computers/TVs in high quality.
Show the content of your smartphone without buffering or lagging.
Offer screen adjustments so that your screen can be mirrored in full.
Let users draw, include audio, and take screenshots.
Mirror the full screen on both Android and iOS users.

Free Download for PC
Here's how to make screen mirroring full-screen iPhone:
01Install the app on computer. Launch it and choose iOS Mirror if you are casting an iPhone screen onto a PC (We're using iOS as an example; for Android users, choose Android Mirror). And build a connection between the iPhone and PC. Before that, ensure the iPhone and PC are connected to same WiFi or WLAN.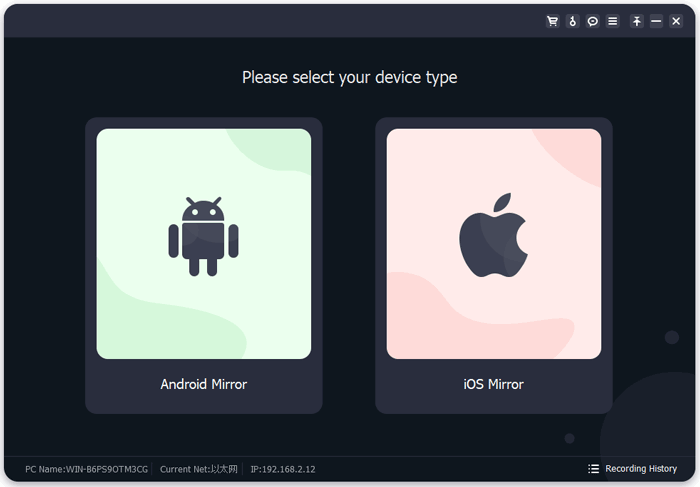 02Choose Screen Mirroring to cast the iPhone screen onto the PC. Afterward, swipe on the iPhone screen to get to Control Center. Click on Screen Mirroring and choose Phone Mirror. Now wait for a few moments to finish the connection.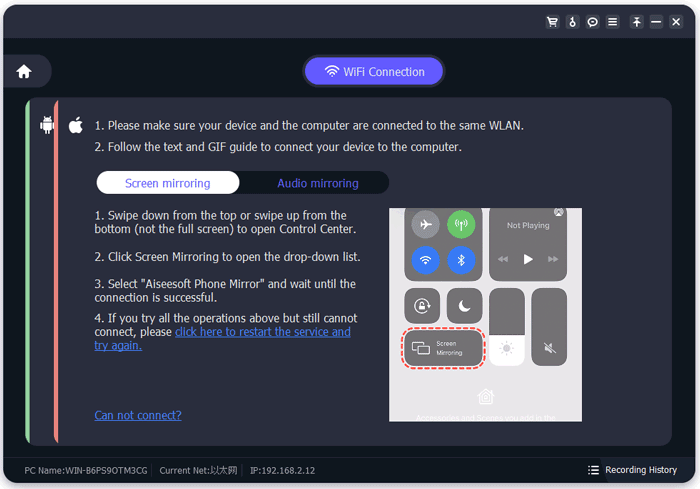 03After connecting successfully, you can now start recording screen content. Start by adjusting Output settings to get better results when screen recording. You can change sound system and video format and set minutes for the recording.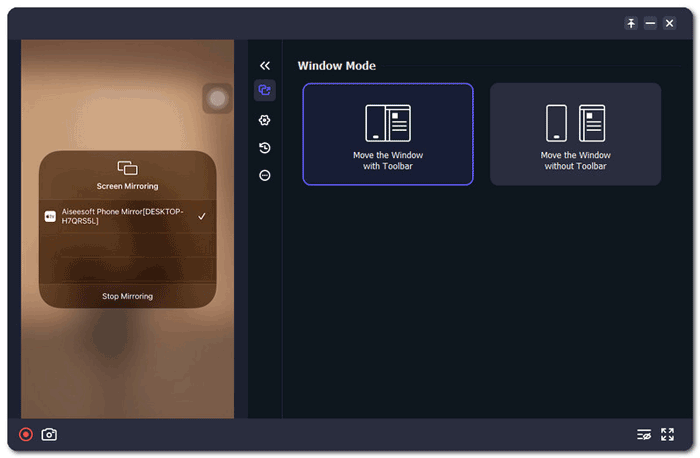 Method 2. Make Screen Mirroring with LetsView App
The LetsView app is comes in handy, too, when you want to mirror a mobile phone to a PC. It doesn't matter if you're using Android or an iPhone; this app can screen mirror any smartphone on any computer, whether Mac or PC.
Here's how to make screen mirroring full-screen Samsung on a computer:
Step 1. Install the application on the computer and a phone. Ensure your devices are both connected to the same network.
Step 2. Take your smartphone and click the Redetect icon; you'll see the computer there. Click on it, then choose Phone Screen Mirroring.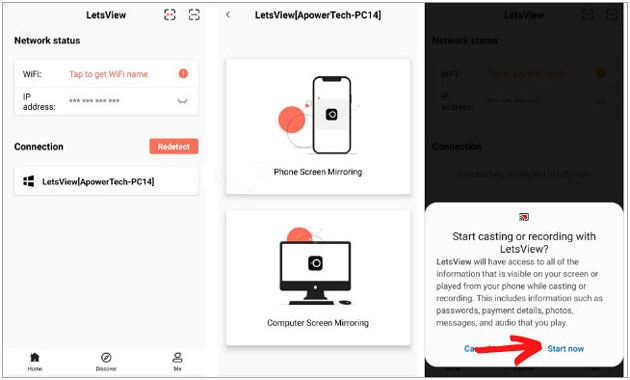 Step 3. Now proceed to the screen mirroring, and you'll see the monitor. Click on it and start controlling the mirrored device.
Part 3. How to Make Screen Mirroring Full Screen on TV [3 Types]
Now let's show you how to get a full screen on several types of TVs.
Type 1. Screen Mirroring on Samsung TV
Are you connecting your device to your Samsung TV? If so, you will likely want to mirror a full screen.
In that case, how to get full screen mirroring on Samsung TV? Here's how:
Step 1. Take your device and look for the Screen Mirroring function. Note that the name for the screen mirroring feature is different on different devices. You can find names like Smart View, Screen Mirroring, Quick Connect, and many more. Just open the device's control center to find it.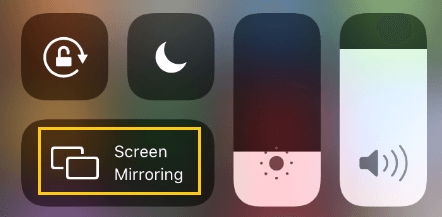 Step 2. You'll find a screen mirroring function there. If not, you can tap on More icon to view other options. When you find it, click on it to proceed.
Step 3. Now the phone will start searching for any nearby devices. You'll see Samsung TV; just click on it. Input your PIN and play anything you want.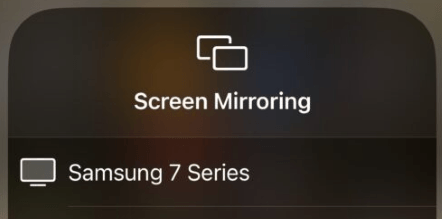 Type 2. Screen Mirroring on LG TV
It is pretty easy to mirror your iOS device's screen to LG TV because of its in-built Airplay feature.
Here's how to make screen mirroring full screen on LG TV:
Step 1. Switch on the LG TV, then press the Home button.
Step 2. You'll see the menu option in the lower section. Head to Home Dashboard section with the navigation keys on the remote.
Step 3. Now tap AirPlay on your iOS device and proceed to the settings, then enable AirPlay. Take your iOS device and locate Control Center. Click the Screen Mirroring option to see the LG TV on the list. Click on it.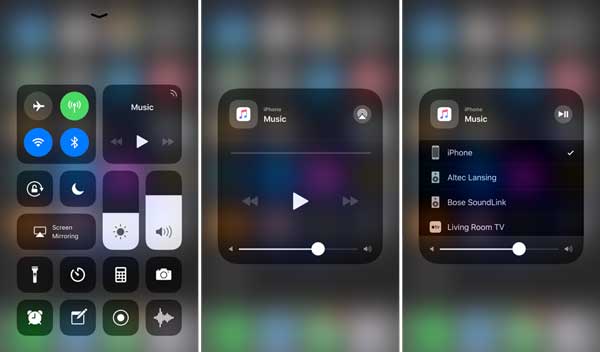 Step 4. You'll see the password on the TV. Enter it on the smartphone, then click OK to connect the devices.
Type 3. Screen Mirroring on Roku TV
You can also screen mirror a phone to a TV with Roku TV. However, it does not show in full screen. You'll have to adjust its display settings on your device.
Here are steps to make the full screen on TV:
Step 1. Make sure your TV and phone are connected to same WiFi. You can adjust the screen mirroring settings on your Roku TV by:
Pressing the Home button on your remote;
Then selecting Settings > System > Screen mirroring.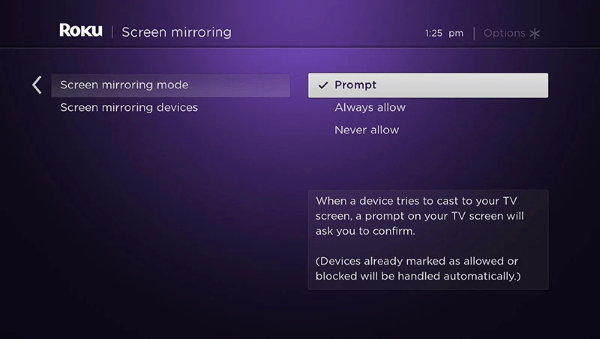 Step 2. Activate the Screen Mirroring (or other expressions alike) feature on the control center of your phone, and choose Roku TV to start mirroring your phone.
Also see:
Top 7 Ways to Mirror iPhone to iPad Easily [Latest Tutorial]
7 Best Screen Share Apps to Share Screen and Audio with Friends
Part 4. FAQs on Screen Mirroring Full Screen
Q1. Will mirroring fill the TV screen automatically?
No. The screen mirroring will not show a full screen on a TV because the aspect ratio of smartphones is set to be 3:2 and 4:3, which makes them not to fit wholly on bigger screens of the TVs. But you can adjust that aspect ratio via the Adjust for AirPlay Overscan option.
Q2. Can I screen mirror my computer to a TV with a full screen?
Yes. To do that:
Press the Home key on your TV remote.
Tap Screen Mirroring just below Apps and follow the directions on the screen to set it up.
Tap Windows or the Start key on the computer and head to the Settings option.
 When there, look for Bluetooth and other devices. Now find your TV's name below the Audio or Other Devices option.
Conclusion
Learning how to make screen mirroring full screen on either a computer or a TV is important. Even though it can be challenging, there are various ways to achieve that.
Tools such as Phone Mirror makes the whole process as easy as pie. It can help you mirror your Android/iPhone screen on a computer and control it effortlessly.
Related Articles:
Best Screen Mirroring App for Android to PC
How to Deftly Control iPhone from PC with/without USB Cable?
How to Mirror iPhone/iPad to Windows 10
Play Army Commander on PC with Ease [Detailed Guide with Steps]
AnyDesk Review - Features, How to Use and Alternative to AnyDesk
LonelyScreen Review - All Info on LonelyScreen [Including Alternative]