Are you an enthusiast of mobile games? Look no further, as you can find a vast collection of fun and captivating titles here. If a strategy is your forte, then try out Army Commander. It will provide entertainment that other similar games don't! In this game, you get to lead an army in thrilling battles against enemies where victory could be yours with each successful move. Get ready to experience hours upon hours of fascinating gameplay today.
With Army Commander on PC, you'll be able to take advantage of visuals that are far superior in quality compared to other platforms. Additionally, playing Army Commander on PC gives you the advantage of enjoying larger screens and crystal-clear audio, creating a wonderful gaming experience. Continue reading through this article to learn how you can play the Army Commander game on your PC.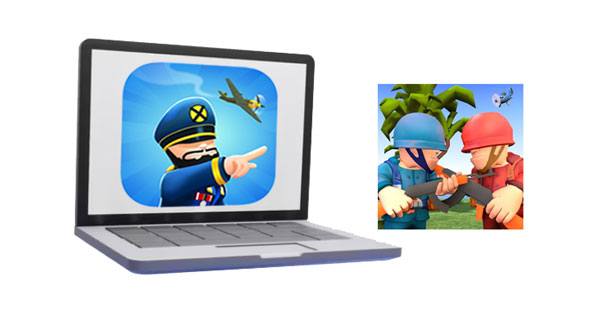 Part 1: Features of the Army Commander Game
Why do so many people like to play Army Commander? Learn about the game's features, and you will know how cool it is.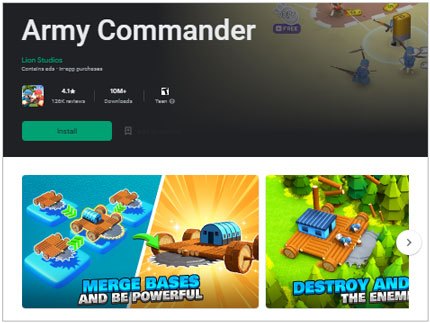 1. Lead Your Troop
You get to be an army general and lead it to victory against challenging enemies. This requires you to make strategic decisions and formulate works of art on the battlefield. As the commander, your job is to supply the troops and launch successful offensives.
2. Expand Your Base
You can unlock additional lands to extend your reach, gaining access to precious resources that can strengthen and improve the might of your army. You're one step closer to total domination with every extra land you conquer.
3. Fight With Others
Take command of your army and test your strategic skills by conquering other armies' lands in this exciting game. Outwit, outmaneuver, and overcome numerous obstacles for the glory of victory! Have fun whenever you want, as you enjoy leading your troops to battle against others. Conquer new territories with intense combats or fight enemies head-on; it's all up to you. This thrilling game will provide countless hours of entertainment anytime, anywhere.
4. Upgrade Your Units
You can update your units with better weapons and ammunition to become more robust and efficient on the battlefield. After choosing what items to upgrade, you must decide how to position them on the map for maximum efficiency.
Part 2: Advantages of Playing Army Commander on PC
Below are some of the benefits of playing Army Commander on a PC:
1. HD Graphics
Playing this game on a laptop or desktop computer unlocks a world of vivid visuals and exquisite details you won't experience with devices that have small screens. The clarity of your gaming session will be exceptional.
2. Large Screen Size
By playing the game on your PC, you can take advantage of the large screen and easily detect enemies. This hastens decision-making and allows you to gain a strategic edge over rivals!
3. Intuitive Control
You can precisely control your army with the help of your computer mouse, keyboard, or game controller. This is especially beneficial if you play the game competitively, as it allows you to execute moves quickly and accurately.
4. Quick Processing Speed
When you game on a PC, you get to experience its superior processing speed. This eliminates the occurrence of performance issues. Enjoy extraordinary gameplay with no hiccups by playing Army Commander on PC.
Perhaps you like: Can you mirror an iPhone to a Mac computer? Yes, you can do it with the help of this guide.
Part 3: Play Army Commander on PC Even without Using Emulators
Screen Mirror is a powerful and convenient tool for playing mobile games on your computer. With it, you can easily cast your phone or tablet to a computer and control it from there. Therefore, you can directly play Army Commander on your PC without using an emulator.
Plus, you don't need any extra hardware. As long as you install this mirroring tool on your PC, you can start it without any emulator. It will fast mirror your Android device to the PC with an excellent display. Also, you can mirror an iPhone to a Windows computer without effort. This software supports most iOS and Android devices.
Key features of this screen mirroring software:
* Enable sharing your Android and iOS devices' screens to your PC.
* Allow you to play Army Commander on a PC with seamless operation.
* Allow you to record your gameplay easily.
* You can control your phone using your computer's large screen with high quality.
* Manage your social and mobile games on your PC without delay.
* Transfer files between your Android device and computer quickly.
Download Screen Mirror to play Army Commander on a PC.

Free Download for PC
Guide on playing Army Commander on a PC with this program:
01Install the Screen Mirroring Program
Launch the application on your computer after installing it. Ensure that the two devices are connected to the same Wi-Fi network. Click on either the "Android Mirror" or "iOS Mirror" button, depending on your device type.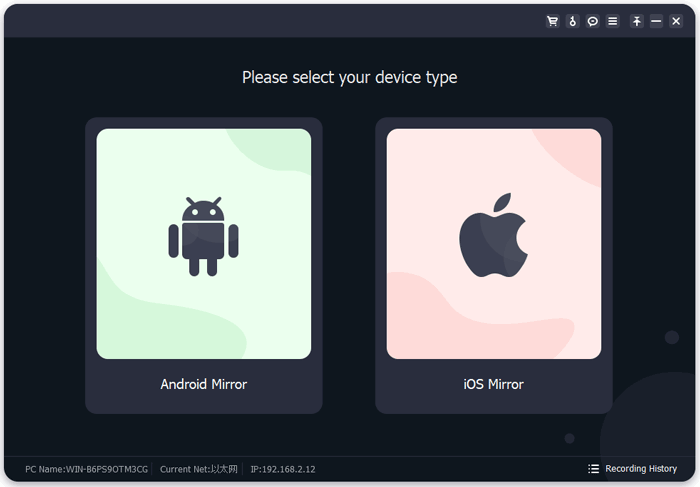 02Build Up a Connection
Go to "USB Connection" if you want, or you can choose "WiFi Connection". For USB linking, connect your phone to the PC via a USB cable, and enable USB debugging on Android. Then install the mirroring app on your phone.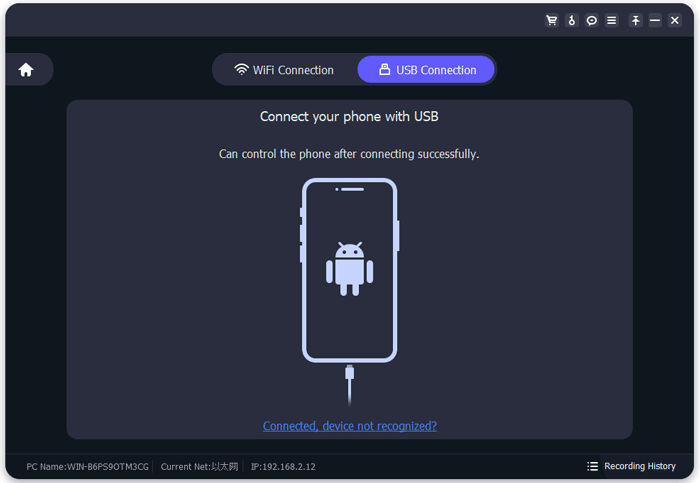 03Mirror Your Phone to PC and Play Army Commander
Once connection, you will successfully mirror your phone screen to the PC, and start playing the mobile game.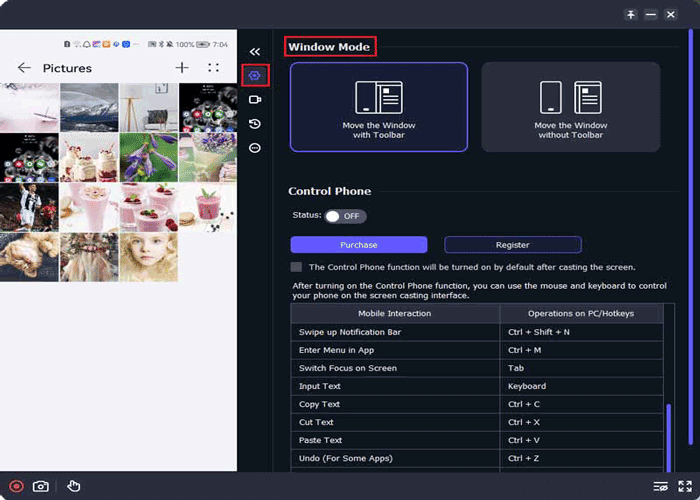 Read more: Best Screen Mirroring App for Android to PC
Part 4: Use an Emulator to Play Army Commander Game on Your PC
Below are some tools you can use to play the Army Game on your computer.
1. BlueStacks
If you want to experience the convenience of Android N (7.1.2) on your Windows computer, look no further than BlueStacks. With this powerful software, not only can you utilize the mouse and keyboard from your system with apps but also resize windows for better visibility, something that is impossible to do with a smartphone's fixed-size screen.
BlueStacks features:
* Supports Android apps and games on your PC.
* Quality graphics for a smooth gaming experience.
* You can launch multiple apps simultaneously, like chat clients and the army commander game.
* Ability to move files from phone to computer with ease.
* Download the app quickly and easily via one-click download in BlueStacks.
Follow the below steps to play the Army Commander game using BlueStacks on your computer:
Step 1: Launch any of your browsers and download BlueStacks from their official website.
Step 2: Install the application on your computer. The installation may take some time, especially if you are using a slow computer or if your internet connection is slow.
Step 3: BlueStacks will start itself automatically after it installs successfully. Once it has started, you will have to sign into your Google Play Store account and download the Army Commander game on your PC.
Step 4: Install Army Commander on PC and start enjoying the fun of playing Army Commander on PC.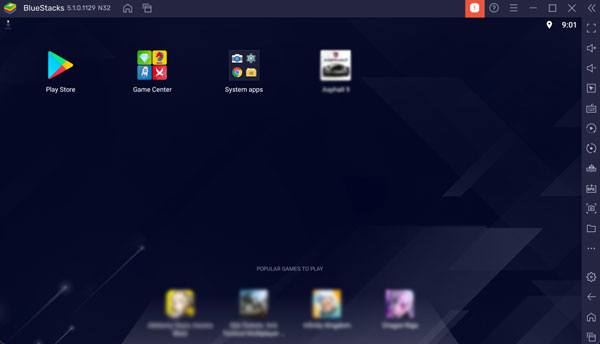 Learn more: Excellent 7 Ways to Mirror iPhone to iPad Easily
2. Android SDK Emulator
Android SDK Emulator is a perfect emulator for developers. Download it today and use it to play Android games on your PC. It has plenty of features that make it an excellent choice. Don't wait any longer; try the Android SDK Emulator now and play Army Commander or other mobile games on your PC.
Features of Android SDK emulator:
* Easy and reliable to use.
* Help you check and test Android apks without an Android device.
* Have up-to-date applications.
Here's how to use this tool for playing the army commander game:
Step 1: Download Android Studio on Your PC and Install it. Open Android Studio, click the start menu and search for it. Next, click on the "Configure" option and choose "AVD Manager" from the available options.
Step 2: Click the "Create Virtual Device" button when a new window pops up. Choose the "Pixel" option from the list that will appear and hit the "Next" button.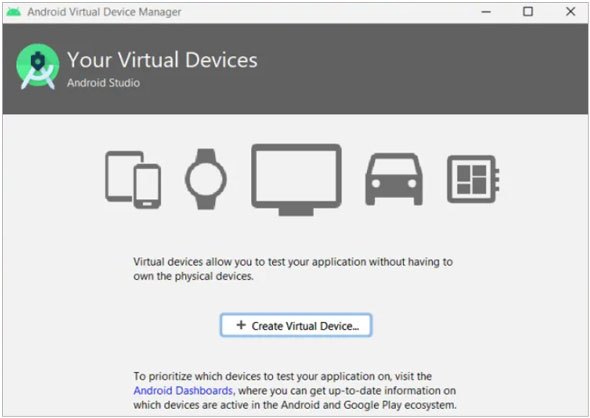 Step 3: Choose the Android version that you wish to run your application on and hit the "Next" button twice. Click on the "Play" button once your AVD has been created.
Step 4: The AVD begins to run on a different window. Navigate to your Google Play Store account and install the Army Commander game on your PC.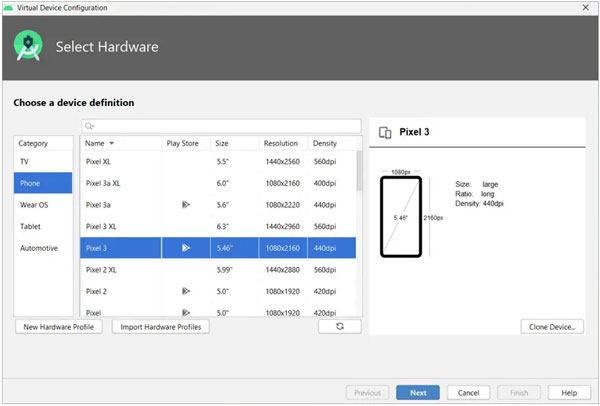 3. Remix OS Player
Remix OS Player is the go-to emulator for anyone who wants an unparalleled Android experience on their PC. This robust tool is popular among designers and developers who use it to test applications and gamers looking to play mobile games. It's easy to customize with several buttons that provide control over every aspect of your game or application.
Key features of Remix OS Player:
* Play wonderful Android games on a PC.
* Update Android OS versions.
* Support Android Marshmallow programming tools.
Follow the below steps to play Army Commander on PC using Remix OS Player:
Step 1: Install Remix OS Player on Your PC, and open the "Remix OS player" application using its shortcut on the desktop. Click on the "Start" button.
Step 2: Choose the language and then follow the instruction on the screen. You will have successfully installed the Remix OS player on your computer when a desktop screen appears.
Step 3: Install Army Commander on your PC after downloading it from Google Play Store.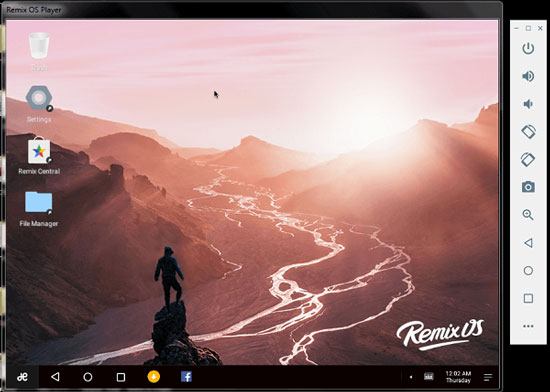 Maybe you like: Screen Mirroring for Huawei Mobile Devices: Fast Cast Huawei Screen
Part 5: Frequently Asked Questions on Playing Army Commander
Q1. Is the army commander game free to play?
Yes, the army commander game is free to play.
Q2. Is the army commander game available for Mac?
Yes, the army commander game is available for Mac but with certain limitations. You must use a third-party application to play the army commander game on your Mac.
Q3. Can army commander games be played on a tablet?
Yes, army commander games can be easily played on tablets with Android operating systems. However, army commander games may not be available for other tablet operating systems such as iOS or Windows.
Conclusion
Playing an army commander game on PC is a great way to enjoy the action-packed battles in your favorite army commander game. You can use an emulator or Screen Mirror to play Army Commander on PC. Screen Mirror is a great application to use if you want an emulator-free experience. Anyway, the choice is yours if you wish to play an army commander game with an emulator or without. You can set up an army commander on PC with some simple steps discussed in the above article.
Related Articles:
How to Deftly Control iPhone from PC with/without USB Cable?
How to Transfer Files from PC to iPad Using USB Cable (Effective)
[SOLVED] How to Connect Android Phone to PC through Wi-Fi?
How to Install Android Apps from PC Easily? [4 Solutions]
[Solved] iPhone Photos Not Showing Up on PC? Quick Solutions Here! (Windows & Mac)