Have you ever found yourself locked out of your Google account or unable to unlock your phone after a factory reset? If so, you're not alone. The need to bypass Google account verification after a device reset is a common challenge for Android users. Whether you've forgotten your login credentials, acquired a second-hand device, or encountered unexpected verification hurdles, this can be quite frustrating.
This passage is here to guide you through how to bypass Google account verification after reset. We'll explore six feasible methods, including the most efficient and reliable one.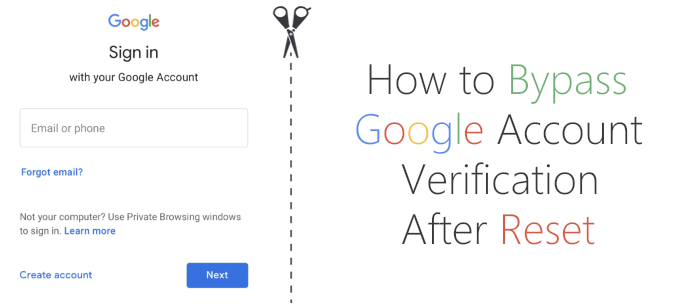 Part 1: What Is Google Account Verification?
Google Account Verification is a security feature shipped in Android 5.1 Lollipop. When creating a Google account, you may need to verify it to confirm that it's created by a real person. Google should then send a verification code to your registered email, which you must enter to complete the process.
Previously, users could unlock a device by factory resetting it through recovery mode. However, with this feature, after a reset, Google prompts you to log in to the linked account to access the phone.
Part 2: Can You Bypass Google Account Verification After Reset?
Initiating a factory reset on your phone without disabling Factory Reset Protection will trigger Google lock. Your device will remain Google-locked until you bypass Google account verification. Bypassing this can be easily achieved through your email. You have the option to remove the previously synced account before signing in with a new one. Yet, if you've forgotten your Google account information, there are alternative methods for bypassing Google account verification, as detailed in this post.
Part 3: How to Bypass Google Account Verification After Reset with PC [Easiest]
Are you in need of a solution to bypass Google account verification on Android without any special requirements? Android Unlock is here to help. As a leading expert in mobile unlocking software, it can efficiently unlock various types of device locks within minutes.
But please note that bypassing your Google verification involves performing a factory reset, resulting in data loss. Thus, it's recommended to back up your Android data before proceeding.
What makes Android Unlock so impressive?
Bypass Google account verification/Google lock after reset without a trace.
Let you gain full access to your Android device after a factory reset.
Eradicate various screen lock types, such as passwords, fingerprints, patterns, PINs, and face unlock.
Unlock Samsung and LG phones with zero data loss.
Easy to handle, quick unlocking, and high success rate.
Currently, it applies to almost all Samsung devices, including the latest Galaxy S23.
Free download Android Unlock and adhere to the simple manual on how to bypass Google verification on Android with this product now:
01Go to the "Screen Lock" module
Launch the Google lock bypass program on your computer and attach your Android phone via USB. Navigate to the "Toolbox" and choose "Screen Unlock", opening a new window.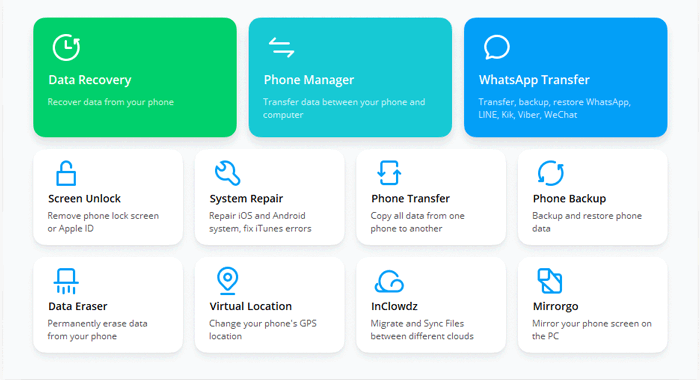 02Get into the "Remove Google FRP Lock" page
In the options list, select "Unlock Android Screen/FRP". Then, pick "Remove Google FRP Lock", specify your device, and click "Start".
03Pick your device OS version
Choose "All versions of Android (One-Click Removal)" and click "Start" on the same page to continue.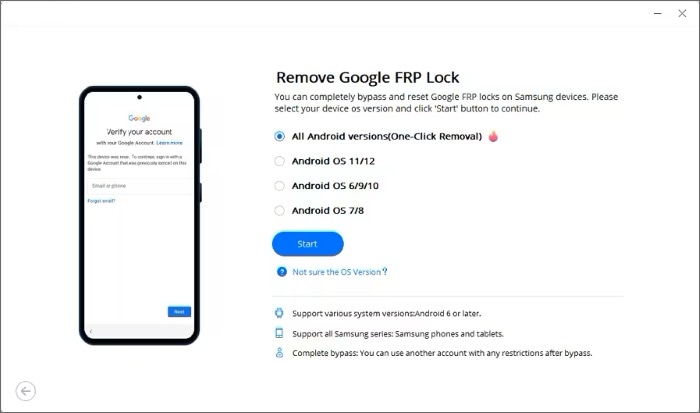 04Go to Emergency Call and input command
Follow the on-screen instructions: Go to your Android phone's "Emergency Call" tab and initiate it. Then, dial #0# to access a secret menu. On your PC, click "Next".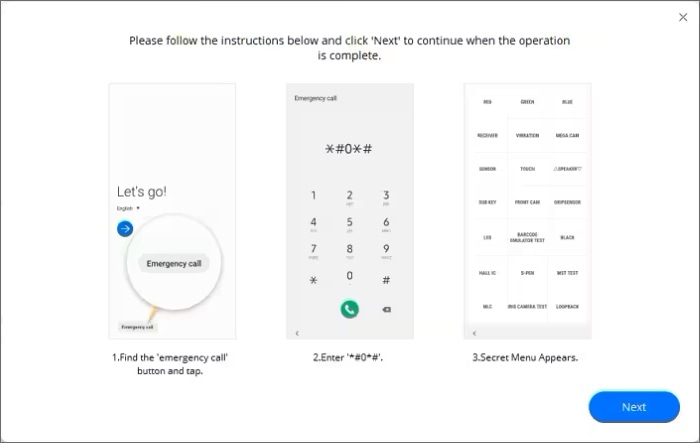 05Bypass Google account verification after reset
The Android phone screen will prompt you to enable USB debugging. Once done, select "Authorized" on your PC screen. The progress of removing Google verification from your phone will be displayed on the next screen.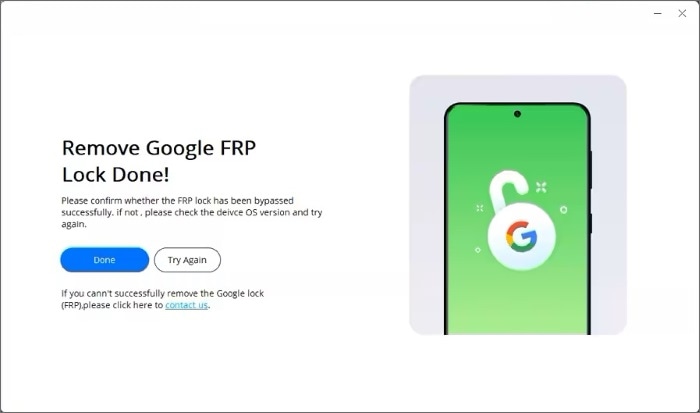 Also read:
3 Easy Ways to Remove Swipe Screen to Unlock Samsung Phone
[6 Ways] How to Unlock Samsung A21 Phone Forgot Password Without Data Loss
Part 4: How to Bypass Google Account Verification After Reset Without PC/Computer
4.1 Bypass Google Lock After Reset with Google Keyboard
In essence, if you encounter FRP lock on an Android device running Android 6 or earlier after performing a successful reset, there are certain strategies you can employ to circumvent Google account verification and regain access to your phone.
How do I bypass Google verification after factory reset using Google Keyboard?
Step 1: To access the Google Keyboard from the Google account verification screen, tap "Option". Next, firmly press and hold the "@" symbol until the "Settings" menu appears.
Step 2: Choose "Keyboard settings". In the top-right corner of the interface, tap the three dots, then select "Help & Feedback".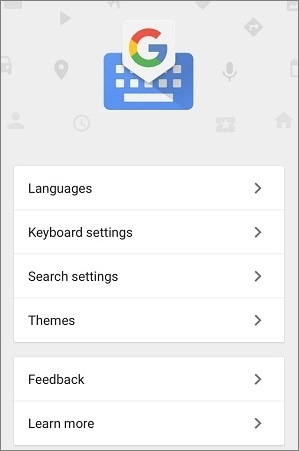 Step 3: Within the help section, select "Using Google Keyboard". Once there, long-press any text on the page and select "Web search".
Step 4: Head for "Settings" > "About device" > "Version" > "Build number" and tap it for 7 times to activate "Developer mode".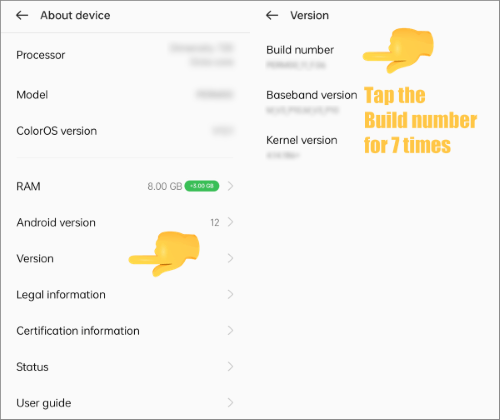 Step 5: Return to the menu and search for "Developer options" from the options. Tap "OEM Unlocking" and then press "Back" twice.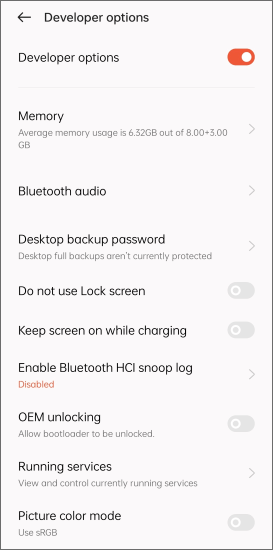 Step 6: Lastly, restart your mobile device, connect to a stable Wi-Fi network, and add a new Google Account to regain access to your device.
Note: Ensure you have your Google account details, such as email and password, ready for use during this process if they are required. What's more, some devices come with Factory Reset Protection enabled, which can hinder bypassing the Google verification.
4.2 Bypass Google Account After Reset with APK Tool
It's also a good idea to install a tool to bypass Google account verification on Android. Generally, installing and using tools is slightly more complex than direct app installation. The specific process may vary based on your phone's brand and model, but the fundamental steps include:
Choose the program you wish to utilize. Fortunately, there is a wide selection available, such as FRPHijacker Tool (designed for Samsung devices), FRP Bypass, D-G Unlocker Tool, or GSM Flasher ADB Tool.
Download the FRP bypass tool to a USB flash drive. While it's also possible to perform this on your computer, it's a more straightforward process when using a flash drive.
Once the download is complete, establish a connection between the USB drive and your mobile device using an on-the-go (OTG) cable.
Proceed to install the APK directly from the USB device. Upon successful installation, you will gain access to your device settings, allowing you to make the necessary adjustments to bypass your Google account.
4.3 Bypass Google Verification After Reset by Removing Google Account
To circumvent Google Verification, disable Factory Reset Protection before conducting a factory reset. This becomes active as soon as you set up a device using your Google account, a default setting that many users may not be aware of. However, this feature can be inconvenient if you find yourself locked out of a device with FRP enabled.
Here's the detailed guide for Gmail bypass Google account verification:
Step 1: Access the "Settings" application on your Android device and scroll down to select "Accounts".
Step 2: The displayed page will list all accounts linked to your device. Choose a Google account from this list.
Step 3: When the account details appear, tap "REMOVE ACCOUNT" to eliminate it from your Android device.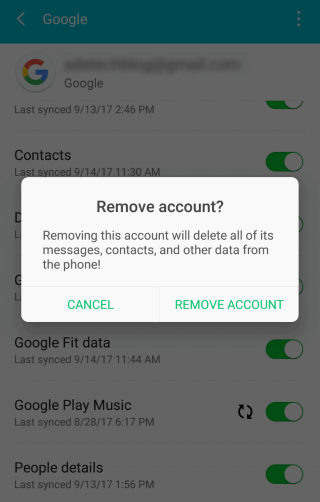 Step 4: Repeat these steps to remove all Google accounts from your smartphone. This will enable you to bypass Google account verification, allowing you to proceed with a reset for your Android phone.
4.4 Bypass Google Account Verification After Reset Using SMS
You can also circumvent Google account verification using SMS. Nonetheless, a stable Internet connection is essential for the successful execution of this procedure. The following steps elucidate how to get past Google lock via SMS:
Step 1: Send Email via SMS
Establish a reliable internet connection and attempt to enter any email. Look for the option to send it via SMS. Next, compose a message and send it to 112 through the window that appears on the screen.
Step 2: Click the "Call" button
A notification will appear, indicating that an error occurred and your message was not delivered. You'll also notice a call button adjacent to it; simply click on this button.
Step 3: Hard reset your Android phone to bypass your Google lock
Dial *#*#4636#*#*. This code will guide you to the settings section, where you'll perform a hard reset. Once the reset is successfully completed, your phone will become accessible.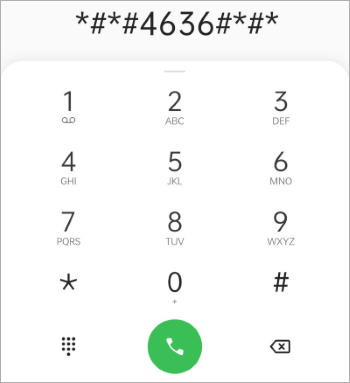 You may also need:
[5 Means] Samsung Galaxy A12 FRP/Google Account Bypass with/Without PC
How to Unlock Samsung Phone Pattern in 10 Simple Ways?
FAQs on Google Account Verification Bypass
Q1: Are there risks in bypassing Google account verification?
Bypassing Google account verification can expose your device to unauthorized access and void warranties, potentially violating terms of service.
Q2: How to enable and disable Factory Reset Protection (FRP)?
To activate Factory Reset Protection (FRP) on your Android device, ensure it's running Android 5.1 or later. To make it, go to your device's "Settings" > "Accounts" and link a Google account or add a second one with known credentials.
To deactivate FRP, navigate to "Settings" > "Accounts", choose the linked Google account, and manually remove it.
Q3: Are there universal codes to bypass Google account verification on Android?
There are no universal codes to bypass Google account verification on Android. The success of bypass methods depends on your device's specific make, model, and Android version. So, please always follow device-specific instructions and consider legal aspects when attempting to bypass this verification.
Ending Part
On balance, we hope you can get out of the present predicament when being locked out of the Google lock. Among all the methods available described above, we regard Android Unlock as the go-to solution for bypassing Google account verification after resetting on Android. This tool not only simplifies the process but also offers a seamless experience without any prerequisites.
Finally, a side note here again - Bypassing Google account verification can leave your device less secure. So, please make sure to secure your device after bypassing the verification to prevent unauthorized access.
Related Articles:
[Fixed] How to Unlock Locked Android Phone without Losing Data
How to Unlock Samsung Tablet without Losing Data? [6 Proven Ways]
Best Samsung Unlock Tools to Unlock Your Samsung Phone in 2023
5 Ways to Unlock Android Phone if You Forgot the Password
Get Unrestricted Access: How to Unlock OnePlus Phone
Everything You Need to Know About Network Unlock Code for Samsung