If you want to bypass Google account Samsung, this article will help.
As one of the built-in security features on Android version 5.1 or higher, Google Account verification prevents unauthorized access to your device, thus a great safety measure for Android. By default, this feature is enabled automatically when you set up the Samsung phone with your Google Account. And once activated, you will be required to sign in with that particular account to access the device.
While this is an amazing feature, it comes with flaws as well. When you forget the Google Account synced to the device and password, you cannot get past the FRP lock screen. Also, you may have acquired a second-hand device with Factory Reset Protection enabled. Worse, you can't find the owner to give you the account and password. It means you can't use your device anymore since you are stuck on the FRP.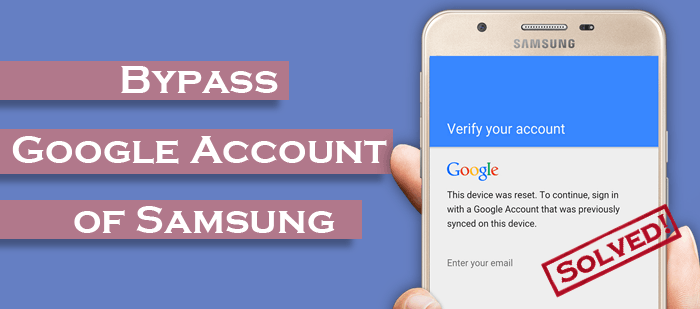 Part 1. What Is Samsung FRP Bypass?
FRP or Factory Reset Protection is an in-built security Google feature available on Android 5.1 and later. Basically, it helps you secure your Android device from loss through theft and enhances your privacy by protecting your data from being accessed by other people. FRP is usually automatically enabled when you sync your Gmail Account to the Samsung phone for the first time. Once enabled, it prevents other people from using your device after they reset it via recovery mode.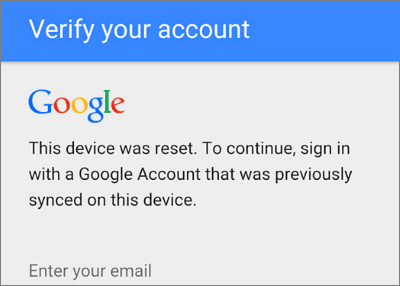 More articles:
How to Fix Android Touch Screen Not Working - Can't Unlock Issue In Minutes? (15 Tips)
3 Best Ways to Bypass Google Account on Huawei without PC
Part 2. How to Get Past Google Lock on Samsung
If your Samsung device has an FRP lock notification, you can't use it without verifying your Gmail ID passcode. Therefore, you must devise ways how to bypass Google account verification after reset Samsung.
This section provides ways to do that. Let's have a look:
Way 1. How to Bypass Google Account on Samsung After Factory Reset [Most Effective]
There isn't any internal service or tool built in by the developer that lets you unlock the device in such situations. If you are currently stuck on Google account verification on your Samsung and want to bypass it without effort, the best way is to use third-party software like Android Unlock (for Windows).
It allows you to bypass Samsung phone's Google account verification in mere minutes. By linking the phone to Windows PC, you can easily bypass the Google Account verification after performing a reset with just one or two clicks.
Key Features:
Easy to use even if it is your first time using it.
Quick unlock. The entire process takes only around five minutes.
Rich features. It's equipped with a tool for removing your screen lock and another one for FRP removal.
Expansive compatibility. It supports various Samsung devices.
Below is the procedure on how to bypass Google account verification after reset Samsung S20:
Note:Unlocking your Samsung phone FRP protection involves factory-resetting it first, which leads to loss of data. So, back up your data first.
01Launch the Android Unlock bypass tool on the PC and plug your Samsung phone into it. Next, go to Toolbox and select Screen Unlock. This will open another window.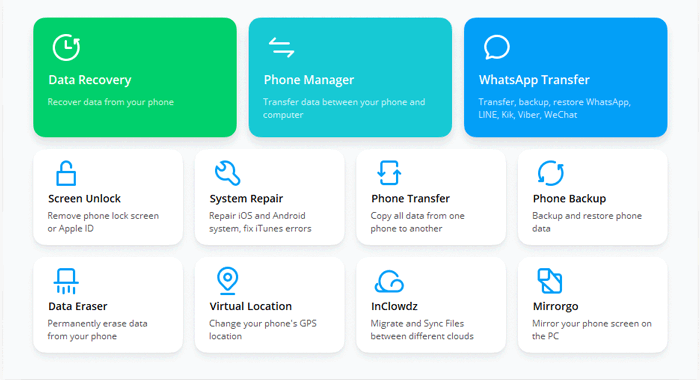 02From the options list, click Unlock Android Screen/FRP to proceed. Next, select the Remove Google FRP Lock option, select Samsung, and then click the Start tab to proceed.
03Click on the All versions of Android (One-Click Removal) option and then hit the Start button on the same page to continue.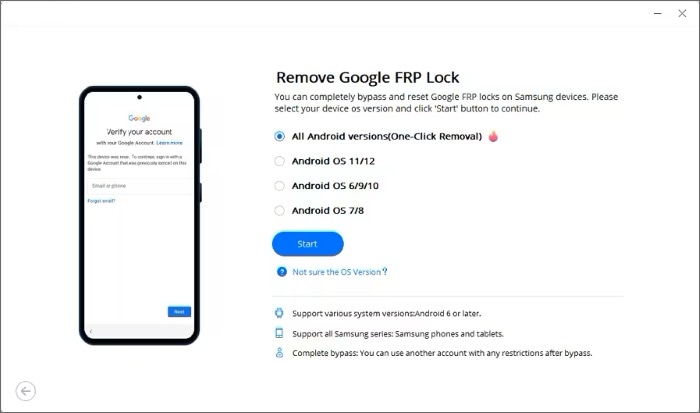 04Now, you'll be directed to a page where you will have to use the instructions on the screen. Go to your Android phone's Emergency Call tab and hit it. Once done, enter *#0*# to access some secret menu. On your PC screen, click Next.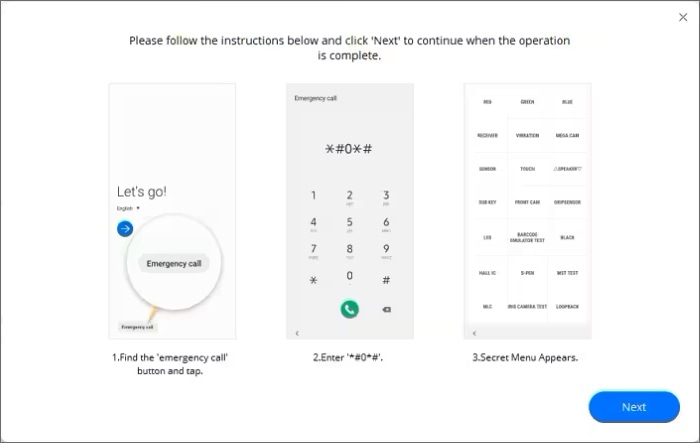 05The Android phone screen will prompt you to enable USB debugging. Once you do so, select the Authorized option on your PC screen. On the next screen, you will see the progress of removing FRP from your phone.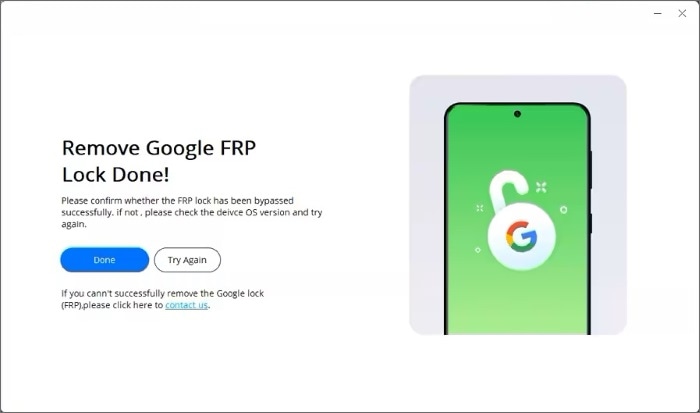 Way 2. How to Bypass Google Lock on Samsung with Google Keyboard
You can also remove Google Account verification on Samsung using Google Keyboard. But, the procedure is long and complicated.
Here are the steps to bypass Google Account Samsung without PC:
Step 1: After factory-resetting your phone, you can set it up again, select your preferred language and link your device to your internet connection.
Step 2: You'll be prompted to activate the device using your Gmail Account. Tap the text box to display the keyboard. Once the keyboard appears, hold the @ button to access the Settings.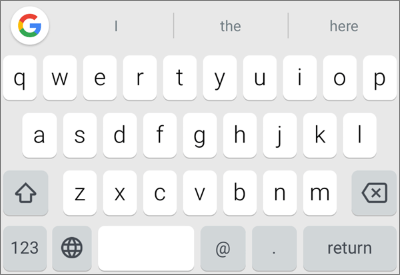 Step 3: Select Keyboard Settings, tap on the three dots on your upper right, and then select the Help & Feedback option. Next, to select a text, tap and hold the screen. Now, on your upper right, tap on Websearch.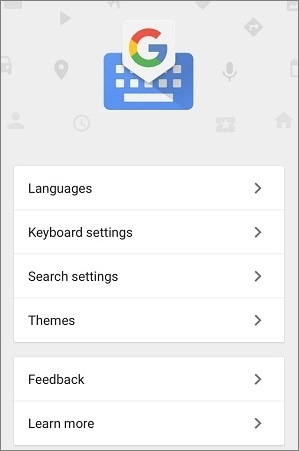 Step 4: Enter Settings on the search box to access the Settings. Once you get to the Settings screen, scroll through and tap on About phone. Select Software information, and you will now see the Build number option. Tap on it seven times to enter the Developer Mode.
Step 5: Return to your previous page and tap on Developer options. Next, tap on the toggle next to OEM Unlocking to turn it on.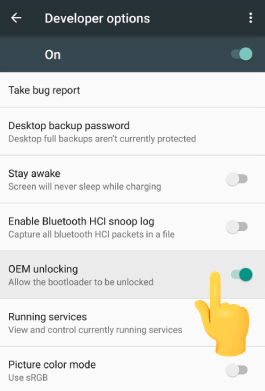 Step 6: Set up the phone without your Google Gmail Account credentials.
Way 3. How to Bypass FRP Lock on Samsung with a SIM PIN Code
This is another workaround to get past the Google lock on a Samsung.
The steps to remove FRP lock Samsung without computer are as follows:
Step 1: Boot your Samsung phone and link it to a strong Wi-Fi network. Tap on your Google account verification screen.
Step 2: Update the store, then wait to finish. Click on the Search bar and search for a Samsung Browser. When you find the browser, update it and then open it.
Step 3: On the updated browser, download a Factory Reset Protection bypass app like Apex Launcher. Tap on Settings and select Biometrics and security. Now, select Other security settings.
Step 4: Enable Pin Windows and select the Use Screen lock type to Unpin option.
Step 5: Now, you can boot your device again normally after creating a new PIN. You won't need to enter your Google account credentials to access your device.
Way 4. How to Unlock Samsung Tablet Without Google Account with Talkback
The Google TalkBack from Google is an accessibility feature built-in Samsung phones running Android 7.0 and 5.0 that lets you bypass your Google verification lock. However, the entire process is complex and long, and its success is not guaranteed. Besides, if you are unfamiliar with the Android interface, it may be difficult to proceed.
But it doesn't hurt to try. These are steps to do FRP bypass Samsung without PC using Talkback:
Step 1: After factory-resetting your device, reboot it and link it to a strong Wi-Fi. Tap your Home button 3 times to access the Talkback. Alternatively, you can tap and hold your Home page with 2 fingers if the Home button is not there.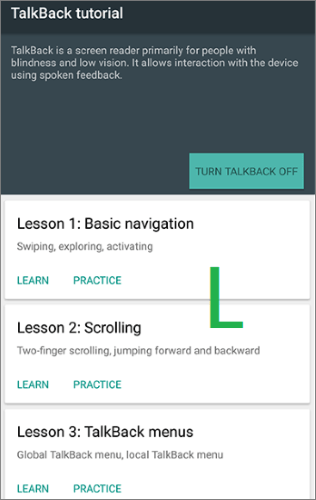 Step 2: Draw the shape of the letter L on the screen of your finger. Next, double-tap the Talkback Settings option from the Global Context's options menu.
Step 3: Once your screen turns dark, tap on Speak. Now, draw another letter, L, on your screen and tap the Pause Feedback Option.
Step 4: Click on Help & Feedback and tap on the search symbol to search for the option. Tap Voice and Get Started with Voice Access.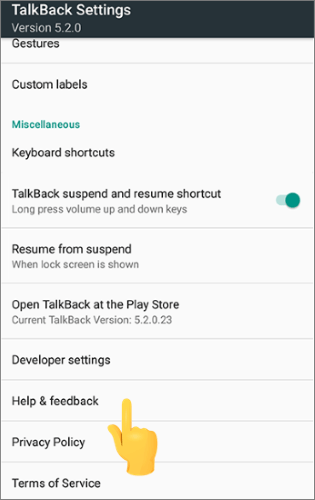 Step 5: You will now see a tutorial in video form. Tap on play. Once the video clip begins to play, tap on the share option and then hit the 3 dots symbol to open it on your YouTube.
Step 6: Once you reach your YouTube page, hit the Profile symbol on your upper right, select the YouTube Terms of Service option, and select your preferred browser to open.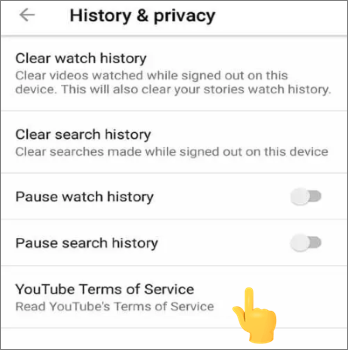 Your Google FRP lock will now be erased successfully.
Way 5. How to Unlock Samsung Tablet Without Google Account via ADB
The ADB utility tool lets you communicate with an Android phone using your computer. To use it, you simply input commands for executing various tasks on your phone. First, you must download and install ADB FRP lock bypass app on your Mac or Windows computer and then follow the steps below for Samsung bypass Google verify process:
Step 1: Open your Samsung phone and link it to computer using USB. Head to that folder you saved the ADB drivers you downloaded.
Step 2: Press and hold your Shift key, right-click on a blank area on your ADB folder simultaneously. On the pop-up menu, choose Open command window here.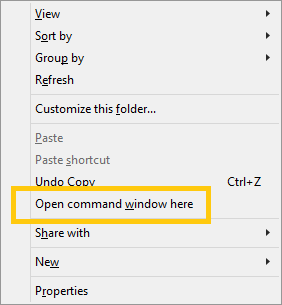 Step 3: Next, input the following command to bypass FRP, clicking Enter after entering the line.
adb shell am start -n com.google.Android.gsf.login/
adb shell am start -n com.google.Android.gsf.login.LoginActivity
adb shell content insert -URI content://settings/secure -bind name:s:user_setup_complete -bind value:s:1
The commands will execute, and the FRP lock will successfully be erased from your phone. That's how simple it is!
Also read:
Best Samsung Unlock Tools to Unlock Your Samsung Phone in 2023
How to Unlock Samsung Tablet without Losing Data? [6 Proven Ways]
Bonus: How to Disable Factory Reset Protection on Your Device
To not encounter the issue of Google locks on your device after resetting it, you should deactivate the feature completely from your device.
Step 1: Open your phone Settings. On the Settings menu, select Accounts. Next, select Google and your Gmail account name.
Step 2: On your top right, select More. Then select Remove Account and then confirm the changes. Your Android FRP lock will now be disabled.
Closing Thoughts
This article has discussed the best ways to bypass Google Account verification on a Samsung device. With the above techniques, you can access your phone without its Google Account credentials after factory resetting it. Of the three methods, Android Unlock (Windows) is the recommended method due to its quick results.
Related Articles:
5 Ways to Unlock Android Phone if You Forgot the Password
How to Unlock Samsung Phone Pattern in 10 Simple Ways?
[Fixed] How to Unlock Locked Android Phone without Losing Data
How to Unlock LG Phone? Check the 6 Methods Introduced Out!
OPPO A3S Pattern Unlock: How to Unlock OPPO Pattern Lock in 4 Hassle-free Ways
How to Get into A Locked Phone with or without A Password? (Full Guide)