If you use an Android phone, you definitely protect your private data from being accessed by unauthorized people using a lock password, pattern, or other lock mechanism. But what would you do as the phone owner if you cannot access the information on your device because you forgot its pattern? Horrifying sensation, isn't it? We will teach you how to crack a pattern lock using different methods in this article. Continue reading the article to learn more:
Part 1. What Is the Most Common Pattern to Unlock Phone?
"A lock pattern is more predictable than you thought," according to the Android Authority. And some patterns are very common to most users. You can use the statistics below to help you try to remember your pattern lock:
44% of smartphone users normally start their pattern locks from the left top corner dot.
77% of people start their pattern in a corner.
Most people use only five dots, and a good number only use four.
Over 10 percent of patterns are shaped like a letter (mostly representing the 1st initial of their names or that of a relative or friend).
Part 2. How to Crack a Pattern Lock?
Below are some easy methods of removing Android phones locks:
Method 1. How to Unlock Pattern Lock via Android Unlock?
Do you want a quick way to remove an Android pattern lock? The most reliable solution is to use a professional Android lock remover tool. One of the most popular Android phone lock remover tools is Android Unlock. This tool removes Android screen locks such as password, pattern, fingerprint, and PIN.
Android Unlock enables you to regain access to your phone without struggling. Whether your Android phone's screen is broken and you cannot draw the pattern, enter a password, or you forgot your Android phone's Lock, Android Unlock will help you solve the problem and enable you regain access to your phone's data with only a few steps.
With Android Unlock's cutting-edge features, you can effortlessly unlock your phone's lock even if you are not an expert computer user. Its intuitive user interface makes user navigation very easy. Below are some key features of Android Unlock:
Support different types of lock screen protection such as pattern, PIN, fingerprint, and password.
Detect device automatically and supports all Android devices.
100% secure, with no data loss while unlocking the lock screen.
Easily usable, requiring only a few clicks.
Click the button below to download Android Unlock.

Free Download for PC
Follow these steps to unlock your phone with Android Unlock:
01Begin by downloading, installing, and launching Android Unlock. Now hit the "Unlock Android Screen" choice from the two options.
02Select the correct device's information from the screen that appears. Check on the agreement asking you if you want to proceed and click on the "Next" button.
03Put your phone into its download mode.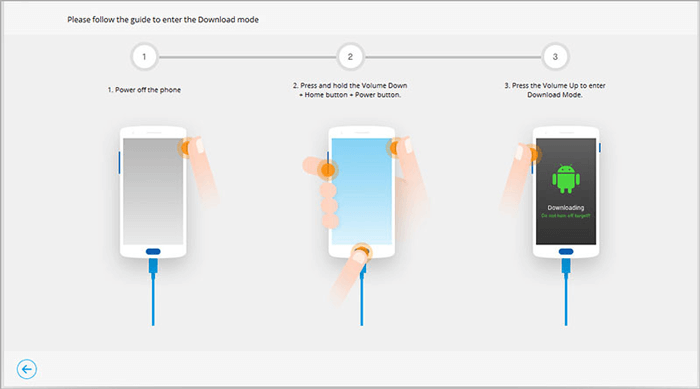 04You will now view the progress of the unlocking process on the progress bar. The files and drivers needed to unlock your phone are downloaded at this step. Then, you will get a process completion interface.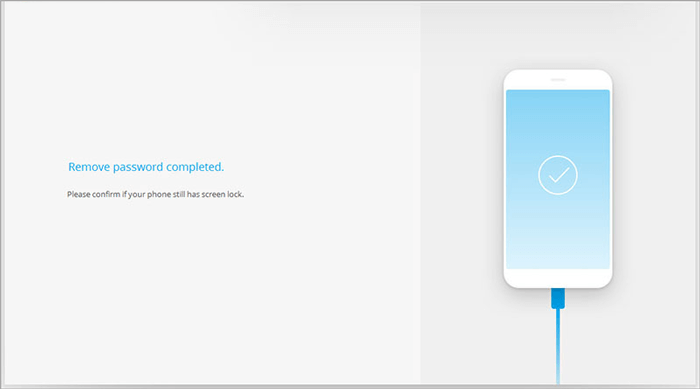 Read More:
How to Unlock Samsung Phone Pattern in 10 Simple Ways?
OPPO Pattern Unlock: How to Unlock OPPO Pattern Lock in 4 Hassle-free Ways
Method 2. How to Remove Pattern Lock on Android Phone Using Google Account?
Did your friend, family member, or colleague forget his/her Android phone's pattern, PIN, or other screen locks? One way how to unlock someone's phone pattern is through a Google Account. You can effortlessly crack the pattern lock with a Google account linked to the device without losing data. Sounds amazing, right? Follow the simple steps shown below:
Step 1. Attempt your pattern five times randomly. This will make the "Forgot pattern" option visible on your screen. Tap on it when it appears.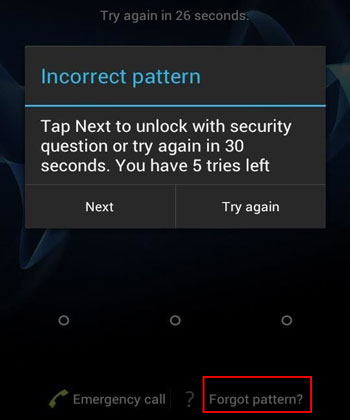 Step 2. Log in to the Google account attached to the phone by entering your Google ID and password as prompted. Lastly, tap "Sign in". The phone will now validate your credentials and, once done, will reset your screen lock, allowing you to access the device normally.
Method 3. How to Unlock Phone Pattern via Find My Device?
Google's Find My Device feature enables you to unlock your pattern without resetting or losing data and allows you to locate your device in case it is lost. This section will guide you how to bypass your pattern lock through Google Find My Device. Read through the simple steps below to know how to unlock pattern lock using the Find My Device app:
Step 1. Open the Find My Device website and log in to a Google Account already synced with the locked device.
Step 2. Choose the locked device on the Find My Device page and click the "Lock" button.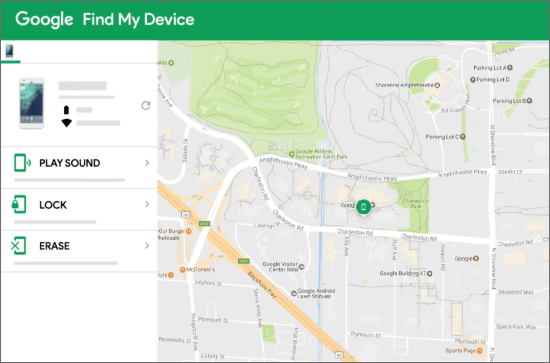 Step 3. Enter a new password and click "Lock over" again.
Step 4. Open the locked device and input your password. It will work now.
May Like:
Forgot Pattern Lock? Here's How to Unlock Pattern Lock on Android
HTC Pattern Lock Bypass: How to Unlock HTC Phone Forgot Password
Method 4. How to Unlock Android Device's Pattern Lock Using Factory Reset?
If you are an Android user, factory resetting is the first technique that comes to your mind when you want to bypass your screen pattern lock. Well, you are right though using this technique may lead to losing your important data. Therefore, you can only comfortably use this method if you don't have important data saved on your storage. Here's how to crack your pattern lock:
Step 1. First, switch off your device and hold down the "Home + Volume Up + Power" keys simultaneously to restart it. Hold down the keys until the device's boot animation appears on the screen.
Step 2. You will now get some options. Using the volume buttons, select "wipe data/factory reset". Next, tap on the "Power" option to confirm.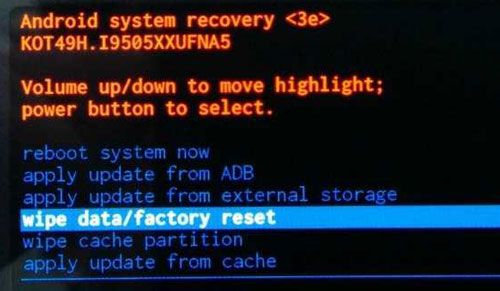 Step 3. Finally, select "Delete all user data" and click the "Power" tab. Once done, restart your device.
Can't Miss:
How to Fix Android Touch Screen Not Working - Can't Unlock Issue In Minutes? (15 DIY Tips)
[Fixed] How to Unlock Locked Android Phone without Losing Data
Method 5. How to Unlock Pattern Lock Using Backup PIN?
If your Android phone is running Android version 4.4 or previous, this method will suit you. When you create a pattern screen lock on your phone, it asks you to provide some backup PIN if it is the first time. If you ever forget your pattern, the backup PIN will help you unlock your device.
Step 1. Try unlocking your phone by entering any pattern randomly.
Step 2. Once you have entered the wrong pattern, you'll get the prompt.
Step 3. Hit the "Backup PIN" tab. In some phones, it's found under "Forgot Pattern".
Step 4. Enter the backup PIN you created before to unlock the device.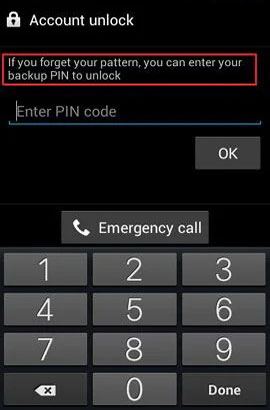 Note: Ensure you remember your Android backup PIN, or else this technique will not work. Also, ensure that the version of the Android OS on your device is Android 4.4 or older.
Method 6. How to Remove Pattern Lock on Android Phone Using ADB?
This is another way how to open phone lock. If you're tech guru and well conversant with commands, this method will be the most convenient. Every technique requires some prerequisites, right? And this method is not an exception. You must ensure "USB Debugging" is enabled on the phone and have granted the right permissions to computer which you intend to link your PC to and crack your pattern lock through ADB. Get the issue fixed in just a few steps:
Step 1. Connect your device to your PC via a USB data cable. Next, hold down your "windows" key together with "R" key, and you will see a "Run" output box on the screen. Now, you can release the keys and type "cmd" within the text box available. Next, click "OK".
Step 2. Punch in the "adb shell rm/data/system/gesture.key" command on a Command Prompt page that appears. Ensure you type the given command correctly, and then select the "Enter" button on the keyboard.

Step 3. Restart the device, and you will find that the lock screen password or pattern is no more. But wait, it is temporary, so ensure you reset the pattern screen lock before rebooting the device.
Further Reading:
How to Unlock Android Phone Password without Factory Reset [6 Ways]
Android Unlockers: Top 8 Android Phone Unlocking Software
Conclusion
Now you know how to unlock any phone pattern using the methods discussed in this article. However, professional phone unlocker tools such as Android Unlock make how to remove pattern lock a breeze. We recommend using Android Unlock software to remove Android phone locks since it is secure and easily usable.
Related Articles:
How to Bypass LG Lock Screen without Reset? [Solved]
8 Top-ranking iPhone Unlock Software to Unlock Your iPhone without Passcode
How to Bypass Android Lock Screen without Google Account in Top 6 Ways? (Proven)
How to Get into A Locked Phone with or without A Password? (Full Guide)
6 Powerful Android Lock Screen Removal Software for PC & Mac
How to Unlock Vivo Phone if Forgot Password, Pattern or PIN? [Solved]