What to do if you forget iPad password? Passwords are very important security feature on our devices as they help safeguard the files stored on them. A password should be easier to remember but hard for others to guess. You can create a stronger passcode consisting of numbers and letters.
But, if you set a complex password, remembering it may be problem. With time, you will likely forget it, or in the worst cases, you will get locked out of your iPad completely when you enter incorrect passcodes many times. If you're in such a situation, worry not, as we will show you the way out of the issue. You will learn the best tricks to unlock your iPad if you forgot iPad password. So, keep reading to grasp these important tricks to unlock an iPad when you forget the password.
Part 1. How to Reset iPad If Forgot iPad Password
What can I do if I forgot my iPad passcode? Don't worry. We introduce four effective methods in this part to solve this problem. Let's explore together.
Method 1. How to Unlock iPad If You Forgot the Password with iOS Unlock
When you forget your iPad's passcode and want to unlock it, you should use iOS Unlock. It should be your top priority when facing screen lock issues. It's an exceptional tool to resolve all major screen lock issues on any iOS device. For example, the software can remove any lock screen on iPad, iPod Touch, and iPhone. Also, it can remove Face ID, Apple ID, and more from your iOS device without a password. The simple step-by-step process is straightforward and you don't need to have tech skills to use it. Therefore, whenever I forgot my iPad password, the iOS Unlock is the first tool that comes to mind. It unlocks an iPad without a password in just minutes.
Key Features:
It is simple to use and unlock your iPad.
Unlock all types of screen locks on iOS devices.
Don't need technical knowledge, and anybody can use it efficiently.
Unlock iCloud activation locks to enjoy iCloud services.
Remove any MDM profile and lock without your files getting lost.
Here is what to do when you forgot your iPad password and want to unlock it:
01 Install the software on a PC. Run it to get to the primary interface. From there, select the Screen Unlock from the options. Take a USB wire and link the iPad to the same PC. Choose the Unlock iOS Screen option from the main interface.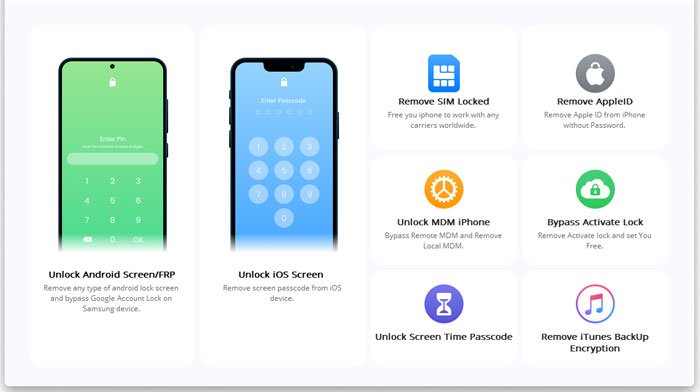 02From there, boot the iPad into Recovery Mode by following the instructions on the screen. It is best to use Recovery Mode when unlocking the iPad.
03When in Recovery Mode, you will see all the details about your iPad will show on the screen. Check if the details are correct. If it is not, select the right info from the menu. Afterward, press the Download tab to download the correct firmware for the iPad.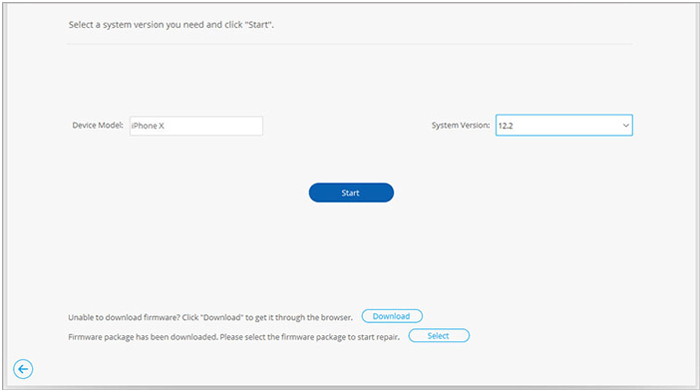 04After downloading the firmware, hit Unlock Now to unlock the iPad. Wait patiently as the device gets unlocked; ensure it connects the whole time. However, notice that the files will be wiped out after the unlocking procedure. So, back up your iPad if you want to access the files later.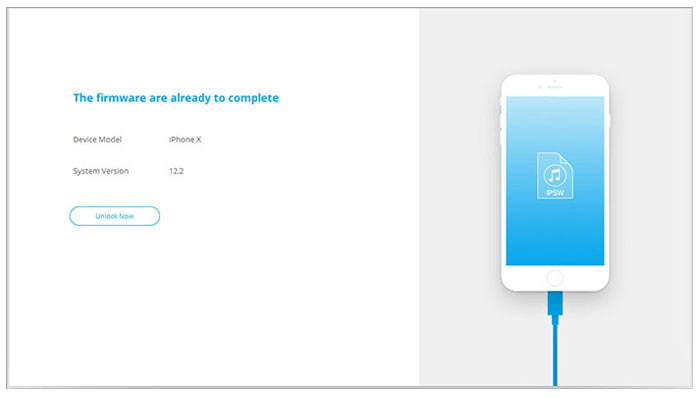 Further Reading:
How to Remove Forgot iPhone Passcode without Restore? (3 Simple Ways)
[Simple Guide] How to Delete Apple ID without Password on iPhone?
Method 2. How to Reset Forgotten Password on iPad Using iTunes
How to reset iPad if you forgot password? iTunes comes to your rescue when resetting an iPad whenever you forget the password. It's like a universal resolver for most problems affecting iOS devices. It can help reset an iOS device completely, removing the locks on iPads. You can reset an iPad's password when it is already synced to iTunes or without syncing it.
2.1 When iPad is synced with iTunes
If you already sync your iPad with iTunes, recovering it will be very easy. You may reset it without losing your data since you'll restore it while setting it up after the recovery.
Here are the steps to reset an iPad via iTunes when it's already synced:
Step 1. First, link the iPad device to the PC using a lighting cable. The computer you use should have already been synced with the iPad.
Step 2. Next, run iTunes, then wait for the device to sync and back up.
Step 3. After backing up and syncing the iPad, click on the Restore iPad tab to delete all data from the iPad together with the settings.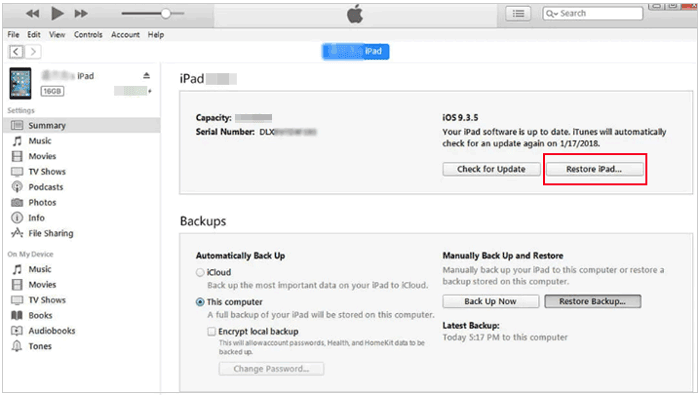 Step 4. Next, set up the iPad, then proceed to Apps & Data setting and select Restore from iTunes Backup. When done with the setup, you'll reach the iPad's screen without typing in the password.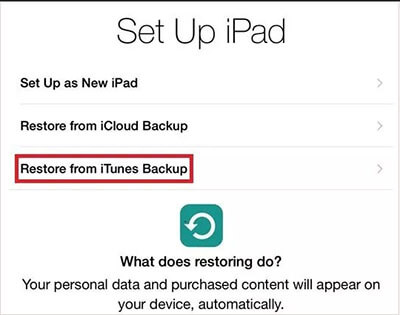 2.2 iPad didn't sync with iTunes
You can still reset your iPad device without a passcode if you didn't sync it with iTunes. You may use the recovery Mode to reset the device. However, all your data, as well as the settings, will be lost. All the settings will get deleted, but you can unlock the iPad when you forgot iPad pin. The below steps will help when iPad lost password:
Step 1. Long press the Home+Power keys until the Apple logo appears.
Step 2. After connecting the iPad with iTunes, you will get an alert that the iPad is detected. Tap the Restore tab, follow the on-screen prompts, and set up the iPad.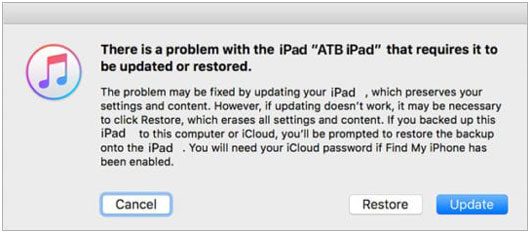 Before resetting the device in recovery mode, ensure your back up data. You may restore the device while setting it up. You just have to sign into your iCloud account and select the file you have backed up. This way, restoring the files to your iPad will be much easier.
You May Like:
How to Unlock a Stolen iPhone without Passcode in 3 Ways?
How to Unlock iPhone with Broken Screen
Method 3. How to Recover iPad Password with Erase Option (iPadOS 15.2 and Above)
How to Reset password in iPad? Apple is unfailing to develop newer ways and capabilities for its devices. iPad users can now reset their forgotten passwords, thanks to the Erase iPad functionality available on iPadOS 15.2 and later. This option comes when you enter an incorrect password many times. You will see the 'iPad Unavailable' on the screen and 'Erase iPad' at the bottom. Here are steps on how to recover the iPad password:
Step 1. Click on the Erase iPad option, which is found in the lower section of the screen.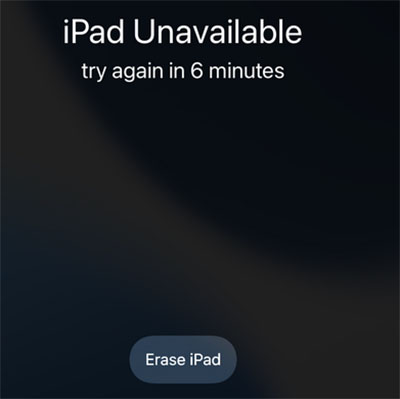 Step 2. Click on Erase iPad again when you see the Erase All Content on the top of the screen.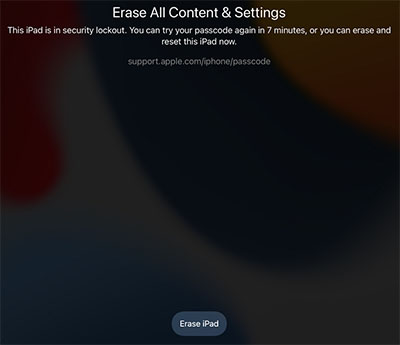 Step 3. Enter the Apple ID passcode to log out of iPad.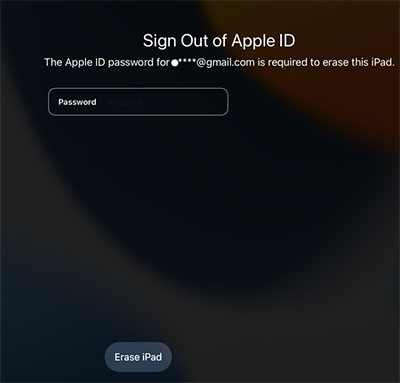 Wait for the process to finish and later on set it up.
Learn More:
4 Methods to Remove Apple ID from iPad without password (Easy & Quick)
iPad Won't Slide to Unlock? Here are Practical Fixes
Method 4. How to Find iPad Passcode Using iCloud
Can't remember iPad password? Forgot iPad passcode? If you've forgotten your iPad passcode and want to regain access to your device, you can use iCloud's "Find My" feature to remotely erase your iPad and remove the passcode. However, please note that this method will erase all data on your iPad, and you will need to restore from a backup afterward. Here's how you can find your iPad passcode using iCloud:
Step 1. Open a web browser and go to https://www.icloud.com/. Sign in using your Apple ID and password.
Step 2. On the iCloud homepage, click on Find iPhone. In the top center of the page, click on All Devices. From the list of devices, choose your iPad.
Step 3. After selecting your iPad, a window will appear with several options. Click on Erase iPad.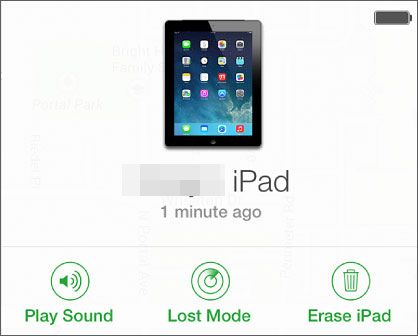 Step 4. Once the erasure is complete, you will be prompted to set up your iPad as new. Follow the on-screen instructions to proceed. During the setup process, you will have the option to restore your iPad from a previous iCloud backup. Choose the most recent backup available to restore your data.
After restoring from a backup, you should have access to your iPad without the passcode. Keep in mind that this method requires Find My to be enabled on your iPad, and your device must be connected to the internet for the erasure to take effect.
Also Read:
How to Remove Activation Lock without Previous Owner
How to Bypass iPhone Passcode Step by Step? (5 Amazing Ways)
Bonus: What to Know Before Unlocking iPad Without Passcode
Resetting does not unlock an iPad device. You've forgotten the password. The best and only way to remove a lock on your iPad is by erasing all its files. Therefore, it is good to back up your iPhone before unlocking your iPad without a password. If you don't backup data, you risk losing all of it forever. So, as a great measure, ensure you back up the data in a good place to restore it.
Conclusion
Unlocking an iPad without a passcode can be a piece of cake when you know what to do. Follow the steps outlined above to remove the lock from your iPad and regain access. You don't necessarily require a software or computer to carry out the process. However, you should use iOS Unlock, the ultimate unlocker tool, in case you forgot password on iPad. It is easier to use and works at lightning speed, and in minutes, your iPad will be unlocked conveniently.
Related Articles:
5 Ways to Unlock Android Phone if You Forgot the Password
How to Access a Locked Android Phone via USB? [Solved]
How to Bypass LG Lock Screen without Reset? [Solved]
8 Top-ranking iPhone Unlock Software to Unlock Your iPhone without Passcode
Top 11 iCloud Bypass Tools: Remove Your iCloud Activation Lock
How to Unlock Apple ID without Phone Number or Password in 5 Proven Ways?