For the safety of your files, it is mandatory to lock your iPhone by setting up a screen passcode. This means that before anyone can access your device's data, they must enter the correct passcode. But, sometimes, we find ourselves forgetting our passcodes, especially when we haven't used the device for a long time. So, what to do if you forget your iPhone password? There's no need to worry if you forget your iPhone passcode. This guide has all the information to help you get out of this blunder. Keep reading to learn how to unlock an iPhone when you forgot the password.
Part 1. I Forgot My iPhone Passcode. Can I Unlock It?
Yes. You can unlock the iPhone passcode. There are ways to unlock your iPhone even if you've forgotten the passcode on your iPhone and it is locked. Apple's recommended solution is to reset the device to its factory settings, which will also erase the passcode. However, some people find this strategy not pleasing and may result in unexpected problems that can do more harm than good. But don't sweat it. We have provided alternative methods to unlock your iDevice if you forgot your iPhone passcode. On top of that, there is a professional tool to use when you forgot passcode on iPhone. So, stay tuned as we surf through.
Part 2. What To Do When You Forgot Your iPhone Password
It is common to forget your iPhone passcode, but it doesn't mean you can remove it. You can employ several tricks when you get locked out of your iPhone passcode. Here are the tips if you forgot your iPhone passcode and want to unlock it.
Method 1. How to Unlock iPhone Passcode Using A Professional Software
iOS Unlock is a professional software that can unlock your iPhone's password with much effort. It effectively unlocks screen locks on iOS devices, such as the iPhone, iPad, and iPod. By installing it on your computer, you can easily remove any type of passcode. It can remove all types of passwords, be it 4-digit or 6-digit passwords, Face IDs and even Fingerprints. After unlocking your iPhone, you can use it on any carrier you want.
Key Features:
Unlock all types of iOS screen locks.
Unlock Touch ID, Face ID, Screen Time Password, and iTunes Backup Passcode without password.
Remove MDM profile and lock without losing data.
Check how to unlock the iPhone passcode using iOS Unlock:
01Launch the iOS Unlock application on your computer after installing it. Next, from the home page, choose Screen Unlock in the options. Connect the device with a USB cord and choose Unlock iOS Screen from the screen.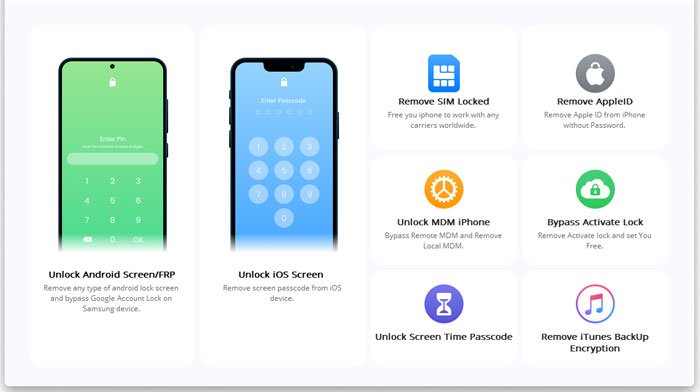 02Next, boot your iPhone to Recovery mode using the on-screen instructions. Recovery mode is the best mode to use when unlocking your iOS lock screen.
03Once you have entered DFU mode, the program will display your device's information, such as the Device Model and Version. If this information is incorrect, you can select the right info from the menu. After that, simply click the Download button and the firmware for your device will be downloaded.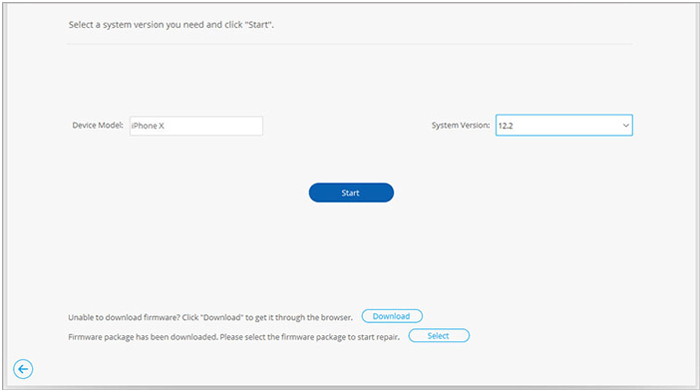 04Once the firmware has been downloaded successfully, click on Unlock Now to unlock your device.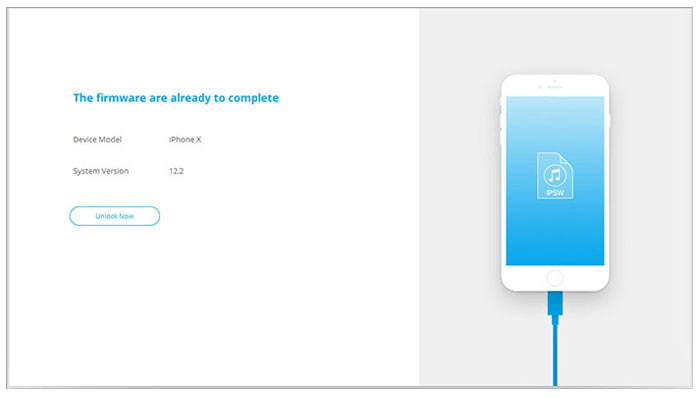 Your iPhone will be unlocked soon, but please be aware that this process will erase all of your user data.
Learn More:
How to Unlock Huawei Phone without Resetting? (Huawei P50/P40/P30/P20 Supported)
5 Ways to Unlock Android Phone if You Forgot the Password
Method 2. How to Unlock Forgotten iPhone Password via iCloud
iCloud is a wonderful service that enables users to erase their devices. We can say it is an official way to unlock an iPhone when you forget your password through the Find My feature. However, ensure the device is connected to a network and that the Find My feature is enabled. The best part is that you can conduct this process remotely. Here's how:
Step 1. Go to the iCloud website and sign into your account. After that, tap on the main menu at the top right corner.
Step 2. Select your iPhone from the available list of devices. Then, click the Erase iPhone tab and enter your Apple ID passcode to disable the Find My feature.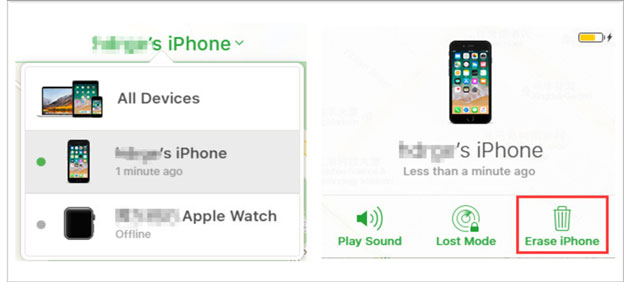 Step 3. Tap Next, then follow the instructions on the screen. After the erasing process is done, proceed to set up your iPhone.
You May Like: Top 11 iCloud Bypass Tools: Remove Your iCloud Activation Lock
Method 3. How to Unlock iPhone Passcode Using the Security Lockout Feature
Apple has introduced a new feature in iOS 15.2 called Security Lockout. This feature enables you to unlock your iPhone without using a computer or iTunes. If you enter an incorrect passcode seven times or more, the Security Lockout screen will appear on your iPhone. It will display an option to erase your iPhone in the lower right corner. Here is how to reset your iPhone when you forgot your password:
Step 1. Ensure the iPhone is connected to WiFi. Before erasing your iPhone, ensure it is connected to a WiFi network.
Step 2. Click Erase iPhone and tap again to confirm the action.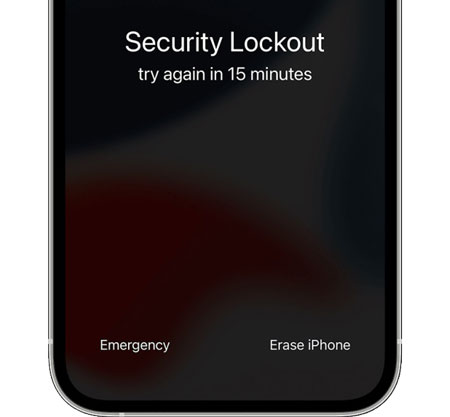 Step 3. Enter the Apple ID password to sign out of your Apple ID. Enter your Apple ID and passcode to erase all content and settings on an iPhone. Once done, set up your device.
Also Read: How to Bypass iPhone Passcode Without Losing Data [Full Guide]
Method 4. How to Reset iPhone When You Forgot Your Password via iTunes
If you have forgotten your iPhone passcode and are unable to access your device, you can use iTunes to unlock your iPhone by restoring it to its factory settings. However, this process will erase all data on your iPhone, so it's important to back up your iPhone data if possible. Here are the steps to unlock your iPhone passcode via iTunes:
Step 1. Connect your iPhone to your computer using a USB cable and launch iTunes. Select your iPhone icon from the top-left corner of the iTunes window.
Step 2. Click on the Summary tab in the left sidebar of the iTunes window. Click on the Restore iPhone button. If prompted to back up your iPhone, choose Back Up Now to save a backup of your iPhone data before proceeding.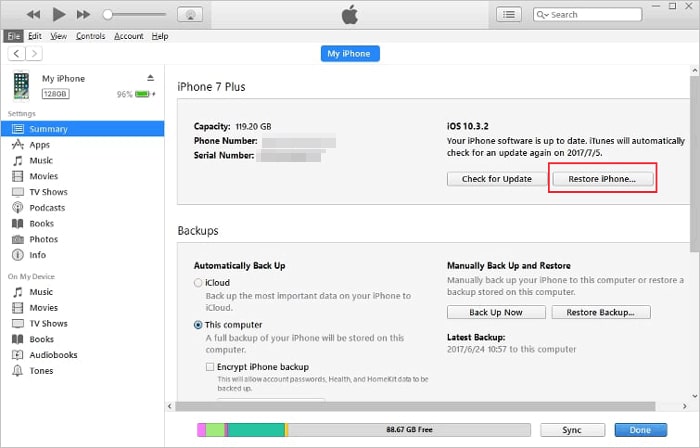 Step 3. iTunes will download the latest iOS firmware for your iPhone and restore it to its factory settings. This may take several minutes.
Step 4. Once the restore process is complete, your iPhone will restart and you will see the Hello screen. Follow the on-screen prompts to set up your iPhone as new or restore from a backup.
Once the restore process is complete, your iPhone passcode will be removed and you can access your device without entering a passcode. However, keep in mind that all data on your iPhone will be erased, so it's important to have a backup of your iPhone data if possible.
Further Reading:
How to Remove Device Supervision from iPhone via 4 Secure Methods
8 Top-ranking iPhone Unlock Software to Unlock Your iPhone without Passcode
Extra Tip: What to Know Before You Unlock iPhone Passcode
If you can't remember your iPhone passcode, avoid continuously guessing and entering the wrong one to prevent getting locked out for longer.
Apple takes iPhone security seriously with iOS military-grade encryption that makes it impossible for anyone to access your phone without your screen passcode, not even you. If you forget your passcode, the only way to access your phone is to reset it, and if you usually back up your data, just restore it. Remember, it's impossible for anyone to unlock their iPhone passcode without restoring it or losing data.
Conclusion
I can't remember my iPhone passcode; what should I do? We have outlined the most effective ways to unlock iPhone passcode. If you have previously backed up your device on iTunes or iCloud, you can restore it after unlocking your device. iOS Unlock is an excellent tool that offers hassle-free solutions to reset your iPhone passcode. Try it today and get your device back up and running in no time.
Related Articles:
[Simple Guide] How to Delete Apple ID without Password on iPhone?
How to Bypass LG Lock Screen without Reset? [Solved]
How to Unlock a Stolen iPhone without Passcode in 3 Ways?
4 Methods to Remove Apple ID from iPad without password (Easy & Quick)
How to Unlock iPod touch without Password (Solved with 4 Ways)