Supervision, also known as supervised mode, is a unique tool for institutions and businesses to maintain their iOS devices. With supervision in place, administrators can easily keep track of device compliance with organizational regulations and rules while having more control over the devices than before.
iOS devices are not automatically supervised, but administrators can easily enable it when setting up the device with either Apple Configurator or any other supervising tool. Fortunately, you have options to utilize your device without any restrictions. In this article, we'll explain how to remove device supervision from iPhone and iPad while unlocking all its features and settings. Keep reading for more information.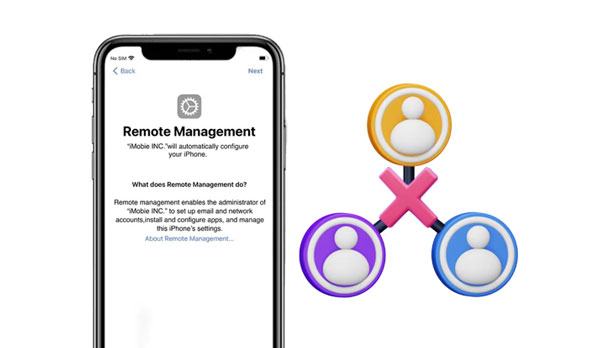 Part 1: The Meaning of iPhone Supervision and How Organizations Use It
MDM is an iOS feature that limits your access to an iPhone/iPad. The administrator can lock and unlock it and employ remote control over the phone's email accounts, passwords, Wi-Fi network, and more. With this tool at the helm of protection against unwanted intrusions into iPhones or iPads, we are sure of a worry-free experience with all our data safely secured from any form of harm. Organization uses the iPhone supervision feature in the following ways:
1. To Monitor Activity
By providing supervision, businesses can monitor how their employees handle company devices. Restrictions can be set to regulate the applications and websites available on each device and track usage levels of various programs or web pages. Supervision tools offer organizations a powerful way of ensuring quality performance from their personnel using digital tools.
2. To Secure Data
Companies can safeguard their confidential data with iPhone supervision. Administrators are empowered to take prompt action with the remote control feature if any suspicious activity is detected from a device. Moreover, passwords and encryption can be set up to ensure that sensitive information remains protected against unauthorized access or theft.
3. To Restrict Access
Companies can maintain control of their employee devices by limiting certain features. Supervisors might restrict the downloading of third-party applications or forbid access to specific websites, thus ensuring uninterrupted business operations and guarding against malicious attacks on data.
4. To Track Location
Supervision allows organizations to keep a close eye on their personnel. Utilizing GPS tracking, administrators can accurately measure how long an employee remains away from the workplace and precisely where they are at any given moment.
Part 2: How to Know If Your iPhone or iPad Is Being Supervised
If you received an iPhone or iPad from your organization, it is most likely locked via remote management. Supervised devices are monitored, and their features are restricted for use in specific ways. This means the device is regulated, only allowing full access to some of its capabilities.
How do you know whether supervision is enabled on your iPhone or iPad before attempting to learn how to remove device supervision from iPhone? Follow the below simple steps to know if the iPhone/iPad is under supervision or not:
Step 1: Launch the "Setting" application on the device.
Step 2: Tap on the "General" button, hit on the "About" button, and you will see a "This iPhone is supervised and managed by (Company name)" message.
Step 3: To discover which features have been changed, visit the "General" tab and click "Profiles" and "Device Management".
Step 4: If a profile is installed, click on it to view the alterations. Once you identify the alterations that have been made, you can begin to take the necessary steps on how to remove device supervision from your iPhone.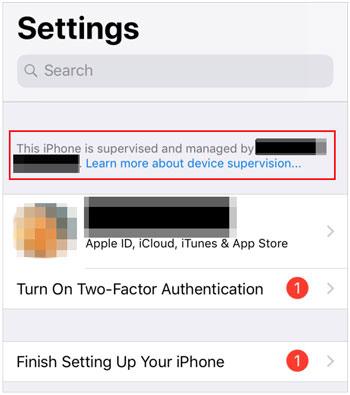 Read more: Want to get more practical unlocking tools for iOS devices? Then you can refer to this list, including 8 top-ranking programs.
Part 3: How to Remove Device Supervision from iPhone or iPad
You can remove iPhone supervision by removing the related profiles and restrictions. The process is simple, but how it works depends on how your organization has set up its supervision profile. To help you out, here are the most common ways of removing device supervision from an iPad or iPhone.
Method 1. How to Unlock Supervised on iPad Using iOS Unlock (Easiest)
Do you want to remove the infuriating remote management iPhone lock from your iDevice? iOS Unlock software is here to help. This top-rated program was explicitly designed with a suite of powerful features tailored for all your Apple device needs. You can bypass MDM locks and phone management set up by schools, universities, or other organizations without the need for any usernames or passwords.
iOS Unlock is suitable for all recent models of iPhone and iPad. It's a simple-to-use application that can help you bypass the device management lock on your iOS device within minutes. Additionally, it can help you remove the screen lock from your iOS device.
Below are the main features of the iOS Unlock software that make it a great solution:
* Eliminate your MDM profile with complete data preservation to get rid of the device supervision on an iPad or iPhone.
* Unshackle your devices from every form of lock screen with ease, whether it's an iPad, iPhone, or iPod touch.
* Instantly break through the barriers of iTunes Backup passwords without the need for a password.
* Easily unlock your iCloud activation without the need to jailbreak.
* Unlock your iPhone without carrier restrictions.
* Involve only three steps without the need for any technical knowledge.
Download this iOS Unlock software.
Remove the iPhone device supervision with ease using this program:
01Install iOS Unlock on Your PC
After that, launch the iOS Unlock application on the computer and select the "Screen Unlock" option from the available options.
02Connect Your iPad or iPhone to a Computer
Use a lighting cable to connect your iOS device to the computer and click on the option called "Unlock MDM iPhone". Then click "Remove MDM" > "Get Start".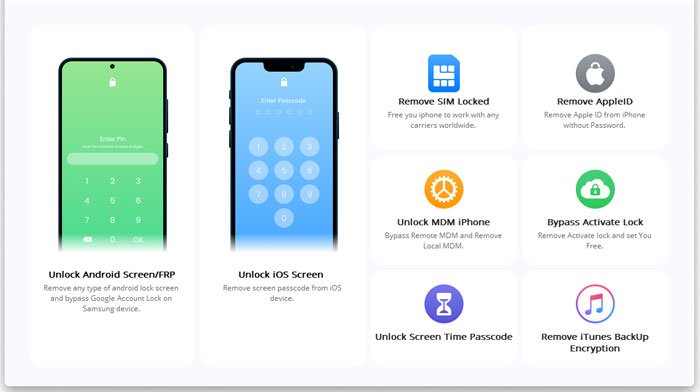 03Remove Restriction Code on Your iPhone
To confirm the process, click the "Start to Remove" button. Make sure to deactivate "Find My iPhone" on your device if enabled. Next, your iPhone will restart, and the MDM is removed.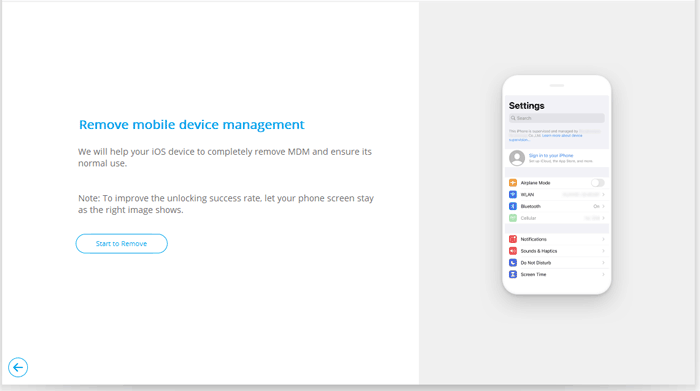 You might need: How to Unlock iPhone without SIM Card? [Updated Tutorial]
Method 2. How to Get Rid of Device Supervision through Settings
In the situation where you have the MDM profile on your iPhone, you can remove the device supervision from your iPhone/iPad via the Settings application. However, you must have the MDM password to use this method.
Follow the below steps to learn how to unlock the supervised iPad if you have the MDM password:
Step 1: Launch the "Settings" application on the iPhone.
Step 2: Navigate to the "General" tab, move down and tap on the "Device Management" button.
Step 3: If your phone is equipped with an MDM profile, it will be displayed. To remove the management function, click the "Remove Management" button and confirm by pressing again for confirmation when prompted.
Step 4: To progress, enter the MDM management password and press "Enter". Now you have removed the device supervision.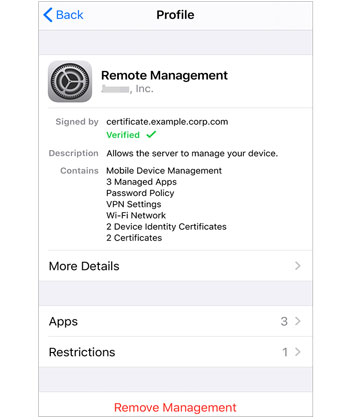 NB: Before removing remote management from your device, back up all of your valuable data on your iOS device.
Perhaps you wonder: How Much Does It Cost to Unlock an iPhone 14/13/12/11? [Ultimate Guide]
Method 3. How to Take Off Device Supervision on iPad by Contacting Administrator
Knowing the username and password for your iPhone's or iPad's device management profile is key to logging into a device. If you don't know them, try contacting an administrator for assistance. Depending on your situation, they may provide you with the credentials or directly remove device management. Consequently, it's wise to reach out to administrators when there is a legitimate need.
Method 4. How to Turn Off Device Supervision on iPad Using Configurator 2
Apple Configurator 2, a powerful and free Mac application, is specially designed for IT administrators. Through the USB connection, users can swiftly configure a single device or even large quantities of devices in no time. With this phenomenal application, you can update software packages, install applications and configurations on the profiles, alter wallpapers, export your device's information, and more. Make your job as an administrator easier with Apple Configurator.
If you want to delete the iPhone's supervision status from your devices, keep in mind that all settings and content will be wiped out. This includes any applications or media stored on the device. Therefore, take a backup of your device before removing the supervision profile. Note that backups taken from supervised iPhones can only be restored to another supervised device for security reasons. Follow the below steps to learn how to use configurator 2 to remove supervision from your iPad or iPhone:
Step 1: Launch Configurator 2 application on the PC.
Step 2: Choose your iPhone, choose the "Action" option, tap on the "Advanced" option, and tap on the "Erase All the Settings and Content" button.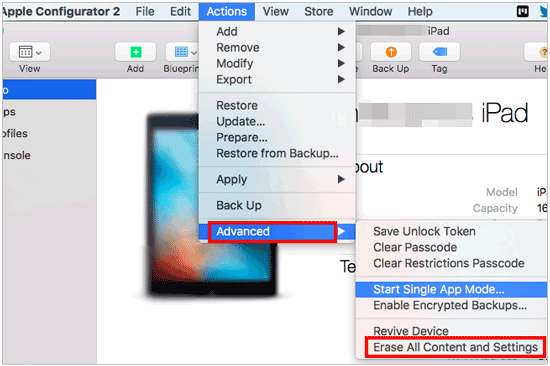 Note: Can I remove MDM by factory resetting my iPhone/iPad?
A factory reset will wipe out every trace of your data, including any MDM. To perform this action, you must enter the password associated with it.
If you follow the steps outlined above, you can easily disable any supervised status in iOS from the iPhone/iPad and reset it to its original factory settings. Nonetheless, Configurator 2 is only available for IT administrators. Thus, please connect with the person who supervises the iPhone first before starting this process.
Conclusion
Most people feel uneasy when outsiders can control their phones, so we have shown you how to remove remote management from iPhones and iPads. For your protection, we highly suggest taking advantage of iOS Unlock, an efficient and easy-to-use tool that can address the supervision from your iOS device with a single click. Download it now to experience freedom on the iPhone or iPad.
Related Articles:
How to Retrieve Deleted Text Messages on iPhone with or without Backup
How to Fix iPhone Grey Screen of Death By Yourself? (8 Solutions)
How to Transfer Data from iPhone to Laptop? (6 Proven Ways)
6 Brilliant Ways to Recover Deleted Instagram Photos on iPhone without Pain
[Fixed] How to Recover Deleted Videos from iPhone 14/13/12/11 with or without Backup?
[Solved] How to Transfer iPhone Photos to SD Card with Original Quality?