"Forgot my iPhone passcode, what should I do?"
"Is it possible to retrieve iPhone passcode without losing data?"
"How to recover iPhone passcode without losing data?"
"How to unlock iPhone Security Lockout without erasing data?"
...
With the many passwords we use regularly, it's common to get confused and forget our iPhone passcodes. As such, how to bypass iPhone passcode without losing data is among the most commonly asked questions on the internet today. Fortunately, with some simple tricks, you can unlock your phone without losing any of your important data. Let's dive into this guide further.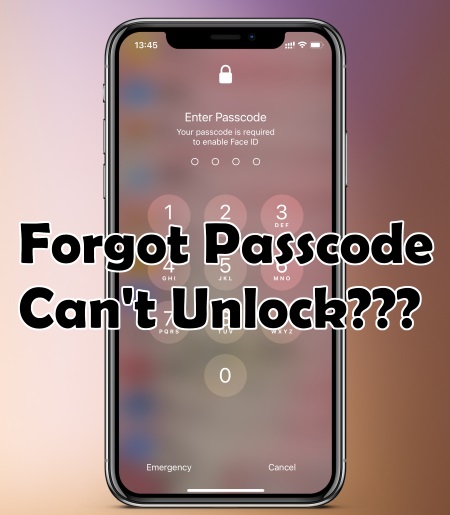 Part 1. Can I Bypass my iPhone Password Without Losing My Data?
If you have created a backup before forgetting your passcode, you are sure your files will be safe when removing the passcode. When sure the backup is available, you may restore it later after resetting your iPhone to its factory settings. Actually, this is the only indirect answer of the question "how to bypass iPhone lock screen without losing data". Otherwise, you'll lose everything on your iPhone after unlocking it without a passcode.
Without further ado, let's take you through the tricks on how to unlock iPhone without a passcode without losing data.
Part 2. Unlock iPhone Without Erasing Data with Backup
One approach to unlock iPhone without passcode without losing data is when you have a backup to easily restore it after you do away with the lock. We'll show you the best tricks to get it done.
2.1 How to Unlock iPhone Without Erasing Data Via iCloud
One first technique is utilizing iCloud. This is a great solution for those stranded on what to do with their annoying unbreakable lock screen on their iPhones, but only if you've earlier on done a backup.
On top of that, some requirements must be met first:
- You must have enabled the "Find My" feature on your iPhone.
- You should also have set the iCloud backup on your phone and ensured it's connected to strong and stable Wi-Fi.
- You need a computer with iTunes and a USB cable.
Simply do this:
Step 1. Link your device to the computer via a lightning cable and open iTunes. Afterward, place your device into recovery mode.
Step 2. Download the latest iOS version on your device. Start by selecting Restore and Update. You'll then be guided through the steps on the screen and allow the procedure to complete. Enter the Apple ID and passcode when requested, and wait for the phone reboots.
Step 3. Set up the iPhone by following the instructions on the screen. When you reach the backup stage, select the Restore from iCloud backup option.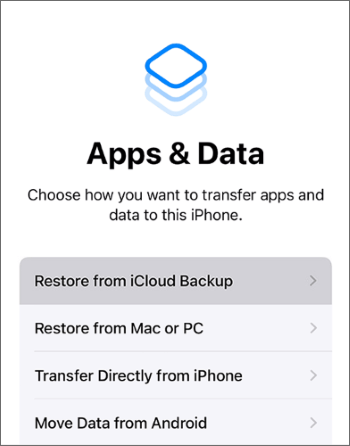 Step 4. select the most recent saved backup and press Restore this could take a while, so be patient. Make sure your Wi-Fi connection is strong throughout the entire process.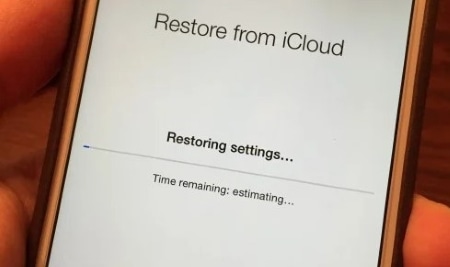 Now your files will restore once the process finishes.
2.2 How to Unlock iPhone Without Erasing Data Via iTunes
Another best trick on how to unlock iPhone without erasing data is by using iTunes. However, since your data will be wiped away, protect your most important files by backing up iTunes.
You can recover any lost files and applications if the passcode or device is wiped clean by restoring from the most recent backup. When the process is finished, you have to choose a new passcode.
Here' s how:
Step 1. Connect your device to the PC with a lightning cable and open iTunes. If prompted for a passcode, restart the device while still linked to the PC.
Step 2. Choose your iPhone device on iTunes window and then hit the Restore option.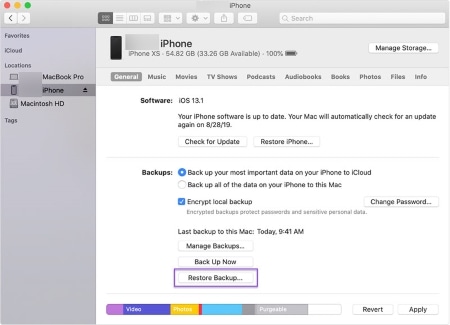 Step 3. When the next window pops up, you' ll see several backups. Choose the latest backup and hit Restore. If prompted for your password, input the one you used for the encrypted backup.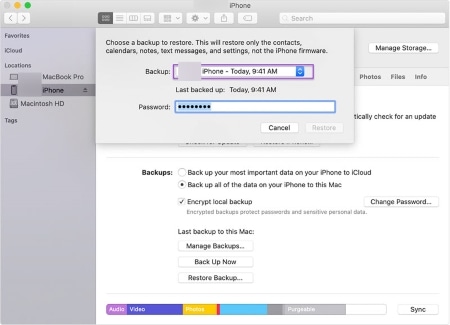 Step 4. If you're prompted to turn off 'Find My iPhone', then it's time to initiate the Recovery Mode. Here's the simple process for doing so:
- For iPhone 8, X or newer models (as iPhone 14, iPhone 14 Pro, etc.), press the Volume buttons and a Side Button.
- For iPhone 7, or 7 Plus, long press the Volume Down key and Side key.
- For iPhone 6s or older models, hold the Home button and Top (Side) Button.
Hold the buttons until you see the Recovery Mode on your screen.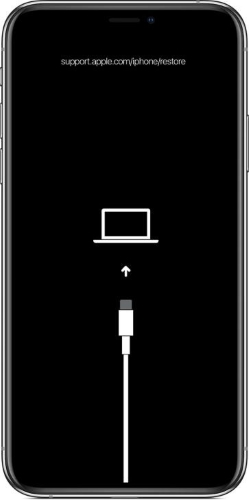 Step 5. You can restore your iPhone to its previous state with a simple iTunes prompt; just click Restore and Update and let the process finish.
Step 6. When the iPhone reboots, keep it connected until synchronization is finished, and you can then safely disconnect it.
Are you looking for the answers of:
iTunes Keeps Crashing on Computer?
Does iTunes Backup Photos from iPhone?
How to Reinstall iTunes without Losing Data Like Music?
Part 3. Other Potential Options for Unlocking iPhone Without Erasing Data
Apple may not provide ways to unlock an iPhone without risking your data. But there are other potential options available that might give you the result you want. While there is no guarantee of success, using them is worth a try.
3.1 How to Unlock iPhone Without Erasing Data Via Siri
Siri can also be used to remove the lock screen of your iPhone. However, the iPhone must operate on iOS 8.0 up to iOS 10.1.
Follow the steps:
Step 1. Hold the iPhone's Home button for some time till Siri activates. Then ask Siri what's the time. you'll see a clock displayed on the screen.
Step 2. Click on it and press the + sign in its upper-right corner to access the clock.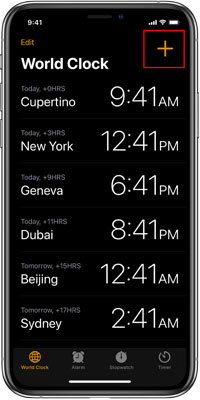 Step 3. Type the desired city in the search box and watch as it is highlighted for you to easily identify. After your selection appears from the new options presented, simply click on Share.
Step 4. Pick the Message option, enter a name or contact in the To field, then press the Enter key. The words you enter will show in green. Hit the + symbol to its right and select Create a New Contact.
Step 5. Now choose additional photo when you head to the gallery and hit the Home key. This will bypass your iPhone's password protection.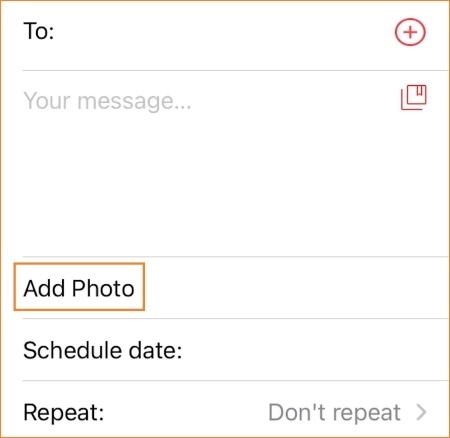 3.2 How to Back Up Data Without Unlocking iPhone
Can you back up data on a locked iPhone? The answer is yes. If your phone has already been connected to the computer, there are numerous ways you can securely back up your device with or without iTunes. Here's how to back up iPhone data without unlocking it:
Step 1. Plug your device into your laptop and open iTunes. After doing so, find the iPhone icon in the menu list.
Step 2. Click Summary on your left and Select This PC on the window's left side and then select Back Up Now.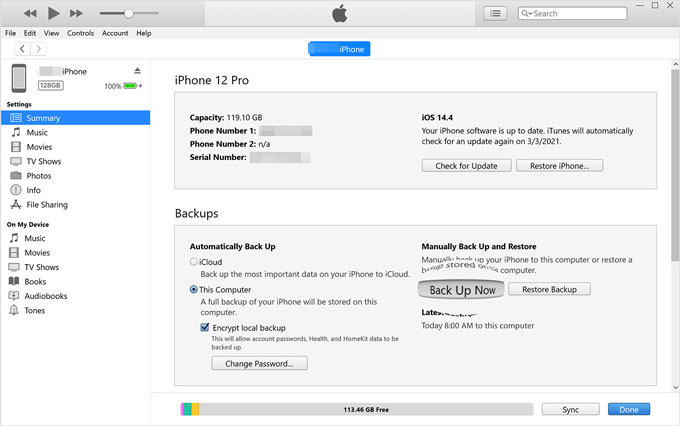 After finishing the backup process, use Recovery Mode to unlock the device. Then restore data from iTunes backup.
3.3 Contact Apple Support
Still not sure how to unlock iPhone without deleting everything? Before taking any actions, if you haven't already backed up your data, it is highly recommended to contact Apple Support first. The procedures mentioned above are only viable options when a backup has been made prior.
Bonus: Bypass iPhone Passcode with Data Loss
Unlocking an iPhone passcode can sometimes be a hassle, but with iOS Unlock, it's now easier than ever. This program is mainly designed to bypass the security feature of any iPhone lock, even if you've made too many incorrect attempts. Additionally, this amazing technology makes removing MDM locks effortless, with no passcode needed.
The tool lets you unlock your iPhone/iPad/iPod touch in any situation, no matter the lock screen type, whether it is Apple ID, Face ID, Touch ID or Screen Time Passcode. It provides a straightforward solution that takes only minutes to break through the lock screen and regain access. But remember, all of your data will be erased, so a backup must be done before proceeding.
See its amazing features below:
Unlock any lock screen on your iPhone, iPad, or iPod touch quickly and easily.
Removes Face ID, Touch ID, Apple ID & Screen Time Passcode, and iTunes Backup Password without requiring a password.
Bypass iCloud activation lock.
Removes MDM Profile and locks with no data loss.
There' s no way how to reset iPhone password without losing data, but you can use iOS Unlock to remove the screen lock in mere minutes.
Here' s how:
01Install the program on the computer and choose "Screen Unlock" from the primary interface of the program. Then connect your iPhone to the computer and choose "Unlock iOS Screen."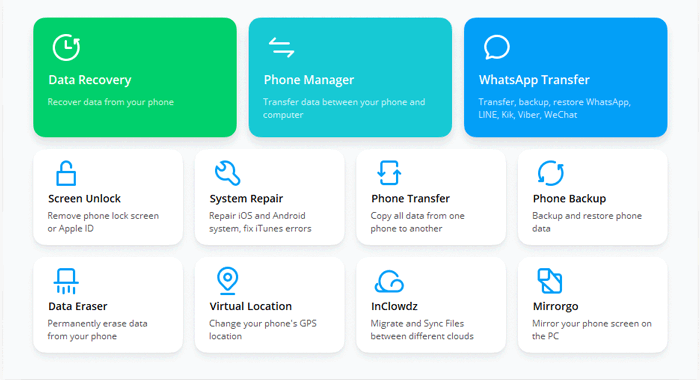 02Enter iPhone into Recovery/DFU mode with the provided on-screen commands. Generally speaking, Recovery mode is preferred when unlocking screen locks on iOS.
03When the device gets in the DFU mode, the program will show you information about your devices. You can easily choose from the available dropdown lists before downloading the required firmware.
04Once the firmware package is successfully downloaded, select "Unlock Now" and the lock removal process will start instantly.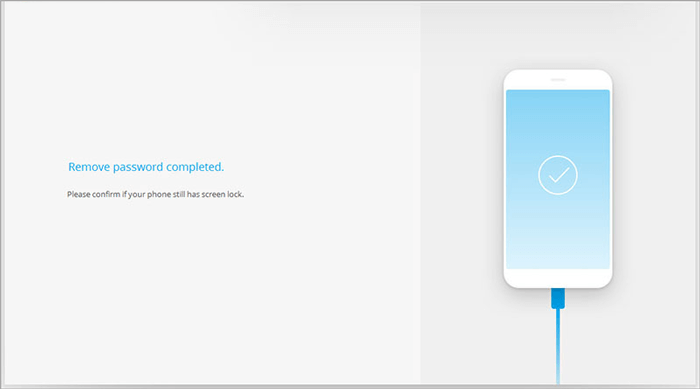 In only a few moments, your iPhone passcode will be unlocked without a problem. It's important to note that this unlocking procedure also involves wiping all the existing data off your device. Unfortunately, no tool can bypass an iPhone screen lock without erasing data. So, ensure you have kept the files in a safe place.
This might interest you as well: Top 9 Best iPhone Unlock Service of 2023 You Cannot Miss
Conclusion
Want to bypass your iPhone password without any data loss? Having a backup is the key. This way, even if something unexpected happens during the process of unlocking your phone's lock, all of your valuable information will remain safe and secure. For this reason, it's highly recommended that you back up your device regularly, just in case.
The best way to bypass iPhone passcode in a single click will be through iOS Unlock. No wasting your precious time with the unlocking task.
Related Articles:
How to Unlock iPhone with Unresponsive Screen?
How to Bypass iCloud DNS Locks Easily?
How to Remove Activation Lock without Previous Owner
How to Bypass iPod touch Activation Lock Easily?
I Found an iPhone and How Do I Unlock It?