Since video content is becoming increasingly ubiquitous on social media, in interviews, and even in the classroom, creating high-quality videos is highly required. Despite this need for high-quality videos, many people are still overwhelmed by how difficult or expensive it is. To make things simpler, video editors are here to help. Among the many video editors known, Kapwing video editor is one of the best, and it is quickly becoming a go-to video editing platform for users of all levels.
It works to swiftly adjust to changing expectations, allowing designers to take their videos from ordinary to awe-inspiring with its advanced capabilities. Besides, in this guide, you will learn all the nooks and crannies of the Kapwing video editor. So, let's dive in and see.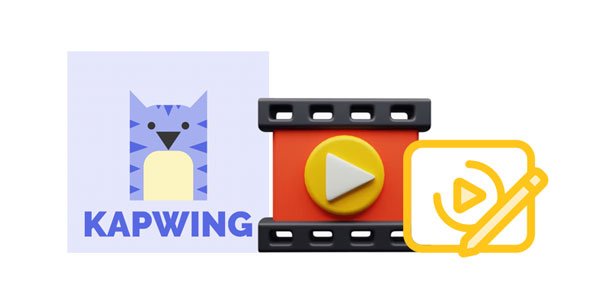 Part 1: Overview of Kapwing Video Editor
1.1 What's Kapwing Video Editor?
Kapwing is an online platform that can edit videos, GIFs, or images. Kapwing's free multimedia editing tools, such as meme maker, trimmer, subtitler, looper, and more, empower you to successfully bring out your message online. The platform allows you to unleash your creativity by creating stop motions, sharing highlights, and resizing posts for your Instagram Story, all for free.
It gives people the tools and content they require to express their creative vision in a digital way. Furthermore, it caters to those sharing a video for pleasure or business. Whether you are an individual who wants to show off your work or a professional looking to edit videos quickly, Kapwing has got you covered.
Freelancers, artists, influencers, students, and even office workers who want to spice up a Slack channel rely on Kapwing for its ease of use. It is the perfect tool for creators to craft digital stories without worrying about complicated software getting in their way. With Kapwing, they can entertain the world with their artistry.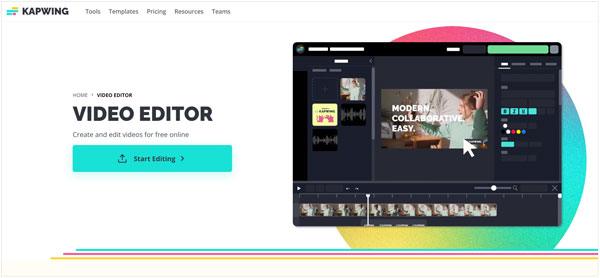 See also: What is a picture-in-picture video editor? And how can you use it? Open this link to learn about the info.
1.2 Killer Features of Kapwing Video Editor
Kapwing video editor is a dream come true for teachers and students. It makes creating slideshows an easy breeze. What's more? Its user-friendly interface and great features make it the go-to choice for amateurs and experts. With this app, you can complete your projects without any difficulty.
Kapwing's video maker is unbelievably efficient, allowing users to share their final product without much effort. Moreover, the app can be easily installed on phones, including Android & iOS, and computers, making it a good tool that adds convenience to your workflow in just a few clicks. To further explore what this dynamic software has to offer, take a look at some of its unique features:
* Sharing on social media platforms: Nowadays, a vital component of any video-editing app is the ability to share videos on other social media platforms. Not only will this draw in more followers, but it also encourages users to try out the app again.
* Audio Tools: Kapwing is an incredible audio toolkit that helps you quickly and easily create professional audio projects. It offers many amazing features, all for free. From muting video options to add your own custom soundtrack from device storage or websites like YouTube, Kapwing's advantages are unmatched. With this powerful suite of tools at your fingertips, you'll be able to get good videos.
* Video Speed Controller: Kapwing has a feature to fast forward the video or make it slow motion. This is helpful for time-lapses, promo clips, and other forms of videos.
* Media Library: Kapwing's video editor makes it simple to upload your project's media libraries. All you have to do is paste a URL into the tab, and you can drag and drop images or videos directly from there. Plus, create separate folders so that all your related materials are in one place for easy access when required.
* Video Splitting and Merging Feature: Kapwing app allows you to quickly and easily trim your imported videos to create a polished file. The reverse feature gives it an edge over the competition. Splitting and merging are made simple with this meme-maker.
* Animations and Text Feature: The Kapwing app can help you transform your imported videos with trimming and furnishing, eliminating the need to drop them into other software before uploading. Its Reverse feature makes it an excellent tool. Not only that, but this video-making tool also allows for merging and splitting, a feature commonly known as their Meme Maker. With these features combined, creating stunning visuals has never been easier.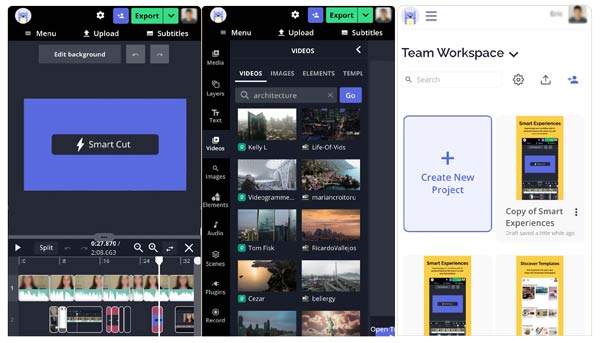 Read more: Select the Best GoPro Editing Software - 10 Excellent Options
1.3 Pros & Cons of Kapwing Video Editor
Pros:
1. Kapwing Video Editor has a simple and intuitive user interface that makes it easy for users of all levels to create high-quality videos.
2. The ability to share your fully-edited videos directly from the software onto social media sites makes it more credible and trustworthy.
3. It's an easy and efficient way to trim, split, or merge videos.
3. Perfect software to create memes and gifs and resize your clip to fit social media platforms like Instagram or YouTube.
4. It is an online tool, so you don't need to stress about having to download any apps on your desktop or mobile phone.
5. Still, the app may be more efficient in providing a smoother user experience.
Cons:
1. The animation tools are very basic.
2. Exporting takes too long.
3. The quality doesn't remain the same when exporting the files.
Further reading: Which app can edit MOV videos with various features? Check the list and you will get it.
1.4 Kapwing Video Editor Pricing
Kapwing video maker is a powerful, free resource that provides many features without charging you. It's important to get familiarized with the Kapwing app and all its tools so that you can make the most out of it.
Though Kapwing's downloaded app may give you access to impressive features and make creating videos a breeze, it leaves an unavoidable watermark on all your clips. For those who wish their video to appear unbranded and professionally produced, you will be charged $6 per clip just so this mark can be removed.
This way, users must pay extra to get maximum value from the software. It has 4 plan for users. In addition to the free version, you can choose the Basic one, which is $6 monthly. If you want more features, you can order the Pro video editor at the price of $16 every month. Plus, you can pick the Team plan, which is the same as the Pro plan.

Maybe you like: How can you edit a vlog with ease? This post will give you practical tools for the video edition.
Part 2: Who Is Fit to Use Kapwing Video Editor
Kapwing is perfect for users of all levels, from novices to pros. Creating videos, memes, and templates with Kapwing is so easy. The tool is ideal for students, teachers, entrepreneurs, and individuals who post videos on social media sites like Instagram and Snapchat.
It's excellent for creating memorable presentations or memes that'll stand out from the crowd in college or school environments. Kapwing won't work if you're looking to produce Hollywood-standard visuals - it's best used as an accessible tool to make amazing content quickly.
Part 3: How to Use Kapwing Video Editor
It's easy to use Kapwing. You just have to install it and start editing your videos. It doesn't matter if you are a beginner; you can still use this tool effortlessly. Exploring it will be easy with its amazing features geared toward a starter. However, some basic computing knowledge will help navigate the platform much more smoothly.
Here's how to use Kapwing Video Editor:

Step 1: First, download the kapwing video editor for pc. Upload your material by pasting a link or searching from the web. This way, you can drag and drop the videos to Canvas or your preferred workspace. Still, you can upload the content from your device via a file browser.
Step 2: Now, tap on the "Get Started" button and "New Project" and Start with the studio.
Step 3: Upload the content by pasting or uploading it. In the right section, you will see various options for editing your project.
Step 4: Add audio with the add audio option from the toolbox. The option for adding scenes will let you add GIFs or videos to the project.
Step 5: Now add text using the text option and edit with colors and fonts.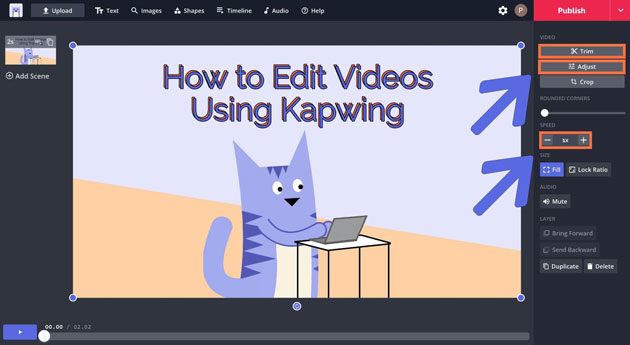 You might like: Top 14 Best AVI Video Editors | Easily Eidt Your AVI Files
Part 4: The Best Alternative to Kapwing Video Editor- Video Enhancer
Video Enhancer is one of the best alternatives to Kapwing Video Editor that can enhance the video quality the professional way. It is the most comprehensive AI video enhancement software available. It incorporates cutting-edge Artificial Intelligence technology to improve your videos' quality and resolution and removes any noise from the video.
Furthermore, it's a versatile video editor with features such as rotation/flipping of videos, making adjustments effects, making clips, cropping, adding watermarks, etc. With its intuitive user interface, powerful editing tools, and various advanced features, it is one of the most suitable solutions for creating professional-quality videos.
This is the software to go for if you want to transform your videos in no time with just a few clicks. So, get ready to experience top-notch enhancement that will bring out the best in any project.
Key features:
1. Excellent video enhancer that can flip, rotate, adjust, crop, make clips and add watermarks to videos.
2. AI technology for enhancing video quality.
3. Removes any background noise from videos.
4. Upscale video resolution.
5. Improve the brightness and contrast of videos.
Download this video editor alternative.
Let's see how to use this video-enhancing tool to edit your video:
01Add Your Video File to the Program
Install and launch the tool on the computer. Tap "Add File" to get the video into the program for enhancement.
02Enhance Your Video
Press "Enhance" from the primary interface to get to the enhancement interface. To enhance your videos, you can upscale the resolution of the video to get high-quality video. Also, you can optimize the brightness and contrast to give your videos a good color.
Still, you may remove the video noise and lower the video shaking to get a stable video.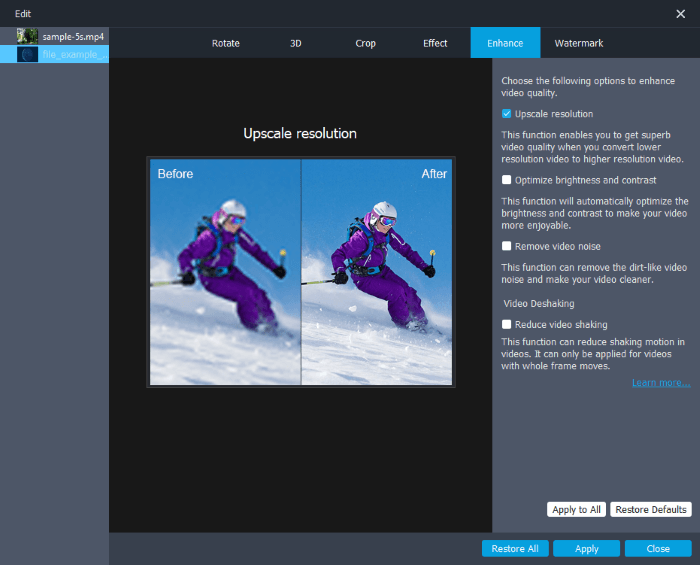 03Edit and Export the Video
After enhancing the video quality, you can now use the tool to edit the video file by rotating, flipping, cropping, adding a watermark, and more. Once done, hit "Convert" to export the video.
To start converting a file into whatever desired format is available in the drop-down list of "Profile", simply click "Convert" to add effects and export the video file within seconds.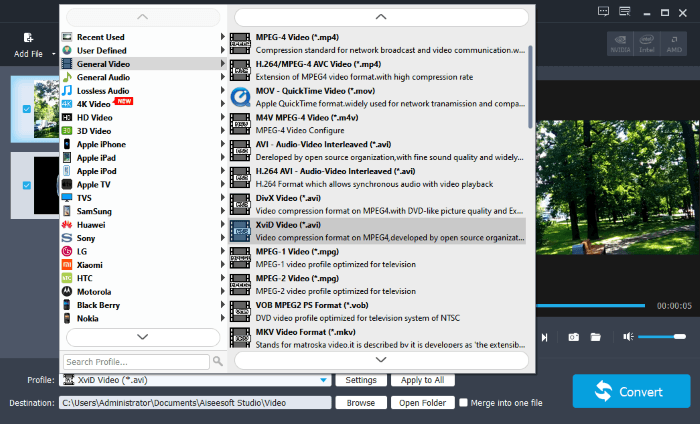 Conclusion
That's all about the Kapwing video editor. This is the tool content creators and designers should try out. You can rest assured that it offers a friendly and indulgent editing process and an all-inclusive feature set. However, Video Enhancer is a worthy alternative; offering extra functionality and with its suite of products, you'll be equipped with everything needed to create stunning videos.
Related Articles:
12 Best Video Converter Software for Windows 11/10/8/7 (Free & Paid)
How to Convert iPhone Video to MP4 without Quality Loss in 7 Ways?
How to Transfer Videos from Phone to Computer? (9 Ways for Android/iPhone)
Select the Best Game Recording Software to Record Gameplay without Hassle
How to Transfer Large Videos from iPhone to PC? Try 8 Methods Here
[Fixed] How to Recover Deleted Videos from iPhone with or without Backup?