Every Android device has a GPS location feature that lets you know your smartphone's location. However, you may want to change your device location for personal reasons or to enjoy location-based games like Pokemon Go. This is where mock location apps for Android come into play. These useful applications will assist you in faking your GPS location without rooting your device.
However, there are many location spoofers for Android, and you may wonder, what is the best fake GPS app for Android? This article discusses the top 7 Android mock location apps to fake your GPS location.
Part 1. What Is Android Mock Location and Why Use Mock Location?
Mock location is an Android feature that enables users to change their device's location and appear as if they are in a different location. This helps them not to be tracked by possible hackers. This feature was introduced on Android devices to test location-based applications. But why use mock location? Here are the reasons:
1. App testing
Location-based app developers use mock locations to test their software's behavior in different parts of the world without moving to those locations physically. It is useful for testing apps that rely on GPS. For example, location-based and geo-fencing notifications.
2. Privacy concerns
You can mock your location to hide your real location from cyber attackers. The Internet is not a safe place to be because an attacker can jump in the middle and track you. Using a fake location can trick fraudsters effectively.
3. Unlock app features
Another reason why many people use mock locations is to unlock location-based apps. Some games, such as Pokemon Go, require your physical presence and movement in the real world to participate.
Part 2. Top 7 Android Mock Location Apps
How to fake GPS on Android? Below are some of the best mock location apps worth trying. With these apps, you can fake your location on Google Maps, Messenger, WhatsApp, etc. All these apps are safe to use, so you can choose any that suits your needs. Let's check them one by one.
2.1 Android Location Changer - The Best Android Mock Location App
If you want a reliable and safe Android mock location app, the Android Location Changer app is the best option. It is a simple and easy-to-use application that helps you to fake GPS locations anywhere in the world. This software is useful for AR games such as Pokemon Go. When using this app, you can set a customized route to move along and the movement speed.
This undetectable mock location app will fulfill your gaming goals without exposing your security and privacy. Thanks to its user-friendly interface, you don't require technical knowledge to know how to change the location.
Key Features:
Work perfectly with location-based apps, like social media platforms, AR games, etc.
Change GPS location to places of their choice.
Simulate driving, walking, or cycling speed by setting the moving speed.
Import/Export GPX files to save their preferred path.
Compatible with most Android and iOS versions, including current versions.
Using this powerful Android Location Changer application is super easy. You only need to follow the steps below:
01Download and install the Android Location Changer application on your computer. Open it and click on Get Started. Connect your Android phone using USB to your PC.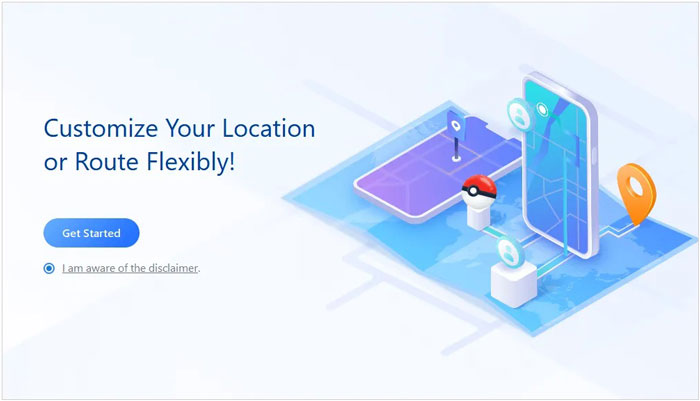 02The map will start loading and show your current location. Select the destination by entering the coordinates or the name.
03Select Teleport Mode in the right corner. Zoom in or out of the map and pick your preferred destination. After selecting the destination, a sidebar will appear that shows the information about the destination. Press the Move button to change your location to the chosen one.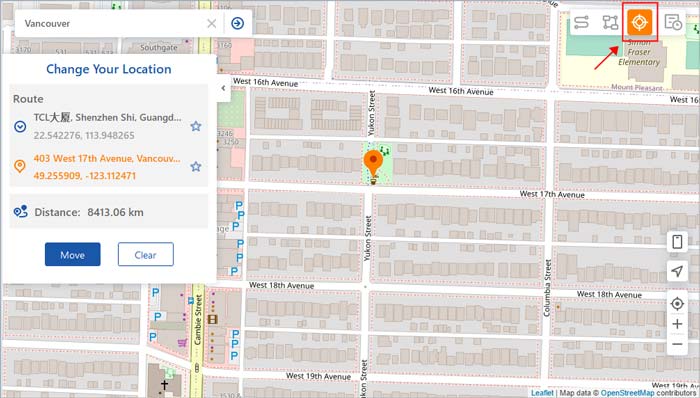 Pros:
* Have two modes - Social Mode and Gaming Mode, to meet your specific needs.
* Save locations to revisit in the future.
* Simple and easy to use.
* Users can use GPS coordinates to set the location.
Cons:
* Require monthly subscriptions.
Pricing:
* Free trial.
* Billed monthly at $19.99.
* Billed for lifetime use at $119.99
Further Reading:
[Huawei Mock Location] How Do I Change My Mock Location on Huawei
[Solved] How to Spoof Location on Android? This One Answers!
2.2 Mock Locations App
Mock Location is another reliable GPS spoofer Android that allows you to change your phone's location to any place you want. When you install this application on your phone, you can spoof Android location to any place worldwide. The mock Locations app helps users to change locations easily when required to fake. This application is ideal for testing location-based apps, playing games, and sharing a different location with family and friends.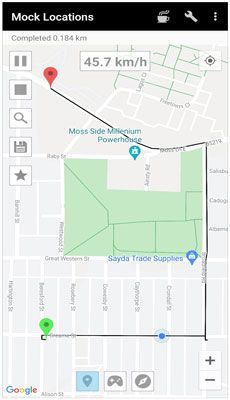 Key Features:
Play or pause the location as per your needs.
Fake locations instantly.
Test location-based apps.
Pros:
* Keep user's privacy safe.
* Spoof location to any place in the world.
Cons:
* Some apps can identify you using a simulated location using this app.
Pricing:
* Free on Google Play Store.
2.3 Lexa's Fake GPS Location
Lexa is a famous GPS spoofing app designed to change your location on your Android device. This Android location spoofer has numerous useful built-in features, allowing you to save your fake GPS location for future use. Once you open this application on your phone, it will spoof your location. Users love this app because it can mimic real movement in your selected location. This enables you to periodically change the location that you have spoofed. It is a highly-rated Google Play application with more than one million downloads.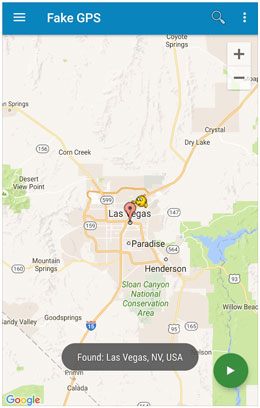 Key Features:
Save locations for a future revisit.
No need to root your Android phone to use the app.
Teleport your GPS location to anywhere in the world.
Enable precise location selection as it allows users to search with coordinates.
Pros:
* Easy-to-use user interface.
* Compatible with most Android devices.
* Teleport to new locations using the app.
Cons:
* The app has remained without updates since 2018.
Pricing:
* Free to use.
Learn More:
Which Is the Best Fake GPS App for Android and iOS Devices? [Practical Options]
Fake GPS Location for Tinder: Why and How to Do It in 2023
2.4 GPS Emulator
If you are looking for an easily configurable and well-used fake GPS location Android app, a GPS emulator is a perfect choice. It is a free location changer, and you can easily use the app to travel to fake locations. This software has a search bar and a Google Maps viewfinder for finding locations you have visited.
The user interface of this emulator is very simple. At the bottom is an option to pin your fake position or disable spoofing. Moreover, when using this app, you can easily flip between map mode, that is, satellite and terrain modes. Following this, you can easily find new locations outside the usual urban areas.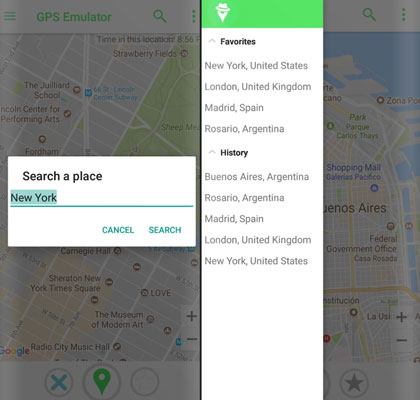 Key Features:
Use this spoofing app to imitate various locations.
Work well with most devices, including smartphones and tablets.
Customize the simulated location, such as height and speed.
Pros:
* Supported by various versions of Android.
* Have a user-friendly interface.
* You can switch between terrain and satellite views on the map.
Cons:
* Ask for charges to remove the advertisements during usage.
Pricing:
* Free to use.
2.5 Fake GPS Location - Hola
Hola is one of the best Android mock location apps that is prominent and convenient to use. It is a free mock location application for smartphones, tablets, etc. Ideally, this application enables you to change locations for networking and gaming purposes. Its developers recently updated the version and removed the bugs. Moreover, you can easily find and install this application directly from the Play Store. This best spoofing app for Android has a viewfinder or search bar to easily find your desired fake location. You use it together with a VPN application for a better user experience.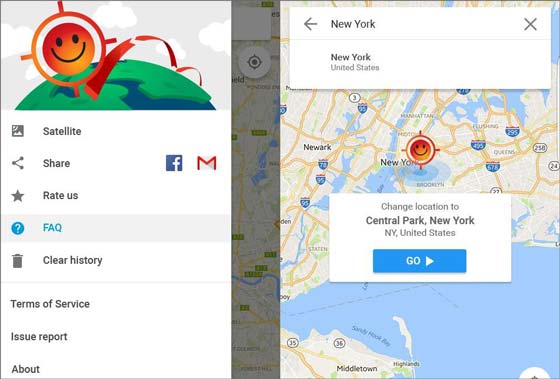 Key Features:
Have a viewfinder or search bar.
Have a decent user interface.
Combine it with a VPN app for a safer experience.
Have a chat function.
Pros:
* Perform great and gives anticipated results.
* Speed is good, and it works quickly.
Cons:
* Lags sometimes.
* Limited features.
You May Like:
Explore the World from Home: How to Fake Location on Snapchat Map
How to Fake Location on iPhone iOS 16/15/14 in 4 Ways? [2023 Updated]
2.6 Fake GPS Location Spoofer
If you have been looking for an Android GPS spoofer app with versatile features, this application is for you. It is quite easy and precise to use and enables you to save your desired destinations for future use.
Moreover, it allows you to spoof locations without rooting your device. This app is available in premium and free editions. The free version has many features, but upgrading to a paid plan unlocks even more. Another important feature of this application is joystick mode. It allows you to play games much easier. It also records fake locations you have already accessed for future use. This mock location Android app features a GPX import feature that enables the users to program routes.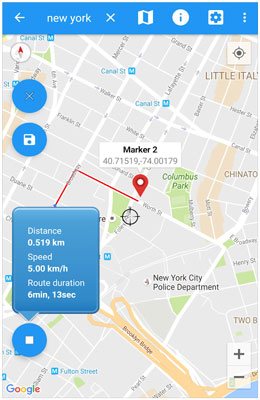 Key Features:
Contain a joystick to navigate the map effortlessly.
Enable users to save destinations for future use.
View your location using satellite mode.
Pros:
* It doesn't require root.
* Simple and easy to use.
* Set new locations.
Cons:
* Limited features in the free version.
Pricing:
* Free to use.
2.7 GPS JoyStick
This is one of the most reliable and best GPS spoofers available for Android users to make their location. With this application, it is very easy to change the location of your Android device, and it does not require rooting. In addition to that, you can choose a customized route using a joystick control. You can also select any location in the world using the map, joystick or enter GPS coordinates directly. It allows you to import GPX files and add your favorite locations and routes.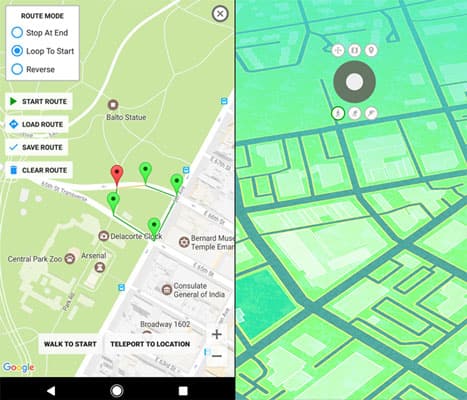 Key Features:
Compatible with Android 4.4 and higher.
It has a GPS joystick.
Select your preferred speed and mode, including running, jogging, and walking.
Pros:
* The routines you desire can be saved.
* It retains the user's privacy.
* Options for route speed are available.
Cons:
* Random issues and app failure.
Pricing:
* The app is free to use, but there are also in-app purchases ($85 per item).
Also Read:
Top 3 Ways to Fake Location on Zenly [iPhone & Android Supported]
Life360 Hack to Change Location on Life360 [Android & iPhone]
Wrap It Up
If you want the best app to change location on Android, we recommend using the Android Location Changer app. With this app, you can easily change your GPS location and change it to another location without any worry and accomplish your goals swiftly. Its easy-to-use user interface, quick installation, and compatibility with all Android devices make it one of the leading fake GPS location apps available today.
Related Articles:
Breaking Boundaries: How to Send Fake Live Locations on WhatsApp
How to Fake Location on Find My iPhone Without Anyone Knowing
How to Fake Twitter Location Easily | FAQs and Solutions [Proven]
Top 3 Ways to Change Location/Country/Region on Netflix Easily
[Skout Change Location] How to Change Location on Skout in Simple Ways?
Stealth Mode: How to Stop Sharing Location Without Them Knowing