Android has a comprehensive suite of powerful device sensors that collect and transmit data to the phone's operating system, allowing it to predict your location accurately. Once you turn on your Android, its sensors continuously transmit their coordinates to the operating system. This OS then shares this data with Google Maps and other applications that rely on location information.
However, Google can still access your location even if Wi-Fi and GPS are switched off, making it impossible to conceal your location. So, an app that can trick Google into believing false GPS coordinates must be employed to successfully fake Google Maps location. Continue reading to know how to fake the location on Google Maps.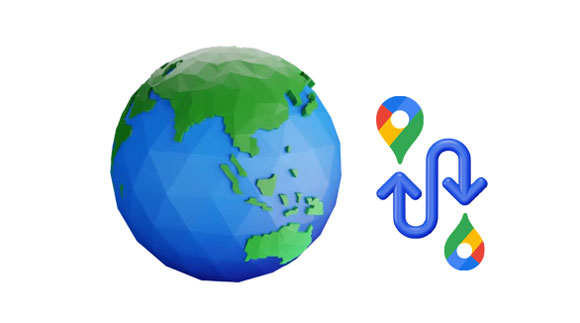 Part 1: Can You Fake Your Location on Google Maps?
Yes. It's surprisingly easy to fake a location on Google Maps; all it takes is a few simple steps. You can do this on both iOS and Android devices. Even though most need the installation of applications, it's still doable. There are various means of faking location on Google Maps. You can use various techniques to ensure Google Maps location is concealed. They include:
1. Fake GPS Apps - These applications enable users to enter or select fake GPS coordinates that appear as the user's exact location within Google Maps.
2. Location Spoofing - By installing a program on their device, users can manipulate Google into giving them access to geo-restricted content. This makes your device appear as if they are located elsewhere.
3. VPN Services - Virtual Private Networks (VPNs) serve as an optimal solution for those looking to conceal their location on Google Maps. VPNs mask your IP address and encrypt all of your online activity, providing you with anonymous web browsing while also circumventing any geographical limitations that may be in place.
Part 2: How to Fake Location on Google Maps
Android users can easily alter their Google Maps location by downloading a trustworthy app from Google Play Store. To fake the location on Google Maps, you can use Location Changer, GPS Emulator or even Fake GPS Location. Each one is great for replacing the current address with any desired destination.
Let's see the best ways how to fake location on Google Maps:
Way 1. Fake Google Maps Location for iPhone via GPS Changer
People have many reasons for spoofing their location on Google Maps. For example, it could be because someone is keeping tabs on you or maybe even playing a trick on friends by making them believe you are in another state. Privacy concerns can also lead one to take action to spoof Google Maps. Whatever the reason may be, being able to strategically change your current location is very important.
So, if you are looking for a top-notch program that can change your Google Maps location, this GPS Changer software is the perfect spoofing tool for you. It can change your real location to another place with ease. Plus, it has 4 modes to fake your location on iOS devices, and allows you to design specific routes. Furthermore, you can use the joystick feature to move your GPS in 1 click.
Here are the practical highlights:
* Change your location on Google Maps to anywhere instantly.
* Allow you to spoof your location on your iOS device in a few clicks.
* Freely import or export GPX files.
* Help you play Pokemon Go on your iPhone without going outside.
* Record the routes and support you in checking the history.
* Work well on social media platforms.
Download this GPS changer to fake your location on Google Maps.
Here's how to fake your location on Google Maps via this software:
01Download and open the GPS Changer software on your computer. Then click "Start" to go on.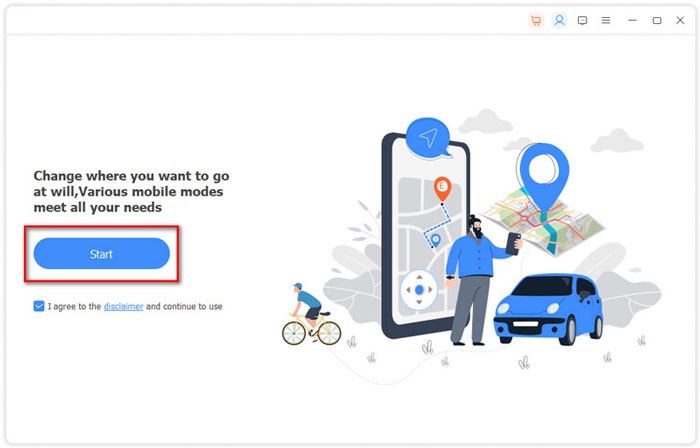 02Connect your iPhone/iPad/iPod touch to the computer via USB, and tap "Trust" on your mobile device. Then choose the "Modify Location" mode on the interface.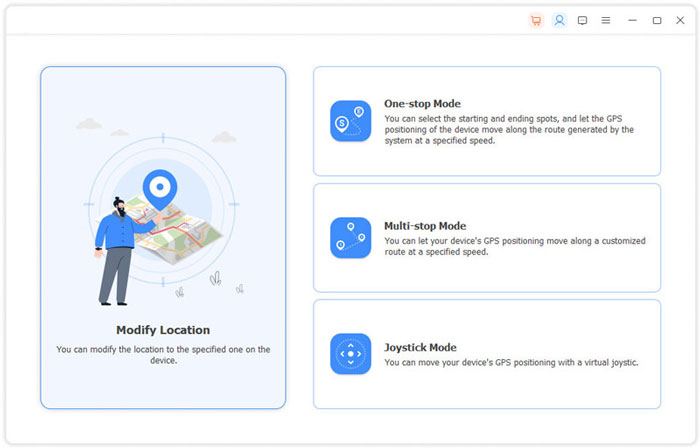 03Now, you can zoom in or out on the map, and enter the location you want to the bar. Next, click "Confirm Modify" and "Move to" to change your location on your device. Then the position on Google Maps will be changed.
Read more: How to Fake Twitter Location Easily | FAQs and Solutions [Proven]
Way 2. Fake Your Location on Google Maps for Android via Location Changer
Wondering how to fake your location on Google Maps on Android devices? Then this part will give you support because you can get a flexible tool - Location Changer, to fake your Android locations. This software can also modify your location on games and social platforms.
Here's how to fake your location on Google Maps for Android via this program:
01Get the software and launch it on your computer. Then, click the "Get Started'" button for a fast and easy start.
02Use a working USB cord, and link your Android device to the computer. Ensure the USB connection is set as MTP and has an active internet connection with GPS enabled. Then choose your Android gadget and tap "OK" on the interface. From there, access developer mode and switch on the "USB debugging" option.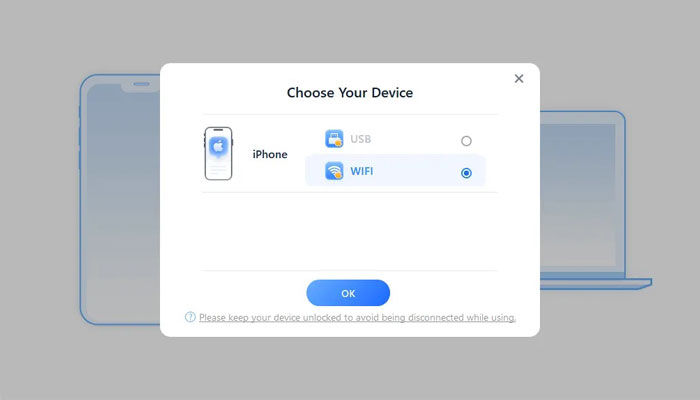 03Choose the "Social" mode to load the map. Then click "Teleport Mode" at the upper right, and import your destination. Lastly, click "Move" to change your location. Check if the GPS position is changed.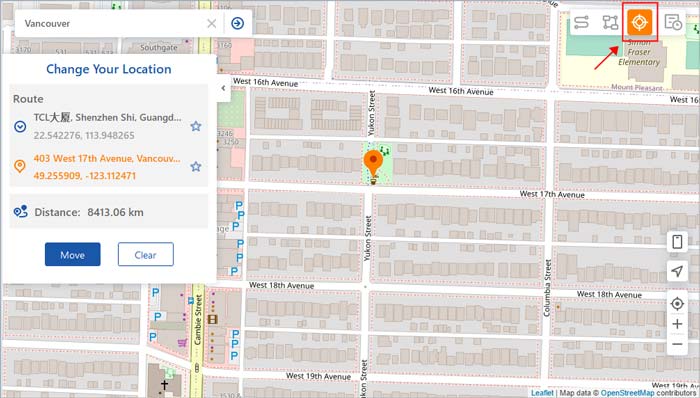 Guess you like: Top 3 Ways to Fake Location on Zenly [iPhone & Android Supported]
Way 3. Spoof Location on Google Maps via Fake GPS App
There is also an app to fake your GPS on Google Maps with ease. It is Location Changer - Fake GPS. You can install this app on your Android device and start to change your location. Furthermore, this app allows you to set several different locations on the map. But please note that it will not change your IP address.
Here's how to fake a location for Google Maps on Android via this app:
Step 1: Install the app from Google Play, and open it on your Android phone or tablet.
Step 2: To ensure the application runs efficiently, enable its background activity and mock locations feature in your phone's "Settings" and "Developers options".
Step 3: Click the search tab to enter your desired address/location on the map. Choose your location with a joystick and add various points. Now, click on the "Start" button.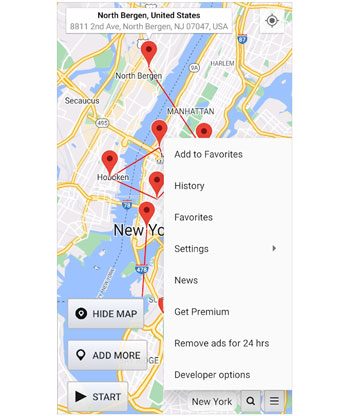 Learn more: You can also fake your location on Find My iPhone for your iOS device with easy steps.
Way 4. Change Location on Google Maps via VPN App
Faking locations on Google Maps to appear as if you are located in a different area is surprisingly easy when using a VPN. Simply connect to the desired server, open up Google Maps, and you are ready. You'll be able to explore as if you're actually situated there.
There are several VPNs that come equipped with classic IP address masking but also remarkable location-changing capabilities. VPNs can change your location by exchanging your IP address with the one from the server. This way, your real location will be concealed and only show the fake one. To use a VPN to fake location on Google Maps, use these steps:
Step 1: Install and open a VPN application on phone. Next, choose the IP address of the country you want to change your location.
Step 2: Switch the button to establish a connection on the VPN.
Step 3: Open Google Maps and refresh it. Then enter the location you want.
Conclusion
This guide has provided information about how Android users can easily fake Google Maps locations. The GPS Changer software makes it simple for iOS owners to change their location quickly, and Location Changer is for Android users. Hopefully, you can use these steps to fake your Google Maps position without effort.
Related Articles:
How to Change iPhone/iPad Location without Jailbreak in 4 Cost-effective Ways?
Fake GPS Location for Tinder: Why and How to Do It in 2023
MockGo Guide - Learn More About This Helpful iOS Location Spoofer
4 Proven Ways to Change Location/Country/Region on Instagram
Get the Best iSpoofer Alternative for Android and iOS [Informative Guide]
[Hot Guide] How to Transfer Photos from iPhone to Lenovo Laptop?