Do you wish to change your location in the comfort of your home? Have you ever tried changing the GPS location on your Android device but couldn't manage it? Well, it's quite tricky to spoof location on an Android device, especially for starters.
But, we'll show you the easiest way to do that. People change their locations due to different reasons. Some are game enthusiasts and want to access augmented reality games and other services, while others want to keep their online privacy. Whichever the reason is, this article will show you how to change GPS location on Android the right way and be in your desired location in minutes.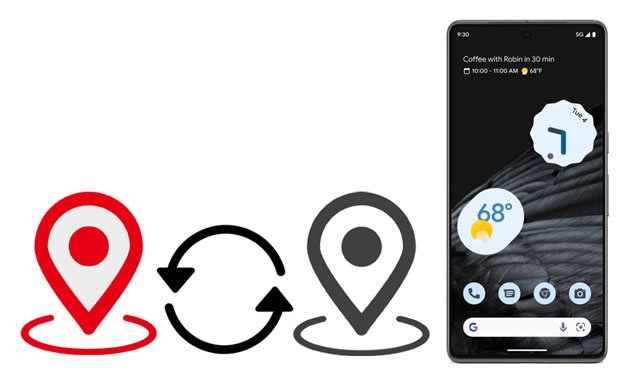 Part 1: Why Would You Fake Your Location?
Before we look at how to fake GPS location, you have to know why it's vital to spoof your location.
To update your Android system: Sometimes, an Android OS update is released in certain countries, and you have to download the update on your phone after it's released in your place. But when you change your GPS location, you can still download it before the release.
Watch TV shows and movies: Popular streaming platforms like Netflix display content according to the user's current location. However, you can watch Netflix shows that are not yet released in your place if you change your location.
To give you online privacy: These days, you never know when your private life will be invaded. It can happen when surfing the Internet, checking your mail, or even talking to a friend on social media. Since different apps use your geolocation data differently, it is ideal to fake your GPS location to hide the actual location.
To Boost your weak signal: You may also change your location when you feel like your signal is weak. Manually setting your real location with a location spoofing app can help.
To prevent sharing your actual location with social media applications: Many social media apps like Instagram access your location to customize the user experience. So, to keep online privacy intact, you should change your current location.
See also: Efficient 9 Ways to Transfer Data from Android to Android [Can't Miss]
Part 2: How to Change Your GPS Location on Android in 1 Click?
Are you looking for an easier way to change GPS location on Android? A simple, easy and fast way to spoof your location is to use this GPS Changer software. It enables you to change your location from anywhere in the world. Importantly, it can fake both Android and iPhone devices.
If you are an enthusiast of AR games, this tool is what you need. The app can help you fake GPS locations effectively and efficiently without stress. You'll be able to create routes on the map and modify the location according to your requirements. The app has many features that you can use to meet your purpose.
You can spoof your location in any country using this app. All you have to do is provide a specific address or latitude and longitude. It will automatically detect the actual location based on your address and then change it to the address entered. You can also add a custom movement speed.
Some of its key features include:
* Fake GPS location on Android and iOS devices instantly.
* Work well with apps like AR games.
* Joystick feature to simulate your movement.
* Saves all favorite routes by exporting or importing GPS files.
* Support the latest versions of Android and iOS.
Download this GPS location changer below.
How to change GPS location on Android in 1 click via this program:
01Install the GPS location changer on your computer and tap Get Started.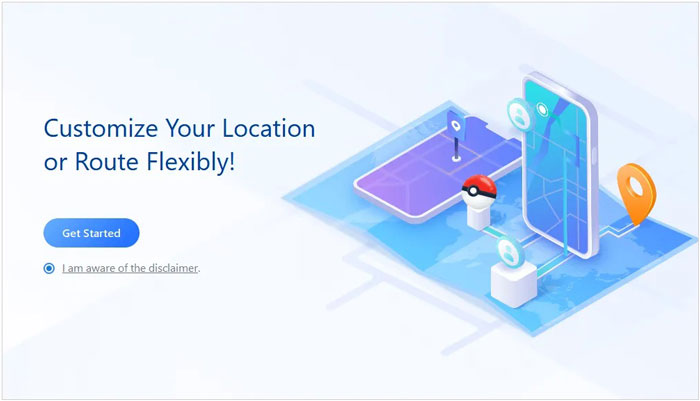 02Connect the Android device to the computer with a USB cable. Then choose your device and tap OK. Allow USB debugging on your phone, and choose a mocking mode on the interface.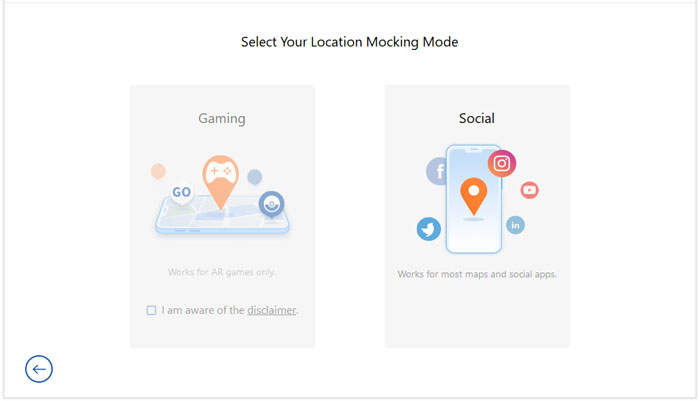 03Select the Teleport Mode button from the upper right corner. Then enter your desired location, and tap the Move button. It will change your GPS location.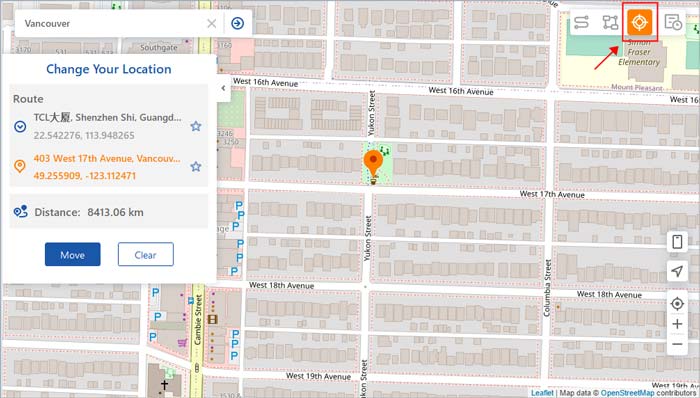 Guess you need:
Best Spoofing Apps for Pokemon Go on iOS and Android
How to Fake Twitter Location Easily | FAQs and Solutions
Part 3: How to Change Android Location Using Google Location Services?
Another way of changing your location on your Android phone is to use Google Location Services. This method isn't reliable like the first one, but it still works. The only downside is that it can't spoof your location to another place; it only hides your actual location.
Step 1: Open the Settings app on your device.
Step 2: Look for the Location option, and tap Advanced and proceed to the Google Location Accuracy button.
Step 3: Toggle off the Improve Location Accuracy option.
Learn more: If you intend to back up and restore your Android data with one click, read this new guide.
Part 4: How to Fake GPS Location On Android using Fake GPS Apps?
The Google Play store offers several free apps to help fake locations on Android. The app allows you to use various features like moving simulation and location history while changing the location on an Android phone. So take a look.
1. Fake GPS Location
Fake GPS Location is the first app you can use to change your Android phone location. Just download the app from Google Play Store and start using it immediately. No need to use a computer here; just press a few buttons on your phone, and you'll be in your desired location. Here is how to change location on an Android using this app:
Step 1: Go to Google Play Store, search for Fake GPS Location on the search bar, and install and launch it.
Step 2: Navigate to the Settings app and switch on the Developer Options. Once done, click Select mock location app and proceed to the Fake GPS option.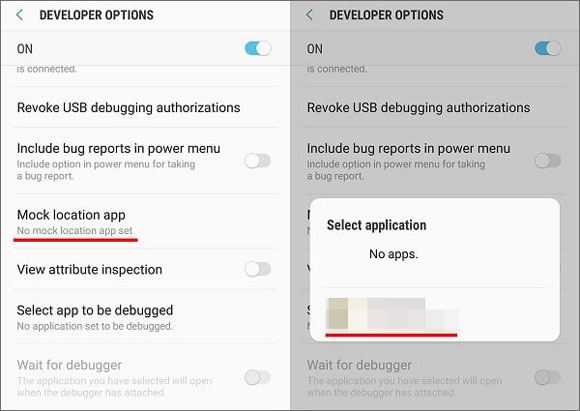 Step 3: Now, go to the application and choose the location you wish to go to.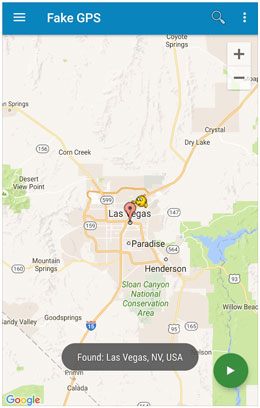 You might like: With this article, you can directly get 4 ways to transfer SIM card data to a computer.
2. Fake GPS Location Spoofer
As the name suggests, this app can spoof your GPS location quickly. It can work on almost all Android devices. The best thing is that it comes with a joystick feature that makes it easy to create and customize routes.
Step 1: Download and install the app on your Android device from Google Play Store. Allow the app to access the location of your device.
Step 2: Go to the Settings app, look for Developers options, and select this app as a mock location application.
Step 3: Go to the app and click the Teleport button to search for your location. Finally, tap the Play button after you select a new location.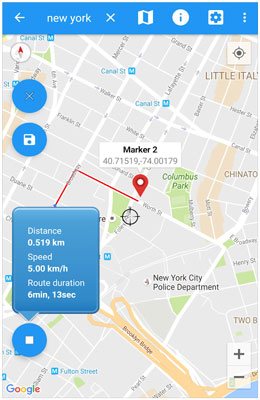 In Closing
As you can see, there are many ways to change the virtual location on an Android device. Each way can at least trick the Android device into thinking you are in a different location. However, if you want to hide your location completely, use the GPS Location Changer software. It is a powerful software that does location-changing tasks professionally. It's very easy to use, thanks to its intuitive interface.
Related Articles:
How to Change Location on iPhone 14/13/12/11/X Easily?
How to Transfer Files from Android to PC over Wi-Fi? [6 Ways]
5 Best Methods to Transfer Data from Samsung to Samsung
iTunes Backup to Android Transfer: How to Restore iPhone Backup to Android Phone?
How to Change TikTok Region Safely and Quickly? [New Guide]
How to View Text Messages on Computer for Android Phone Users? (Solved)